Ever thought about sipping on a cup of coffee while looking for a bike? Well, that's exactly what an entrepreneur started in the Lakeview community.
Chicagoan Michael Salvatore has combined two things he loves: coffee and bicycles.
"The idea of pairing bikes and coffee actually came out because we did a lot of street fairs and festivals and we couldn't afford rent in New York," said Salvatore. "It was really easy to see how people were engaging with me when they had a coffee in hand, and I thought let's create that environment permanently."  
Salvatore is a fifth-generation Chicagoan, but when he lived in New York, he and his buddies started a bicycle business from his basement. That concept slowly evolved when he opened his first shop Heritage Bikes & Coffee in Lakeview.
"Well, heritage for me was a term to celebrate not only my family heritage in Chicago, but also the cycling heritage," Salvatore said. "In Chicago, we come from a rich history of all these manufacturers that once were here at the epicenter of cycling."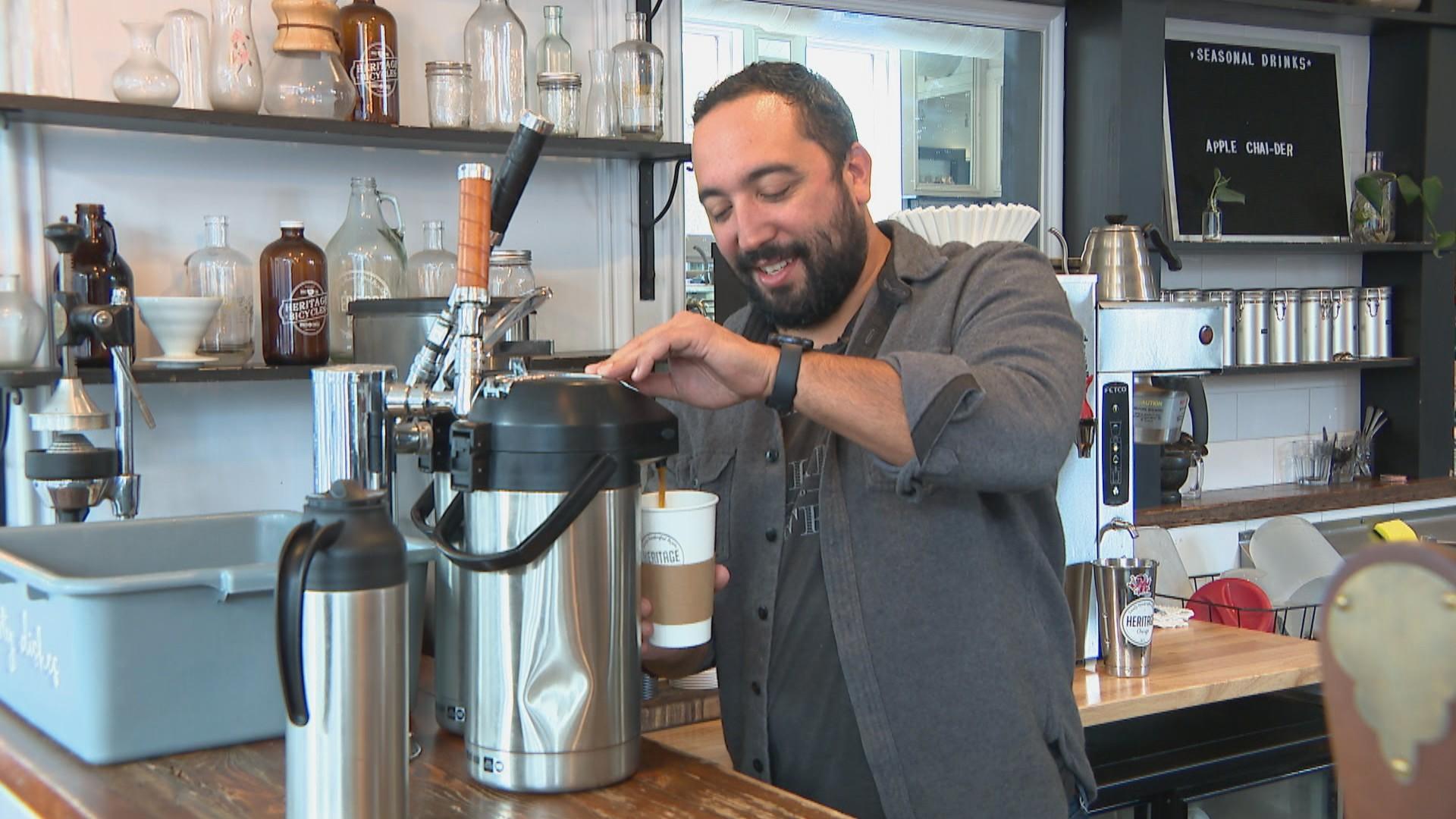 Michael Salvatore (WTTW News)
The mashup is pretty simple. Customers can come in and enjoy a cup of coffee while checking out a variety of custom made bikes. There's also repair assistance. Or they can just come in, sip a cup of Intelligentsia coffee and hangout.
"What's cool about it is that you come in as a customer and you can ride all the bikes. We have five different models," he said. "You pick one and work with a mechanic, and from there you build it out."
What started as a small coffee and bike shop in 2012 has grown into its own brand.
"We have this space here and actually during COVID we expanded, so we used to have an office here, and we turned this into a bike room," Salvatore said. "The bike room used to be right here, but because of the bike demand we had to expand the bike room."
Despite the hardships of the pandemic and the supply chain challenges, Salvatore has managed to stay afloat opening other businesses around the city.
"We started with this. This is our big bang, and from here we created a bunch of little universes all around the city from little and big coffee shops to bars to diners, so it's become a hospitality company on its own, which is super exciting," he said.
But it's the essence of the shop that Salvatore says makes it special, paying homage to his roots.
"Those record players are from my parent's basement, from my great-grandparents who lived in Chicago, it was just building dust in the basement of my parent's house," he said.
When customers are happy with the results, Salvatore is too.
"I still can't get over the fact that people buy the bikes that we make, and I'm always appreciative of it," he said. "Another cool thing, speaking of my Peruvian heritage, we actually got this done: This is from where my mother is from. We're making our first round of bikes made in Lima and it will be our first made outside of Chicago bicycles."
Salvatore is now proud to set roots in his hometown and locally manufacture one-of-a-kind bikes, and hopes to inspire others to start riding a bike.
"It's never been about the performance of a bicycle," he said. "For me it's always been the lifestyle of riding a bike and I think that carries on in what we're trying to do."
---