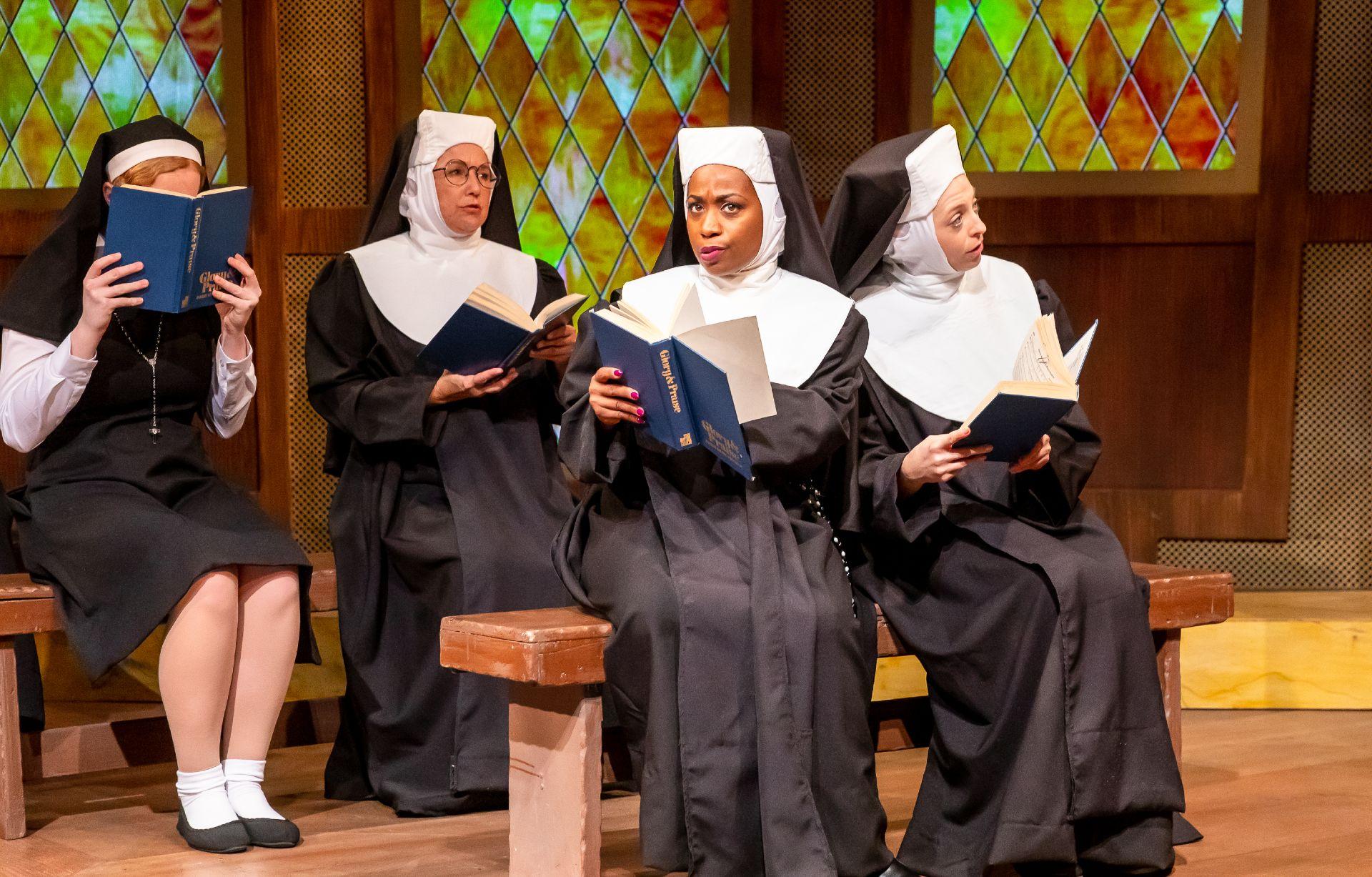 Isabella Andrews, Nicole Cready, Alexis J. Roston and Leah Morrow perform in "Sister Act." (Credit: Brett Beiner Photography)
How did she do it? How did Reneisha Jenkins, making her directorial debut, work something of a miracle with her Mercury Theater production of "Sister Act"? How did she transform this show – a popular, easily entertaining, but essentially silly musical about gangsters, a showbiz striver and the nuns in a Catholic convent – into a work that can easily make you laugh, yet ultimately generates heartfelt tears and exuberant cheers for each of its many eccentric characters?
Of course, the bones of the musical are strong, with a zestful retro-pop (circa 1970s) score by Alan Menken (the composer behind such hit musicals as "Little Shop of Horrors" and "Newsies"), plus clever, character-defining lyrics by Glenn Slater, and a humor-filled but meaningful book by Cheri and Bill Steinkellner, and Douglas Carter Beane.
The cast of "Sister Act." (Credit: Brett Beiner Photography)
But it is Jenkins' direction, along with the wonderfully playful, hip-swiveling choreography of Christopher Chase Carter (the Mercury's immensely talented new artistic director), and the impeccable music direction of keyboardist Diana Lawrence and her musicians (Isabella Isherwood, Jeff Harris and Lindsay Williams) that has infused the show with genuine emotional heat as well as laugh-generating irreverence and comic sparkle.
And then there is the uniformly sensational cast led by the irrepressible Alexis J. Roston, whose powerhouse voice and fierce energy give depth and meaning to her character, Deloris Van Cartier - a club singer with star-studded dreams who is involved with Curtis Jackson (Denzel Tsopnang), the gangster and rat of a married man who owns the Philadelphia nightclub where she works, uses his gun with abandon, and keeps an oppressively tight rein on her career dreams.
When she witnesses his blunt murder of one of his henchmen, she knows she is in trouble and heads to the police station where the desk clerk turns out to be an old school friend nicknamed "Sweaty Eddie." (He is played to perfection by Gilbert Domally, who nails the song "I Could Be That Guy.") A shy fellow who has long had a crush on Deloris, he comes up with the idea of safely hiding her in the least likely of places – a financially squeezed convent connected to a church that is in danger of being sold to a pair of antiques dealers because it can no longer attract a congregation.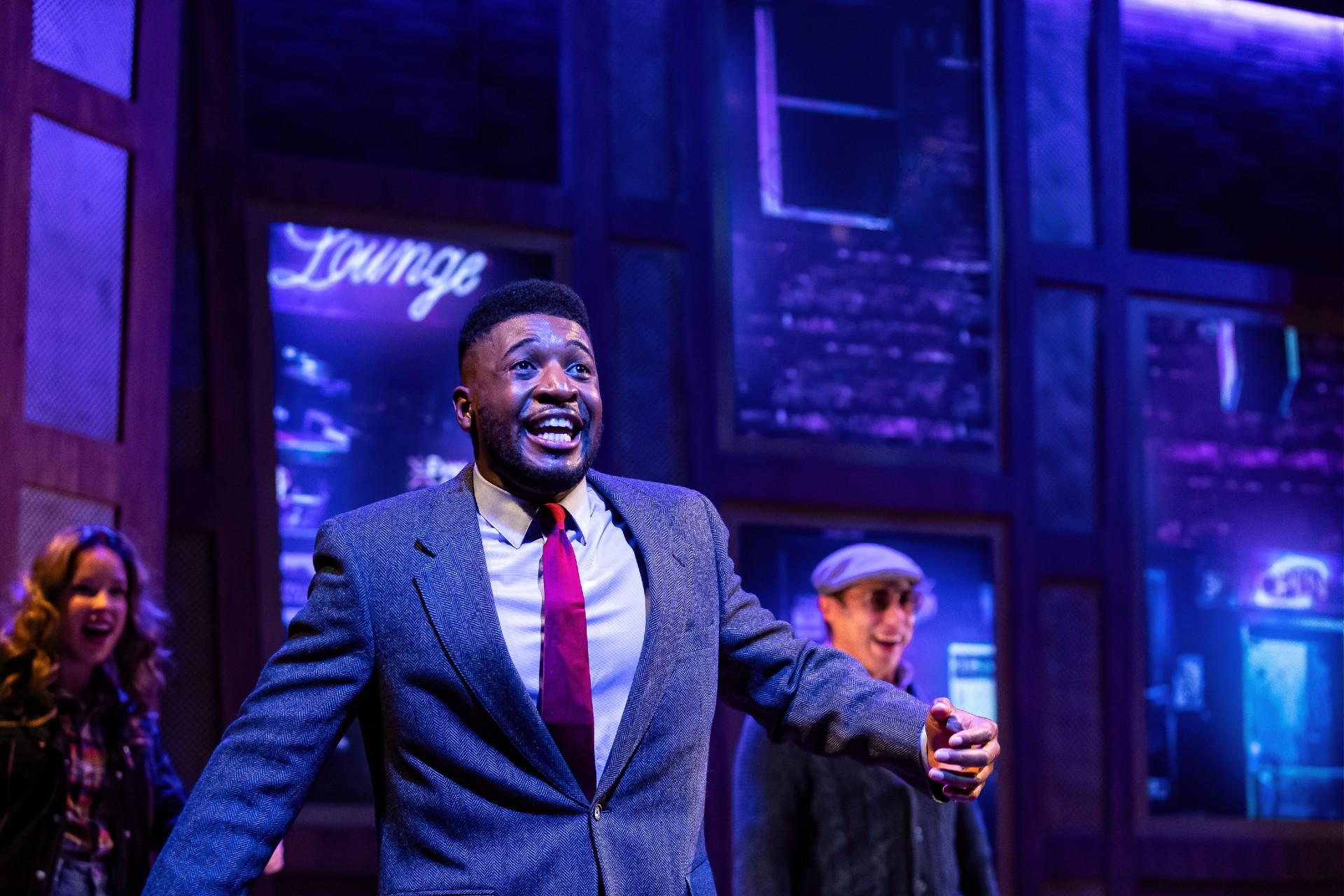 Nicole Armold, Gilbert Domally and Ed Kross perform in "Sister Act." (Credit: Brett Beiner Photography)
Of course, Deloris is not cut out for convent life, and the Mother Superior (in a terrific, ideally sardonic turn by Jane Grebeck-Brewer) is not at all happy about how the singer's worldly ways are influencing the sisters. But once Deloris manages to set the nuns singing on key, encourages them to rock to the beat, and exalts their voices as a spiritual force (and a formidable magnet for crowds of financially enhancing parishioners) there is a sense of both adoration and rebellion in the air. And the news of a visit by Pope John Paul VI only ups the ante.
Along the way there is a show-stopping performance by Isabella Andrews as Mary Robert, the young postulant in the convent whose exposure to Deloris drives her to declare her need for freedom and self-determination in "The Life I Never Led," a performance that is a religious experience all its own. Winningly playing the other nuns – of all ages and temperaments – are Leah Morrow, Jenny Rudnick, Nicole Cready and Nancy Wagner.
Throughout, Ed Kross brings a wonderfully droll and subtly subversive attitude to the role of the pragmatic, slightly amused Monsignor O'Hara who, like Deloris (and as heretical as it might sound), understands that there are common elements in religious ceremony and show business. In addition, as the trio of young criminals who work for Curtis, Marcus Jackson (as Joey), Ruben Castro (as Pablo), and Austin Nelson Jr. (as TJ) sing and dance up a storm. So do Deloris' backup girls played by Nicole Armold and Aalon Smith.
But it is Roston, with her megawatt sparkle and emotional exuberance, who continually lights up the stage, whether bonding with her newfound "sisters," falling for Eddie, or discovering her own transformation and inspiring the transformation of all those whose lives she touches.
Alexis J. Roston performs in "Sister Act." (Credit: Brett Beiner Photography)
The show is enhanced by Angela Weber Miller's set, Jackie Fox's lighting, G. "Max" Maxin IV's video, Marquecia Jordan's costumes and Rueben D. Echoles' wigs, and by the historic 280-seat Mercury Theater itself. Not only has it come back to life after its pandemic shutdown, but it has already begun to thrive under Carter's leadership. Not only did he tap Jenkins as a genuine talent, but he also realized that "Sister Act" was an ideally joyful way to reopen and – to borrow a song title from the show – to "Spread the Love Around."
"Sister Act" runs through Jan. 2 at Mercury Theater Chicago, 3745 N. Southport Ave. For tickets, visit MercuryTheaterChicago.com.
Note: Upcoming shows at the Mercury include "Women of Soul" (Jan. 27-March 13, 2022), a tribute to such singers as Whitney Houston, Donna Summer, Diana Ross, Janet Jackson, Janis Joplin and others, written and directed by Daryl D. Brooks (whose terrific production of "Pump Boys and Dinettes" is currently running at Porchlight Music Theatre); "Priscilla, Queen of the Desert" (June 10-Aug. 7, 2022), the Stephen Elliott and Allan Scott jukebox musical (based on the MGM film) about a trio of Sydney-based musicians who bring a show to the Australian outback in a battered old bus, to be directed and choreographed by Carter; and "Clue: On Stage" (Aug. 26-Oct. 30, 2022), a farce-meets-murder mystery based on the 1985 Paramount movie and Hasbro game, to be directed by Walter Stearn, the Mercury's executive producer. Additional events are slated for the theater's adjacent Venus Cabaret Theater.
Follow Hedy Weiss on Twitter: @HedyWeissCritic
---