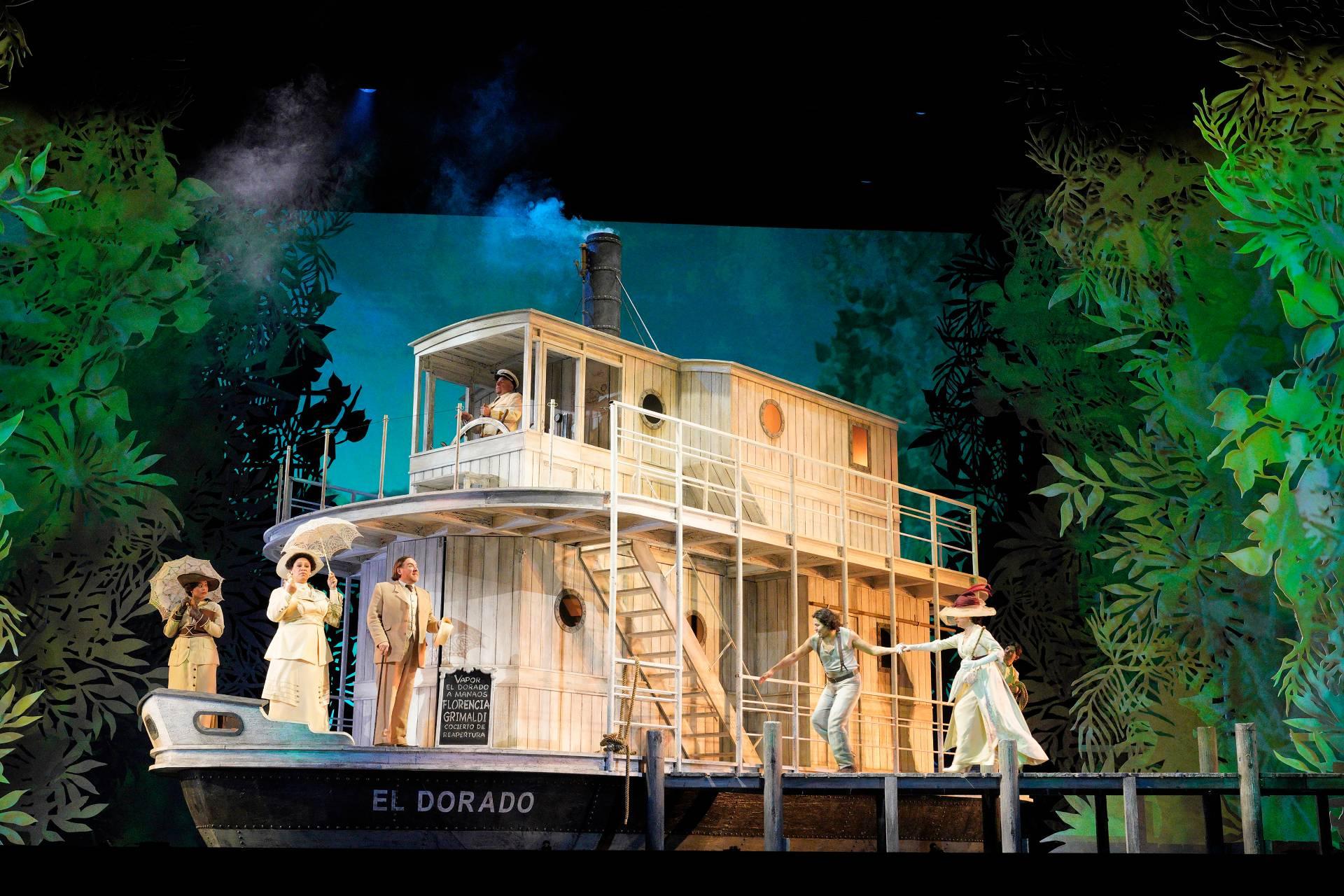 The company of "Florencia en el Amazonas." (Photo by Cory Weaver)
"Florencia en el Amazonas" ("Florencia in the Amazon"), the first Spanish language opera to be performed on the Lyric Opera mainstage, is pure magic on every count. A seamless blend of glorious music, richly evocative and often poetic lyrics, dance-driven myth, waterborne dreams and nightmares, and classic heartbreak, it also pays homage to the magical realism vision of life captured so unforgettably in the novels of the Nobel Prize-winning Colombian writer, Gabriel Garcia Marquez.
The opera's ravishing, quasi-cinematic score by Daniel Catan (the Mexican composer of Sephardic Jewish heritage who died in 2011, and whose earlier opera, "Rappaccini's Daughter," received a stunning virtual production last spring by Chicago Opera Theater), is matched by its beautiful libretto by Marcela Fuentes-Berain who openly acknowledges that she was inspired by Garcia Marquez's writings. And despite the work's highly economical running time (just over two hours including an intermission) it manages to be a probing anatomy of obsessive love, a meditation on the complex nature of marriage, a fierce study of the dual faces of fame, and a haunted and haunting meditation on the power of memory and how an enduring passion can be a great source of artistic inspiration. In addition, with an uncanny bit of timeliness, it evokes both the destructive and redemptive power of nature, the terror that comes with an epidemic (in this case cholera), and the fear of death, both real and spiritual.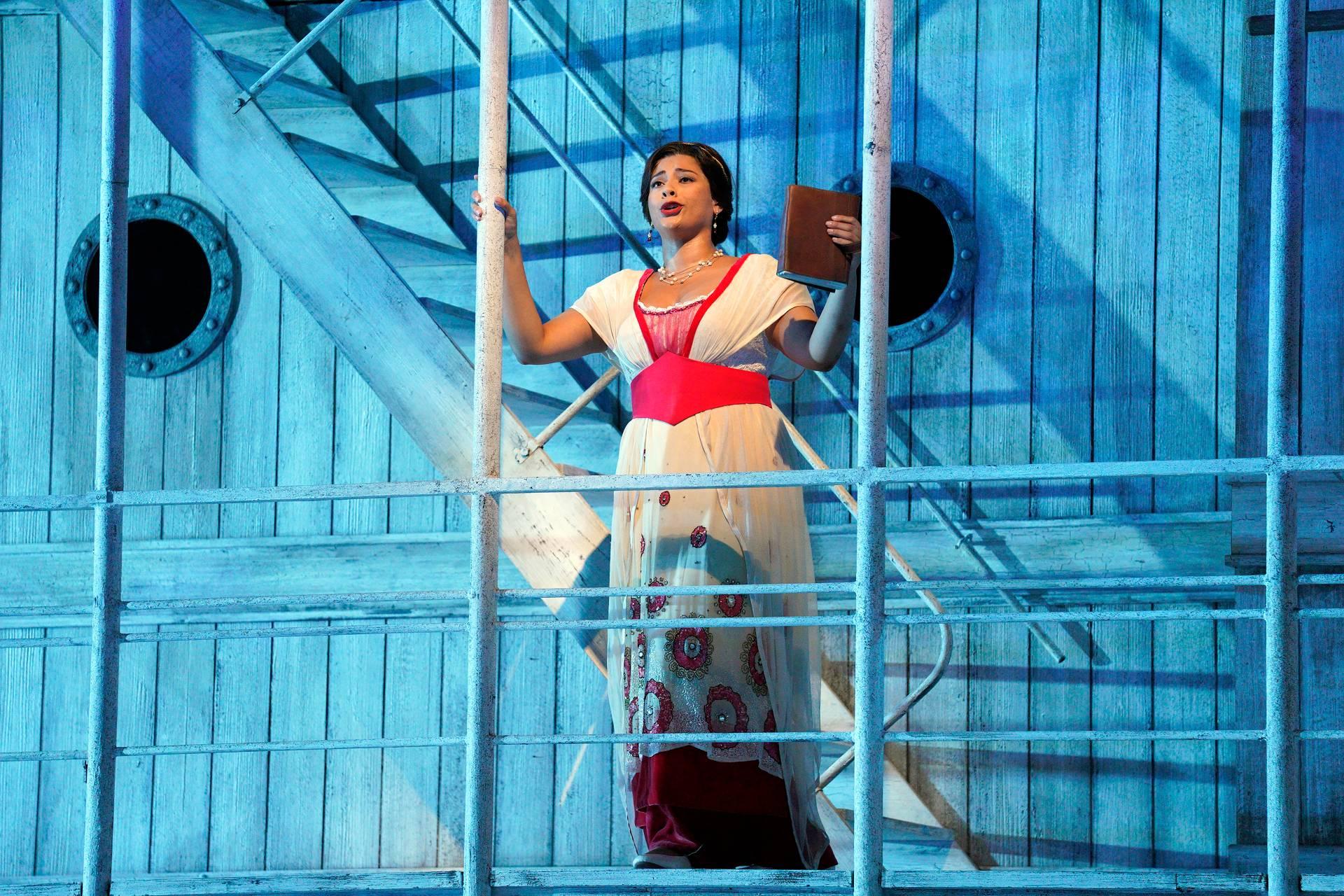 Gabriella Reyes performs in "Florencia en el Amazonas." (Photo by Cory Weaver)
The Lyric production itself is a beauty on every count, but more about that after a brief synopsis of the story it spins.
The opera follows the journey of a group of passengers on the El Dorado, a steamship that heads out along the Amazon River from a city in Colombia, South America, and is en route to the Brazilian city of Manaus, where a long-shuttered opera house is about to reopen. It is there that the internationally renowned diva, Florencia Grimaldi (played here by the formidable soprano Ana Maria Martinez, who deftly captures her character's sense of yearning and regret), is to appear after an absence from any South American stage for 20 years. But the real mission of Florencia, who is traveling incognito, is to find Cristobal, the butterfly hunter who was the great love of her life - the man with whom she had a passionate relationship decades earlier and was the great inspiration for all her singing, but who she left behind in order to pursue her career. She has no idea if he is dead or alive now, but the one thing of which she is certain is that fame is an artificial form of love, rather than its true manifestation, and that leaving Cristobal was a profound mistake.
Also traveling on the steamboat are Rosalba (Gabriella Reyes, whose exquisite soprano voice is matched by her acting skill), a young journalist who has been toiling away on a biography of Grimaldi, and hopes to see her in real life for the first time when she performs on the stage in Manaus. It is not long before Rosalba begins to feel a powerful connection with Arcadio (tenor Mario Rojas, whose beautiful voice is matched by his wonderfully convincing portrayal of the handsome, dreamy, but somewhat lost and ambivalent young nephew of the boat's Captain played by bass Raymond Aceto). And perhaps much like Florencia and Cristobal decades earlier, these two are more than a little skittish about compromising their dreams by falling into what often can become the trap of marriage. A case in point is the wealthy, middle-aged couple – Paula (mezzo-soprano Deborah Nansteel) and her husband, Alvaro (baritone Levi Hernandez) – who have been married for years, and clearly have begun to get on each other's nerves as they take what was supposed to be a healing trip to Manaus. (Their dinner scene suggests a classic marital mess.)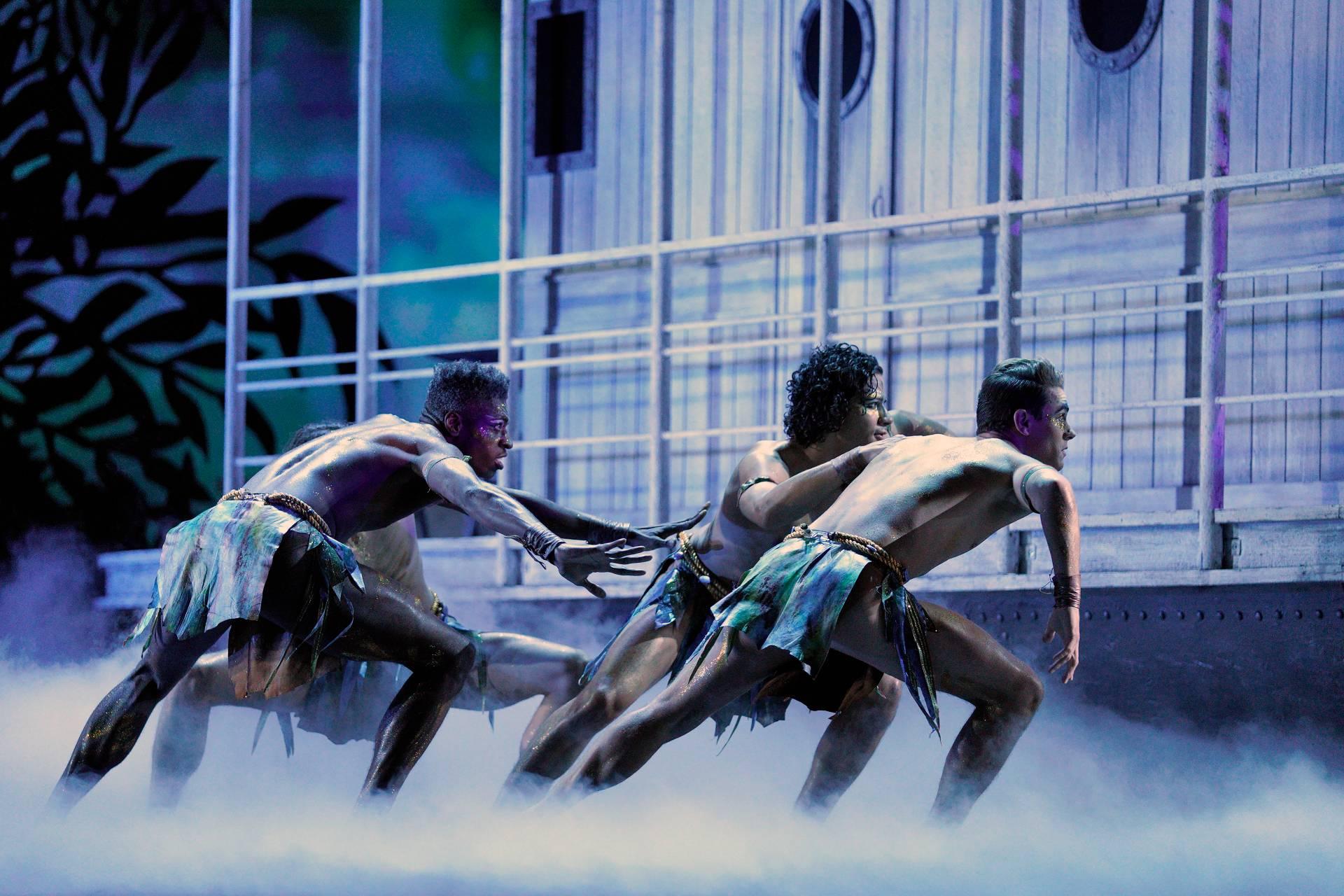 The company of "Florencia en el Amazonas." (Photo by Cory Weaver)
Moving throughout the story is the enigmatic, wild-eyed, all-seeing figure of Riolobo (the charismatic baritone Ethan Vincent), who appears to be an essential worker on the steamboat. And as the vessel slowly moves along the Amazon (with the river becoming something of a many-faceted character all its own), an ensemble of dancers led by golden-haired Akua Noni Parker, along with Rojas, Dwayne Brown, Joshua Leon Equia, Joseph Hernandez, Michael Francis McBride, Benjamin Holliday Wardell and Hannah Zin, embody the Amazon River's currents and engage in magical acts of retrieval from the water (whether a notebook or a body).
Fluidly directed by Francesca Zambello, and choreographed by Eric Sean Fogel, the powerful, often quixotic flow of the river, and the turmoil that comes with a life-threatening thunderstorm, echo the emotional chaos of those on board the El Dorado. And in his impressive Lyric Opera debut, Canadian conductor Jordan de Souza, along with the sublime Lyric Orchestra musicians, capture the full beauty of Catan's lush and truly magical score.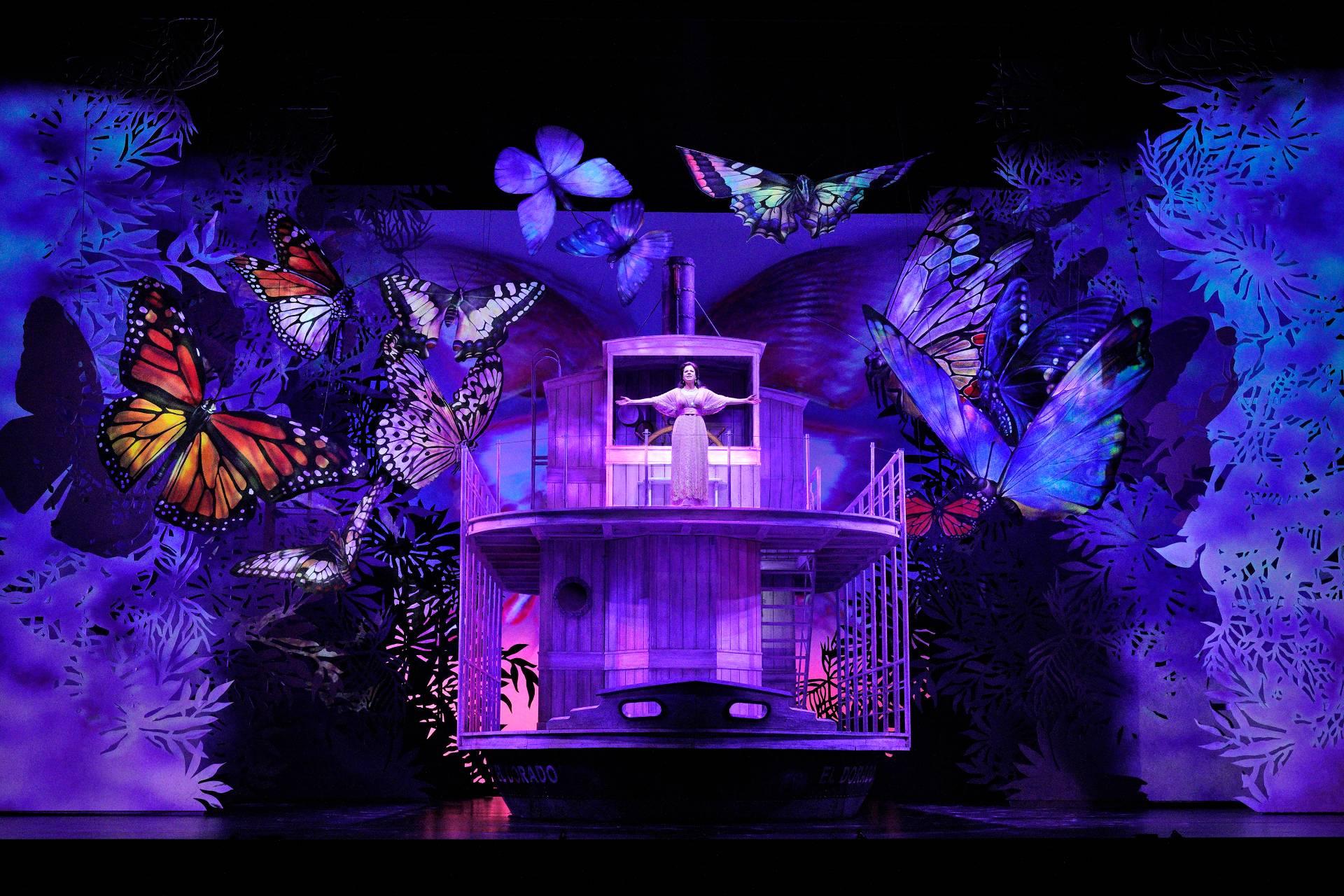 Ana Maria Martinez performs in "Florencia en el Amazonas." (Photo by Cory Weaver)
Peter J. Davison's tropical forest-framed set, with mystical lighting by Mark McCullough, beautifully suggests the boat's motion as it periodically rotates, with projections by S. Katy Tucker infusing the scene with the butterflies emblematic of Cristobal's otherworldly presence.
A program note that quotes Catan directly suggests that many elements of the opera are autobiographical in spirit. The composer, who was married three times, notes: "Writing music is for me a process of self-discovery and self-understanding. I am concerned, especially, with the nature of love. I believe that the experience of love is fleeting, fragile and interminable. I believe it is the only point where life and death intertwine." And he goes on to explain: "I identify the essence of music with these concerns, and it is through music that I try to capture them and understand them."
"Florencia" is the most eloquent evidence that Catan is true to his word.
The remaining performances of "Florencia en el Amazonas" are Thursday, Sunday and Nov. 21, 26 and 28. For tickets, visit lyricopera.org.
Note: Next up at the Lyric Opera House is the Joffrey Ballet's production of "The Nutcracker," choreographed by Christopher Wheeldon. It runs Dec. 4 through Dec. 26. For tickets, visit joffrey.org.
Follow Hedy Weiss on Twitter: @HedyWeissCritic
---