---
Video: Willis explores his habitat. (Credit:Born Free USA)
It's difficult to know where Willis, who experts estimate is two or 3 years old, began his young life.
Presumably, he was born in a breeding facility then torn from his mother when he was just a baby. His former owner likely purchased him online and brought him to Chicago, where he was kept in a parrot cage.
It's easy — too easy — to buy a monkey like Willis off the internet, said Angela Grimes, CEO of the animal protection organization Born Free USA.
Chicagoan Grimes was part of an effort last month to rescue Willis from a South Side home where someone was illegally harboring him as a pet.
"Of course, any apartment or home or any private setting isn't suitable for a monkey, who is a wild animal," Grimes said.
It is illegal in Illinois for a private person to own, breed or sell a monkey. State law (720 ILCS 5/48-10 / Public Act 97-1108) also bans possession of "dangerous animals" like lions, bobcats and poisonous snakes.
WTTW News has a pending public information request to learn whether any charges were filed against Willis's captor.
But just over the border, Indiana's Department of Natural Resources confirms there is no state law prohibiting primate ownership.
"It is possible somebody can almost cross the street, buy one (a monkey) legally and then bring it back home to the city," Grimes said.
While there are some federal restrictions on breeding and selling, the regulation of wild and exotic animals is largely left to states, resulting in what Rep. Bobby Rush, D-Ill., whose district covers the home from which Willis was rescued, described as an "inadequate patchwork" of legislation.
(Credit: Born Free USA)
"Willis the monkey slipped through the cracks," Rush said in a statement. "While I am grateful that Willis the monkey is now safe and in the care of a sanctuary, this story could have ended far differently — and dangerous predicaments like these are sadly all too common. The story of Willis the monkey is exactly why I cosponsored and am pushing for passage of the Captive Primate Safety Act."
U.S. House Resolution 3135 would prohibit interstate sales of primates and ban the private possession, breeding and public contact of monkeys.
"Public contact is an important part of that. So that would be like petting zoos, where you go and get your prom picture taken with a monkey," Grimes said.
Born Free USA is also lobbying Congress to pass the Big Cat Public Safety Act, a similar proposal for which U.S. Rep. Mike Quigley, D-Ill., is the lead sponsor.  U.S. House Resolution 263 would prohibit cub-petting and private ownership of lions, tigers, leopards and pumas.
Both measures are focused on private ownership and make exemptions for zoos.
Animal rights organizations have been advocating for stricter federal limits on exotic animals for years, but Grimes is optimistic the efforts have momentum behind them, given the public attention brought to the issue last year by the pandemic-popular Tiger King Netflix docuseries.
The second season of Tiger King is scheduled to premiere Nov. 17.
Grimes said bans on captive possession of these animals is for their own welfare, as well as for the protection of people.
Take Willis, who Grimes expects was torn from his mother when he was very young, "which is incredibly detrimental to the mom, who has just lost a baby she's given birth to, but also to the child. Monkeys stay with their mothers for years and learn their behaviors, learn how to act and be a monkey."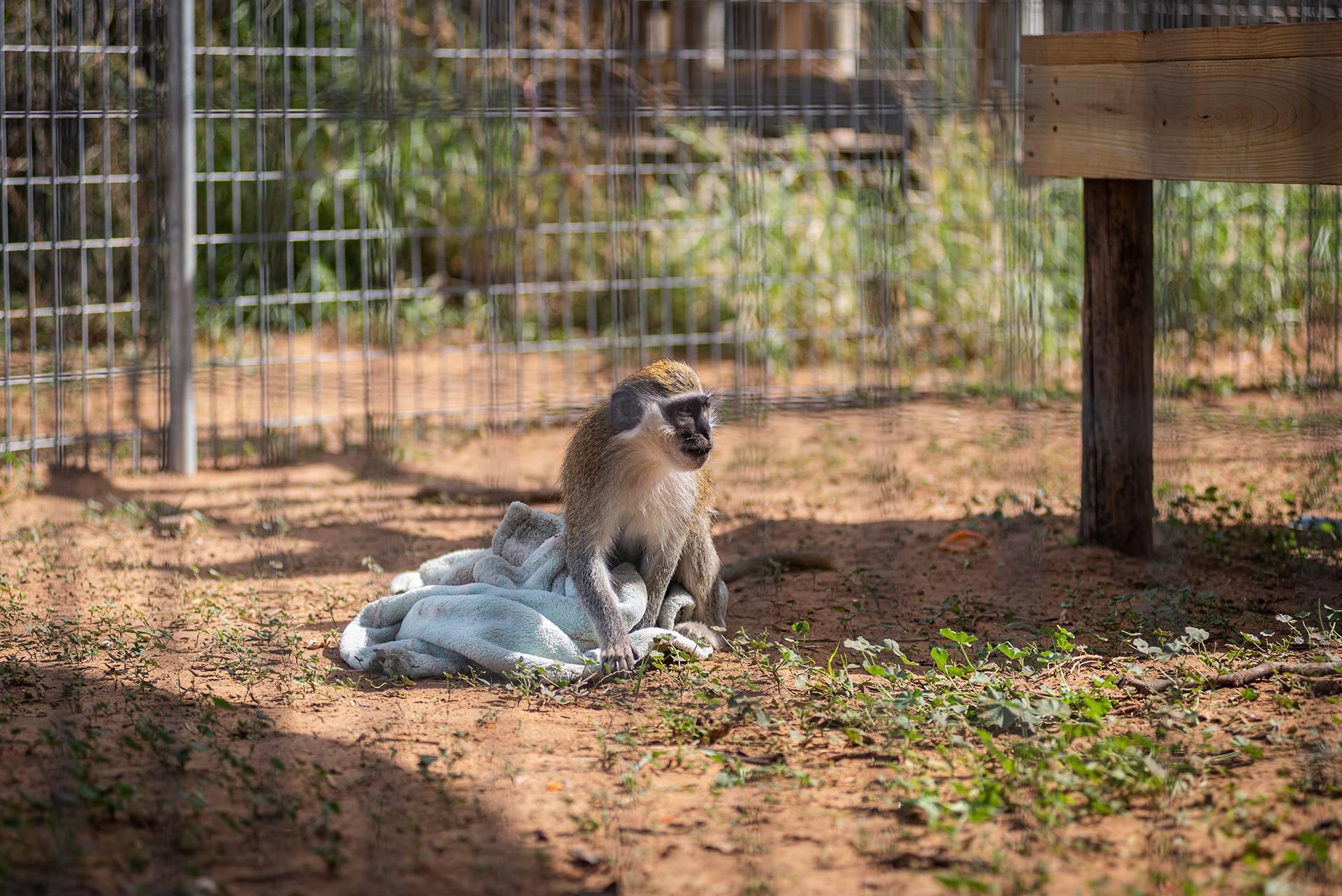 (Credit: Born Free USA)
Even in captivity, as monkeys grow up, Grimes said their instincts begin to kick in.
"They become aggressive. They're acting out. They're in many cases just being a monkey, but in a cage. In a home," she said. "That can become both dangerous for the monkey as well as for the people. There's risk of bites, attacks, even death."
Vervet monkeys like Willis  — who has large brown eyes, a long tail, and slender body covered in shocks of black-and-tan hair — are native to Africa.
"He should be with his family there, not here in the United States," Grimes said, "but he won't ever be able to live in the wild."
Instead, he'll spend the rest of his days at Born Free USA's sanctuary in Texas, where he's quickly taken advantage of his new space, spending his days seemingly bouncing with a spring inside his little, athletic body as he scurries across ropes, climbs ladders and plays on platforms.
Visitors aren't permitted; it's an animal sanctuary intended for animals' benefit, Grimes said.
But his name hints at his time in Chicago: His caretakers chose Willis after the Willis Tower.
And those who hope to ensure he's got better days ahead can help to adopt Willis.
According to his adoption page, Willis "enjoys rolling himself up in his blanket – like a monkey burrito – and then tearing off to play on his swing.
Hanging upside down is a particularly fun way to look at the world when you are Willis.
And, playing with your tail, which has a life of its own, never gets old!
Meeting other monkeys is still a little daunting, but Willis is gradually making friends. That is truly exciting because everyone knows the best games are played with other monkeys."
---
Follow Amanda Vinicky on Twitter: @AmandaVinicky
---