The Rockford Airport Authority is not ceding Bell Bowl Prairie, an ancient prairie remnant that's part of the airport's nearly 3,000-acre property.
The patch of rare Illinois prairie is slated to be bulldozed as the airport moves forward with a $50 million expansion of its cargo operation.
Conservationists won a temporary reprieve for Bell Bowl less than two weeks ago, but the latest messaging from the airport authority makes it clear the prairie site is the linchpin of a development plan that extends beyond the current construction project.   
On Tuesday, airport authority officials, who have been relatively quiet since the Save Bell Bowl movement coalesced in September, issued a statement that reaffirmed their plan to move forward with the expansion in the spring "or sooner," pending the results of a new environmental assessment and ongoing consultation with state and federal agencies.
The airport authority called the expansion "a watershed moment for the region," that will create thousands of jobs and put Rockford on the global map.
An info sheet accompanying the statement noted that 15 international airlines — including Emirates, Korean Air, Air Belgium, Qatar Airlines and Air Atlanta Icelandic — have begun service to Rockford in the last six months, and the number of monthly flights increased to more than 100 in just a year and a half.
"In the first three quarters of this year, we've already had $2.1 billion of international import/export passing through this airport," Zack Oakley, deputy director of operations and planning at Rockford Airport, said in an interview with WTTW News. 
"They're not just your normal e-commerce-type goods," he continued. "These are products related to the supply chain challenges that are currently ongoing — high-value shipments related to medical supplies, manufacturing equipment, auto parts."
The move toward becoming an international cargo hub is the culmination of years of strategic planning, Oakley said, except culmination isn't quite accurate. The expansion now underway — and already 65% complete — is just the first phase of even greater development, he said, adding Bell Bowl's site is absolutely vital not just to the current project but future expansions.
Kerry Leigh, director of the Natural Land Institute, which has been managing Bell Bowl for decades, said the airport's emphasis on the economic value of the cargo expansion, with the prairie standing in the way, was a "bullying tactic."
"They are shutting us down and attempting to portray us as anti-airport expansion, which we are not," Leigh said.
Prairie advocates have stressed they are both for the expansion and for saving Bell Bowl, she said. According to Leigh, the lawsuit Natural Land Institute filed to halt destruction of the prairie, originally set for Nov. 1, was meant to give conservationists time to connect with airport officials about alternative designs.
Much hope has been pinned by prairie advocates on an expansion option they've put forward that would make use of an existing airport road in lieu of creating a new route through the heart of Bell Bowl.
But that existing road, Oakley said, wasn't built to handle the kind of traffic volume the expansion will bring. More importantly, that road is living on borrowed time itself, he said.
"That road will not exist in the long term. In the future, as we develop, that area becomes future hangars, ramp or runway," Oakley said. "We can't move that (Bell Bowl) roadway."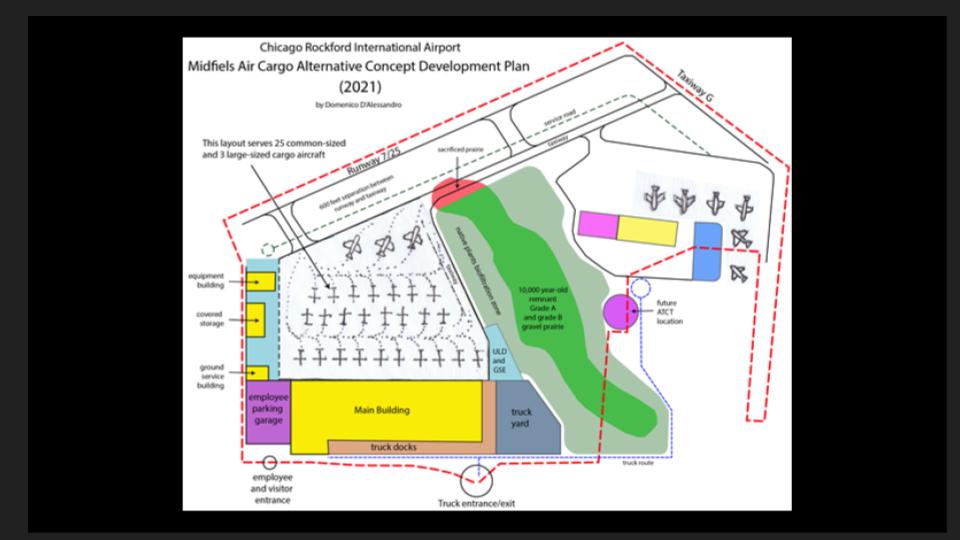 A proposal to reconfigure the road that would plow through Bell Bowl Prairie, and have it skirt the natural area instead (blue dotted line). (Courtesy of Save Bell Bowl Prairie)
While the Save Bell Bowl coalition would at least like the opportunity to make its case for prairie and airport, a meeting with airport officials has yet to materialize, Leigh said.
Nor is it likely to any time soon, according to Oakley.
Due to active litigation, there are questions that need to be answered in a legal setting, he said, adding the ongoing environmental review "has to run its course."
Until this consultation with entities such as the Federal Aviation Authority, U.S. Fish and Wildlife Service and the Illinois Department of Natural Resources is completed, the airport authority has stated it will limit access to Bell Bowl in order to "ensure preservation and safety on airport property."
Prairie advocates have attempted to monitor the site since the reprieve was announced, but due to the presence of security personnel, those efforts have been confined to driving past the land and watching for any signs of rogue construction activity.
Fencing around Bell Bowl's perimeter, which is being erected by the airport authority, will reassure both sides that the prairie isn't being disturbed, Oakley said.
In addition to restricting access, the airport also pulled the plug on Natural Land Institute's ability to manage Bell Bowl. In a letter sent to the institute, Paul Cicero, Greater Rockford Airport Authority chairman, questioned the existence of a stewardship arrangement.
"Natural Land Institute believes that it has some form of contract or agreement with the Authority as it relates to certain property owned by the Authority," the letter stated. "The Authority is not aware of any written agreement between Natural Land Institute and the Authority. However, if any such agreement does exist, notice is hereby given that any such contract or agreement is terminated effective immediately."
Leigh said a management resolution was signed by the airport in the 1970s. In the decades since, the institute, along with partners including local forest preserve agencies, has held regular work days on site, removing invasive species and conducting controlled burns among other activities.
"We didn't just wander out there," said Leigh. "We were always in contact with the airport." 
Her concern is that if the prairie is spared, who will care for it?
"They've said, 'No more management agreement.' But if the prairie stays, it still needs management," she said. "If it's not us, then it needs to be someone."
While conservationists were only recently made aware of the planned expansion, the airport authority has been putting pieces in motion for years.
The authority provided WTTW News with verified copies of a pair of public notices placed in the Rockford Register Star in 2019. One, from August 2019, announced a public meeting about the expansion plan scheduled for September. The second, from December 2019, announced the availability of the report that concluded the expansion plan posed "no significant impact" to the environment.
Each notice ran just once, and neither made any reference to the prairie.
"We did everything legally required," Oakley said.
The courts are where the fate of Bell Bowl may ultimately be decided. Natural Land Institute is pursuing multiple legal options, and there's also the environmental consultation, though prairie advocates consider the original assessment to be deeply flawed and question what a consultation will entail.
The airport authority board has a meeting scheduled for Nov. 18, which Oakley said would go ahead as scheduled, as opposed to the late cancelation of October's meeting.
"There may be a couple of people who go to speak," said Leigh. "We can't just give up. We're not done with this fight." 
Note: this story was originally published Nov. 10. It has been updated to include our "Chicago Tonight" discussion.
Contact Patty Wetli: @pattywetli | (773) 509-5623 |  [email protected]
---