A moment of silence is observed by James Conlon and the CSO musicians in recognition of the passing of Maestro Bernard Haitink, who died on October 21, 2021. (Credit Todd Rosenberg Photography)
Thursday evening's superb Chicago Symphony Orchestra concert began as guest conductor James Conlon turned to the audience and announced the sad news that Bernard Haitink, the world-renowned and much beloved conductor with strong ties to the CSO had died earlier in the day at his home in London at the age of 92. He served as its principal conductor from 2006 to 2010. A moment of silence was observed in tribute to the man, and it was followed by a performance of Bach's elegiac "Air on a G String."
Then came the altogether stunning scheduled program that included an absolutely smashing rendering of Sergei Prokofiev's fiendishly difficult "Piano Concerto No. 1 in D-Flat Major" with Alexander Gavrylyuk as soloist, as well as performances by the ever-peerless CSO of Shostakovich's dramatic "Chamber Symphony for Strings in C Minor" and Schubert's beguiling "Symphony No. 3 in D major."
Prokofiev was just 21 when he wrote his first piano concerto in 1912, and he played it himself with the CSO in 1918. Listening to the galvanic work you have to wonder how he ever imagined it, and if he considered that he might be the only pianist capable of playing it. It is a staggering work that has the piano soloist launch into one of the most bravura displays imaginable just seconds after it begins.
Gavrylyuk, whose program biography begins with the words "a virtuosic pianist," more than earned that description. His performance was breathtaking. And you could only wonder what might go through his mind every time he sits down to play this work and as you watch his hands rippling across the entire keyboard at the speed of light, and with total clarity, in a piece that is of feverish urgency for almost all of its thrilling 16 minutes.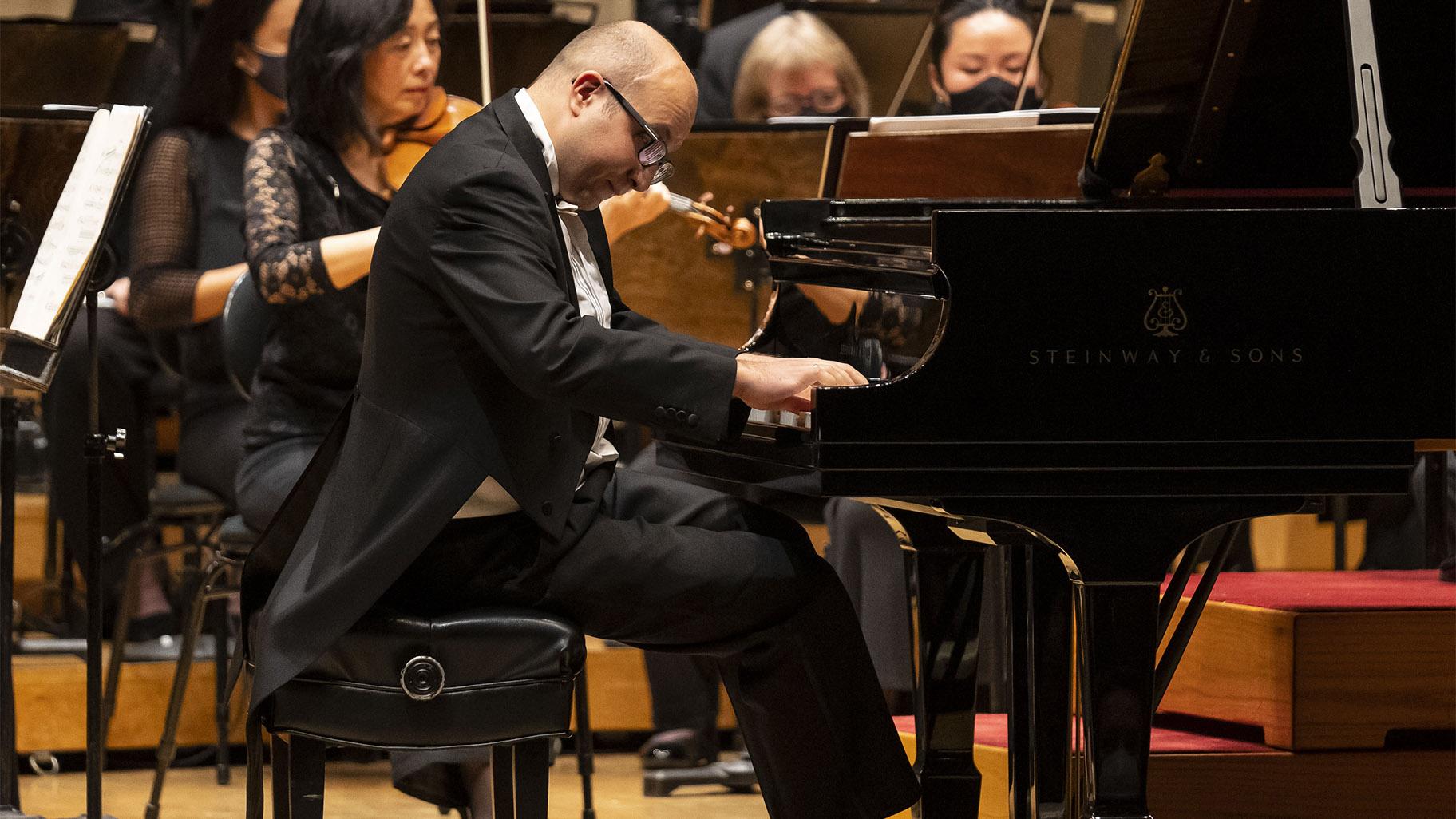 Alexander Gavrylyuk performs Prokofiev Piano Concerto No. 1 with the Chicago Symphony Orchestra. (Credit Todd Rosenberg Photography)
The orchestra was with Gavrylyuk every second of the way, with the writing for the horns, plucked strings, cellos, xylophone and timpani a reminder of Prokofiev's great gift as a mood colorist who could conjure the most lyrical beauty as well as a very certain madness, as expressed in the race to the work's finish line. The concerto also suggested the intense theatricality the composer brought to his later ballet and opera scores.
The program opened with Dmitri Shostakovich's "Chamber Symphony for Strings in C Minor," another work of pure musical genius by a 20th century Russian composer. Originally a string quartet, it was subsequently arranged for string orchestra by Rudolf Barshai, the Russian conductor and violist, and "approved by Shostakovich."
The work was initially commissioned to be the score for a film about the Soviet soldiers sent to Dresden, Germany to recover art treasures stolen by the Nazis. But the composer's 1960 visit to that earlier bombed out city, with its enduring legacy of the horrors of World War II, left him emotionally shell-shocked.
In many ways, the piece, with its funereal opening, its passage of ritualistic rhythms, its crazy waltz, its bouts of fury and madness, and its repeated trio of "knocking at the door" captures aspects of the composer's own life of upheaval during Soviet times. The work's lyrical undercurrents, with exquisite playing by Concertmaster Robert Chen and Assistant Principal cellist Kenneth Olsen, captured a profound aura of sadness, as did the surprising ending that brought all the insanity of the modern world to a very quiet, heart-stopping sleep.
As if to counter all the turbulence of the Prokofiev and Shostakovich pieces, the final work on the program was Franz Schubert's blissful 1815 "Symphony No. 3 in D Major," with its joyful energy and lightness, and even a hint of Mozart in its minuet-evoking third movement. There is the sense throughout that you might be running around with friends in a big, beautiful garden. The splendid wind and brass sections of the orchestra added to the work's playfully triumphant sense of energy and celebration.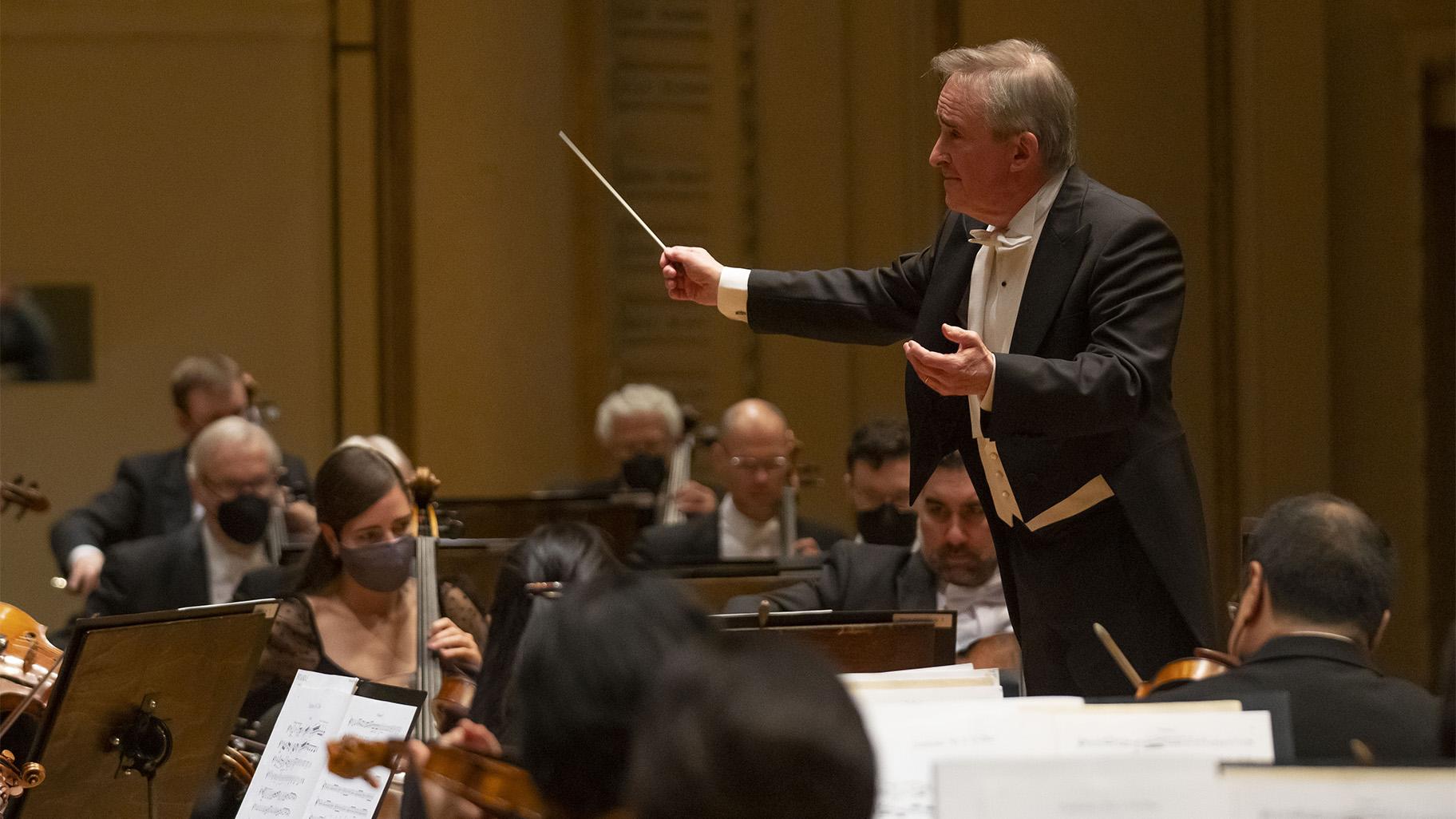 Guest conductor James Conlon leads the Chicago Symphony Orchestra in Schubert's Symphony No. 3. (Credit Todd Rosenberg Photography)
Conlon, who led the Schubert without the use of a score, is an understated but expert conductor with a long history of collaboration with the CSO at both Orchestra Hall and the Ravinia Festival. In this case he stepped in for Michael Tilson Thomas who is dealing with health issues.
This concert will be repeated Oct. 23 at 8 p.m. Visit cso.org or phone (312) 294-3000 for tickets.
Program Note: Denis Matsuev, the superb Russian pianist, will perform with the CSO on Oct. 28, 29 and 30, playing Prokofiev's "Piano Concerto No. 3" on a program that has been altered to include "Coincident Dances," a 2017 orchestral work by the CSO's Mead Composer-in-Residence Jessie Montgomery and Schubert's Symphony No. 8 (Unfinished). As previously announced, conductor Manfred Honeck will be replacing Michael Tilson Thomas.
Follow Hedy Weiss on Twitter: @HedyWeissCritic
---