White Sox fans know the smoky rumble of Gene Honda's voice well. But in a striking mural by Chicago artist Murrz, it's his face that's among the stars – he shares the space with White Sox players Tadahito Iguchi, Shingo Takatsu, and Man Soo Lee.
"All four of the people in the Asian-American mural were part of the 2005 year, the World Series year. And I'm not sure people remember that but – there it is," Honda said of the work. "It's a reminder to people of the contribution of so many of these different groups to not only White Sox history, but to a lot of the people who are fans."
He calls the mural "gorgeous" – though he admits upon his first impression, one detail jumped out at him.
"They walked me down to where it was on display and I walked in. That thing was huge! And of course, I love [Murrz], I got to talk with her before she painted it, but why did you put the biggest fattest head up at the top, middle of the mural?" Honda said with a laugh.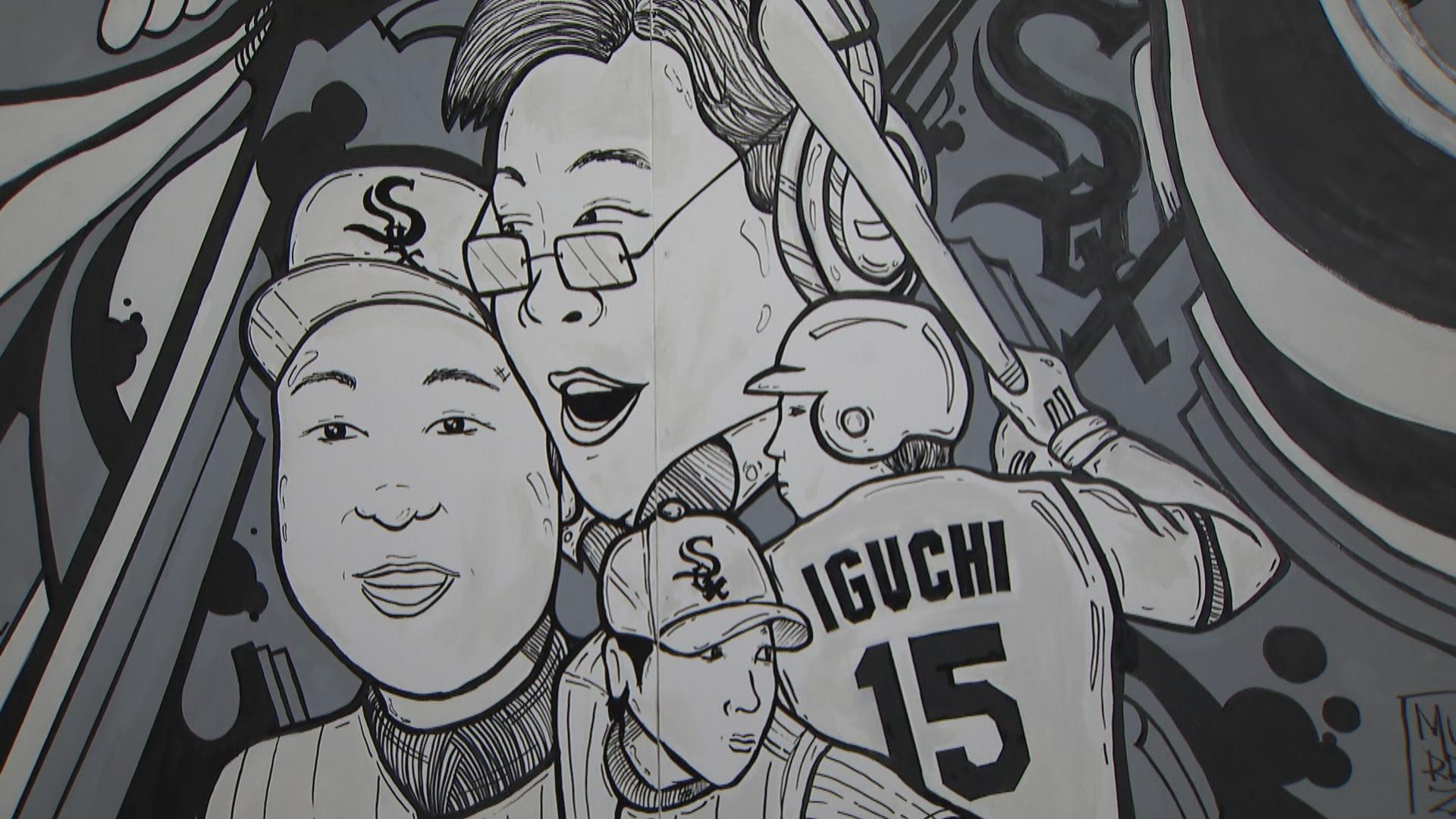 Chicago artist Murrz created a mural as part of the Chicago White Sox's "Game Changers" series that features broadcaster Gene Honda along with a trio of Asian-American players. (WTTW News)
The closer he examined the black and white painting, Honda found more ways to connect with it.
"I know she's Filipino, but there's so many Japanese traits to it. You look at the Japanese block paintings that are all black and white and … in many ways a lot of Japanese art calligraphy is that same kind of style. So, it was really interesting to see that all blended together that way," he said, "It was very humbling, and it still makes me smile when I see that."
Murrz's tribute is one of three murals the White Sox commissioned as part of their "Game Changers" series, which throws a spotlight on the contributions of underrepresented communities. The murals were unveiled at Guaranteed Rate Field over the course of the 2021 season. White Sox senior director of public relations Sheena Quinn said the artistic endeavor was a heel turn from the "Game Changers" previous event-based approach, and finding the right artistic match for the communities they wanted to depict was a crucial component of the effort.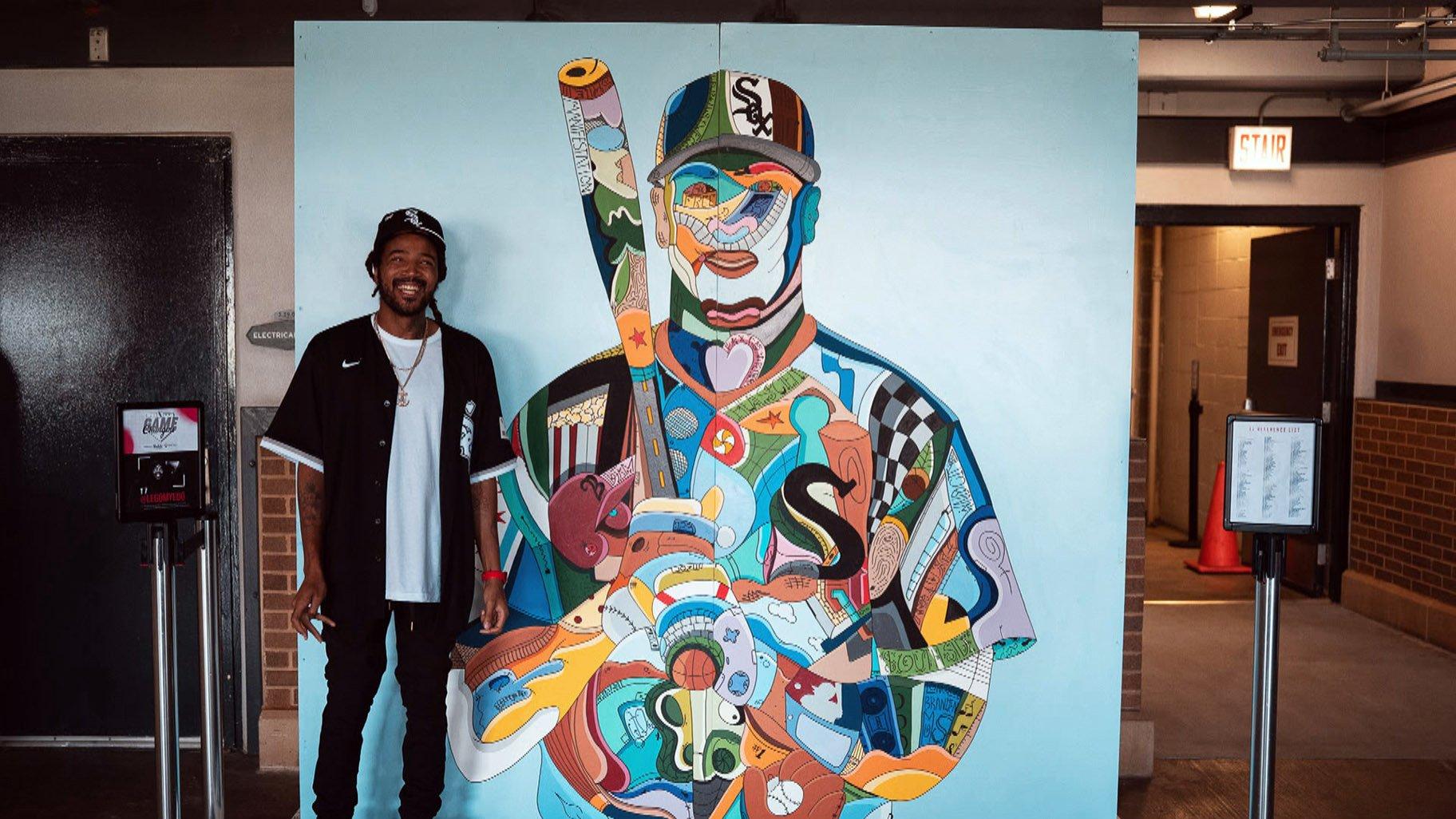 Just like Tim Anderson's exuberant style of play, Edo's bright, boisterous style of art draws people in. (WTTW News)
"Diversity is part of the White Sox's history. We've seen so many wonderful players, leaders who have broken the color barrier here. So, we wanted to feature artists who were White Sox fans who were representative of the underrepresented communities," said Quinn. "And I think we hit a home run —  grand slam, right? Because there's three incredible artists here who have just completely hit it out of the park."
In his mural of Tim Anderson, Chicago artist Edo applies his energetic style to a portrait of the fan favorite shortstop. His collage-like rendering depicts literally dozens of objects, words and symbols embedded in Anderson's likeness.
Edo says he wasn't sure what the subject of his mural would be until he saw footage of Anderson at an outreach event.
"I saw this video of him talking to the youth and I was like, boom there it is. Him being of service to the youth. That's pretty much who I am, that's where we connected, and that's kinda how it came to be," recalled Edo. "Seeing me, seeing Tim Anderson, this color, doing what we do, going after what we love with the next level fire and passion behind it, I think that's something that will rub off on the youth who see us."
In the third mural unveiled during Hispanic Heritage Month, a dreamlike scene by Chicago artist Asend, a larger-than-life Jose Abreu swings his mighty bat under the Cienfuegos streetlights of his childhood.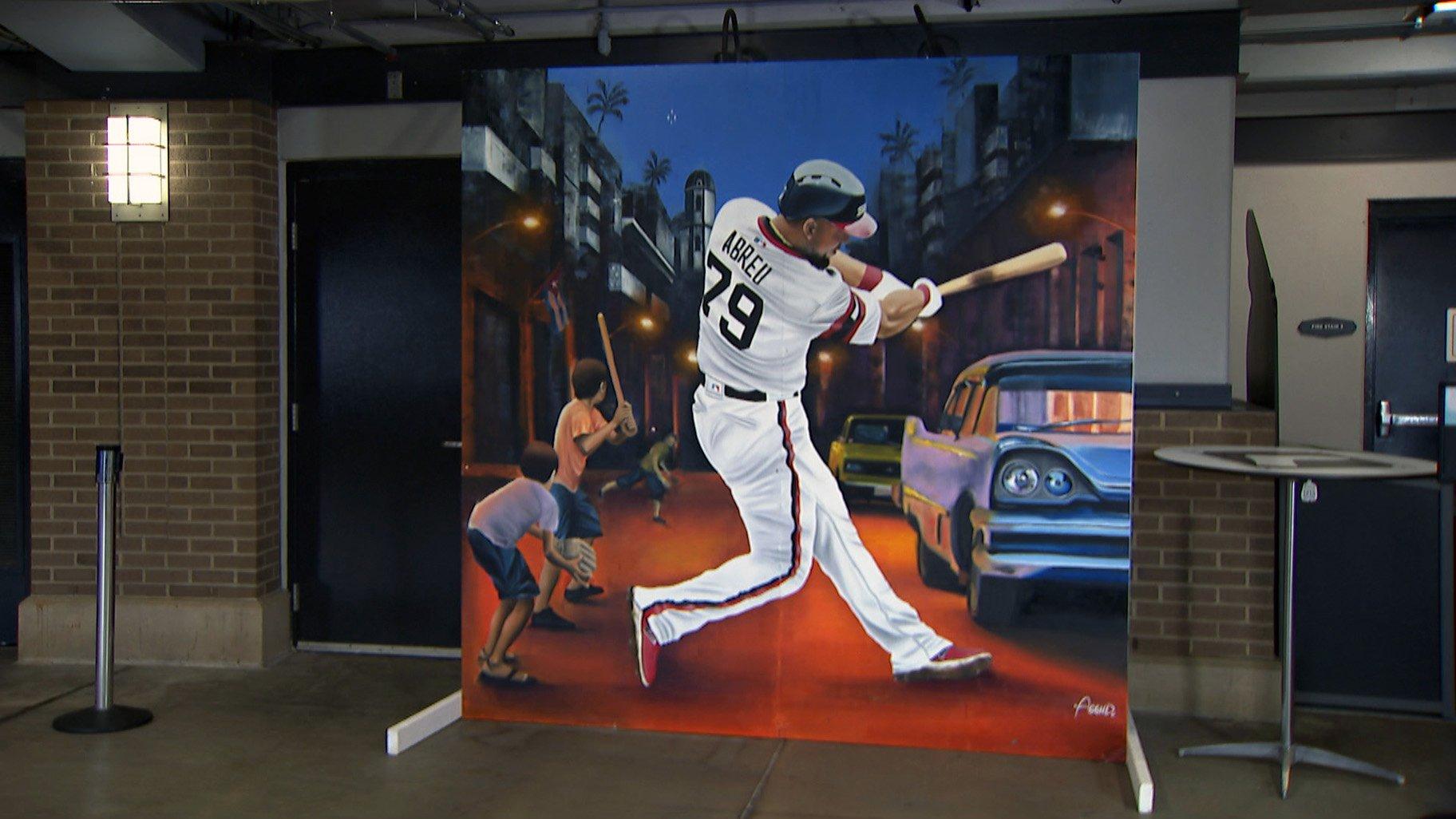 In a mural by Chicago artist Asend, a larger-than-life Jose Abreu swings his mighty bat under the Cienfuegos streetlights of his childhood. (WTTW News)
"I think what was important to me was to show the story from the beginning to where it is now. So, showing Cuba, showing where he was born, that's actually, you know, a street, an interpretation of the street in Cienfuegos where he's from," said Asend.
The Venezuela-born artist played baseball himself for years and says the sport has deeply embedded itself into Latino culture.
"As a Latino, anyone who made the majors from our country, you know, you were a fan of that team. In our case it was Ozzie Guillen, '80s and '90s, and I was a Sox fan over there. We immigrated to Chicago in '95. I was 13, and we went to the South Side and just continued my love for the Sox here," Asend said. "It's such a beautiful mix of culture…for us it's something that we do as kids and we've taken to [adulthood]…we share games with our family…Baseball is more than a just a game, it's just part of our everyday life."
Honda said he hopes the project makes all White Sox fans more aware and appreciative of the rich cultural tapestry that makes up their home team.
"Here are three ethnic groups, and you've embraced them throughout the years as a White Sox fan," said Honda. "They are a part of your memories and part of the reasons why you love baseball – and why you love White Sox baseball."
---