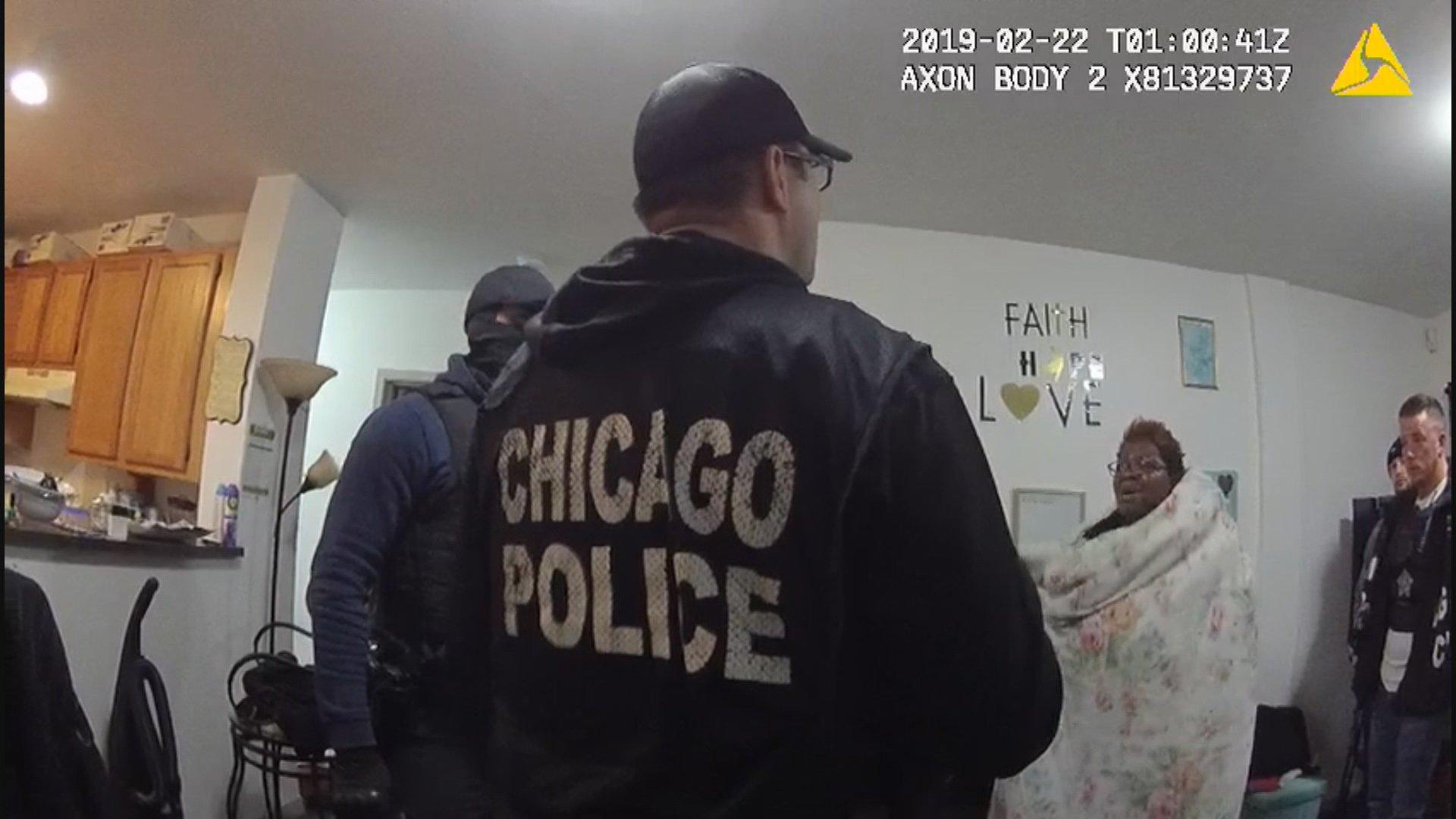 A still image from a Chicago Police Department body camera video shows a police raid at the home of Anjanette Young in February 2019. (WTTW News via Ja'Mal Green)
Inspector General Joseph Ferguson has completed his probe of the botched raid in February 2019 that left Anjanette Young handcuffed while naked and pleading for help, and will submit his report to Mayor Lori Lightfoot before he leaves office on Oct. 15.
Ferguson launched the probe after dozens of aldermen asked the city's watchdog to examine the incident that set off a political firestorm after CBS2-TV aired video of the raid that showed Young, a social worker, had been left unclothed by a group of male officers looking for someone else.
Ferguson told aldermen in December that his decision to open a probe was prompted in part by the release of emails that showed Lightfoot was told in November 2019 that the raid was "pretty bad" and briefed in detail about what happened to Young.
Ferguson's probe is the one of three investigations into the February 2019 raid on Young's apartment.
The Civilian Office of Police Accountability, the city agency charged with probing Chicago Police misconduct, found evidence that nearly a dozen officers committed nearly 100 acts of misconduct during the botched raid.
Those findings have been on the desk of Chicago Police Superintendent David Brown since April. He has taken no public action on any of the results. 
At Lightfoot's request, retired Judge Ann Claire Williams and the law firm Jones Day are to conduct an outside investigation into the raid and the conduct of the mayor's office, the city's Law Department and the police department.
Neither Williams nor Jones Day has spoken publicly about that probe or when it will be complete.
Lightfoot initially told the news media that she did not learn about the raid until she saw CBS2's report. However, 24 hours later she acknowledged that she was informed in November 2019 about the raid and Young's attempt to get video of the incident, but said she "had no specific recollection" of being told about the incident.
Lightfoot decided to appoint Williams to probe the incident after the emails released by the mayor's office showed she was briefed in detail about what happened to Young in 2019.
Lightfoot urged her staff to make changes to the policy governing how the Chicago Police Department applies for and serves search warrants and she warned her staff that "we cannot afford any additional hits" but did not express concern about what happened to Young. Lightfoot later apologized for that.
Young has sued the city, and pushed officials to settle the lawsuit. However, city lawyers ended settlement negotiations.
In the aftermath of the outrage over the raid of Young's home, the Chicago Police Department revised their search warrant policies, and added a requirement that bureau chiefs sign off on any no-knock warrants.
However, Illinois Attorney General Kwame Raoul has said the changes to those policies do not go far enough and called for no-knock warrants to be banned.
Ferguson's probe of the raid of Young will be among the last major initiatives he completes before he leaves office after 12 years in office as the city's watchdog.
In response to a question from Ald. Anthony Beale (9th Ward), Ferguson said Lightfoot had not asked him to serve a fourth term.
Even though Ferguson warned the City Council and Lightfoot in July that his term would end Oct. 15, alderpeople took no action to replace him until September.
Ferguson told the members of the City Council's Budget and Government Operations Committee Thursday evening that he will appoint a member of his staff as an acting inspector general, "and we'll go from there."
Contact Heather Cherone: @HeatherCherone | (773) 569-1863 | [email protected]
---