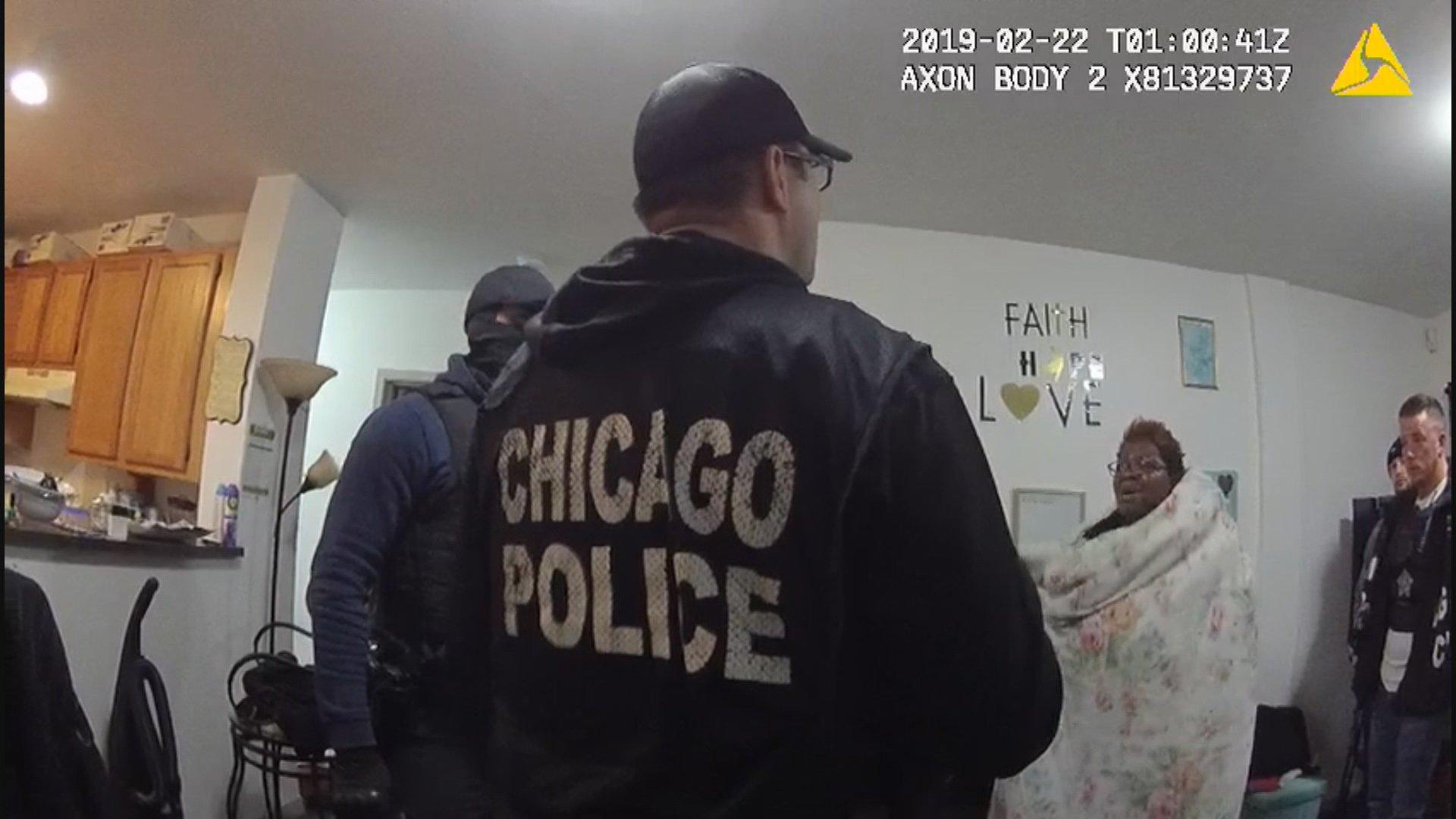 A still image from a Chicago Police Department body camera video shows a police raid at the home of Anjanette Young in February 2019. (WTTW News via Ja'Mal Green)
Inspector General Joseph Ferguson told aldermen on Thursday that his office "has initiated and is proceeding with a formal inquiry into aspects of the search warrant" that authorized a botched raid in February 2019 that left Anjanette Young handcuffed while naked and pleading for help.
Dozens of aldermen asked the city's watchdog to probe the incident that set off a political firestorm after CBS2-TV aired video of the raid that showed Young, a social worker, had been left unclothed for 40 minutes by a group of male officers.
Also Thursday, Mayor Lori Lightfoot met with Young, according to a statement released by Keenan Saulter, Young's attorney, and the mayor's office.
The statement said the meeting featured "a lengthy, very candid and productive conversation."
"We are both committed to continuing to identify areas of common ground relating to these issues and to working towards necessary policy changes together," according to the statement.
Lightfoot had declined to meet Wednesday with Young after Saulter said a one-on-one meeting between the two women would not happen unless the mayor agreed to attend a forum at Young's church with aldermen and Chicago Police Superintendent David Brown that Saulter planned to broadcast on Facebook. No public forum took place Thursday.
Ferguson told aldermen that his decision to proceed with a probe was prompted in part by the release on Wednesday of emails that showed Lightfoot was told in November 2019 that the raid was "pretty bad" and briefed in detail about what happened to Young in a letter posted on Twitter by Ald. Rossana Rodriguez Sanchez (33rd Ward).
In addition, Ferguson told aldermen that he expected to make a statement next week "to clarify to the council and the public what the [Office of the Inspector General] understands is being examined and by whom, and what OIG will be doing in the context of the whole."
In a letter to aldermen sent on Dec. 22, Lightfoot said she supported an investigation by the inspector general and would instruct her staff to "cooperate with him and his team in any way that we can."
Ferguson's probe is the third investigation into the February 2019 raid on Young's apartment to be publicly announced.
The Civilian Office of Police Accountability is investigating the conduct of 12 officers who participated in the raid. All were placed on desk duty and stripped of their police powers by Brown on Dec. 21.
COPA's probe has been ongoing since November 2019, when it was used to block the release of the video of the raid on Young's home to CBS2 and her attorney. Lightfoot has called on COPA Administrator Sydney Roberts to quickly finish the investigation and send its findings to Brown, who could discipline the officers.
In addition, Lightfoot announced Dec. 22 she had tapped retired Judge Ann Claire Williams and the law firm Jones Day to conduct an outside investigation into the raid and the conduct of the mayor's office, the city's Law Department and the police department.
Neither Williams nor Jones Day has outlined the scope of their probe, or how they will conduct their work.
The announcement of Williams' appointment prompted criticism from several members of the City Council who said it was inappropriate for the mayor to select a special counsel to investigate her own conduct and that of her staff, especially in light of the fact that the mayor has twice made incorrect statements about her knowledge of the raid to the news media.
Lightfoot initially told the news media that she did not learn about the raid until she saw CBS2's report. However, 24 hours later she acknowledged that she was informed in November 2019 about the raid and Young's attempt to get video of the incident, but "said she had no specific recollection" of being told about the incident.
Criticism of Lightfoot's selection of a special counsel grew after the emails released by the mayor's office showed she was briefed in detail about what happened to Young in 2019.
While Lightfoot urged her staff to make changes to the policy governing how the Chicago Police Department applies for and serves search warrants and she warned her staff that "we cannot afford any additional hits" after scheduling a conference call.
Lightfoot apologized for that in a statement issued Wednesday.
"While it's clear that I focused my response to this information on the policy change we unquestionably needed, I should have paused to ask more questions about Ms. Young's well-being and the video itself," Lightfoot said. "I am sorry that I didn't do that then, and I'm committed to doing all that I can now to righting the wrongs Ms. Young experienced. Now is the time for meaningful change, and I won't rest until we can be sure that what happened to Ms. Young never happens again." 
Contact Heather Cherone: @HeatherCherone | (773) 569-1863 | [email protected]
---