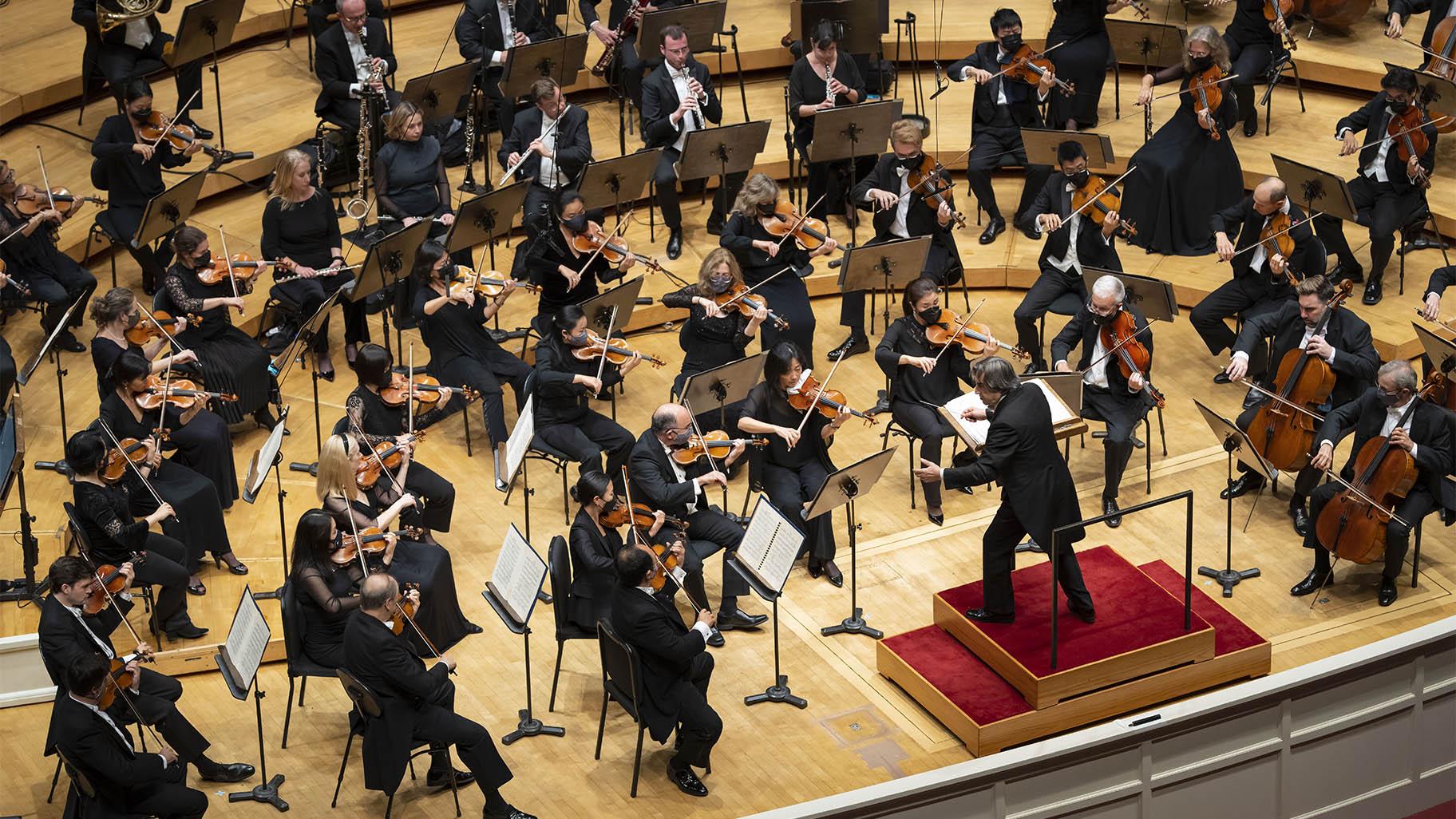 Music Director Riccardo Muti and the Chicago Symphony Orchestra perform Tchaikovsky's Symphony No. 6 (Pathétique) as part of Muti's final program in his fall 2021 residency. (Credit Todd Rosenberg Photography)
The front page of the Oct. 8 New York Times was emblazoned with a large photo of the gilded balconies of Carnegie Hall packed with masked concertgoers celebrating the reopening of that fabled theater. But Chicago's Orchestra Hall beat the New York venue to the punch by a couple of weeks.
Thursday evening, Maestro Riccardo Muti led the Chicago Symphony Orchestra in the superbly programmed and brilliantly rendered third program of his fall residency — which culminates this Saturday evening. The ongoing celebration of "the return" was paired with an intriguing juxtaposition of three works: Missy Mazzoli's brief but enthralling 2006 "These Worlds in Us"; Russian composer Anatoly Liadov's dreamy, rarely heard 1908 tone poem, "The Enchanted Lake"; and finally, in an altogether galvanic rendering, Tchaikovsky's indisputable 1893 masterpiece, "Symphony No. 6 in B Minor (Pathetique)." Linking them all together, clearly not by accident, were the opening passages of each which, though different in many ways, all wove a dark and dreamy web of sound that somehow echoed and complemented the others.
Mazzoli was in the audience and came onstage to take many well-deserved bows. She was halfway through her three-year residency as the CSO's Mead Composer-in-Residence when the pandemic hit. So this performance of an early work, written when she was just 25, in addition to the world premiere performance of her "Orpheus Undone" — now slated for March 31, with Muti conducting — is part of a valuable catch-up plan. (Also worth noting is that in January, Lyric Opera will present Mazzoli's opera, "Proving Up," on a Goodman Theatre stage.)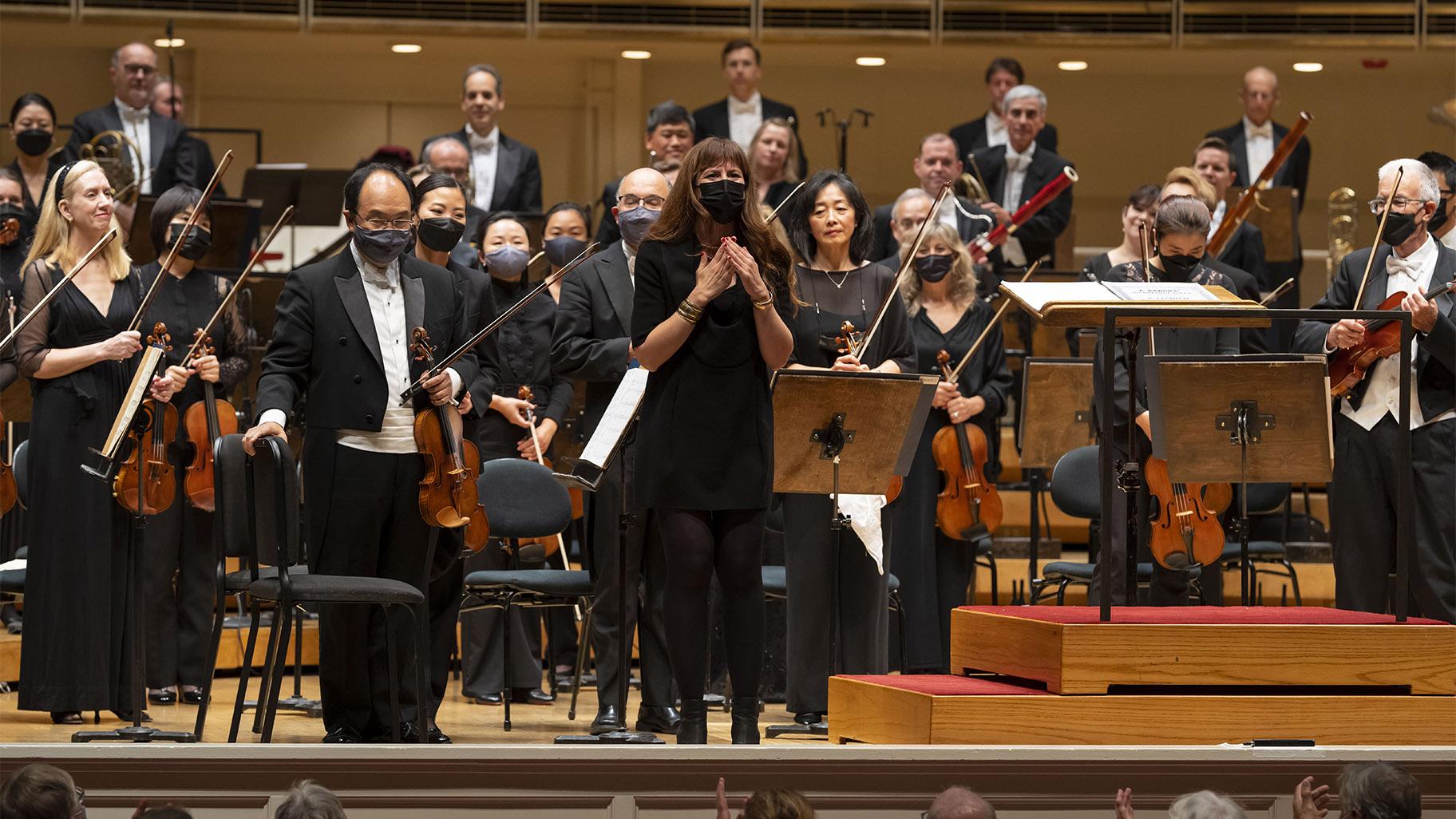 Former CSO Mead Composer-in-Residence Missy Mazzoli acknowledges the audience following the CSO's first performances of her work These Worlds In Us on the final program of Music Director Riccardo Muti's fall 2021 residency. (Credit Todd Rosenberg Photography)
Inspired by a James Tate poem about his father's death in World War II, and dedicated to her own father, a soldier in the Vietnam War, "These Worlds in Us," Mazzoli's piece begins with an intriguing mix of instruments including strings, harp (Lynne Turner), and two melodicas — reed instruments with small piano keyboards — played by percussionists Cynthia Yeh and Patricia Dash. Together they spin a lyrical otherworldly sound that gradually slides into full orchestral power with moments of quietude from the strings punctuated by great moments of brass and percussion excitement. Dreams, memories and reality seem to collide as the horns burst into a marching theme. And there is something almost cinematic about the whole thing as it suddenly fades into the distance but is not easily forgotten.
Liadov's "The Enchanted Lake" also is a work that drifts into being with a dreamy atmosphere and a subtle tension. It takes flight with the low, humming sound of timpani to start, and then with horns, wind instruments, celesta and percussion in the distance, all creating a diaphanous sound.
And then comes Tchaikovsky's "Pathetique" whose enduring pity-evoking subtitle is actually a French mistranslation of the Russian word for the far more fitting "passionate." Yet, it is worth noting that the work's premiere was conducted by the composer just nine days before his sudden death at the age of 53. A work of unadulterated beauty and emotional extremes, it could, by itself, seal his place in the classical music pantheon.
Suggesting the moody openings of both proceeding works, its first of four movements begins with the low strings creating a kind of somnambulant state that gradually awakens and shifts into a feeling of great urgency throughout the orchestra. A great burst of brass is followed by the singing quietude of strings that brings the symphony's familiar theme of yearning to the fore, and swells to a great emotional climax, with exquisite work by the winds and a big bang of an awakening from the timpani (David Herbert). This is only the beginning of a symphony that sweeps through a whirlwind of emotions, from dreaminess, to fury, to calm, to a sweeping wave of passion, to a haunting waltz, to a quiet resolve followed by a light-as-air sort of gallop, to a boisterous march.
There is a dizzying energy to the work's thrillingly played third movement that drove the audience into an unconventional burst of applause. And with the final movement came the exquisite sound of heartbreak, with remarkable beauty from the strings, and an almost benediction-like theme followed by a dark and feverish drive to the work's conclusion.
Muti's extraordinary shaping of the work's dynamic shifts from darkness to light was at once detailed, highly personal and impeccable. And every section of the orchestra was in peak form. What else can be said aside from the fact that news about the balance of the 2021-2022 season will be announced on Oct. 12.
For tickets visit CSO.org.
Follow Hedy Weiss on Twitter: @HedyWeissCritic
Note: An earlier version of this story incorrectly identified details about an upcoming announcement. The story has been updated.
---