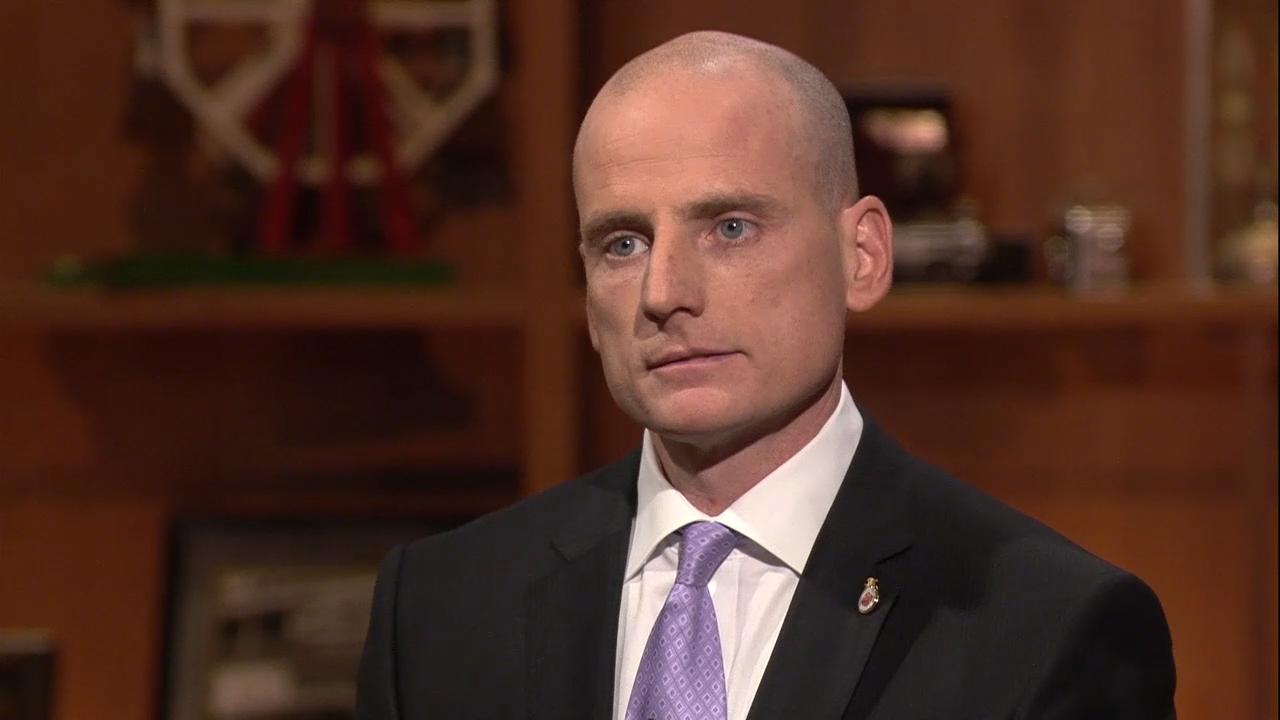 Jim Gardiner appears on "Chicago Tonight" on Feb. 27, 2019, a day after ousting two-term incumbent Ald. John Arena (45th Ward) in the municipal election. (WTTW News)
Mayor Lori Lightfoot called on Inspector General Joseph Ferguson to probe whether Ald. Jim Gardiner (45th Ward) has used his office to retaliate against political opponents.
"No one should ever be denied access to city services because of their political opinion, whom they may have supported in an election," Lightfoot said at an unrelated news conference Friday morning. "That's just not how we do things. We're never gonna support any effort to deny people access to city services. It's fundamental."
Gardiner did not respond to a request for comment from WTTW News.
Inspector General Joseph Ferguson's office did not immediately respond to a request for comment.
WTTW News was first to report Thursday that the watchdog for the Cook County Circuit Court Clerk has been asked to probe whether one of the office's employees improperly accessed court records and sent them to Gardiner. In addition, Block Club Chicago reported Friday that several residents and business owners were targeted by city workers after they criticized Gardiner.
"What I think ought to happen is, and we're doing this, this morning, is recommending that rather than death by 1,000 cuts in rumor and innuendo in the media, there ought to be a fulsome investigation," Lightfoot said. "We're going to recommend to the inspector general's office that, that investigation happen so we can actually get to the bottom of what did happen versus what didn't happen."
Lightfoot said she had not spoken to Gardiner since those reports were published, although she did ask him to apologize for sending profane and misogynistic texts to a former aide disparaging Ald. Tom Tunney (44th Ward) and 32nd Ward Ald. Scott Waguespack's Chief of Staff Anne Emerson.
Gardiner, elected in 2019, has been surrounded by controversy since he took office after defeating former Ald. John Arena. In 2020, he was elected to serve as the 45th Ward's Democratic committeeperson, making him one of the leaders of the Cook County Democratic Party. 
The circuit court clerk's office declined to identify any employees who are being probed in connection with the release of the court records. 
Charles Sikanich, who earns $101,000 annually as Gardiner's ward superintendent, is the son of a woman who works in the circuit court clerk's office and would have easy access to court records. 
Sikanich could not be reached for comment.
The circuit court clerk's office is not required to respond to Freedom of Information Act requests. 
Six residents sued Gardiner in June after the alderperson blocked them from the Facebook page he uses in his role as an elected official.  
More than 20 members of the Chicago City Council signed a letter condemning Gardiner's text messages. 
In addition, more than a dozen members of the Cook County Democratic Party have called for Gardiner, who also serves as the 45th Ward Democratic committeeperson, to be investigated by the party's rules committee.
Contact Heather Cherone: @HeatherCherone | (773) 569-1863 | [email protected]
---