Fewer than 1 in 10 ShotSpotter alerts between 2020 and 2021 resulted in evidence of a gun-related criminal offense being found, according to a new report from Chicago's independent watchdog.
Chicago's Office of Inspector General on Tuesday published a report which found ShotSpotter technology "rarely" produces evidence of a gun crime, and has instead changed the way some officers interact with residents in areas where ShotSpotter alerts are more common.
"If the (Chicago Police Department) is to continue to invest in technology which sends CPD members into potentially dangerous situations with little information — and about which there are important community concerns — it should be able to demonstrate the benefit of its use in combatting violent crime," Deputy Inspector General for Public Safety Deborah Witzburg said in a statement. "The data we analyzed plainly doesn't do that."
ShotSpotter technology uses microphones and sensors to identify the sound of gunfire and alert law enforcement so they can more quickly respond to the scene. A three-year, $33 million contract with ShotSpotter was set to expire this year, but the city exercised an option last December to extend that the deal for another two years, with a new end date of Aug. 19, 2023. 
After youth activists criticized that move during a rally last week, a ShotSpotter spokesman said that the company's technology has been "integral to Chicago's comprehensive efforts to reduce gun violence over the past several years."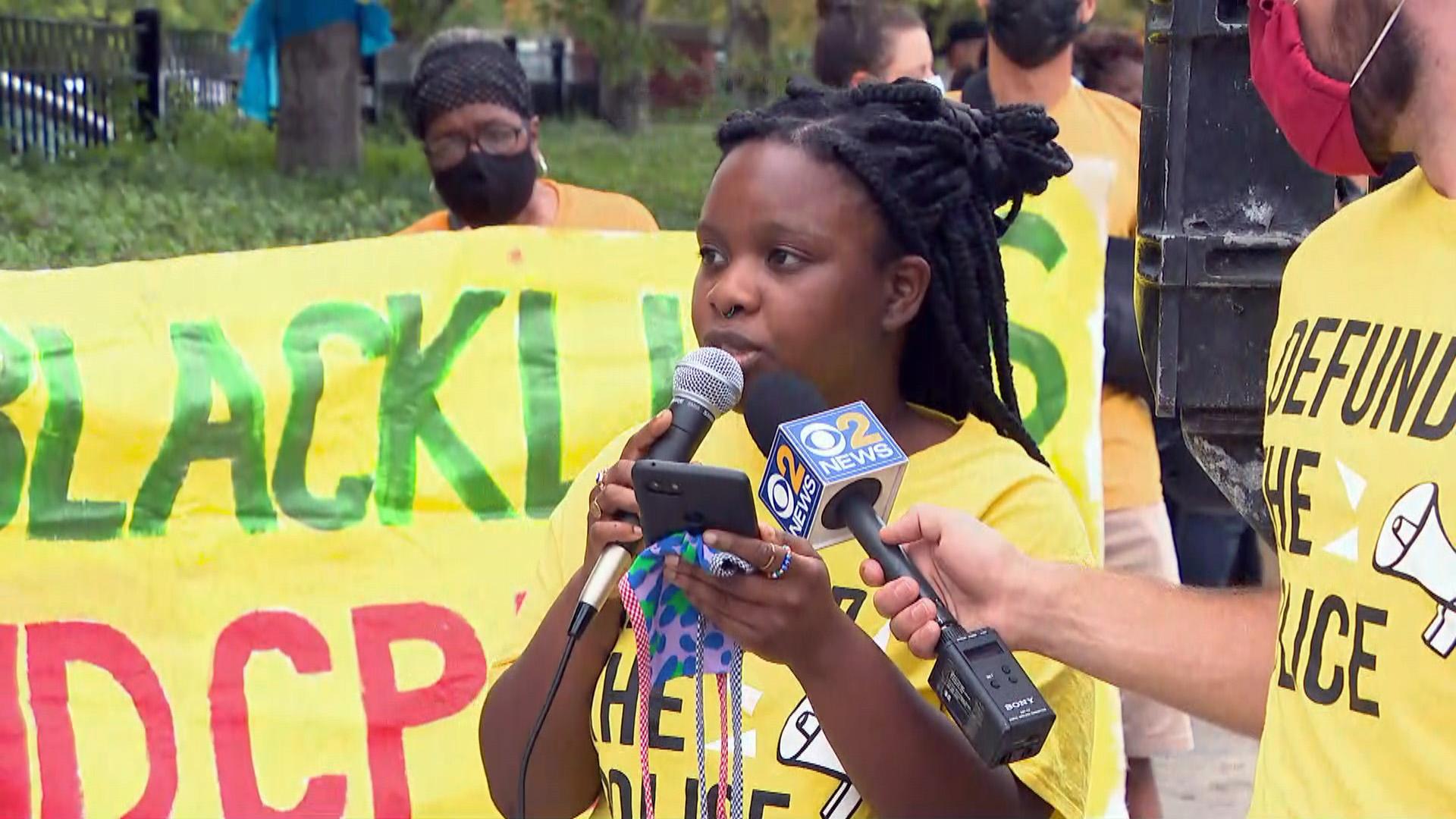 Adwoa Agyepong of the Chicago Democratic Socialists of America speaks at a rally on Thursday, Aug. 19, 2021. (WTTW News)
But the Office of Inspector General said that the police department data it examined "does not support a conclusion that ShotSpotter is an effective tool in developing evidence of gun-related crime."
According to the report, the inspector general's office looked at CPD and Office of Emergency Management and Communications data from all ShotSpotter alerts occurring between Jan. 1, 2020, and May 31, 2021, as well as data from investigatory stop reports (ISRs) associated with police responses to those alerts.
During that time, 50,176 ShotSpotter alerts were confirmed as probable gunshots, according to the report. Of those alerts, 41,830 resulted in a disposition, or a police response to an incident.
But the report found that evidence of a gun-related criminal offense was found in just 9.1% of those dispositions. And according to the inspector general, a documented investigatory stop that was a direct result of a specific ShotSpotter alert occurred just 2.1% of the time.
"Because the ability to match ShotSpotter events to other police records, including ISRs, is so limited," the report said, "it may not be possible at present to reach a well-informed determination as to whether ShotSpotter is a worthwhile operational investment as an effective law enforcement tool for the City and CPD."
Additionally, the inspector general's office found evidence that police officers' "generalized perceptions of the frequency of ShotSpotter alerts in a given area may be substantively changing policing behavior."
In a statement Tuesday afternoon, ShotSpotter said, "It is important to point out that the Chicago Police Department continually describes ShotSpotter as an important part of their operations." The company pointed to an previous audit that found ShotSpotter has a 97% accuracy rate, and noted the inspector general report "does not negatively reflect on ShotSpotter's accuracy."
"We would defer to the Chicago Police Department to respond to the value the department gets from being able to precisely respond to criminal incidents of gunfire," the company said. "We work very closely with our agency customers to ensure they get maximum value out of our service."
"We do need some type of remedy for gun violence; however, ShotSpotter isn't it," said Artinese Myrick, with the organization Live Free Illinois. 
She said there are better uses for such a large investment in combatting violence. 
"We do not need to rely on old, broken police strategies that we know don't work. Instead, we would rather invest straight into the community, into grassroots organizations who are already providing crime and violence interruption work. We think that it should go towards trauma-based services, hospital-based services, wraparound services so that families are getting what they need," Myrick said. 
Even if ShotSpotter did work, Únete La Villita community organizer Jose Manuel Almanza Jr. said he wouldn't want this type of technology used in his neighborhood, because it leads to police being actively ready for an armed confrontation. 
"All they're doing is just threatening, harassing and violently harassing people like myself and other Black and Brown people," he said. 
In a statement, CPD spokesperson Tom Ahern said it is "crucial" to know where gun violence occurs in order to combat it, and ShotSpotter is among the host of tools the department uses to keep the public safe. 
"ShotSpotter has detected hundreds of shootings that would have otherwise gone unreported," the statement reads. "Using ShotSpotter, CPD receives real-time alerts of detected gunfire enabling patrol officers to arrive at a precise location of a shooting event quickly. Instead of relying on the historically low rate of 911 calls, law enforcement can respond more quickly to locate and aid victims, identify witnesses, and collect forensic evidence. The system gives police the opportunity to reassure communities that law enforcement is there to serve and protect them and helps to build bridges with residents who wish to remain anonymous." 
Almanza said the police would be better served to focus their attention on why residents aren't calling 911 to report shootings, a pattern indicative of a lack of trust in law enforcement.
"Let's try to fix that problem," he said.
Contact Matt Masterson: @ByMattMasterson | [email protected] | (773) 509-5431
---