Activists and youth leaders are calling on Chicago officials to dump the city's contract with gunshot detection company ShotSpotter, claiming the technology is unreliable and often leads to police being sent into communities on "high alert" for false alarms.
Members of GoodKids MadCity, Black Youth Project 100 and other organizations met outside the Chicago Police Department's 7th District headquarters Thursday afternoon for a rally criticizing the city's decision to renew its contract with ShotSpotter for another two years.
"CPD and ShotSpotter assert that by identifying the location of gunshots and sending police there, fewer crimes are going to occur," said Adwoa Agyepong, a member of the Chicago Democratic Socialists of America. "They claim with ShotSpotter and other technology, we are being kept safe. This is obviously a lie."
ShotSpotter technology relies on microphones and sensors to identify the sound of gunfire and alert law enforcement so they can more quickly respond to the scene.
Chicago entered a three-year, $33 million contract with ShotSpotter in 2018. Before that deal came to an end, City Cast Chicago and WBBM-TV reported earlier this month that the city had already agreed to a new two-year extension that runs into 2023.
But speakers Thursday claimed ShotSpotter has also led to unnecessary arrests in communities of color, and recent studies have questioned the reliability of ShotSpotter's technology.
In May, Northwestern University's MacArthur Justice Center published a report which found that 86% of ShotSpotter alerts did not result in a police report of any crime or incident, leading to questions about the technology's value in violence reduction.
According to that study, between July 1, 2019 and April 14, 2021, ShotSpotter generated more than 40,000 dead-end police deployments.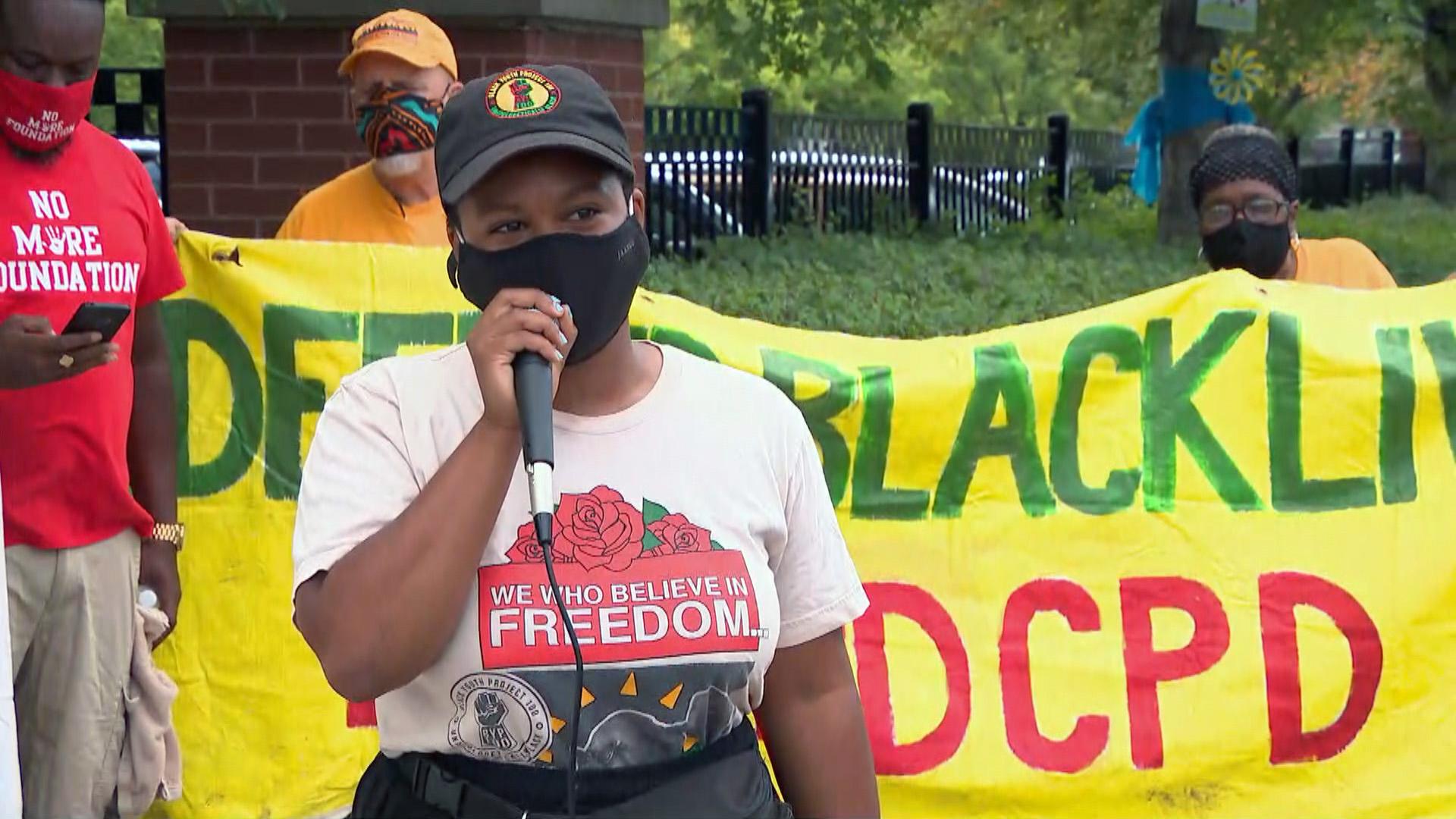 People speak out against the city's use of ShotSpotter technology at a rally on Thursday, Aug. 19, 2021. (WTTW News)
The Associated Press also discovered "a number of serious flaws" in the technology in a report released Thursday, which found ShotSpotter can miss live gunfire right under its microphones, or misclassify the sounds of fireworks or cars backfiring as gunshots. The AP said ShotSpotter employees can also "change the source of sounds picked up by its sensors after listening to audio recordings, introducing the possibility of human bias into the gunshot detection algorithm."
In response, ShotSpotter CEO Ralph Clark told the AP: "The point is anything that ultimately gets produced as a gunshot has to have eyes and ears on it. … Human eyes and ears, OK?"
That report highlights the case of Michael Williams, a Chicago man who spent nearly a year in Cook County Jail on a murder charge predicated in large part on ShotSpotter evidence. A judge last month dismissed that charge, saying prosecutors lacked sufficient evidence.
In a statement to WTTW News, a ShotSpotter spokesman criticized the MacArthur Justice Center report as having made "erroneous conclusions," and instead pointed to a separate study which found ShotSpotter had "a 97% accuracy rate over the past two years across all customers."
"The installation of ShotSpotter technology in neighborhoods most in need of gunshot detection based solely on historical gunfire and homicide data has been integral to Chicago's comprehensive efforts to reduce gun violence over the past several years," the spokesperson said.
Activists criticized ShotSpotter for being reactive to crime, rather than preventing it in the first place.
"Every single day, there are about 61 ShotSpotter-initiated police deployments," Agyepong said. "This means that 61 times a day, police come to Black and brown communities on high-alert, assuming that every single person there is a person who is armed and dangerous."
Contact Matt Masterson: @ByMattMasterson | [email protected] | (773) 509-5431
---