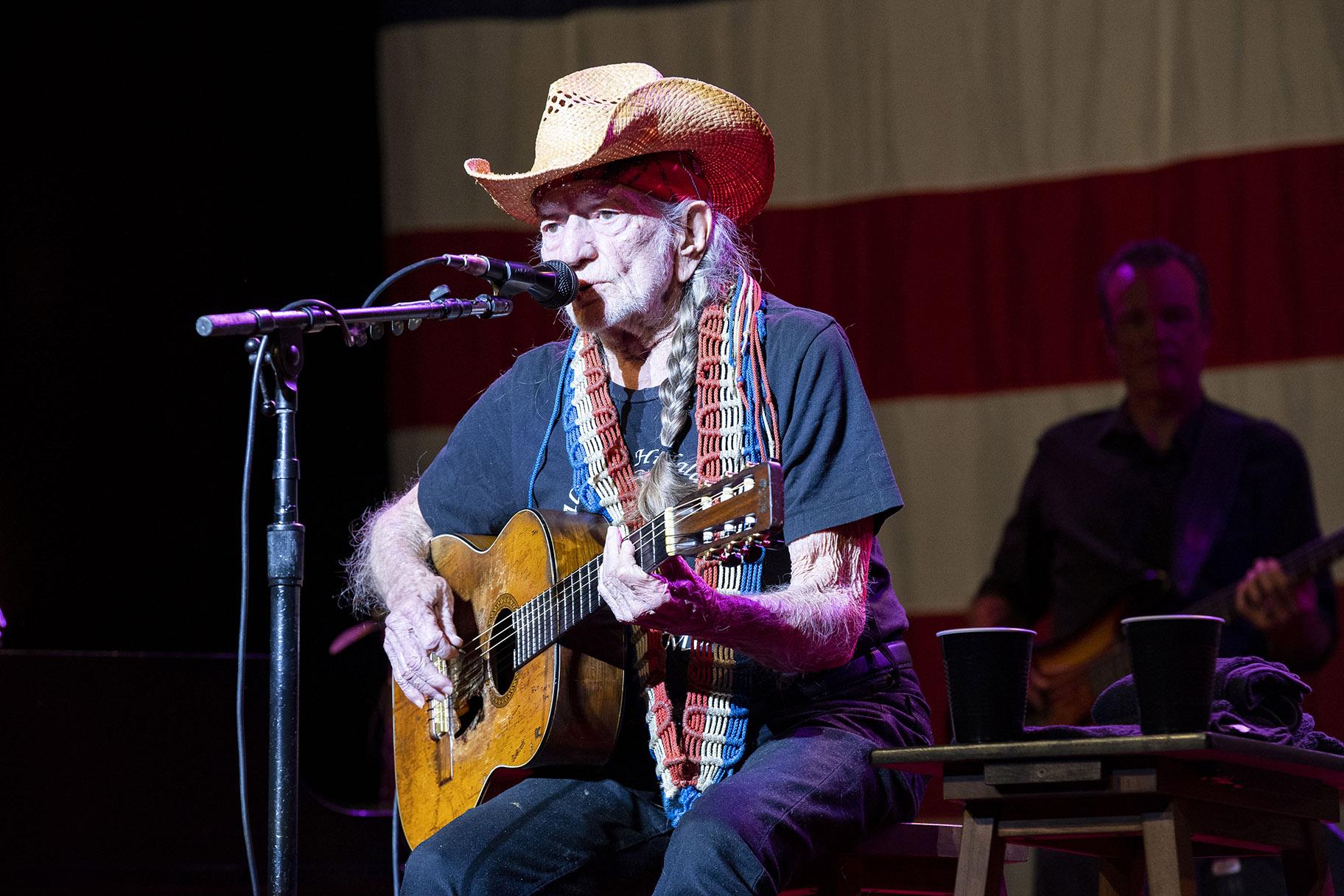 Willie Nelson performs at Ravinia on Saturday, Aug. 14, 2021. (Credit: Kyle Dunleavy)
The crowd roared and jumped to its feet the minute Willie Nelson walked onto the stage of the Ravinia Festival Pavilion on Saturday night. And a giant American flag simultaneously unfurled against the back wall.
Dressed in black jeans, T-shirt and cowboy boots, with his distinctive long braids draped over his shoulders, and a wide-brimmed straw hat atop his head, the 88-year-old country music legend took a seat and wrapped his arms around Trigger, his beloved nylon string acoustic guitar with its weatherbeaten veneer and the fabled hole that is the result of years of his using a flatpick.
Seated next to Nelson — and creating an ideal father-son synchrony throughout the evening — was Lukas Nelson, 32, one of his seven children, and a richly gifted singer, electric guitarist and composer in his own right. And surrounding them was "The Family" — Willie's superb touring and recording ensemble composed of pianist Bobbie Lee Nelson (his 90-year-old sister whose long, slender fingers flew gracefully over the keys); Michael "Mickey" Raphael (a superb harmonica player); percussionist Billy Gene English, and bassist Kevin Wilbur Smith.
Nelson's ability to instantly connect to his audience is unwavering, with his guitar playing still seemingly effortless, and his distinctive voice still easily defining the songs (mostly of his own creation) that are at turns confessional, romantic and sardonic, often rueful and full of regrets, and at times blackly comic, most notably when dealing with the matter of mortality. It hardly needs to be said that he is one of a kind, but it also should be noted that Lukas Nelson's lyrical voice and down-to-earth yet poetic songs are well worth getting to know.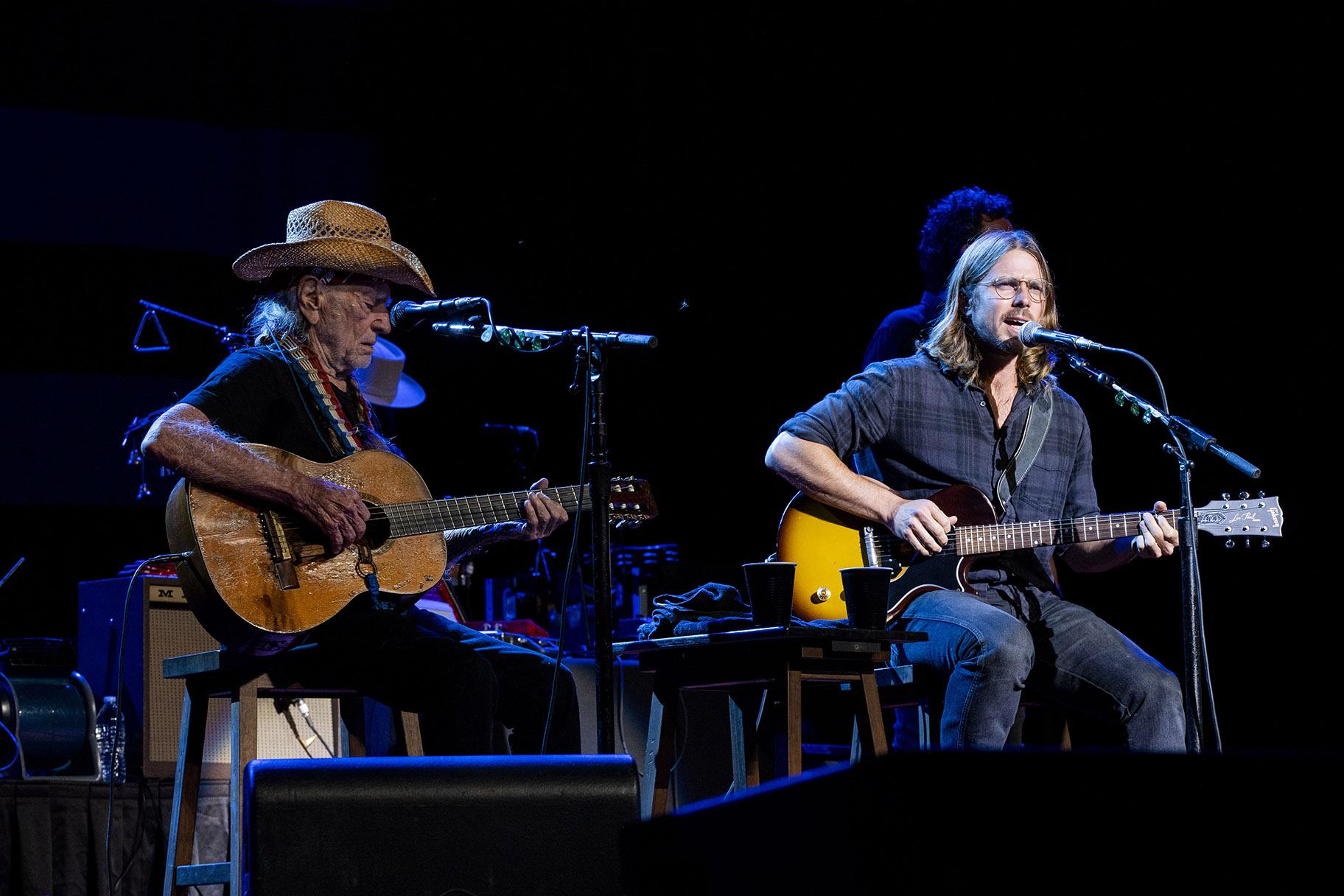 Willie Nelson and Lukas Nelson at Ravinia on Saturday, Aug. 14, 2021. (Credit: Kyle Dunleavy)
The evening began with "Whiskey River," the song by Johnny Bush that became one of Nelson's signature pieces and cries out: "Whiskey River, take my mind / Don't let her mem'ry torture me." He then moved on to "Still Is Still Moving to Me," his anthem to freedom and the price that must be paid for it. ("I swim like a fish in the sea all the time / But if that's what it takes to be free I don't mind.")
Next came "Texas Flood," which begins with news of a natural disaster ("Well, there's floodin' down in Texas … All the telephone lines are down"), but ultimately cuts to the chase with some news of personal destruction ("Well I'm leavin' you baby … Lord, and I'm goin' back home to stay").
And as Nelson went on to admit by way of "Mamas Don't Let Your Babies Grow Up to Be Cowboys" (a song by Ed and Patsy Bruce), such men will "never stay home and they're always alone, even with someone they love." (Of course Nelson, who has been married four times, is the quintessential "musical cowboy" — a man forever "On the Road Again." And of course he even cued the audience to sing along when he performed that classic.)
Lukas Nelson's beautiful song, "Just Outside of Austin," pays homage to the family ranch of his youth and his thoughts about starting a family of his own, noting that, "It ain't so bad a place to raise a kid — or maybe we should wait a while. No need to hurry nothing. I'm just saying I'd be happy if we did." Clearly he can tap into private thoughts and dreams using the ideal colloquial language. At the same time, the acorn might not have fallen too far from the tree. For as Lukas Nelson (and several collaborators) note in the song "Four Letter Word": "Real commitment seems absurd out here in the country / Forever is a four letter word."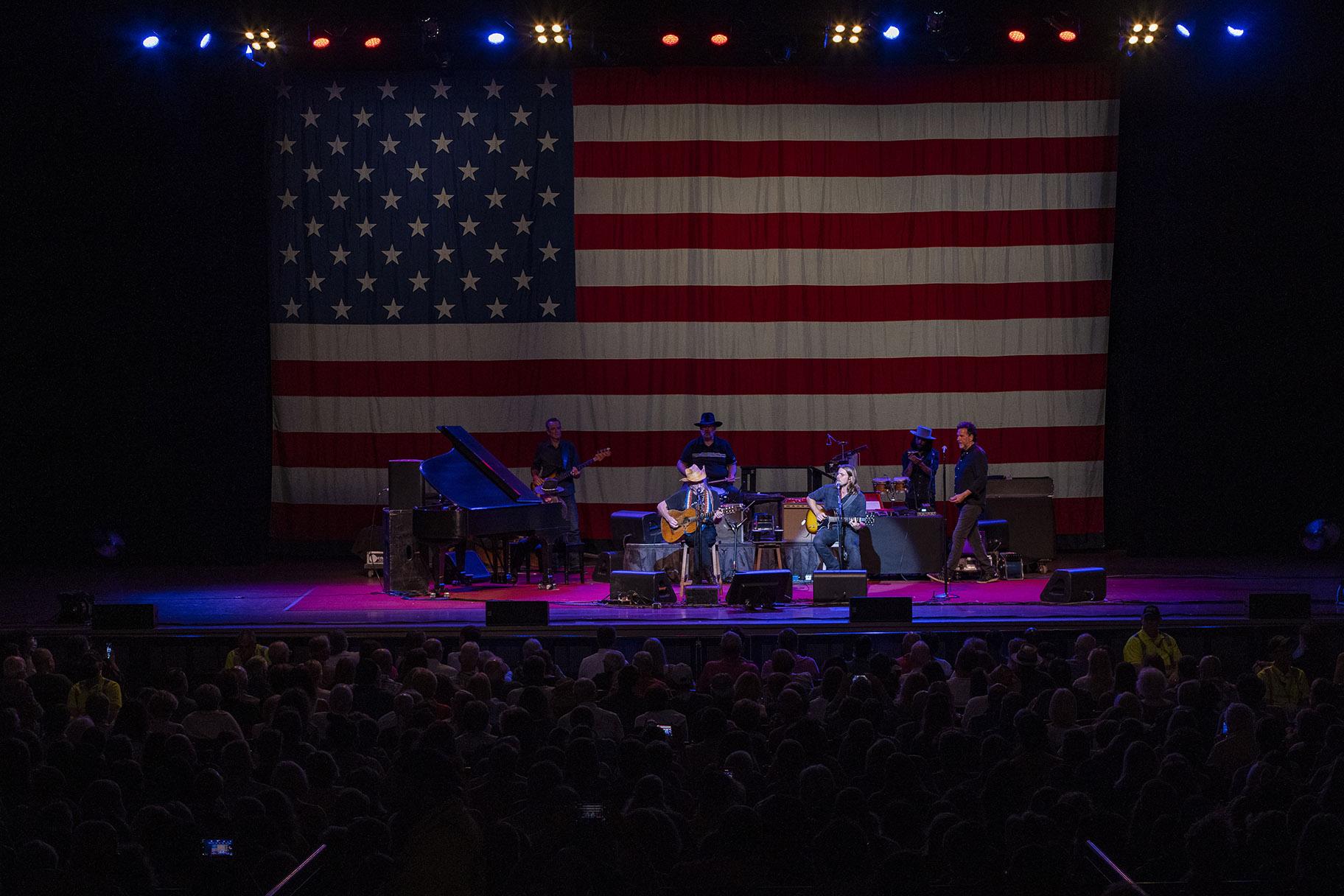 Willie Nelson at Ravinia on Saturday, Aug. 14, 2021. (Credit: Kyle Dunleavy)
Meanwhile, whatever regrets Willie Nelson might have about relationships, he certainly has a rip-roaring approach to the hereafter. You need only listen to his laughter-inducing instructions in the song "Roll Me Up": "Roll me up and smoke me when I die. And if anyone don't like it, just look 'em in the eye."
Also on the program were two Georgia titles: the emblematic Ray Charles song, "Georgia on My Mind," and Lukas Nelson's intense heartbreaker, "Georgia," in which he sings, "And each night I pray I'll forget about Georgia / She'll never love me like I know a love's supposed to be."
Before the evening was over, father and son joined forces on "Turn Me Over," another rollicking take on death as penned by Willie Nelson. As he proclaimed: "I run up and down the road makin' music as I go / They say my pace would kill a normal man / But I've never been accused of being normal anyway / And I woke up still not dead again today."
Indeed, he is very much alive, and still making great music. In fact, he and his "family" are on a national tour with dates scheduled through November, although a number of pandemic postponements have already begun to kick in.
Note: The concert's hourlong opening act, a program of country music with a strong hard rock edge, featured singer/songwriter Nate Smith (backed by the excellent keyboardist Ty Bailie, with Trevor Larkin on guitar and Tom Beaupre on bass).
For a schedule of upcoming performances at Ravinia visit ravinia.org.
Follow Hedy Weiss on Twitter: @HedyWeissCritic
---