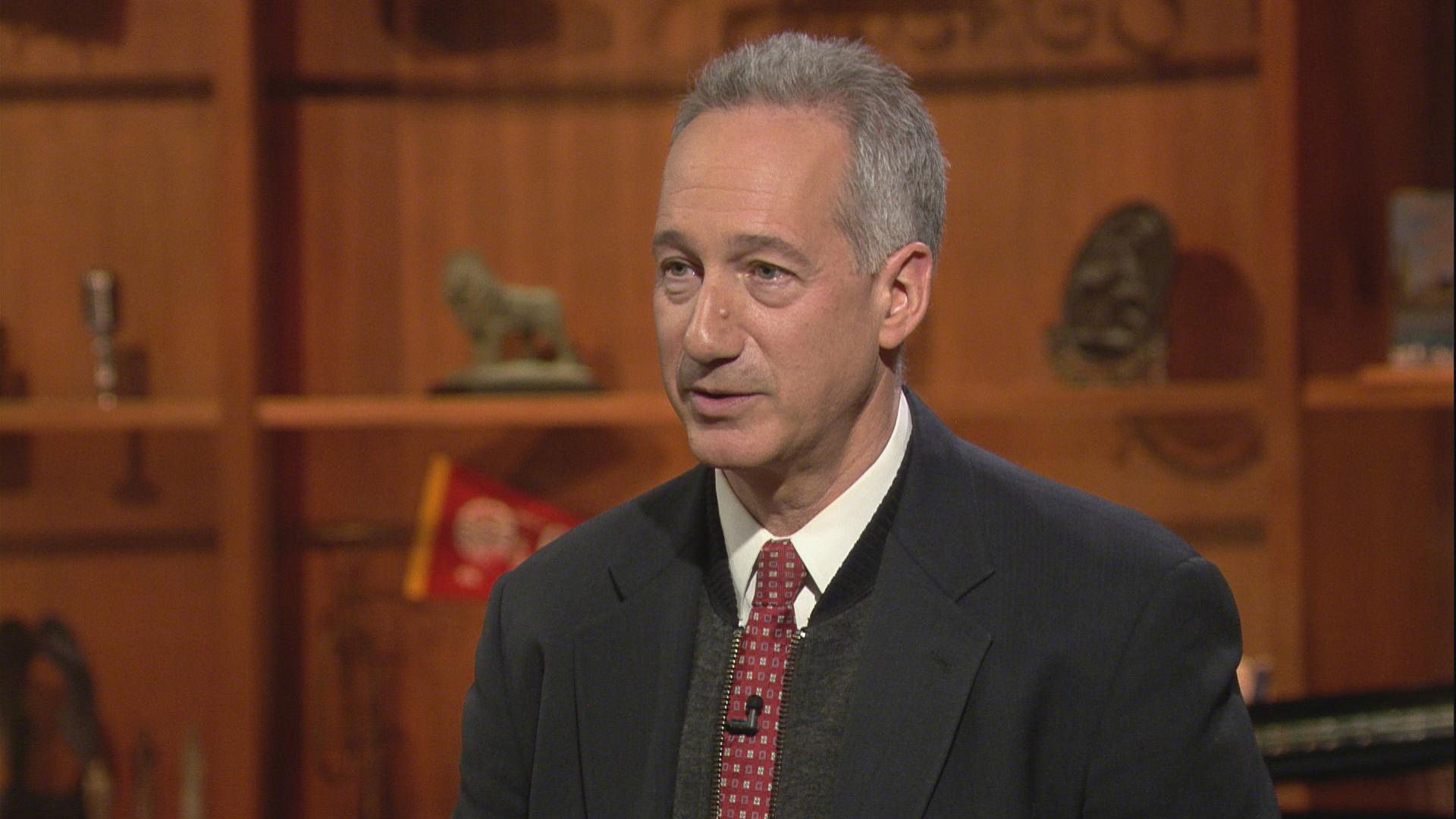 Chicago Inspector General Joe Ferguson appears on "Chicago Tonight" on Jan. 30, 2019. (WTTW News)
Inspector General Joseph Ferguson will leave his post as the city's watchdog in October after running into a brick wall of opposition from Mayor Lori Lightfoot and the Chicago City Council during the final 18 months of his term in office.
First appointed by former Mayor Richard M. Daley in 2009, Ferguson was reappointed twice by former Mayor Rahm Emanuel and saw his office's power expand significantly after the 2014 police murder of 17-year-old Laquan McDonald prompted efforts to reform the Chicago Police Department.
Ferguson frequently butted heads with Emanuel, even as the inspector general extricated Chicago from the long-running legal dispute governing political hiring and firing known as the Shakman Decree.
Ferguson and his office declined an interview request from WTTW News about his looming departure, with his office's spokesperson saying he plans to release new reports every week in July and perhaps through the summer. In a letter announcing his decision to step down, Ferguson urges the City Council and the mayor to start the search for his replacement immediately "to ensure enough time for an orderly transition and continuity of operations whose independence accords with national standards."
Lightfoot thanked Ferguson on Friday for his service to Chicago. In October, the mayor told the Chicago Sun-Times she was unlikely to appoint Ferguson to a fourth four-year term.
"I think Joe Ferguson has done tremendous work over his 12-year tenure as an inspector general, and I appreciate his decision to move on," Lightfoot said after a special City Council meeting focused on crime.
When Lightfoot took office in May 2019, many of the questions swirling around Ferguson focused on whether he would be independent enough from the mayor, a longtime friend who recommended his selection to Daley after the two served together as federal prosecutors in the Chicago office of the U.S. Attorney for the Northern District of Illinois.
The two friends appeared to be natural allies, since Lightfoot vowed to root out corruption at City Hall and crack down on alderpeople using their public offices for private benefit during the 2019 mayoral campaign and Ferguson had long drawn accolades for his efforts to combat political grift.
The first major piece of legislation signed into law by Lightfoot — passed 50-0 by the City Council — expanded the authority of the inspector general to audit City Council committees, threatening the financial perks long enjoyed by the most powerful members of the Chicago City Council.
Lightfoot also pushed through a proposal that authorized the city's top lawyer to make public investigative reports from the inspector general's office when they involved deaths or felonies.
But Lightfoot and Ferguson quickly found themselves at odds over several issues, most focusing on the city's lagging efforts to overhaul the police department in the wake of McDonald's murder and a Department of Justice investigation that found Chicago police officers routinely violated the constitutional rights of Black and Latino Chicagoans.
That probe resulted in a federal court order requiring the department to change its operations, but the city has missed nearly 40% of the deadlines included in that agreement.
The first sign of strain between the two friends came when Lightfoot was publicly critical of the length of time it took Ferugson to complete his probe into what happened before — and after — former Chicago police Superintendent Eddie Johnson was discovered asleep in his running car after a night of drinking.
That tension — which simmered for months — boiled over in February, when Ferguson released a blistering report that found the Chicago Police Department botched nearly every aspect of its response to the protests and unrest triggered by the death of George Floyd on May 25, 2020.
That failure, which Ferguson laid at the feet of Lightfoot and Chicago police Superintendent David Brown, undermined efforts to rebuild the community's trust in the department, according to his report.
Lightfoot bristled at that criticism, saying Ferguson's report was based on outdated information and "did not give the department a chance to respond" even though Brown's response was included in the inspector general's audit.
However, the most high-profile clash came in April when Ferguson urged members of the City Council to create a database of Chicago police misconduct files to regain the trust of Chicagoans by being transparent about wrongdoing by officers.
At first Lightfoot balked at the proposal, calling it too expensive and unnecessary. When Lightfoot backed a compromise brokered by Ald. Scott Waguespack (32nd Ward), Ferguson hammered the plan as insufficient.
That proposal failed to advance to a full vote of the Chicago City Council and remains in limbo.
In addition, Ferguson has been probing for nearly six months the botched raid in February 2019 that left Anjanette Young handcuffed while naked and pleading for help. Ferguson said the probe would focus on "possible misconduct" by city officials, including those in the mayor's office. It is unclear when that probe will be completed.
Contact Heather Cherone: @HeatherCherone | (773) 569-1863 | [email protected]
---