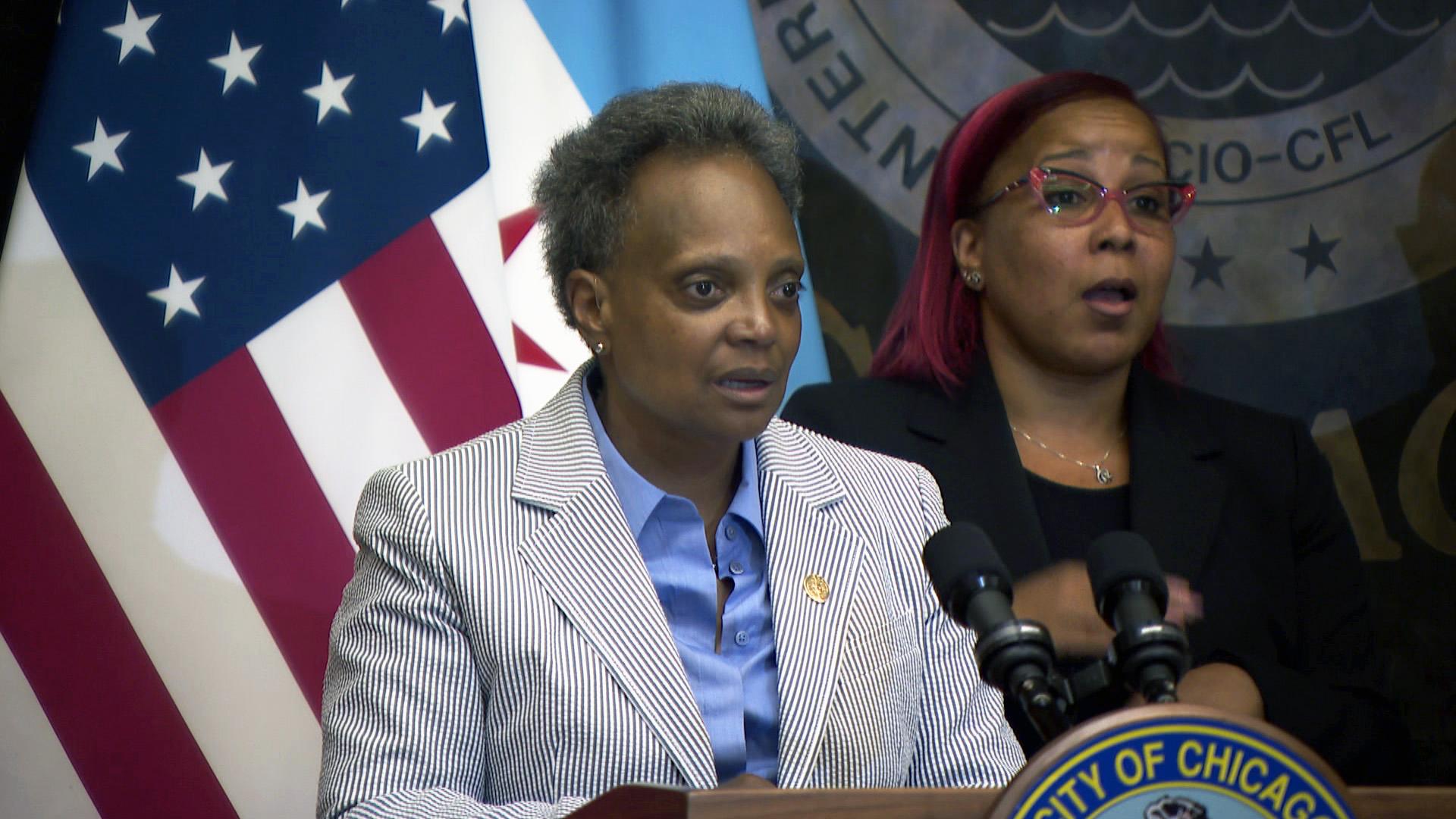 "Burger King Ed is still alive and well and he is messing around and trying to create chaos," Mayor Lori Lightfoot said Thursday, July 1, 2021. (WTTW News)
Mayor Lori Lightfoot took a page from former President Donald Trump on Thursday and bestowed a belittling moniker on a political opponent, referring to Ald. Ed Burke (14th Ward) as "Burger King Ed," a reference to the criminal charges Burke faces.
Beset by mounting challenges, Lightfoot focused her fire on longtime foe Burke by mocking his legal woes and accusing him of being behind a nearly full-scale revolt by the Chicago City Council.
Lightfoot compared the wall of opposition that she is confronting to that faced by former Mayor Harold Washington during the 1980s Council Wars, when a block of white aldermen — led by Burke — thwarted initiatives from the city's first Black mayor at every turn. 
"Let's face the facts here: this is political shenanigans, and you can figure out who is behind it," Lightfoot said at an unrelated news conference. "Burger King Ed is still alive and well and he is messing around and trying to create chaos."
Earlier this week, Lightfoot told WTTW News that "about 99%" of the criticism she gets is motivated by racism and sexism. 
Forced underground by an indictment, Burke is working behind the scenes, acting through "puppets to orchestrate chaos," Lightfoot said. 
Ald. Raymond Lopez (15th Ward) led the push that resulted in 19 members of the City Council calling an emergency meeting for 11 a.m. Friday to pressure Lightfoot and Chicago police Superintendent David Brown to step up efforts to reduce violent crime. Lopez is an ally of Burke.
Brown will testify during the meeting Friday, defusing Lopez's threat to hold a no-confidence vote if he did not appear, Lightfoot said.
"We've seen this picture show, in '83, '84, '85, '86," Lightfoot said. "But guess what? Having seen that nonsense, it's not happening again."
Lightfoot vowed not to let Burke "and his minions" prevent her from standing in the way of progress.
"Shame on them," Lightfoot said.
Although Lightfoot repeatedly blasted Trump for degrading civic life by repeatedly attacking his rivals in the most personal terms, often with nicknames, Lightfoot followed in the former president's footsteps to drag Burke back into the City Hall spotlight more than two years after the alderman's legal woes fueled her come-from-behind bid for mayor.
Federal prosecutors called Burke "thoroughly corrupt" in April, alleging that Burke repeatedly — and brazenly — used his powerful position at City Hall to force those doing business with the city to hire his private law firm.
In the alderman's response to the charges against him, filed in August, Burke's attorneys accused the government of setting him up with the help of former Ald. Danny Solis and improperly listening to his phone calls. He has pleaded not guilty and denies wrongdoing.
Those charges include allegations that Burke tried to steer real estate tax work to his law firm by holding up remodeling permits and a driveway permit for a Burger King in his Southwest Side ward. That prompted Lightfoot's nickname.
Burke's attorney Charles Sklarsky did not immediately respond to a request for comment by WTTW News about Lightfoot's comments. 
The aldermen who forced Friday's meeting of the City Council are solely concerned about crime, as 2021 remains on pace to be one of the most violent years since the 1990s, Lopez said.
"No matter how much Lightfoot tries to be like Donald Trump, dodging deflecting & ignoring reality, this is about violence," Lopez said in a statement to WTTW News. "It has always been about violence.  The very fact she can't recognize that shows how out of touch she is."
Lopez said he was certain he was among the aldermen Lightfoot considers to be working on behalf of Burke.
"Additionally, her indirect questioning of my intelligence and ability as a Latino alderman needing to be controlled by someone else is not only an insulting but also shows her deep innate racism towards Latinos, period," Lopez said.
As Lightfoot comes under increasing pressure on crime, a bill sitting on Gov. J.B. Pritzker's desk would strip her of control of Chicago Public Schools and create an elected school board. 
That measure passed the General Assembly over Lightfoot's objections and Pritzker has said he would sign it, dealing a blow to his fellow Democrat. 
In addition, Lightfoot is at odds with the City Council's Progressive Caucus, Black Caucus and Latino Caucus over a long-stalled plan to put an elected board of Chicago residents in charge of the Chicago Police Department.
Lightfoot has said the city is experiencing a "pandemic-spurred surge" in violence and that efforts to reduce crime are beginning to work.
On Thursday, Lightfoot once again blamed the city's escalating crime rate on the flow of illegal guns into Chicago from states with lax gun laws, as well as the closure of the Cook County court system prompted by the COVID-19 pandemic.
Calling on Chief Judge Tim Evans by name Thursday, Lightfoot demanded that the courts resume normal operations.
Contact Heather Cherone: @HeatherCherone | (773) 569-1863 | [email protected]
---