Video: The latest bombshell in the prosecution of Ald. Ed. Burke, with our Spotlight Politics team of Amanda Vinicky, Heather Cherone and Paris Schutz. (Produced by Alex Silets)
---
Federal prosecutors defended their decision to hit Ald. Ed Burke (14th Ward) with a 14-count corruption indictment in a court filing released Wednesday, saying Chicago's longest-serving aldermen is "thoroughly corrupt and worthy of prosecution."
In the 200-plus page, heavily redacted court filing, the U.S. Attorney's Office for the Northern District of Illinois disputed claims made by Burke and his two co-defendants that agents probing allegations of corruption at Chicago City Hall acted improperly.
"Again and again, Burke shamelessly tied official action to his law firm's receipt of business," according to the court filing. "The government acted more than reasonably in investigating Burke's conduct, an inquiry … revealed Burke to be thoroughly corrupt and worthy of prosecution."
The filing represents prosecutors' most detailed defense of the 14-count indictment made public in May 2019 that alleges Burke repeatedly — and brazenly — used his powerful position at City Hall to force those doing business with the city to hire his private law firm by the Department of Justice.
Burke, 77, has pleaded not guilty to charges of racketeering, bribery and extortion. Racketeering charges — usually brought against members of the mob or street gangs — allege a pattern of corruption unknown to its victims.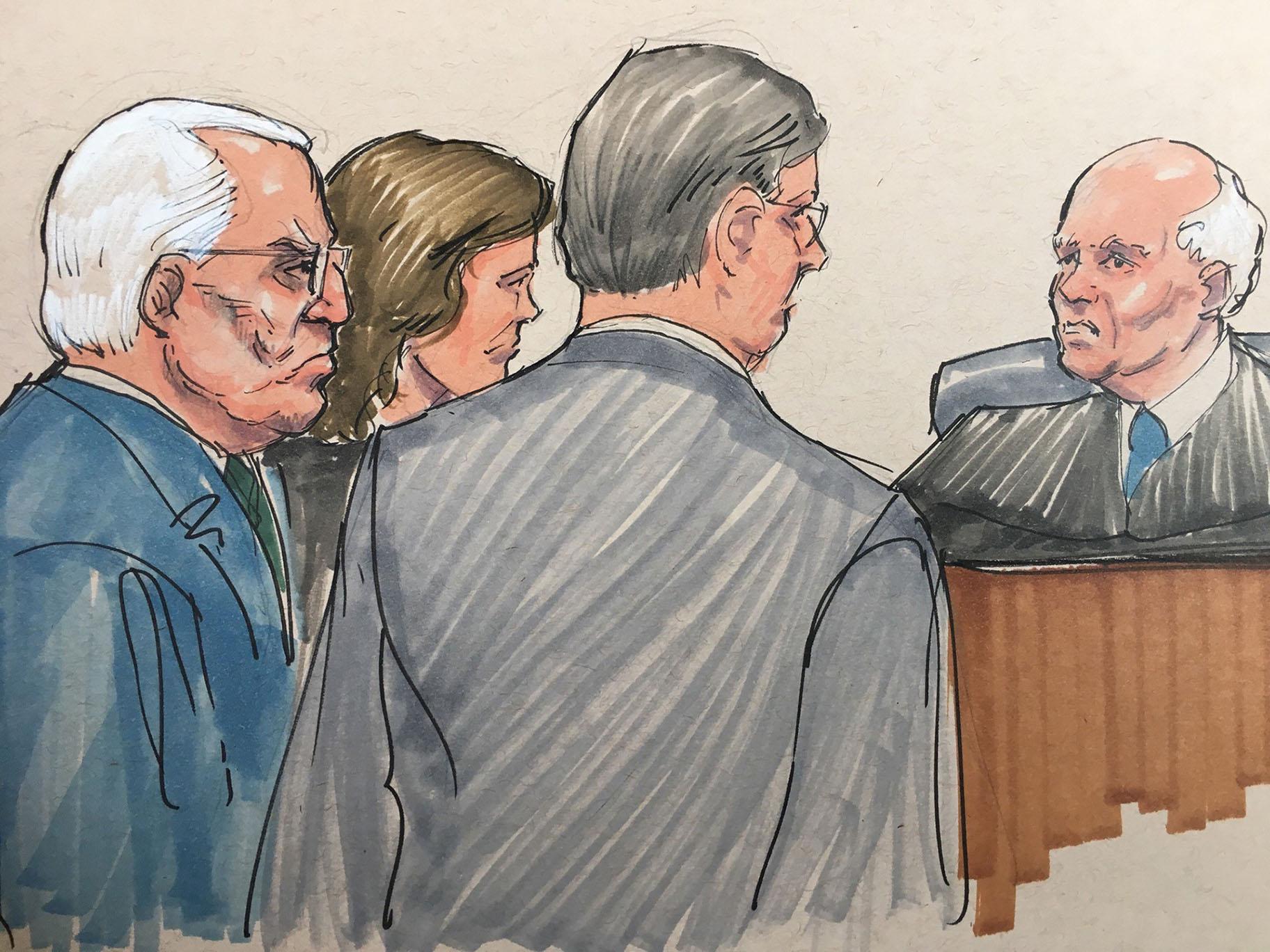 In this courtroom sketch, Ald. Ed Burke, left, appears before U.S. Federal Magistrate Judge Jeffrey Cole with his attorneys on Tuesday, June 4, 2019. (Credit: Tom Gianni)
Some of those charges revolve around a plot involving disgraced former Ald. Danny Solis to force the firm renovating the Old Post Office in Solis' 25th Ward to hire Burke's private law firm in return for city approvals.
The filing details Burke's frustration that his firm had not yet been hired.
"[W]ell, you know as well as I do, Jews are Jews and they'll deal with Jews to the exclusion of everybody else unless … unless there's a reason for them to use a Christian," Burke said, according to the court filing.
Prosecutors said the comment was "distasteful" and is evidence that Burke "believed he would only be hired to perform tax work by if he was able to take favorable action for in his capacity as an alderman."
As he left City Hall after Wednesday's meeting of the Chicago City Council, Burke declined to discuss the filing or his comments about Jewish Chicagoans.
"We will respond in court," Burke said, declining to respond to a question from WTTW News about whether he owed an apology to Chicago's Jewish community.
Ald. Michele Smith (43rd Ward) — one of two Jewish members of the Chicago City Council — said "of course" Burke owes Chicago's Jewish community an apology.
"He needs to do a lot more than apologize to people," Smith said. "He needs to resign."
Burke's looming criminal trial is a distraction for the members of the City Council and a blemish on the institution, Smith said.
Burke "brings shame to the City Council," Smith said. "He's a criminal."
State Sens. Sara Feigenholtz (D-Chicago) and Laura Fine (D-Glenview) — the only two Jewish members of the state Senate — said in a statement that Burke "owes an apology to the Jewish community."
"When he thought no one was listening, Ed Burke revealed his true self," the state senators said. "Simply said, Ald. Burke's remarks smack of blatant anti-Semitism and are both ignorant and repugnant."
After the City Council meeting, Mayor Lori Lightfoot renewed her call for Burke to resign as alderman of the 14th Ward, a post he has held since 1969. He won re-election in 2019, after he was charged with extortion.
"There is no place in public life for someone like him who used his office in a corrupt fashion," Lightfoot said.
In the alderman's response to the charges against him, filed in August, Burke's attorneys accused the government of setting him up with the help of Solis and improperly listening to his phone calls. 
Solis, who has not been charged with a crime, agreed to help federal agents investigate Burke after Solis was secretly recorded by a developer as part of another investigation and confronted by federal officials with evidence that he traded sex acts, Viagra, free weekend use of an Indiana farm once owned by Oprah Winfrey and a steady stream of campaign contributions for City Council actions.
The indictment alleges that Burke enlisted Solis' help to force the Old Post Office developer to hire Burke's private law firm in return for city approvals. Burke had already pledged to kick back a portion of the spoils to Solis in return for his approval of an $18 million subsidy and a tax break worth $100 million, prosecutors alleged. 
Burke's attorneys have argued that although Solis repeatedly tried to record Burke offering to provide an official action in exchange for private business, he never did. 
The indictment improperly characterizes the impact Burke's work as a private attorney had on his official duties as alderman, according to the alderman's attorneys.
"While the government might not like it," Chicago allows aldermen to hold outside employment, according to the filing.
Burke is set to be tried along with his longtime aide Peter J. Andrews and real estate developer Charles Cui. All three defendants, who have pleaded not guilty, have asked to be tried separately.
A Portage Park businessman, Cui, is facing bribery charges for hiring Burke's law firm in the hopes that Burke could get city officials to approve a large pole sign, which was not permitted under the zoning rules that cover that portion of Irving Park Road in the 45th Ward.
Before that permit was finally denied in November 2017, Burke agreed to help Cui, who was by then a client of his law firm, according to the indictment.
U.S. District Court Judge Robert Dow has delayed Burke's trial indefinitely, in part because of the COVID-19 pandemic as well as the huge amount of evidence in the case, including records from "the longest wiretap in the United States that concluded in 2018." In all, investigators intercepted 9,101 calls made by Burke or answered by him during the investigation, according to court records.
Those calls contain "powerful evidence" that Burke is guilty of corruption, including a 2017 question he posed to Solis: "So, did we, uh, land the tuna?"
Contact Heather Cherone: @HeatherCherone | (773) 569-1863 | [email protected]
---