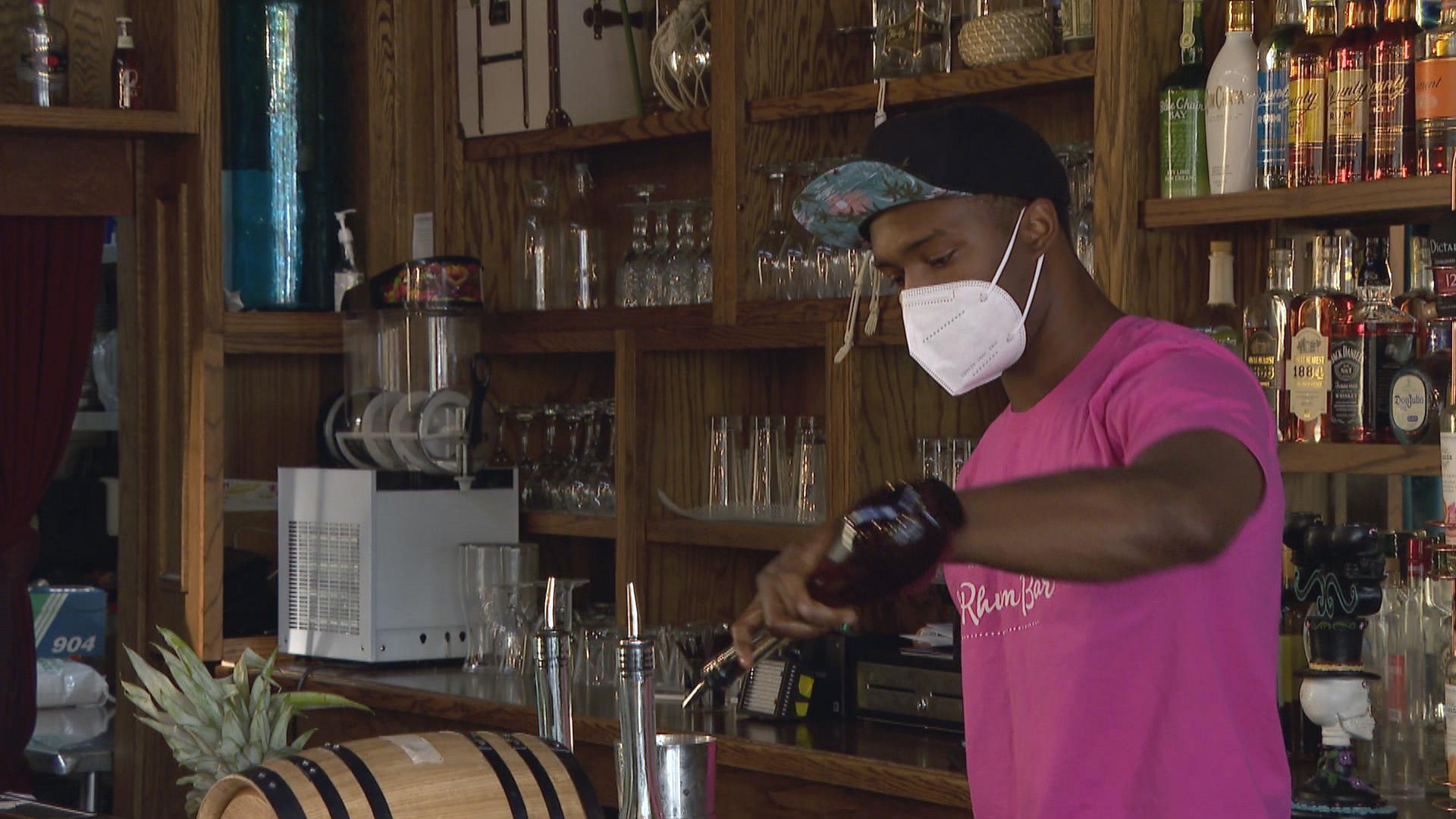 A bartender mixes a drink at the Chicago restaurant 14 Parish. (WTTW News)
Aldermen advanced a measure Thursday to ban the sale of alcohol at stores after midnight as part of a part of a massive package of initiatives Mayor Lori Lightfoot said was designed to help Chicago businesses recover from the COVID-19 pandemic.
The 15-3 vote of the City Council's License and Consumer Protection Committee on Thursday sets up a final vote by the City Council on June 23. Alds. Brian Hopkins (2nd Ward), Brendan Reilly (42nd Ward) and Jim Gardiner (45th Ward) voted against the 93-page ordinance.
Ald. Emma Mitts (37th Ward) said restricting liquor sales would reduce crime in her West Side ward. Lightfoot banned sales after 9 p.m. to stop the spread of COVID-19 in the early months of the pandemic, and then extended it to 11 p.m. Before the pandemic, liquor sales had to stop at 2 a.m. Sunday through Friday and at 3 a.m. Saturday.
"One of the very few positive impacts of the COVID-19 pandemic was the notable reduction in this criminal activity when these curfews were in place," Mitts said.
Ald. Gilbert Villegas (36th Ward) did not vote on the measure after saying the package included between seven and eight ordinances that should have been considered individually.
Although the mayor's revised proposal to ban the sale of booze at stores at midnight rather than 10 p.m. was the most high-profile change included in the package, much of the debate by the committee was dominated by concerns about proposed changes to the way that the city permits signs in the public way.
Rules that have been in place for decades require each sign application to be considered by the City Council's Transportation and Public Way Committee, which will typically approve dozens of applications at each meeting. 
That requires the support of the alderman, since other members of the City Council rarely — if ever — overrule their colleagues on purely local issues under the unwritten rules of aldermanic prerogative. 
However, that process can be cumbersome, and force businesses to wait months to get their sign approved and in place.
Although Lightfoot has vowed to end aldermanic prerogative to root out corruption, she has only been able to end aldermanic control of some permits and licenses. That has left the bulk of aldermanic power untouched more than two years after she put the issue at the center of her campaign for mayor.
Lightfoot has said the changes to sign permits has nothing to do with chipping away at aldermanic power and everything to do with making it easier for new businesses to open and start making money after many were closed for most of the year by the COVID-19 pandemic.
Hopkins and Reilly did not buy that, with both asserting that the commissioner of the Department of Business Affairs and Consumer Protection would have the final say on permits — leaving them wearing the jacket for signs that anger or annoy residents.
"This is a 93-page ordinance and I support 92 pages of it," Hopkins said.
Efforts by members of the Lightfoot administration to reassure aldermen that they could stop permits for signs they opposed fell on deaf ears.
The proposal would also reimpose a 15% cap on fees charged by delivery services such as Postmates, Grubhub, DoorDash and Uber Eats until Dec. 8, or 180 days after the last of the city's COVID-19 restrictions were imposed.
The measure also calls for the city to use $10 million in federal relief funds to offer targeted grants to businesses "that have been particularly impacted by the pandemic."
Also included was a proposal to create payment plans for businesses in debt to the city in order to allow them to renew their licenses and keep operating, according to the mayor's office.
Other proposals include a mechanism to expedite permits for restaurants opening in once-vacant spaces as well as a provision legalizing A-frame sandwich signs for businesses, which can now trigger a fine of $100.
The package is also designed to "streamline regulations" on taxis, which have been battered by the ride-share industry, and allow them to stay on Chicago's roads longer. 
The measure also smooths the path for those with criminal records for cannabis offenses to get jobs driving public vehicles and to work in the hospitality industry.
Contact Heather Cherone: @HeatherCherone | (773) 569-1863 | [email protected]
---