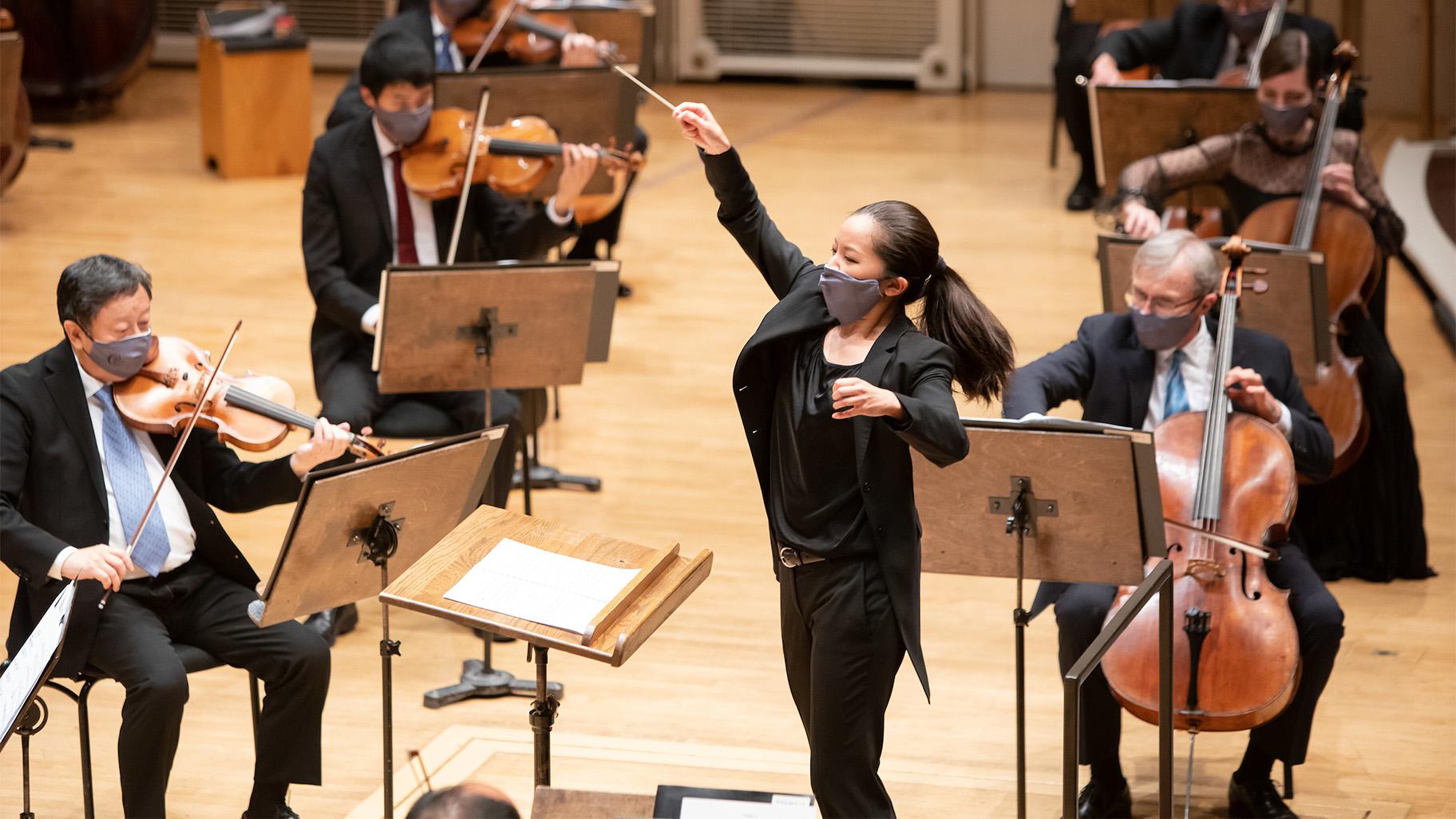 Erina Yashima, former CSO Solti Conducting Apprentice, joins the CSO for the opening performance of the program entitled "Strum," June 3, 2021. (Credit Anne Ryan)
It was a magical evening at Symphony Center Thursday as a meticulously spaced and masked audience gathered for "Strum," the aptly titled second of three different programs of springtime concerts (each just more than an hour long, yet wholly satisfying) created as a way of gently but thrillingly bringing the musicians of the Chicago Symphony Orchestra and their live audience back together again.
While that audience was still strictly limited in size, the number of musicians onstage grew larger than the one for its first gathering for last week's "Fanfare" concert. And the large assemblage of string, wind, brass and percussion players worked their magic in performances of exquisite pieces by Samuel Coleridge-Taylor (a composer of African and British heritage); Jessie Montgomery (the New York-based composer just named to a three-year appointment as the CSO's Mead Composer-in-Residence); Zoltan Kodaly (the 20th century Hungarian composer, pedagogue and ethnomusicologist); and Franz Schubert (the brilliant, short-lived Romantic of the early 19th century).
Also impressive was the guest appearance of conductor Erina Yashima, a petite powerhouse mentored by Maestro Riccardo Muti since 2015 and currently serving as the assistant conductor of the Philadelphia Orchestra. Moving with a combination of balletic grace and ferocious energy, she clearly unlocked the distinctive beauty of each work on the program, and as always, the musicians were in top form.
The concert began with two "Novelettes" for string orchestra by Coleridge-Taylor, each of which had the feel of brief epics. The opening work in A Minor, a lush and lyrical beauty with a strong, sweeping energy, had a touch of Brahms and a hint of Tchaikovsky in its rapturous melodies. The piece in D Major came with a thunderous opening, and took on an almost operatic quality by way of the rich voices of the cellos and basses, with a hint of a tambourine for accents, and a fluid but fiery drive to the end.
Next up was Schubert's "Symphony No. 5 in B-flat Major," a work in four movements that opens with an almost whistling, singing lightness before moving on to a stronger grandeur. Its second movement is marked by a Mozartian lightness and lyricism and enhanced by the sounds of winds and brass. Its third movement is declarative and full of anticipation, with the winds and brass often seeming to answer each other. And finally, there is the rich but playful and celebratory quality of the fourth movement that shifts moods easily before building to a forceful conclusion.
Montgomery's piece, "Strum," was exceptionally winning when it was featured earlier this year in a string quintet arrangement as part of the virtual CSOtv Sessions series. But now, performed at full force by the string orchestra it was meant for, it is even more beguiling - from the vigorous plucking sounds in its opening sequence, to its richly sensual melodic themes with sophisticated counter-rhythms that are at once classical and very subtly folk-based, and enhanced by an underlying tension. As I listened to it, I kept thinking that it would be a natural score for an ingenious choreographer to grab hold of.
Closing the program was Kodaly's masterful, exuberantly seductive, often rip-roaring "Dances of Galanta" (whose title suggests the folk culture of a Hungarian town now part of Slovakia). Scored for string orchestra, winds, horns, percussion, and the roar of timpani that sets it in motion, it is a brilliant example of how the composer seamlessly synthesized the irresistible hard-driving, rapid-fire rhythms of folk music with layers of classical complexity, simultaneously enhancing the unique qualities of both.
The bravura musicians, working at top speed, were clearly having a great time blazing through all the explosive communal energy Kodaly was able to conjure. And once again I found myself wondering why no choreographer (at least no one I am aware of) has grabbed hold of this thrilling, wildly beautiful score.
The "Strum" concert will be repeated Saturday June 5 at 7:30 p.m. and Sunday June 6 at 3 p.m. And the third and final concerts in the series, under the umbrella title of "Overture" will run June 10-13, with Edo de Waart conducting Mozart's Overture to "Don Giovanni" and "Symphony No. 40," along with Wagner's "Siegfried Idyll."
Visit cso.org for tickets. And cross your fingers that the full orchestra, along with Maestro Muti, will be able to return to the stage (along with full live audiences) this Fall.
Follow Hedy Weiss on Twitter: @HedyWeissCritic
---