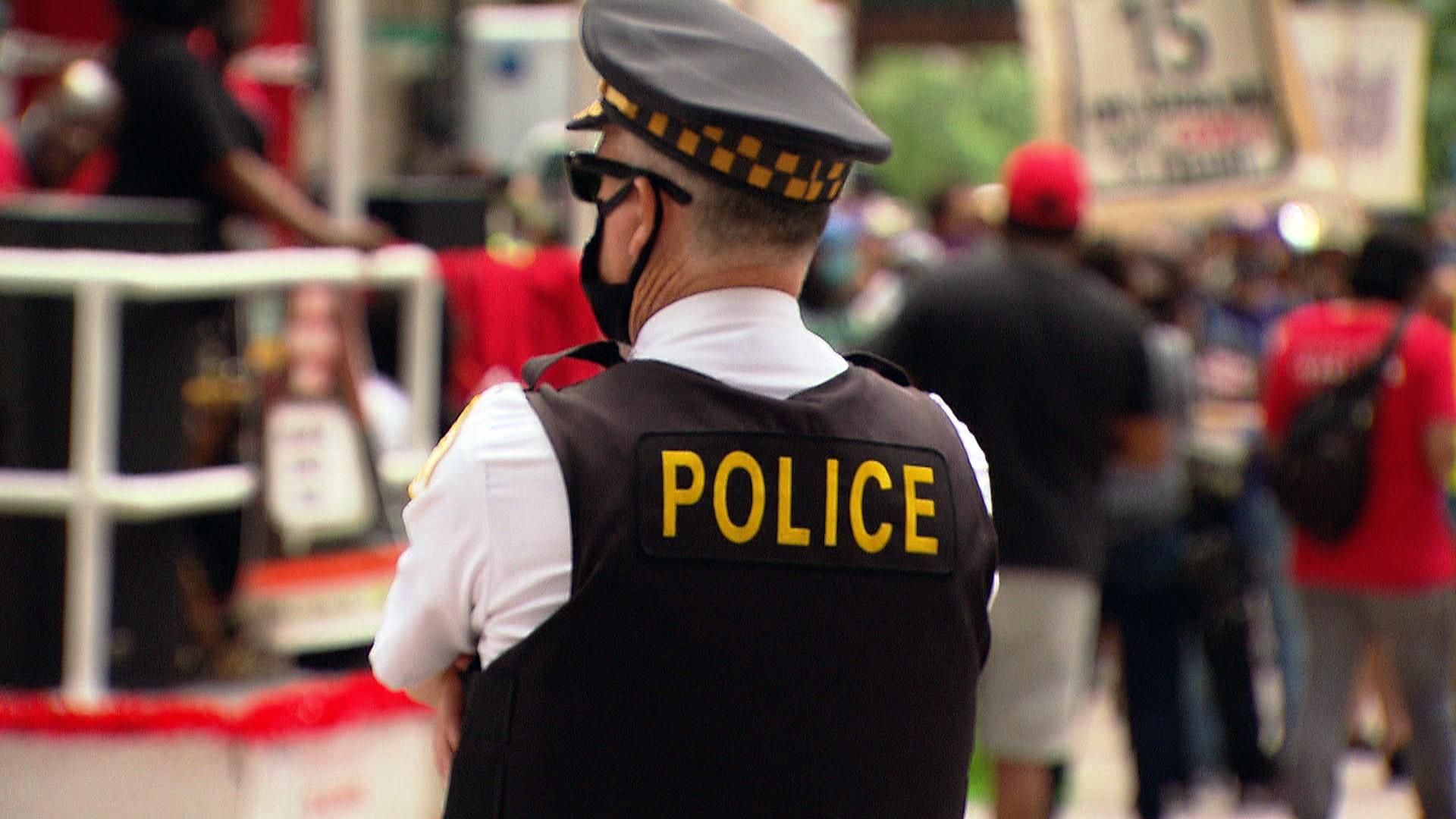 Demonstrators march in Chicago on Wednesday, June 24, 2020 to show their support for removing police officers from schools. (WTTW News)
As Chicago hits the unofficial start of summer with the Memorial Day weekend, city officials including Mayor Lori Lightfoot and Police Superintendent David Brown have announced a citywide strategy aimed at preventing summer shootings and homicides by focusing resources in historically violent areas.
The mayor Friday unveiled a new summer safety strategy, which she said is a "collaborative, all-hands-on-deck effort" among city departments to tackle violence issues specifically on the South and West sides of the city.
"We have an obligation to continue this fight, literally, for our residents' lives," she said during a news conference Friday, "and making this summer, the summer we've all been waiting for after the year we just endured, we need to make this the safest one yet to make significant progress."
According to Lightfoot, the city identified the 15 most violent police beat areas in Chicago — which she said collectively account for 50% of violence in the city — based on data from the previous three summers. These include the neighborhoods of Austin, North Lawndale, West Garfield Park, West Humboldt Park, Auburn Gresham, Greater Grand Crossing, South Chicago and South Shore.
The city will then assign personnel to those areas from various departments beyond just the CPD and Chicago Fire Department in an effort to address violence, analyze violence trends and coordinate local responses.
"This really is a whole-of-government approach to bear down on these communities to ensure that we give the community what it needs to be able to sustain itself in a safe manner," Brown said.
While officials on Friday highlighted those specific areas, Brown said the "same type of plan" will be put in place "in every beat, in every district, in every neighborhood throughout the city."
Already, the CPD has canceled days off for officers and put them on 12-hour shifts approaching the holiday weekend. Last weekend, 47 people were shot, including nine fatally, marking one of the deadliest weekends of 2021.
The city has previously relied on "all-hands-on-deck" approaches to address violence in recent years, utilizing agencies beyond the Chicago Police and Fire departments — including the Chicago Park District, Chicago Public Schools, the Office of Emergency Management and Communications and others — to provide youth in the city with safe spaces and job opportunities.
"We are flooding these zones with resources and supports for families, for young people, so that there are meaningful and productive activities at their fingertips the entire summer, particularly at night and on the weekends when we see the most challenges," she said.
But violence continued to spike last summer, including during July when the city recorded 105 homicides, making it the city's deadliest single month in 28 years.
Lightfoot said the plan this summer will be more data-driven and include a community-focused approach to ensure the targeted neighborhoods are safer.
"It's a kind of unity, a purpose of people on the ground in these areas that are most challenged that I haven't seen and I've been around city government for quite some time," she said.
Contact Matt Masterson: @ByMattMasterson | (773) 509-5431 | [email protected] 
---