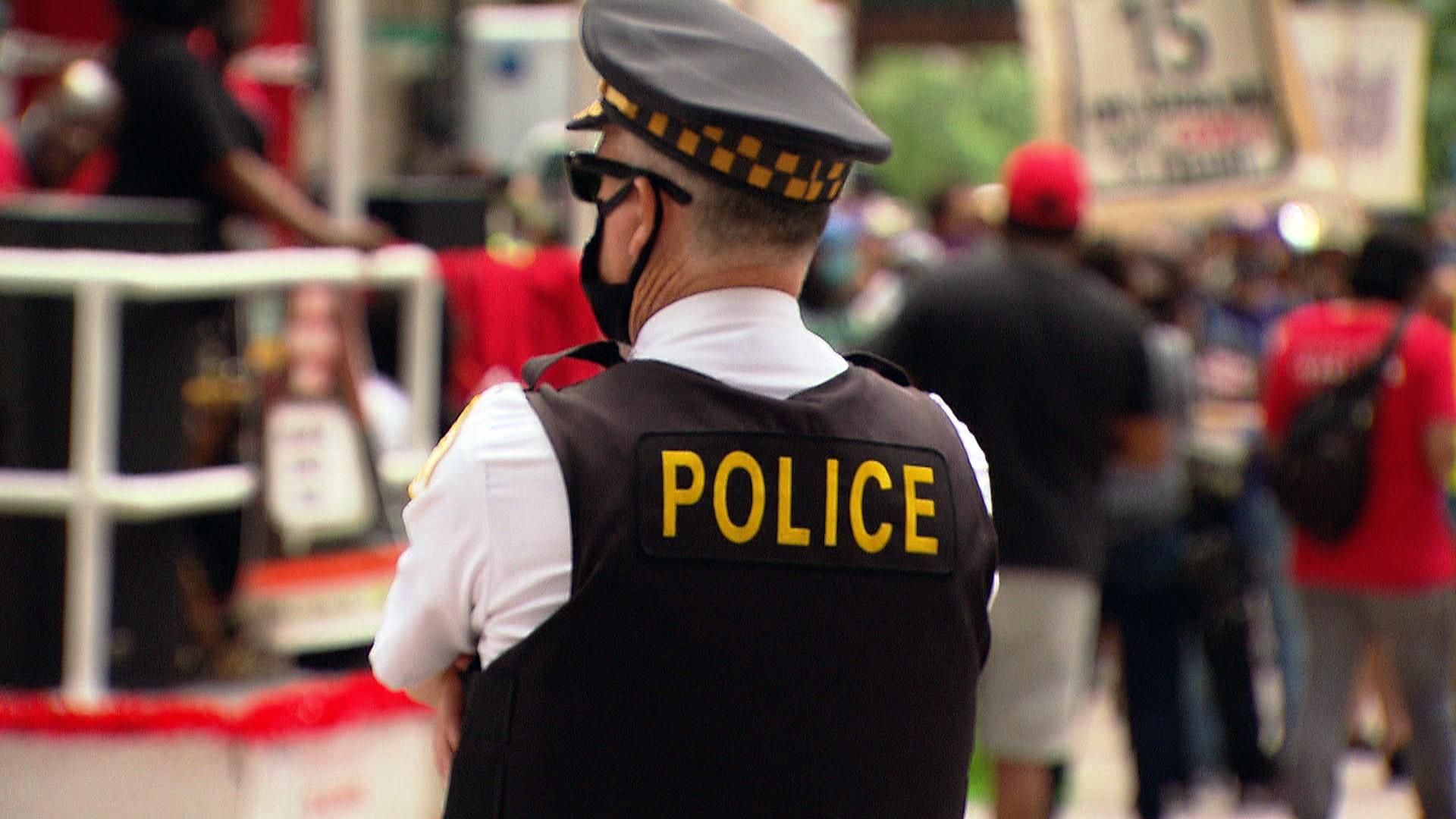 Demonstrators march in Chicago on Wednesday, June 24, 2020 to show their support for removing police officers from schools. (WTTW News)
Following one of Chicago's deadliest weekends of 2021, and with the anniversary of George Floyd's murder and Memorial Day ahead, police Superintendent David Brown says he plans to continue limiting time off for officers this week.
According to Chicago Police Department figures, 47 people were shot over the weekend, nine fatally. Brown on Monday said officers were given one day off last week, but will have both of their days off canceled for the holiday weekend.
"This weekend, I think, speaks for itself on why would you need more resources on the ground," he said during a news conference. "As a historical perspective, as we approach Memorial Day, better to prepare for the worst than, you know, not be prepared."
According to Brown, his department does not have any "actionable intelligence" regarding possible unrest on Tuesday, which marks the first anniversary of Floyd's murder by a Minneapolis police officer.
Brown said the schedule changes are a normal part of dealing with the "oncoming summer violence" in Chicago. But the recent move to cancel days off and put officers on 12-hour shifts was one of the main reasons cited by members of the Fraternal Order of Police Lodge 7 in issuing a no-confidence vote in Brown, his first deputy Eric Carter and Mayor Lori Lightfoot last week.
Brown acknowledged that burnout and officer wellness are major concerns for the department. He said after Memorial Day weekend, he plans on resuming days off "for a period of time."
But he also noted summer holidays have historically seen increases in violence, and with larger public crowds expected as Chicago reopens from the COVID-19 pandemic, the police department has to be prepared to act.
"We want to make sure people celebrate coming out of the pandemic quarantine in a way that's as safe as possible, which means officers have to be on point and available to ensure that safety," he said.
Among those killed over the weekend were two men found shot to death inside a vehicle in the 4600 block of South Federal Street on Sunday night; a 46-year-old man who was one of three people shot while standing outside in the 5500 block of South Michigan Avenue on Saturday; and two men in their 20s who were shot multiple times in the 4000 block of West Wilcox early Saturday.
On Friday, 15-year-old Dajon Gater was shot and killed as he stood on his front porch in the 3900 block of West Lexington Street.
Brown complained of "too many illegal guns in the wrong hands," but he also criticized the legal system for allowing too many "violent offenders" out of jail on electronic monitoring while awaiting trial.
He cited figures published last week by the Chicago Tribune editorial board that showed increases in the number of defendants charged with crimes including murder and vehicular hijacking who have been released on electric monitoring compared to other years, though bond reform advocates decried this as "fearmongering."
Brown on Monday didn't criticize Cook County State's Attorney Kim Foxx — he said his department "works well" with prosecutors — and instead placed blame on the judges making bail decisions in these cases.
He said he met with Foxx, Lightfoot, Chief Judge Timothy Evans and Cook County President Toni Preckwinkle "pretty recently" to discuss the matter, though he would not detail where those discussions led.
"We're keeping that private," Brown said. "We're working together trying to get some resolution."
Contact Matt Masterson: @ByMattMasterson | (773) 509-5431 | [email protected] 
---