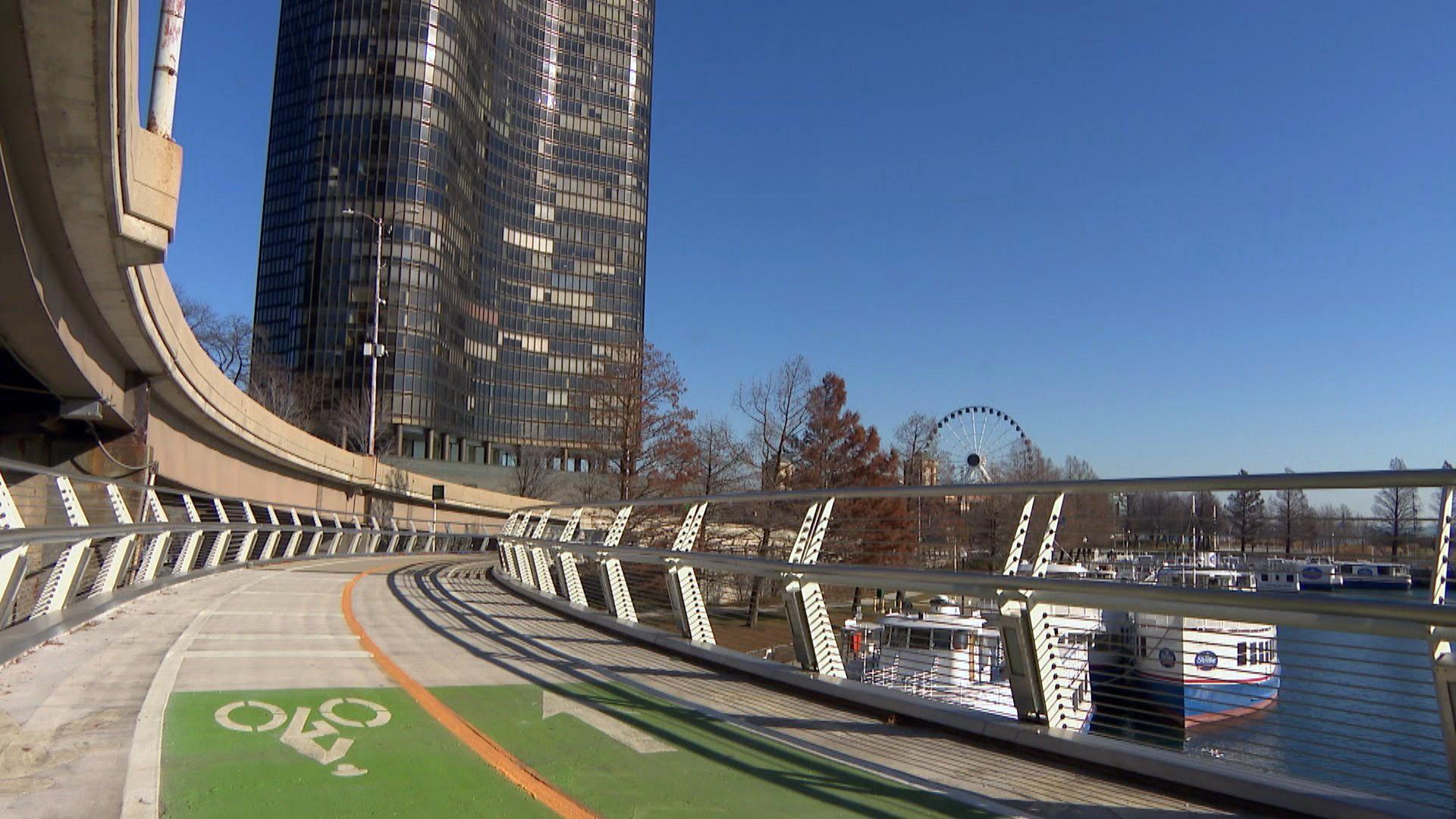 The Navy Pier flyover. (WTTW News)
More than seven years after the city broke ground on the Navy Pier Flyover – and three years after its targeted completion date – Mayor Lori Lightfoot, Gov. J.B. Pritzker and other city and state officials finally cut the ribbon Monday on the just-finished project.
The flyover, which was funded by $64 million in state and federal money, carries the Lakefront Trail over Grand Avenue, Illinois Street and the Chicago River. It now features fully separated paths for cyclists and pedestrians, much of it on a new, cantilevered structure that runs alongside Lower Lake Shore Drive. The northbound portion of the trail now passes through two of the bridge houses on the 1937 bascule bridge. The work to tunnel through those bridge houses was among the final work needed to finish the full flyover.
"The Lakefront Trail is undoubtedly one of Chicago's crown jewels," Lightfoot said in a statement. "I am thrilled to finally be able to cut the ribbon to this project and open it up for our residents to enjoy just in time for the summer."
The project's many delays – some due to unexpected maintenance discovered on the bridge, some due to funding availability – became a source of both frustration and humor for trail users and observers, who joked about the flyover taking longer than engineering marvels like the Golden Gate Bridge and the Sears Tower. Since February, pedestrians and cyclists have been able to stay on the trail running to the east of Lower Lake Shore Drive instead of diverting onto a sometimes crowded, dangerous sidewalk right next to the roadway, as trail users previously had to.
The Chicago Department of Transportation says the fully completed and separated bike and pedestrian paths now span about 20 feet.
"Building the Navy Pier Flyover was an incredibly complex design and engineering challenge," said CDOT Commissioner Gia Biagi in a statement. "The final product is a critical and long-awaited improvement at an intensely busy point in the trail. Paired with the Park District's work to provide trail separation, the Flyover now seamlessly connects our north and south lakefront for the hundreds of thousands of people who use it throughout the year."
The flyover's first two sections, taking cyclists and pedestrians over Grand Avenue and Illinois Street, opened in 2018 and 2019. The third portion, carrying cyclists and pedestrians over the Chicago River, was supposed to have been completed by the end of 2019, a deadline that came and went. In December 2020, CDOT told WTTW News the project was scheduled to wrap up by year's end. Then, in late December, CDOT said it wouldn't make that deadline because construction crews had been impacted by COVID-19. The project was then set to be done by the end of last month.
CDOT says structural and mechanical work on the Lake Shore Drive bridge will continue through 2021.
---