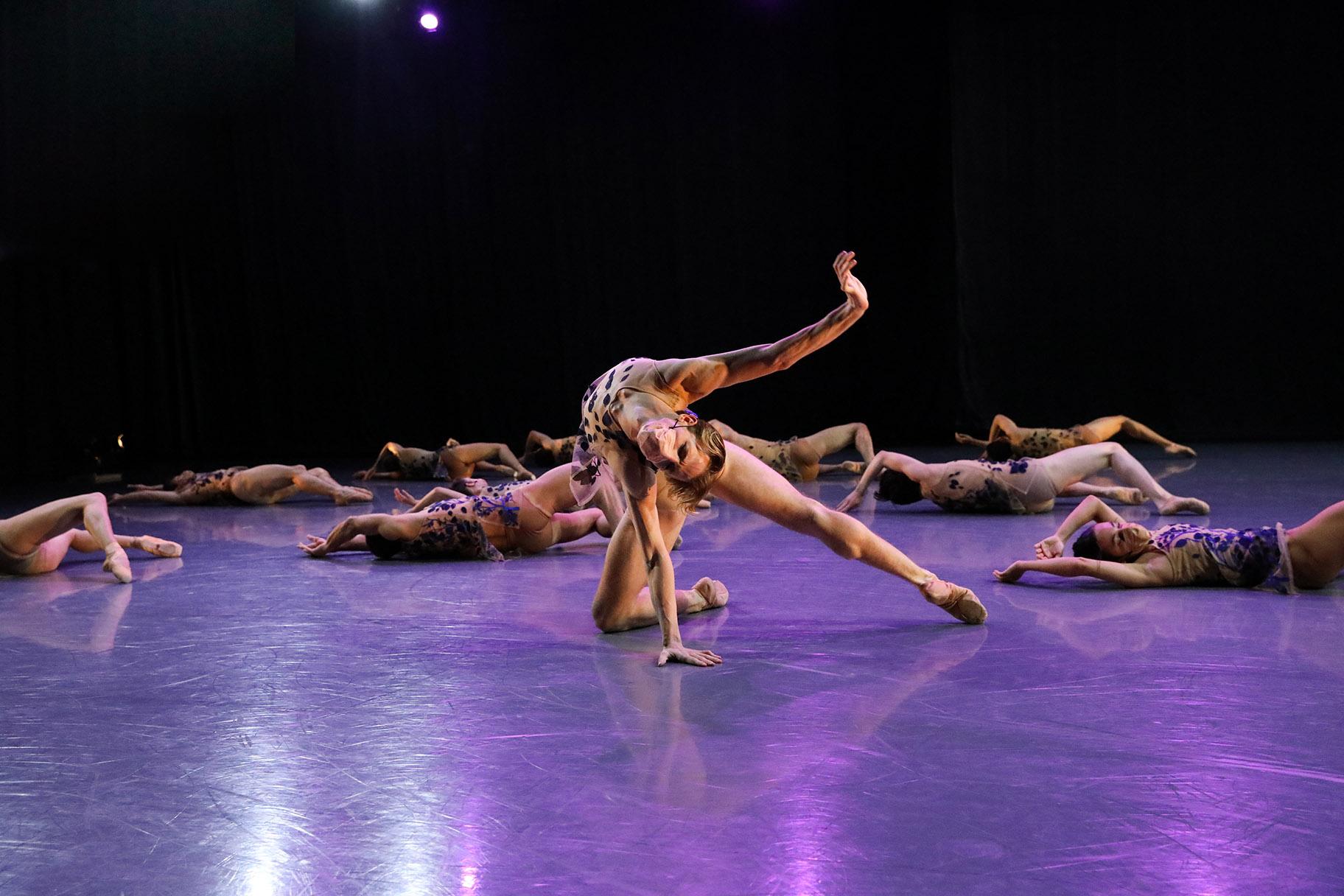 Stefan Goncalvez (Photo by Matt de la Peña)
When dance historians and critics are finally able to look back on the work created by both dancers and choreographers between March 2020 and whenever the COVID-19 craziness fully abates — and when live performances attended by live audiences can return to full pre-pandemic "normalcy" — they will immediately be able to identify the dramatic shift in both style and substance of the current era.
Whether the defining elements of "pandemic-era dance" will exert an enduring influence is open for question. Hopefully masks will disappear, intimate partnering will require less worry, and the sound of live music and applause will once again make a joyful noise.
Dancers, whose art is all about physical contact and breath, have been exceptionally hard-hit during the past year and more. Yet there has been quite an evolution as these indomitable and mostly suffocatingly masked artists have moved from solo barre exercises done at a kitchen counter and captured on home video; to solo dance sequences patched together for increasingly elaborate streamed works via Zoom; to meticulously distanced pieces that have unfolded in backyards, on rooftops, in parks, and on bare city streets; to (more recently), full-scale works filmed in artfully lit studios where masks and other strict safety protocols have been meticulously observed even as a certain degree of freedom has begun to return.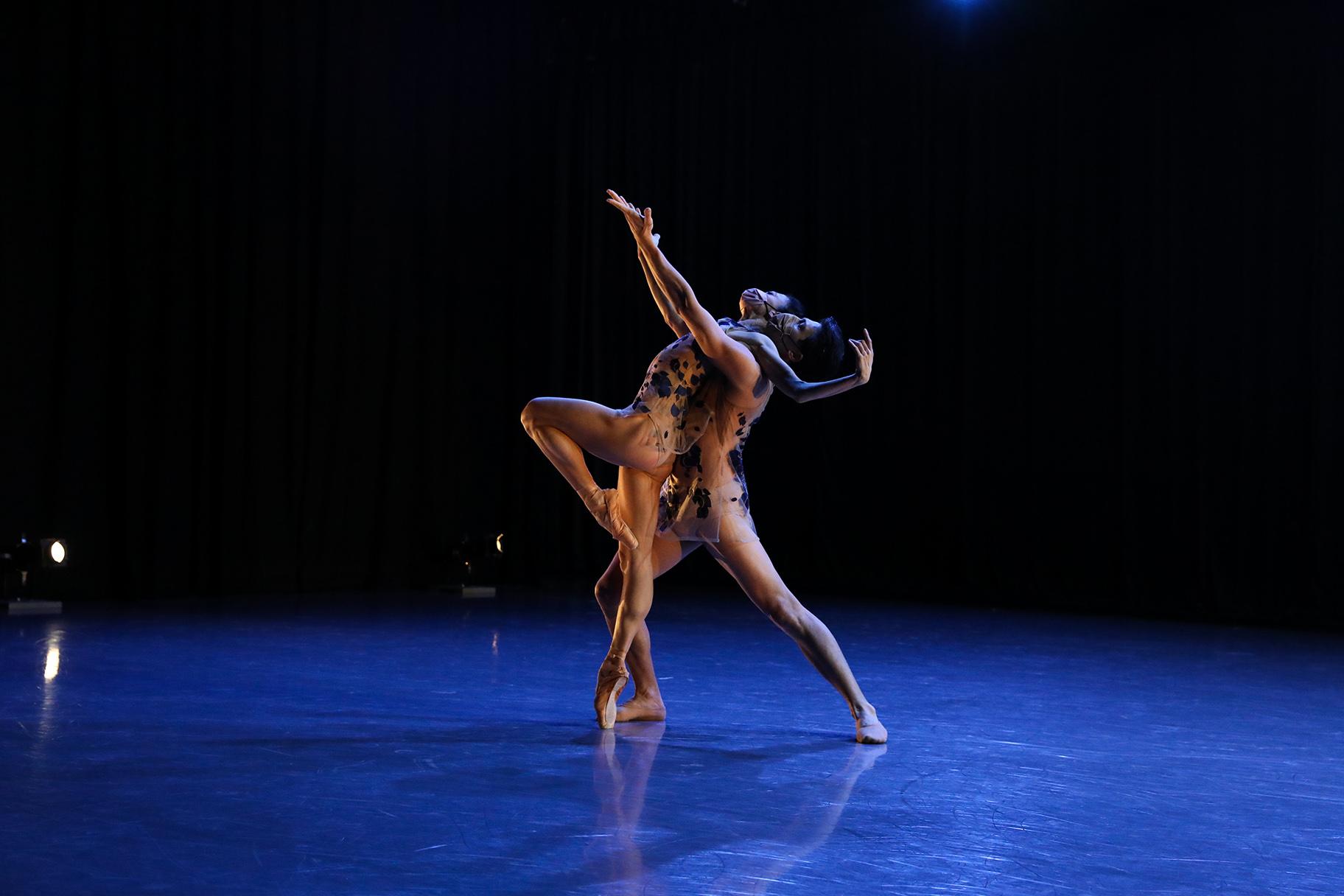 Victoria Jaiani and Temur Suluashvili (Photo by Matt de la Peña)
The emotional undertow of all these works is marked by a common thread: feelings of isolation, loneliness, frustration, alienation, pent-up energy, and the desire to physically connect even if that impulse is continually thwarted. Partnering has frequently been out of the question (although the real-life couples in several companies have been an exception). And choreographers working with classically trained dancers have often turned to modern dance tropes more than the traditional ballet vocabulary. It also is worth noting that along the way, technical production has grown exceptionally sophisticated.
But it is the Joffrey Ballet's world premiere of "Under the Trees' Voices" — feverishly choreographed by Nicolas Blanc (the company's rehearsal director and coach since 2015), and performed by 15 of the company's emotionally fiery and altogether virtuosic dancers — that might very well turn out to be one of the defining masterpieces of the era. More than that, it is a work of such beauty and dynamic intensity that it can and should easily endure as part of the standard ballet rep for years to come.
Set to the thrilling, richly dramatic "Symphony No. 2" by Ezio Bosso (1971-2020) — the Italian composer/pianist/conductor who wrote music for films as well as ballets (including Christopher Wheeldon's "Within the Golden Hour") — "Under the Trees' Voices," superbly filmed in the Joffrey's invaluable Gerald Arpino Studio, unfolds in four highly demanding movements.
The dancers — who are outfitted in gauzy tunics embellished with delicate leaf-like patterns (designed by Blanc and Eleanor Cotey), and are ideally lit by Jack Mehler (whose silky leaf-shaped cloud forms periodically float above the stage at crucial moments) — are uniformly superb as they stream in and out of each of the ballet's four scenes. And Blanc's choreography (with the women on pointe) artfully interweaves the ballet's timely themes, with characters who might be delineated as "the loners," "the couples" and "the group."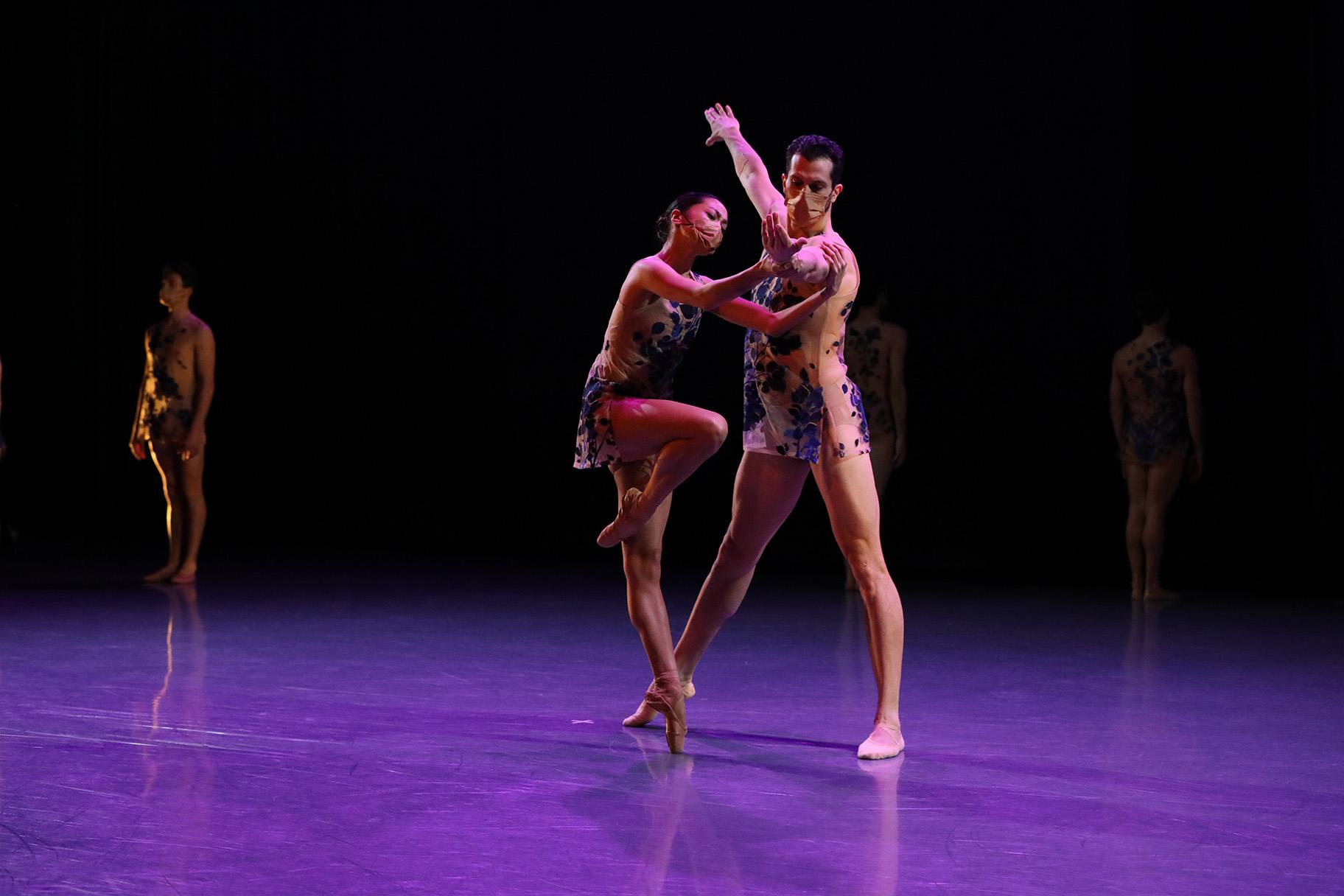 Dylan Gutierrez and Jeraldine Mendoza (Photo by Matt de la Peña)
The "couples" include three "real life" pairs — the exquisitely matched Jeraldine Mendoza and Dylan Gutierrez, Victoria Jaiani and Temur Suluashvili, and Amanda Assucena and Alberto Velazquez. And Blanc has created intense, richly acrobatic pas de deux for each of them. At the same time he has beautifully captured the painful yearning of the loners — danced with ferocity by Stefan Goncalvez in the opening scene, Christine Rocas in the third section, and Derrick Agnoletti in the final section.
Also masterful are the ways in which Blanc has interwoven all these "characters" with the larger ensemble of dancers (all in top form). They include Edson Barbosa, Valeria Chaykina, Anna Gerberich, Brooke Linford, Xavier Nunez and Derek Drilon.
Blanc's ballet, captured on film with a terrific sense of movement by Tim Whalen and Michael Kettenbeil, will stream indefinitely, and is free of charge. Don't miss it!
Visit: youtube.com/thejoffreyballet.
I also hope that once the Joffrey arrives on the stage of its new home at the Lyric Opera House (which might just happen later this year), that Blanc's work will be performed "live" (masks and all). To be sure, in the coming years it will serve as a vivid "remembrance of things past."
(In other welcome news for Joffrey fans: The company will be returning to the Ravinia Festival this summer after a long absence. See details below.)
---
More dance notes:
Notable among other "pandemic-era" streamed works created in Chicago during the past year have been Joffrey dancer Yoshihisa Arai's take on "Bolero," set to the iconic Ravel score, and the ingenious, varied pieces created by the four choreographers (Chanel DaSilva, Tsai Hsi Hung, Pablo Sanchez and Durante Verzola) who were the winners of this year's Joffrey's Winning Works Choreographic Competition. Each of these pieces was performed by mightily impressive young dancers drawn from the Joffrey Academy Trainees program and Studio Company.
And there is more good news about the Joffrey company. It will be performing a one-night-only program at the Ravinia Festival (Sept. 17 at 8 p.m.), on the open-air Pavilion stage. Featured will be four pieces: Nicolas Blanc's "Beyond the Shore," set to composer Mason Bates' "The B-Sides"; Chanel DaSilva's "Swing Low," to music by Zoe Keating, performed by members of the Chicago Philharmonic; Itzik Galili's sexy/zany "The Sofa," to music by Tom Waits; and Justin Peck's streetwise sneaker ballet, "The Times are Racing," to music by Dan Deacon.
Hubbard Street Dance Chicago (HSDC) also has been dancing up a virtual storm in recent months. One example: "In Any Event," choreographed by Penny Saunders, an alum of the company, which was staged in a loft space suggesting several different locales, from a restaurant bar to a wedding altar. Saunders wisely drew on the power of her dancers' own stories and their particular personalities and relationships, including that of the always outstanding "real life" couple, Jacqueline Burnett and David Schultz.
Meanwhile, HSDC's next project is "Unboxed" (to be presented online on May 10, 17 and 24), a program of three works resulting from a collaboration between Hubbard Street and Final Bow for Yellowface, an organization devoted to "eliminating outdated and offensive stereotypes of Asians on the stage." The pieces, choreographed by Yin Yue, Edwaard Liang and Peter Chu (and presented at the very moment anti-Asian violence has become headline news) envision their own versions of the Chinese Tea variation so familiar to anyone who has seen the traditional version of "The Nutcracker" ballet.
Add to this list the ever-intriguing Cerqua Rivera Dance Theatre, whose cabaret-like setting at its new home, Epiphany Hall, featured a highly polished group of dancers backed by an excellent live band and even the presence of a small live audience.
And finally, there were the performances for a streamed benefit event by choreographer Alonso King's San Francisco-based LINES Ballet, a company that has visited Chicago's Harris Theater for Music and Dance a couple of times in past years, and whose strikingly beautiful dancers should unquestionably be invited back for a return visit.
Follow Hedy Weiss on Twitter: @HedyWeissCritic
---