Audience members enter Symphony Center on opening night of Verdi's "Aida" on June 21, 2019. (Credit: Todd Rosenberg)
The sound of music, followed by the sound of an audience's applause. That is the crucial interplay that has been missing for far too long at Symphony Center and many other halls. But to quote Sam Cooke, "a change is gonna come." And if all goes as planned, it will be coming very soon as the Chicago Symphony Orchestra Association has just announced that beginning May 27, and running through June 13, the CSO will perform its first concerts for a live audience since March 2020.
Employing what has been dubbed "safe and sound measures," and planned in accordance with current state and city COVID-19 guidelines for public events, the concerts (each about an hour long) will welcome reduced-capacity audiences of about 400 people to be spaced throughout the hall, with up to 45 musicians carefully distanced on stage. Three different programs will run through June 13, with each performed four times: Thursdays and Saturdays at 7:30 p.m., Fridays at 1:30 p.m. and Sundays at 3 p.m.
Created with the artistic guidance of Maestro Riccardo Muti (who is still at home in Italy), the playfully titled programs will be as follows:
FANFARE (May 27, 28, 29 and 30):
Focusing on music for brass and percussion, this opening concert is designed to herald the return of live concerts at Symphony Center and will feature Aaron Copland's "Fanfare for the Common Man," Samuel Barber's "Mutations from Bach" (a 20th century interpretation of a Bach chorale), Gunther Schuller's "Symphony for Brass and Percussion," Michael Tilson Thomas' "Street Song for Symphonic Brass," and Leonard Bernstein's Presto Barbara (arr. Erikson), from his film score for "On the Waterfront." CSO trombone Michael Mulcahy will conduct.
STRUM (June 3, 4, 5 and 6):
Erina Yashima, former CSO Sir Georg Solti Conducting Apprentice and current assistant conductor of the Philadelphia Orchestra, will lead this program that takes its name from the title of a rhythmically exuberant piece by Jessie Montgomery, the New York-based composer who was just appointed the new the CSO Composer-in-Residence. "Strum," heard earlier this season as part of the CSOtv Sessions—the invaluable pandemic era virtual series—will be performed in its string orchestral version. The concert will open with two "Novelettes" by Samuel Coleridge-Taylor, and will also include Schubert's "Symphony No. 5" and Hungarian composer Zoltan Kodaly's "Dances of Galanta."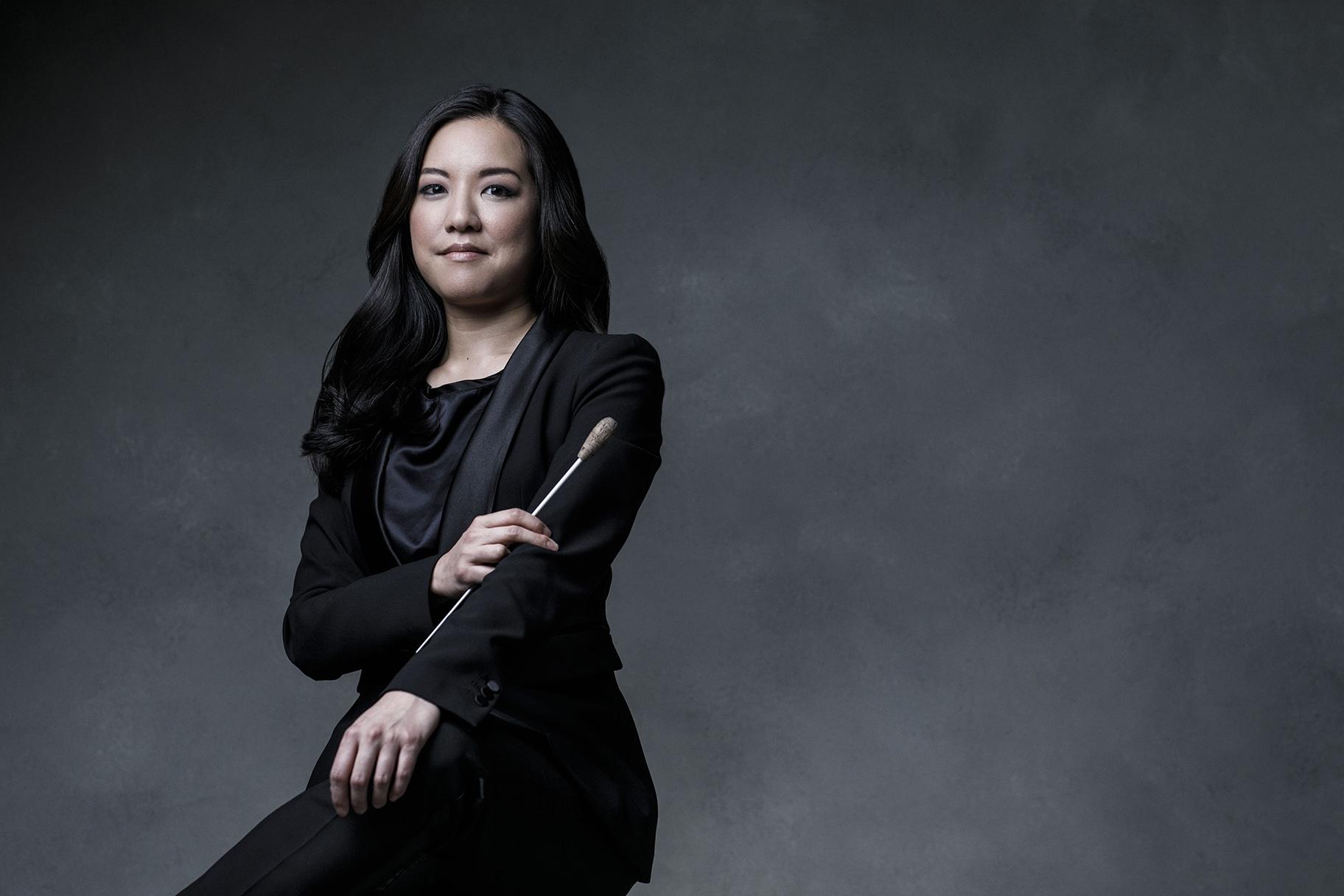 Erina Yashima (Credit: Todd Rosenberg)
OVERTURE (June 10, 11, 12 and 13): 
Led by Edo de Waart, the esteemed Dutch conductor (who lives in Wisconsin), this program will feature Mozart's Overture to "Don Giovanni" as well as the composer's greatly admired "Symphony No. 40," and Wagner's "Siegfried Idyll."
Tickets ($29-$99) will go on sale at 10 a.m. May 11. Visit cso.org for details. And note: Patrons will be required to wear face coverings and observe social-distancing guidelines. Concessions will not be available, and there will be no late seating and no intermission.
Meanwhile, the CSOtv Sessions series—the virtual programming that has sustained and delighted audiences throughout much of the pandemic, and featured chamber size ensembles of CSO musicians on the beautifully lit Symphony Hall stage—will continue, with a number of world premieres and contemporary works to be showcased in its four different concerts.
Here's the lineup for the streamed CSOtv Sessions series:
—Episode #19 (May 6): Prokofiev's "Quintet" and Suite from "Romeo and Juliet" (arr. by Tarkmann), Willard Elliot's "Two Sketches for Woodwind Quintet," and Leo Sowerby's "Woodwind Quintet."
—Episode #20 (May 27): Missy Mazzoli's "Volume," and Schoenberg's "Verklarte Nacht" ("Transfigured Night"), Op. 4.
—Episode #21 (June 10): The world premieres of composer/trumpeter Wadada Leo Smith's "Delta Blues" and composer/flutist Nicole Mitchell's "Cult of Electromagnetic Connectivity," as well as Missy Mazzoli's "Dark With Excessive Bright."
—Episode #22 (June 24): Quince Ensemble, the treble vocal quartet, will perform "Bone Needles" by Gilda Lyons; and Chicago-based composer David Remnick's "The Pub" from "In Dreams." The quartet joins CSO musicians for composer/pianist and Rome Prize winner Courtney Bryan's "Requiem," fittingly inspired by death rituals from many cultures. The string quartet "Prospective Dwellers" by Tomeka Reid completes the program.
Free programs—including concerts by the Civic Orchestra of Chicago and the CSO Kids series—also will be available. And planned for May 20 is a free webinar, "From the Composer's Studio: A Conversation with Missy Mazzoli and Jessie Montgomery." Advance registration required. Visit cso.org.
Follow Hedy Weiss on Twitter: @HedyWeissCritic
---