Little Village resident Andre Gordillo, right, raises his arms in protest during the Adam Toledo peace walk on April 18, 2021. (Evan Garcia / WTTW News)
Several hundred people gathered Sunday evening in Little Village to mourn the death of Adam Toledo and participate in a peace walk through the neighborhood to remember the 13-year-old who was fatally shot by a police officer on March 29. 
On Thursday, the city released police body camera footage of the shooting, which appears to show Toledo turning toward Officer Eric Stillman with his hands raised and open before the officer fires his gun.
Compared to an overall peaceful Logan Square protest on Friday that ended in some skirmishes between protesters and police, the peace walk was a somber and serene event, with organizers leading prayers and handing out flowers to be placed at a mural and memorial near the alley where Toledo died.
"I think it's important to show that I care about my community and that I want justice to be done for the wrongful murder of a 13-year-old," said Andre Gordillo, who participated in the peace walk. "This is a peaceful, youth-led march."
The culture of Little Village, a predominantly Latino neighborhood on the city's West Side, was displayed through Aztec prayer dances and mariachi band performances. After marching through the neighborhood and kneeling for a five-minute moment of silence at the Little Village arch, organizers from several youth-led organizations, such as Increase the Peace, closed the peace walk with calls for increased resources to the community and police reform.
Below, scenes from the peace walk Sunday: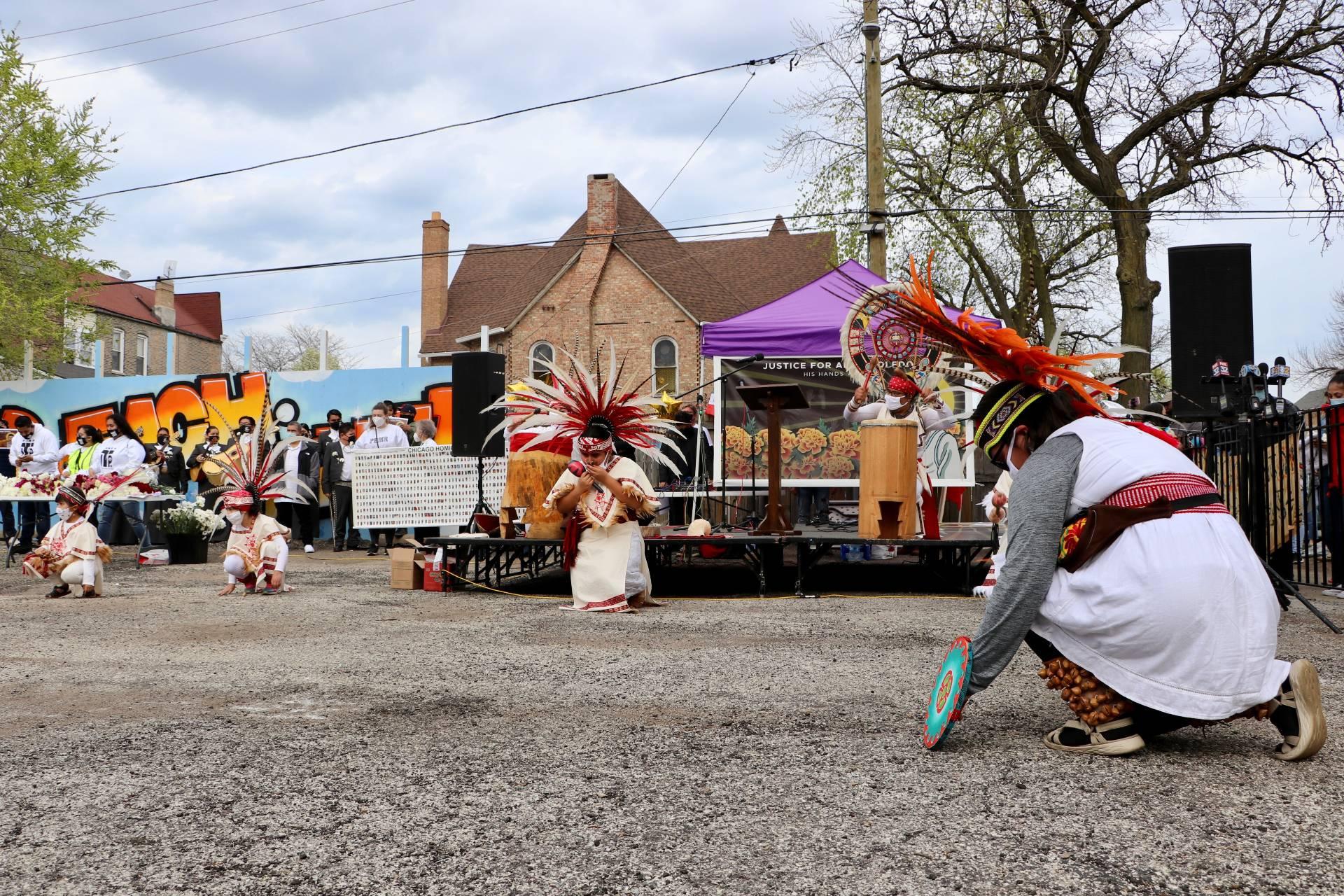 An Aztec dance is performed at the opening of a peace walk on April 18, 2021 for 13-year-old Adam Toledo, a Little Village resident fatally shot by police on March 29, 2021. (Evan Garcia / WTTW News)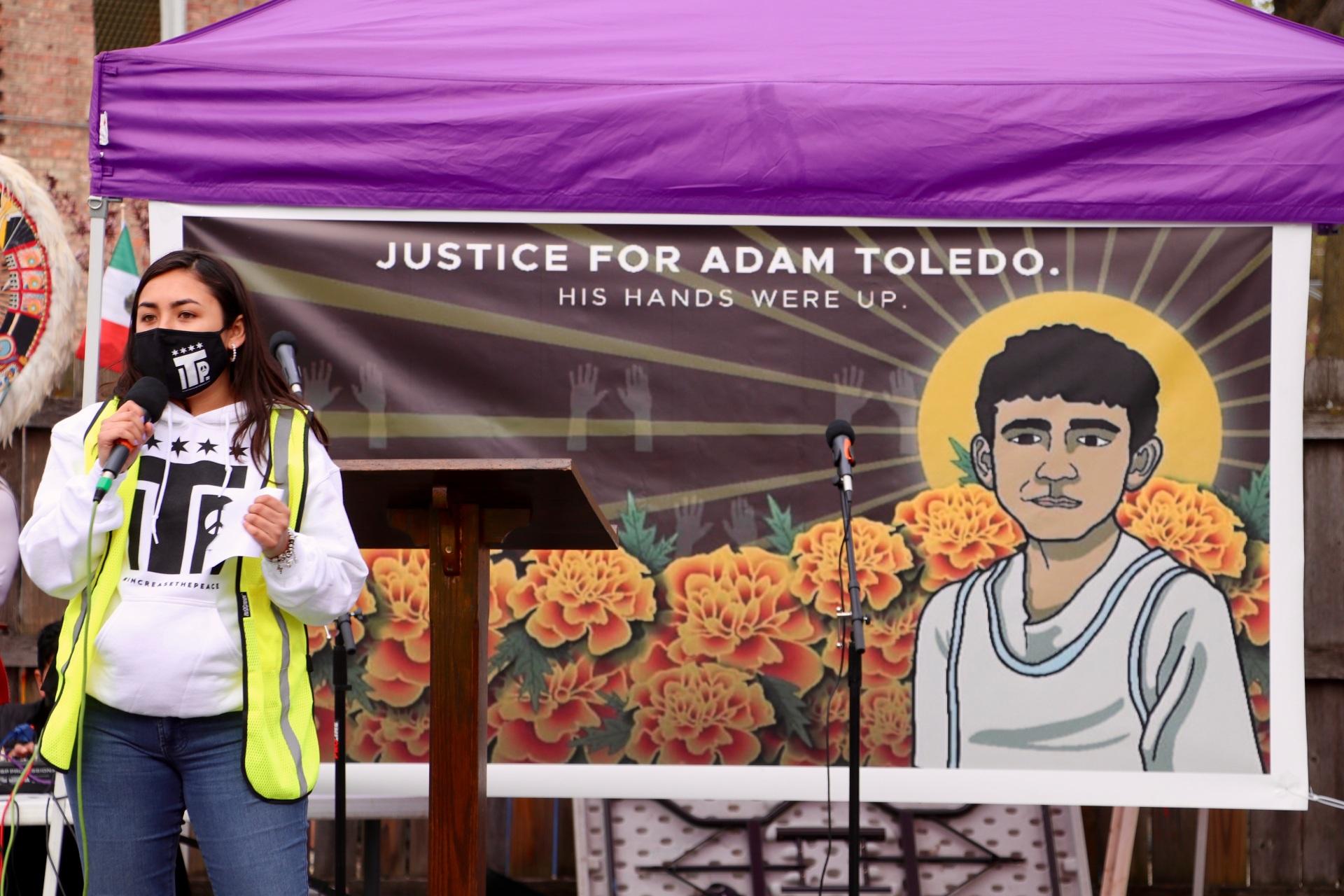 A member of the community organization Increase the Peace speaks April 18, 2021 during a peace walk in honor of Adam Toledo in Chicago's Little Village neighborhood. (Evan Garcia / WTTW News)
A mariachi band performs April 18, 2021 during a peace walk organized in Little Village, a predominantly Latino community on Chicago's West Side. (Evan Garcia / WTTW News)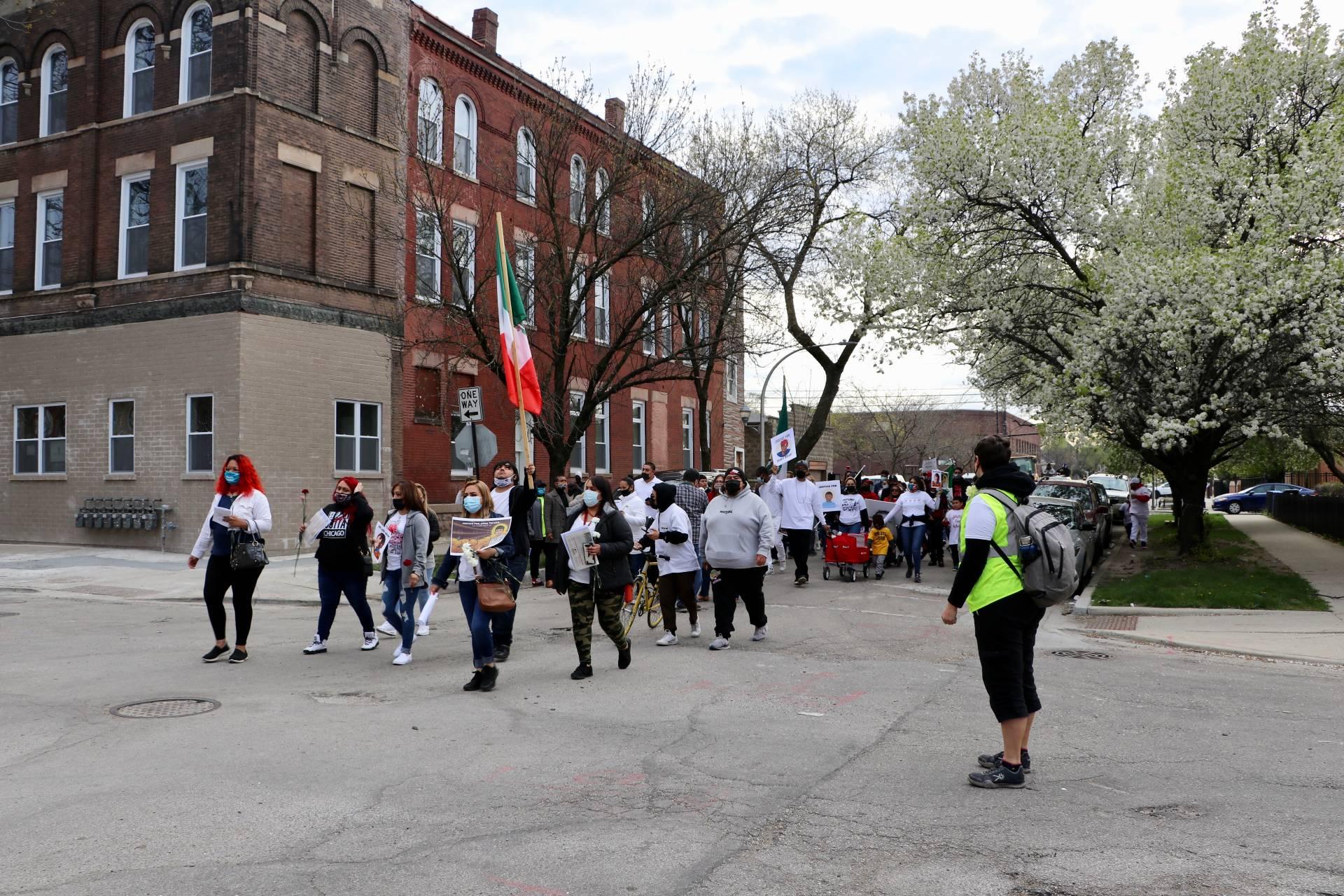 Demonstrators march through the Little Village neighborhood during a peace walk on April 18, 2021. (Evan Garcia / WTTW News)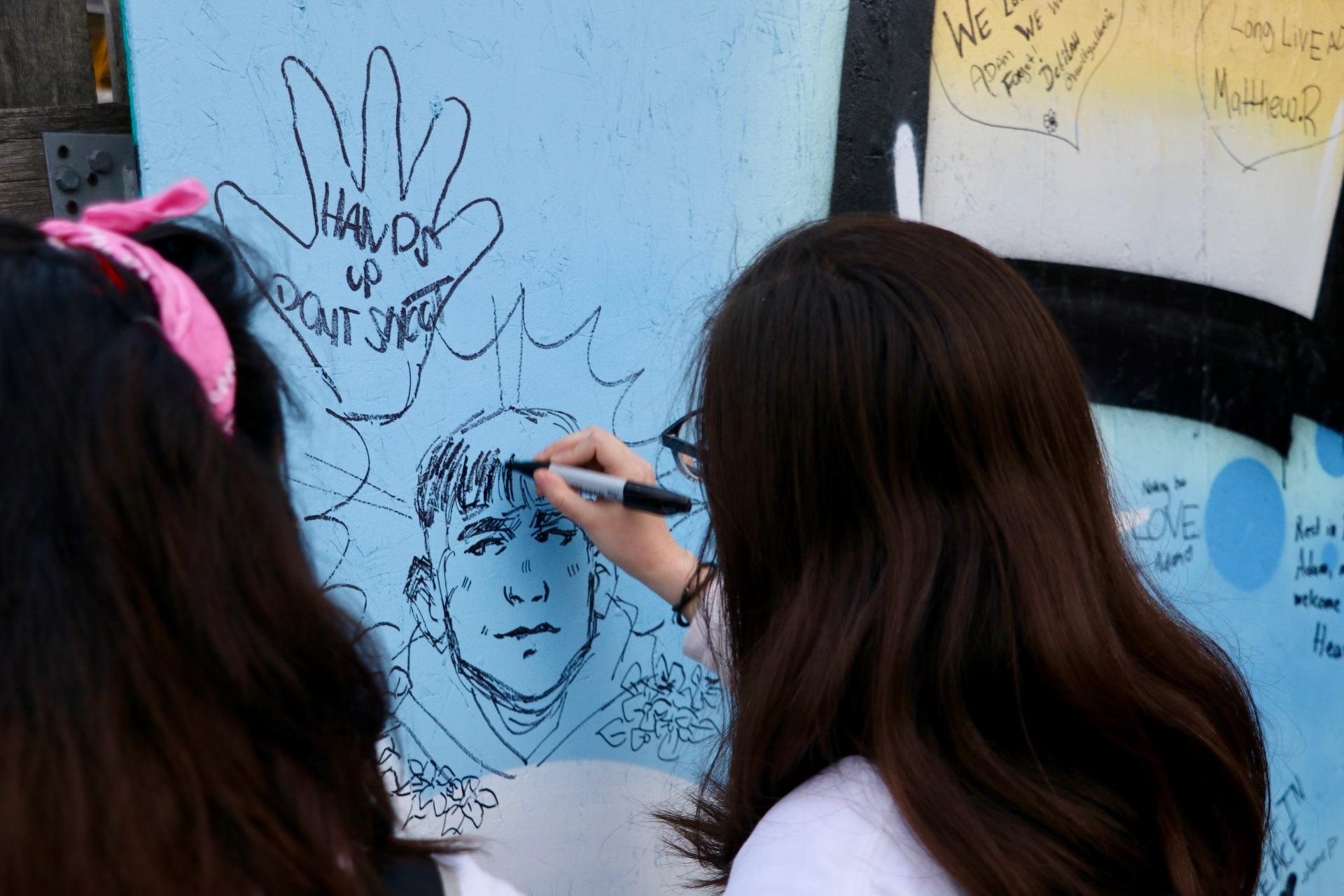 During a peace walk in honor of Adam Toledo on April 18, 2021, an attendee draws a portrait of 13-year-old Adam Toledo on a mural near where Toledo was fatally shot by a police officer on March 29, 2021. (Evan Garcia / WTTW News)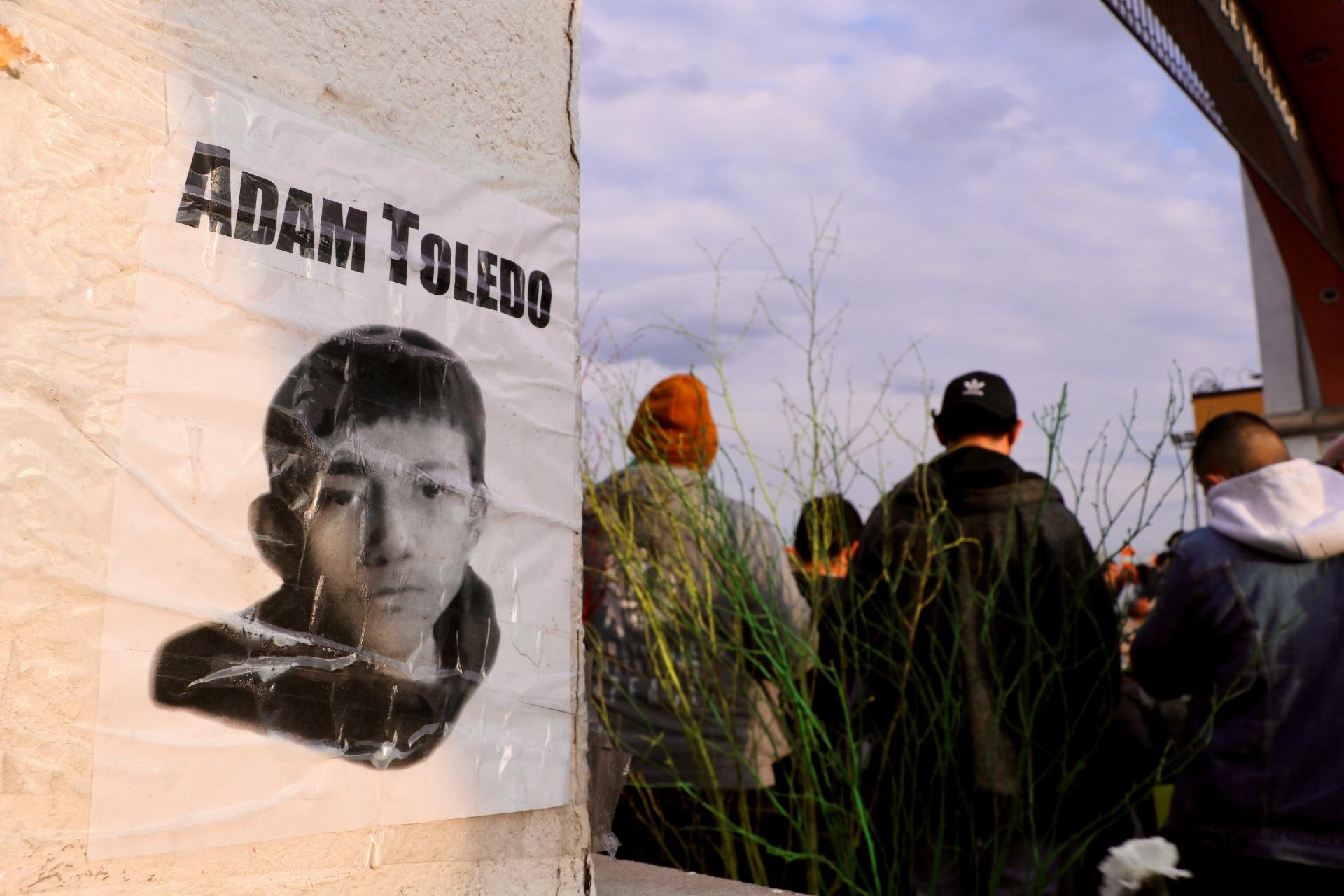 A photo of 13-year-old Adam Toledo taped to the Little Village arch during the April 18, 2021 peace walk. Toledo was fatally shot by a police officer on March 29, 2021. (Evan Garcia / WTTW News)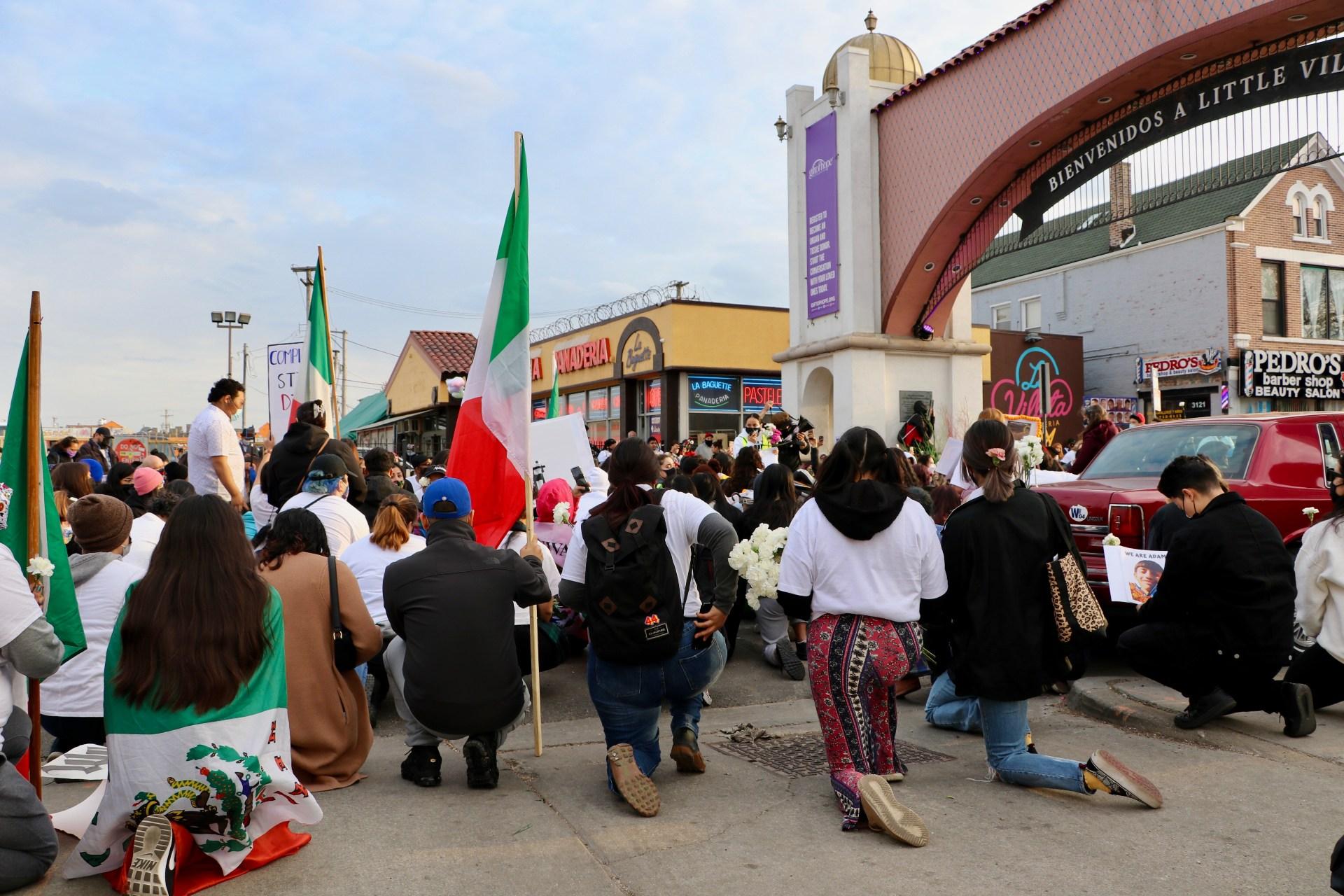 Attendees of the Adam Toledo peace walk kneel at the Little Village arch during a moment of silence for 13-year-old Adam Toledo on April 18, 2021. (Evan Garcia / WTTW News)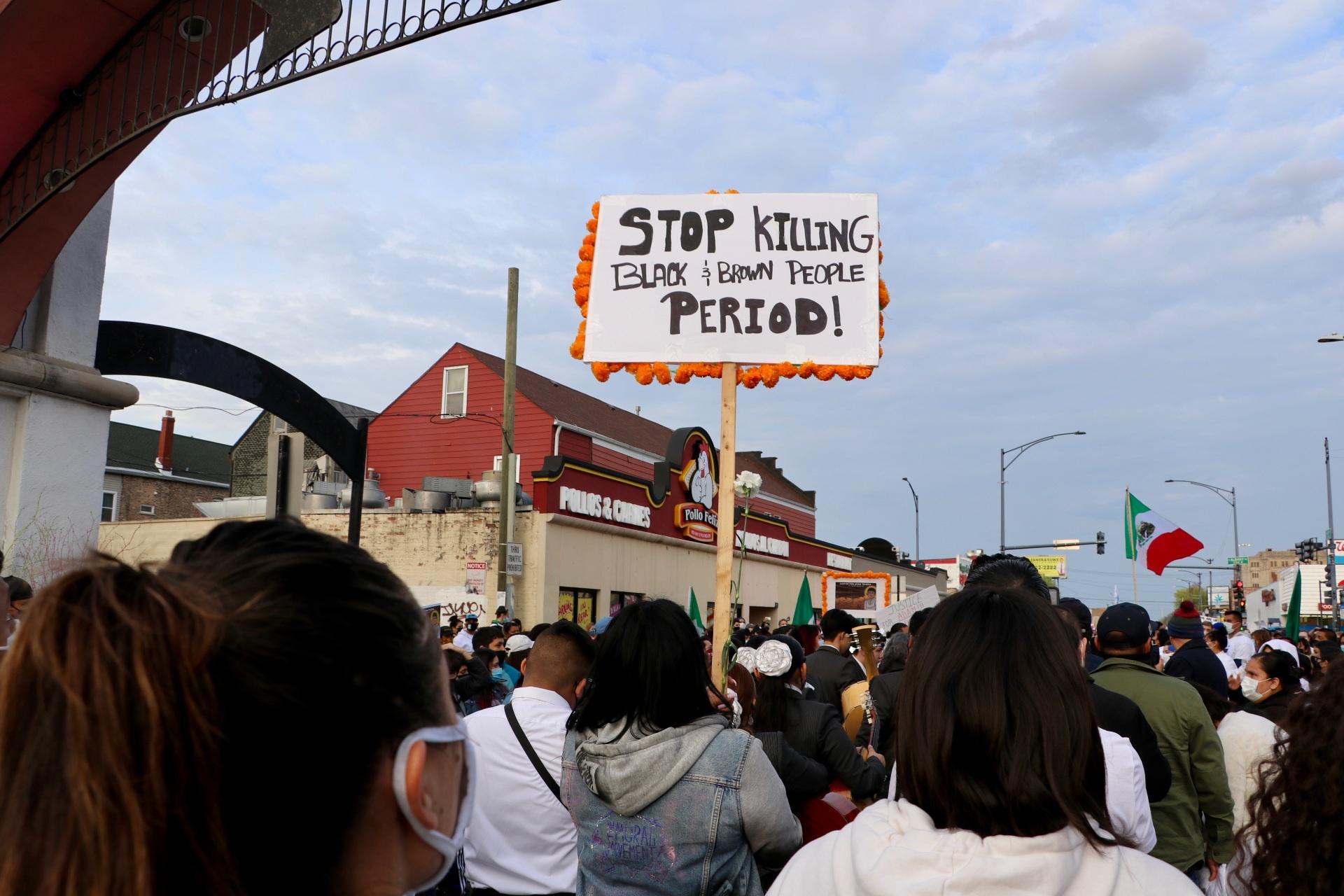 A protester holds a sign reading "Stop Killing Black & Brown People, Period!" while marching at the Adam Toledo peace walk held in Chicago's Little Village on April 18, 2021. (Evan Garcia / WTTW News)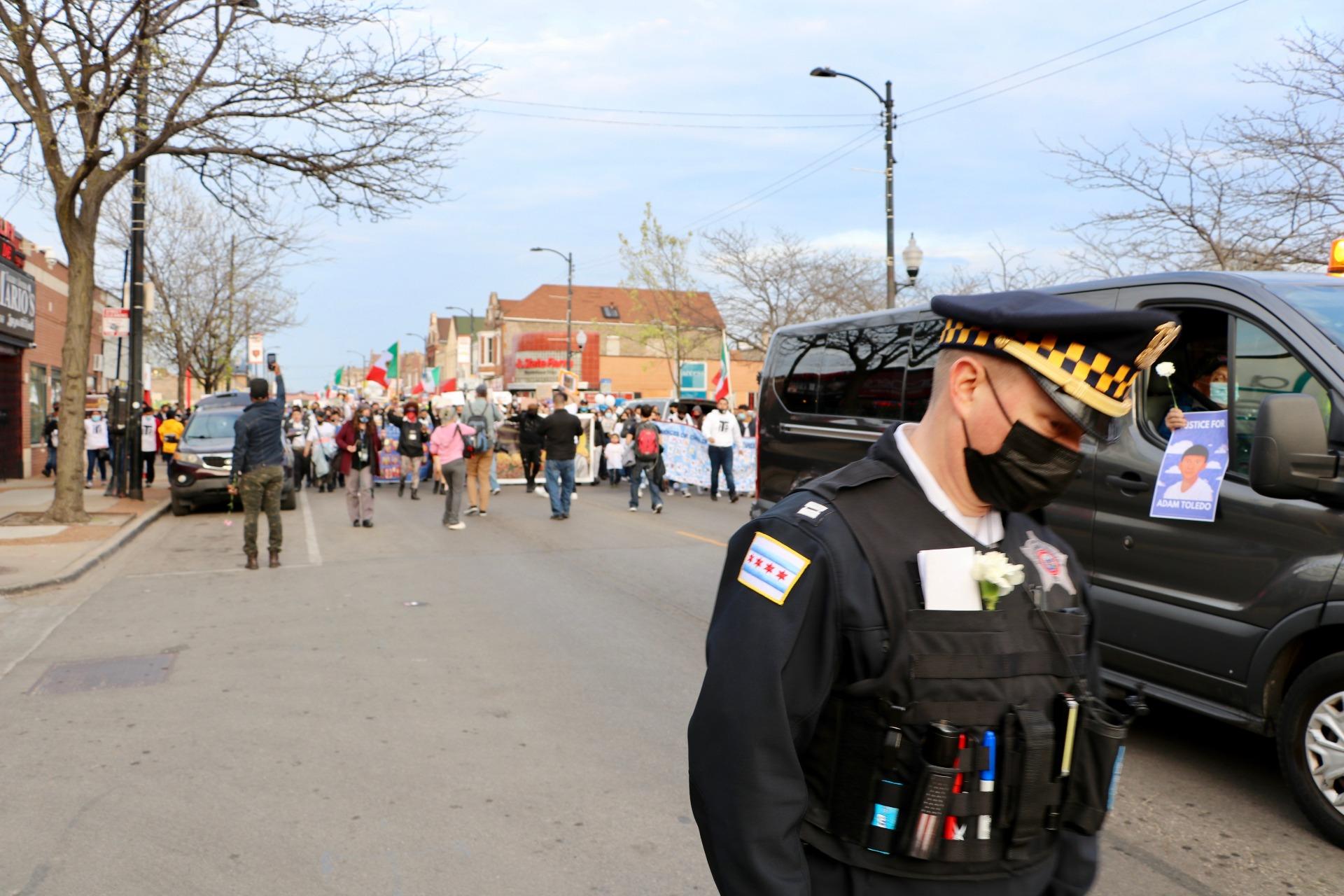 A police officer walks ahead of the march through Chicago's Little Village neighborhood during the Adam Toledo peace walk on April 18, 2021. (Evan Garcia / WTTW News)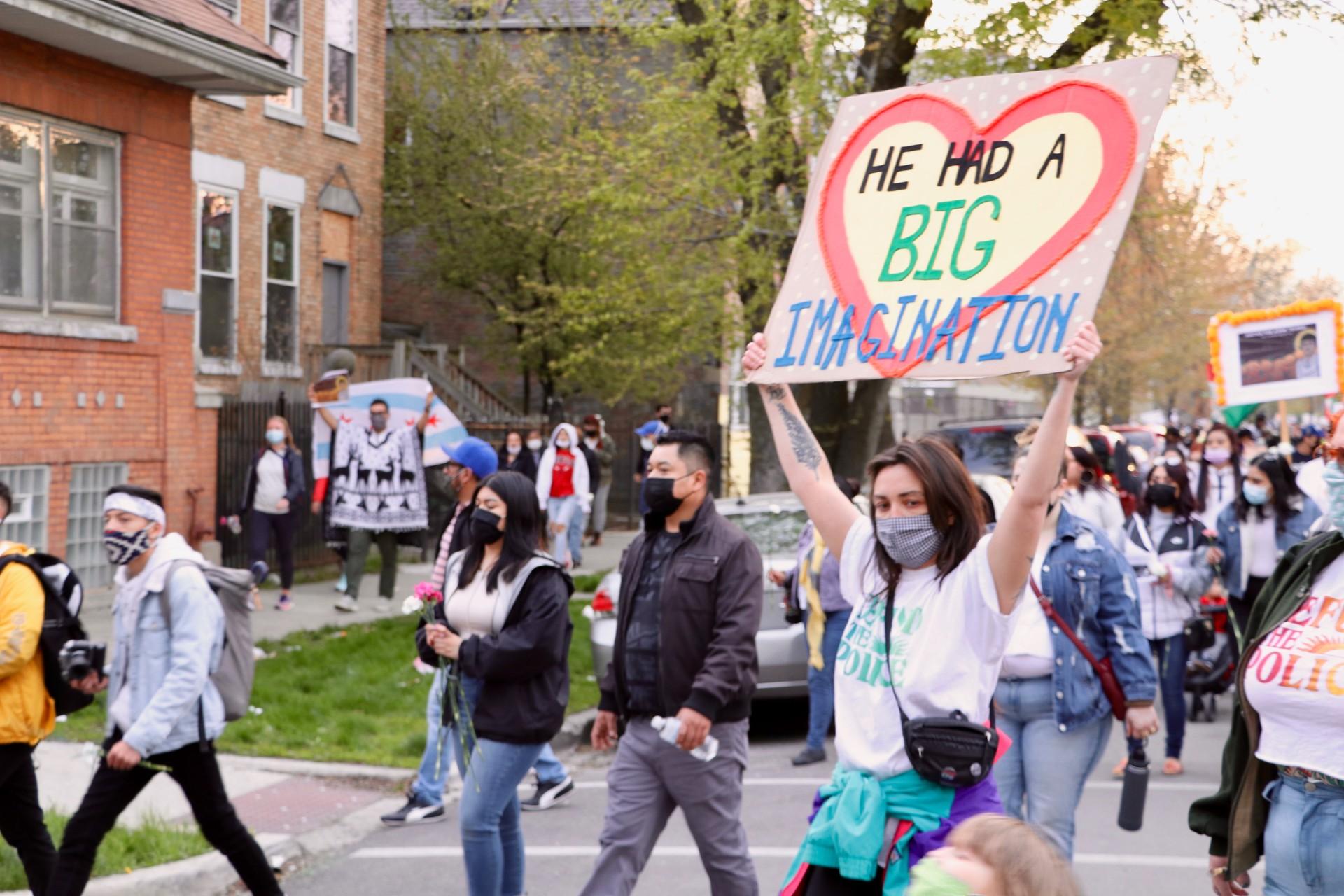 Humboldt Park resident Crystal Renee Drake marches and holds a sign reading "He Had A Big Imagination," referring to 13-year-old Adam Toledo, during the April 18, 2021 peace walk in honor of Toledo. "I'm so tired of him being known as a victim of the police and not for who he was as a person," Drake said. "And I'm angry." (Evan Garcia / WTTW News)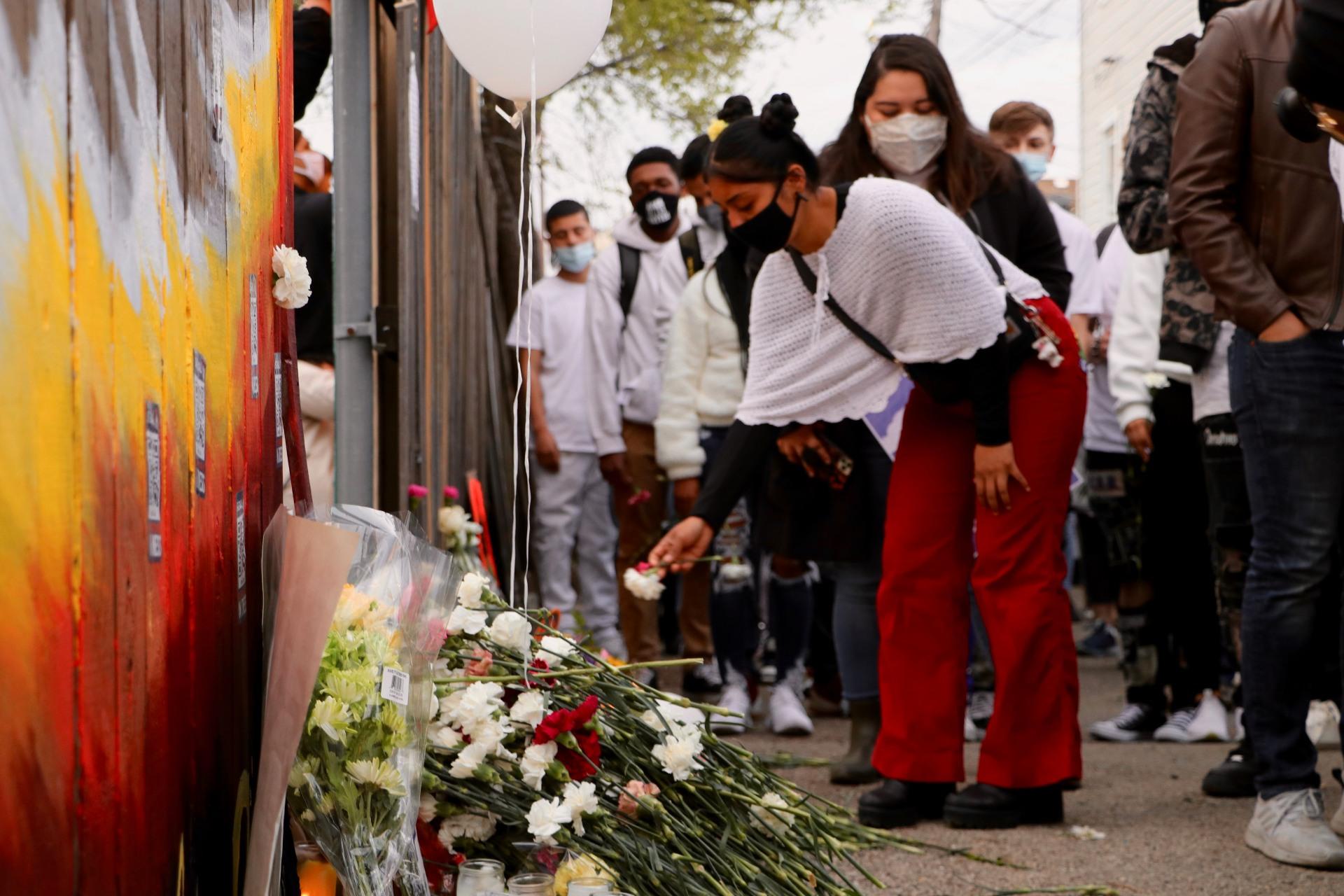 An attendee of the April 18, 2021 peace walk lays a flower at a memorial for 13-year-old Adam Toledo in Chicago's Little Village neighborhood. Toledo was fatally shot by a police officer in this location on March 29, 2021. (Evan Garcia / WTTW News)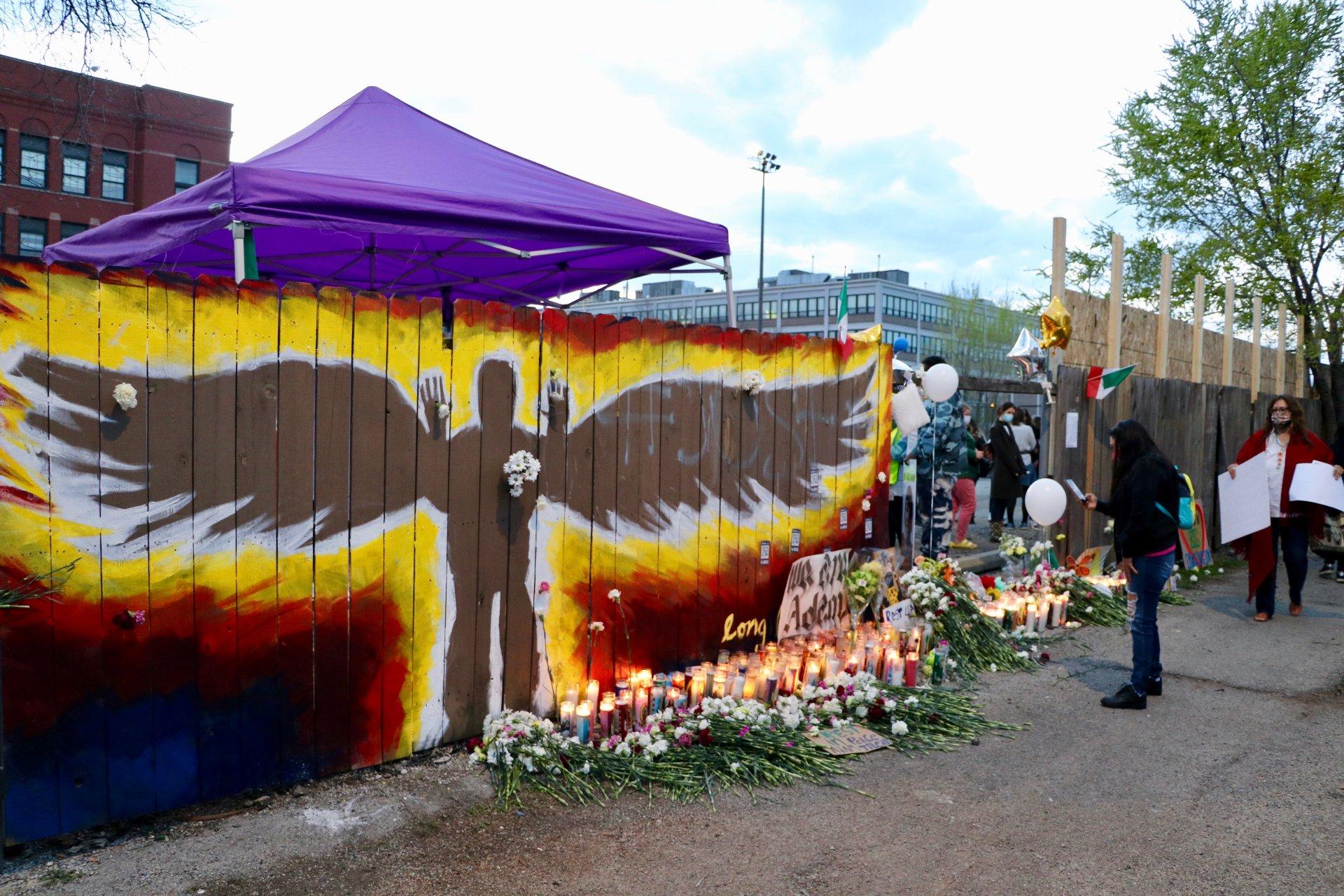 A mural and memorial dedicated to 13-year-old Adam Toledo at the April 18, 2021 peace walk. (Evan Garcia / WTTW News)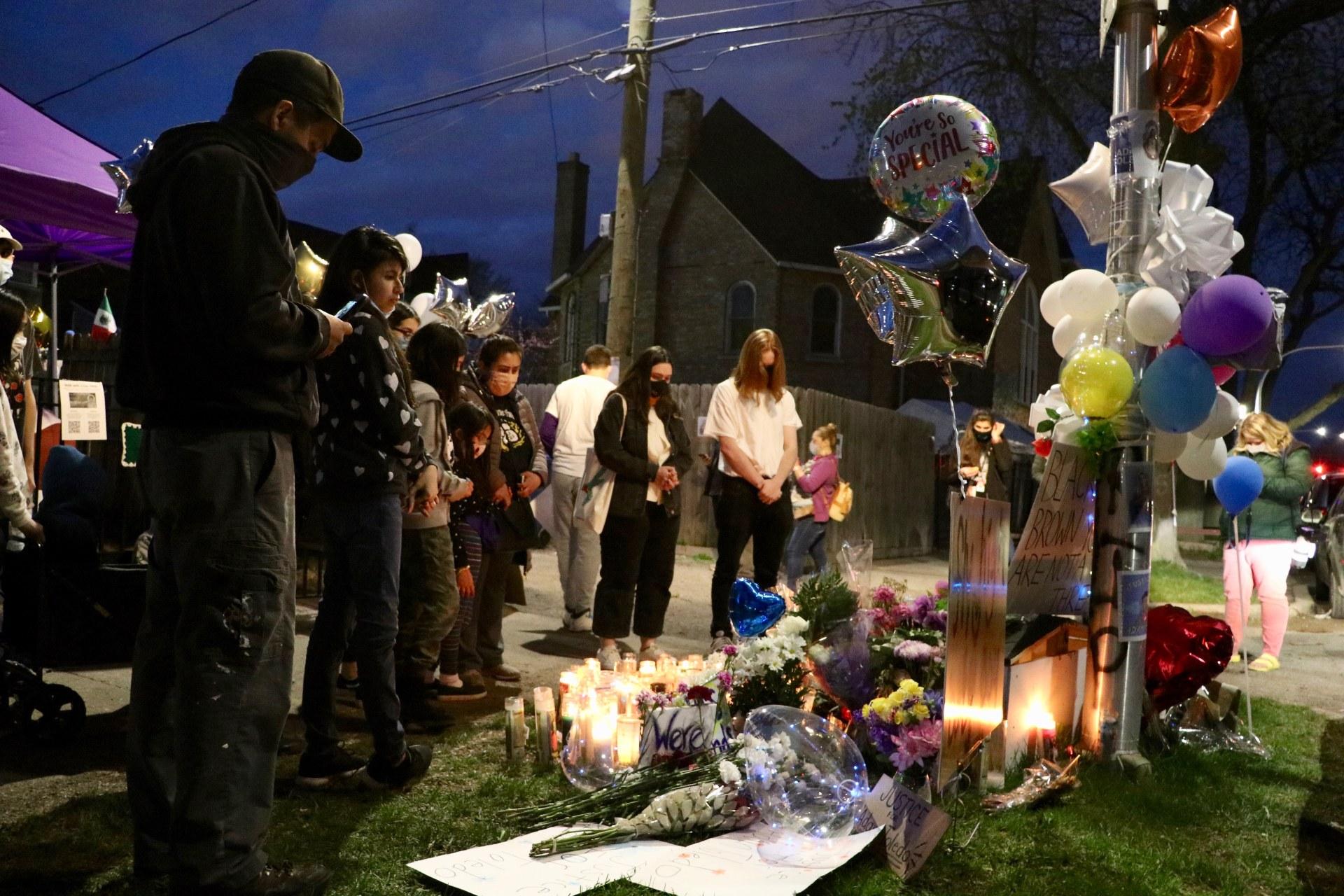 Attendees of the Adam Toledo peace walk observe and pray before a memorial dedicated to 13-year-old Adam Toledo on April 18, 2021. (Evan Garcia / WTTW News)
Follow Evan Garcia on Twitter: @EvanRGarcia
---