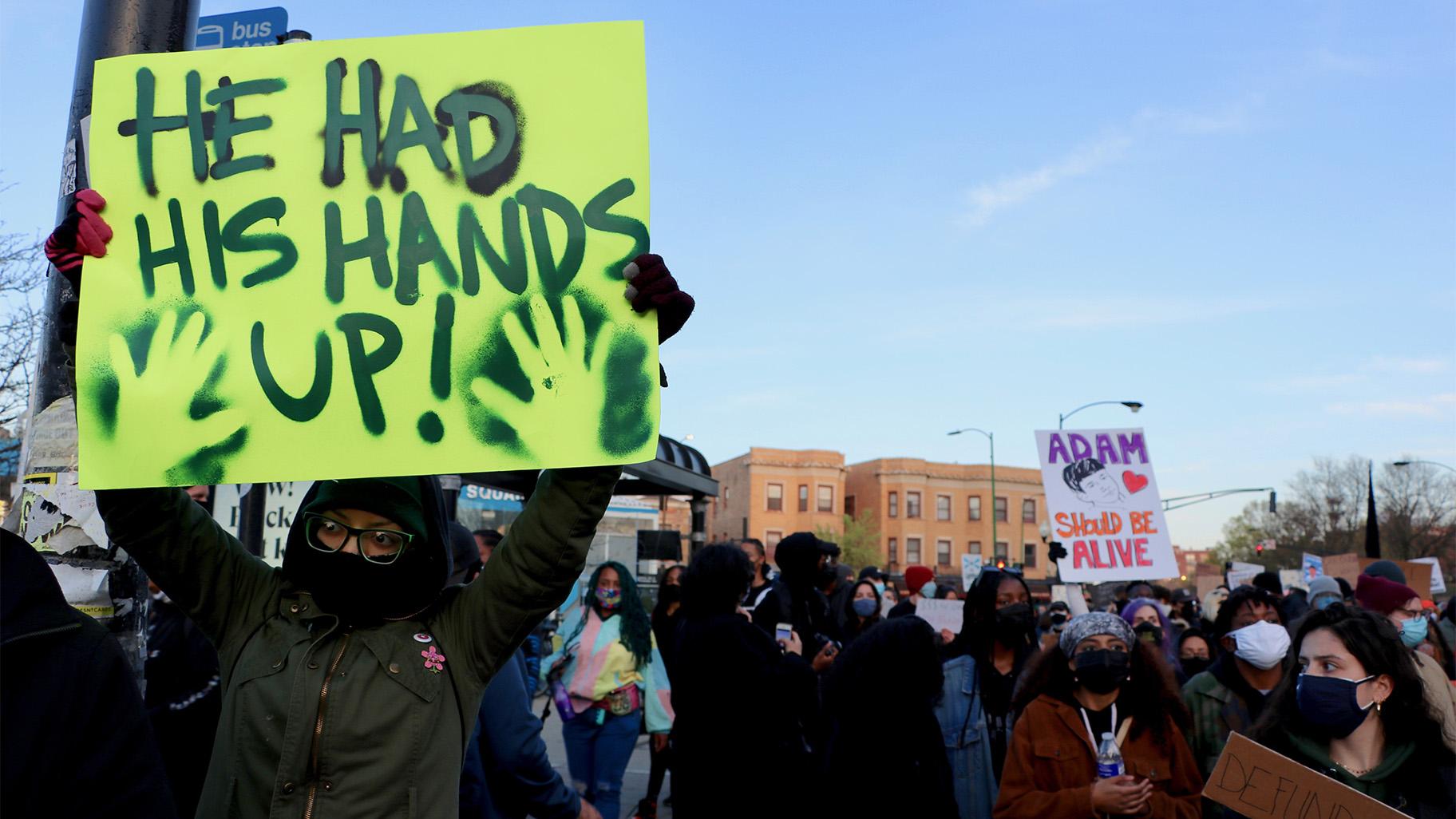 Protester Natalia Sustaita holds a sign reading "He Had His Hands Up!" at a Logan Square protest April 16, 2021, over the fatal police shooting of 13-year-old Adam Toledo. (Evan Garcia / WTTW News)
Thousands of protesters gathered in Chicago's Logan Square neighborhood Friday to protest the police killing of 13-year-old Adam Toledo, who was fatally shot March 29 in the Little Village neighborhood, about 6 miles south of the protest.
Police body camera footage released Thursday appears to show Toledo turning around with his arms raised and hands open before Officer Eric Stillman shot him.
The protest was organized by several community and activist groups, including the Little Village Environmental Justice Organization and Good Kids Mad City. After several speakers spoke at Logan Square Park's Centennial Monument, thousands marched through the neighborhood peacefully while shutting down traffic and chanting.
"I feel it's important to show solidarity with Adam Toledo because he was just a child," said Natalia Sustaita, who held a sign reading, "He had his hands up!" "And if the money and resources that are given to the Chicago Police Department would've been used to fund the community of Little Village, maybe the situation would've been different."
A heavy police presence stayed ahead of the protesters, blocking the crowd at certain intersections, presumably to keep demonstrators from Mayor Lori Lightfoot's home. Family members of Toledo were at the protest, as well as relatives of other Chicagoans fatally shot by police, such as Anthony Alvarez and Marc Nevarez.
Below, scenes from the protest Friday: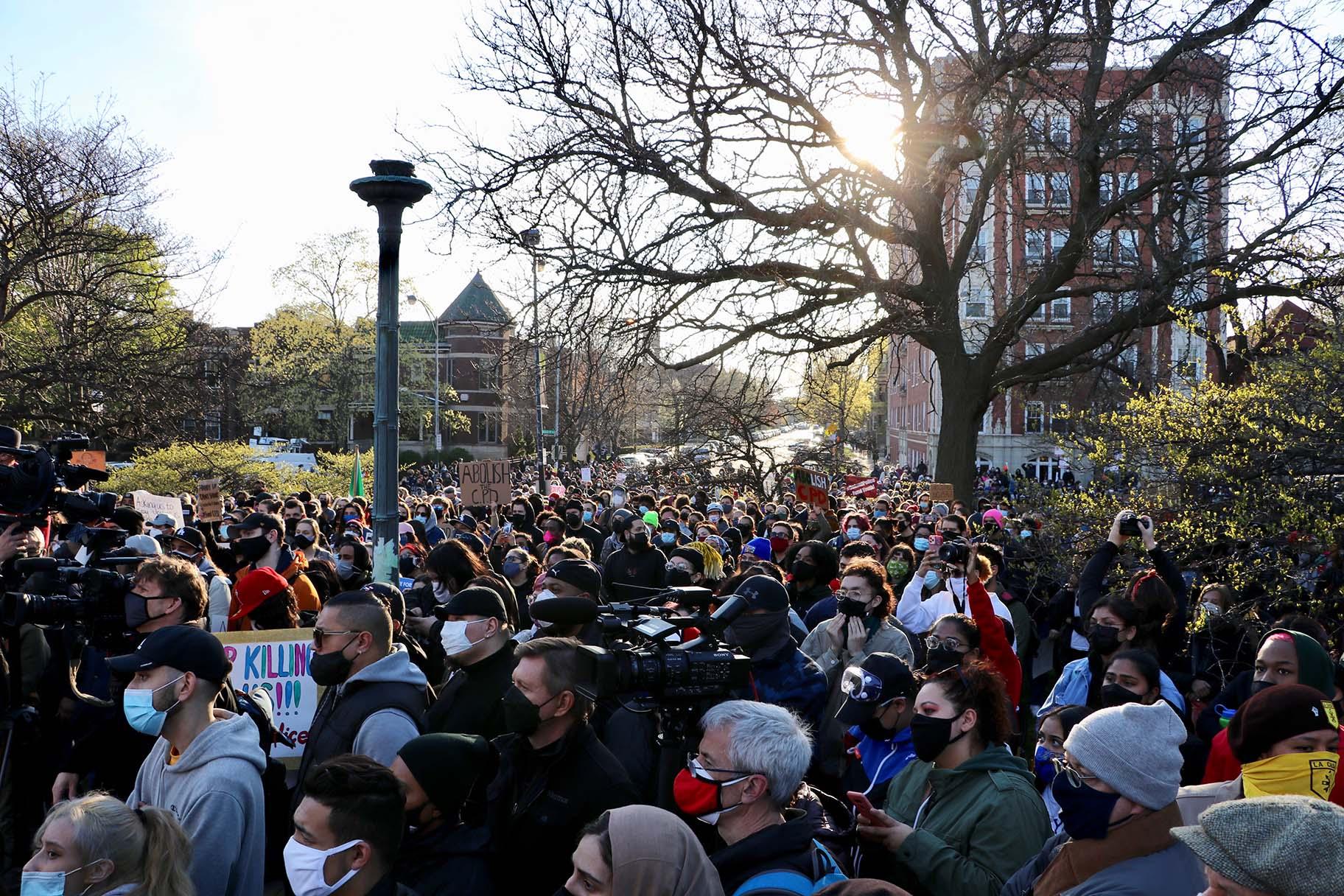 Thousands gather at Logan Square Park April 16, 2021, to protest the fatal police shooting of 13-year-old Adam Toledo. (Evan Garcia / WTTW News)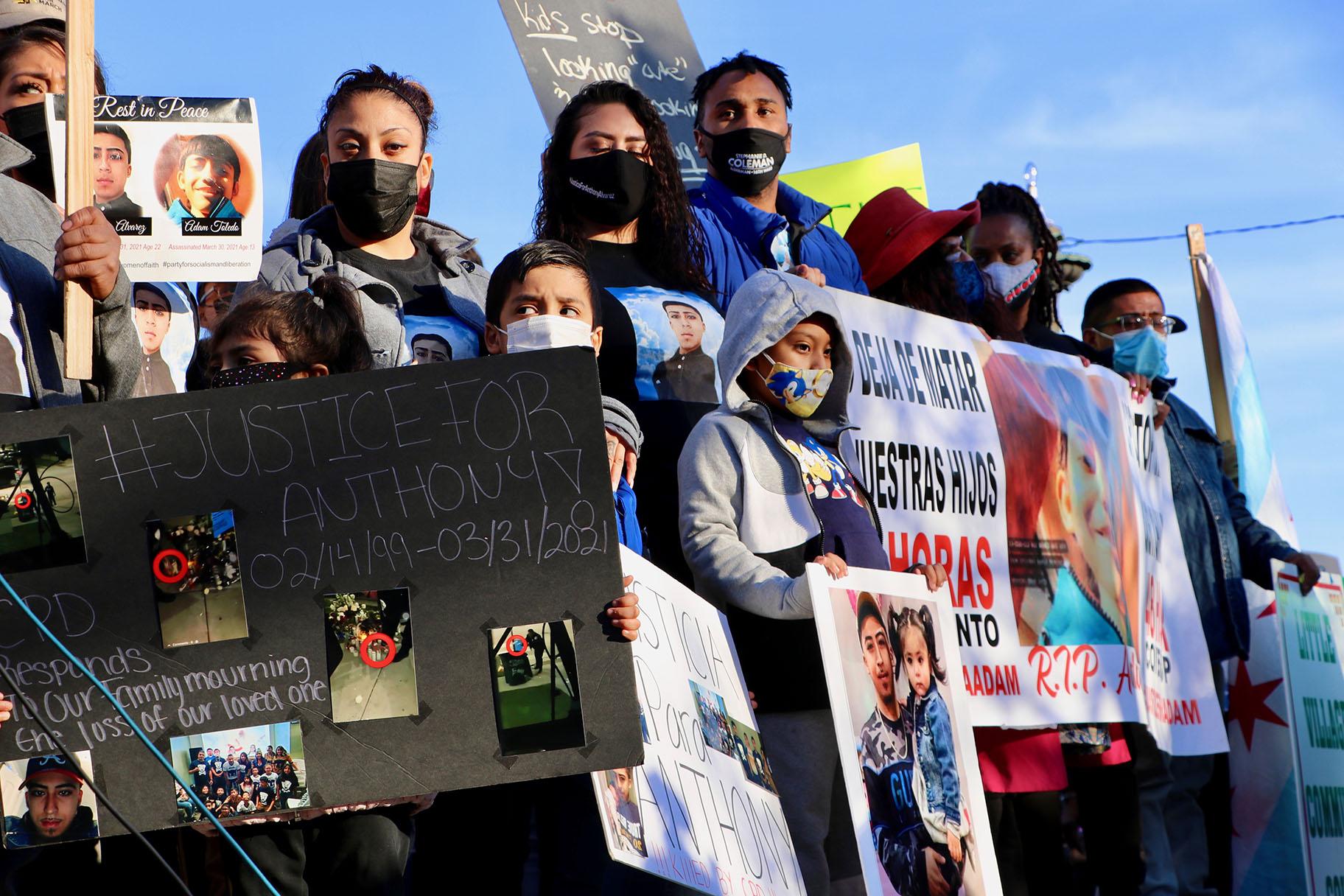 Family members of Chicagoans fatally shot by police officers gather in front of thousands at a protest April 16, 2021, sparked by the recent release of bodycam footage showing an officer fatally shooting 13-year-old Adam Toledo. (Evan Garcia / WTTW News)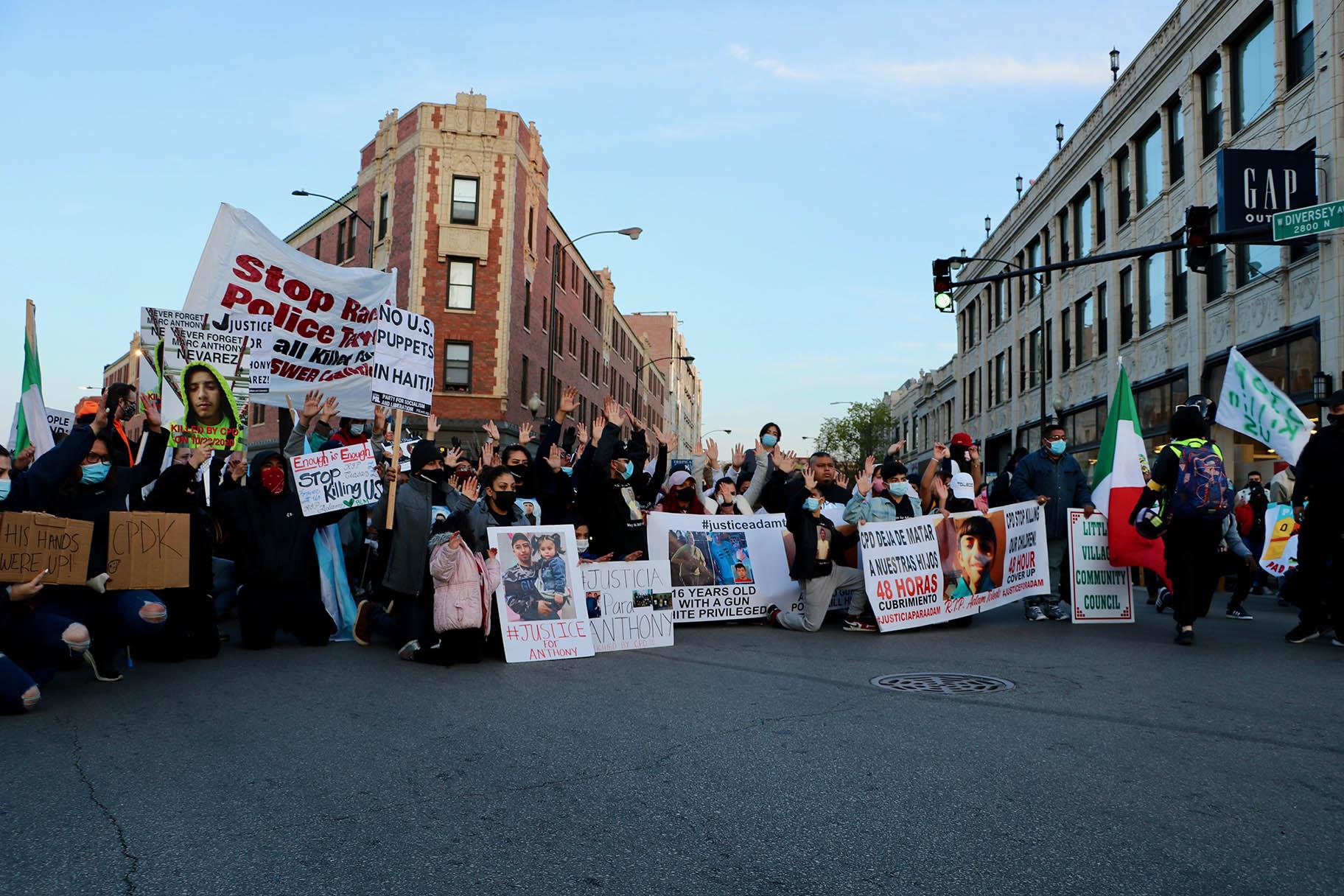 Protesters and family members of police shooting victims kneel at the intersection of Diversey and Milwaukee Avenues April 16, 2021, during a demonstration sparked by the fatal police shooting of 13-year-old Adam Toledo. (Evan Garcia / WTTW News)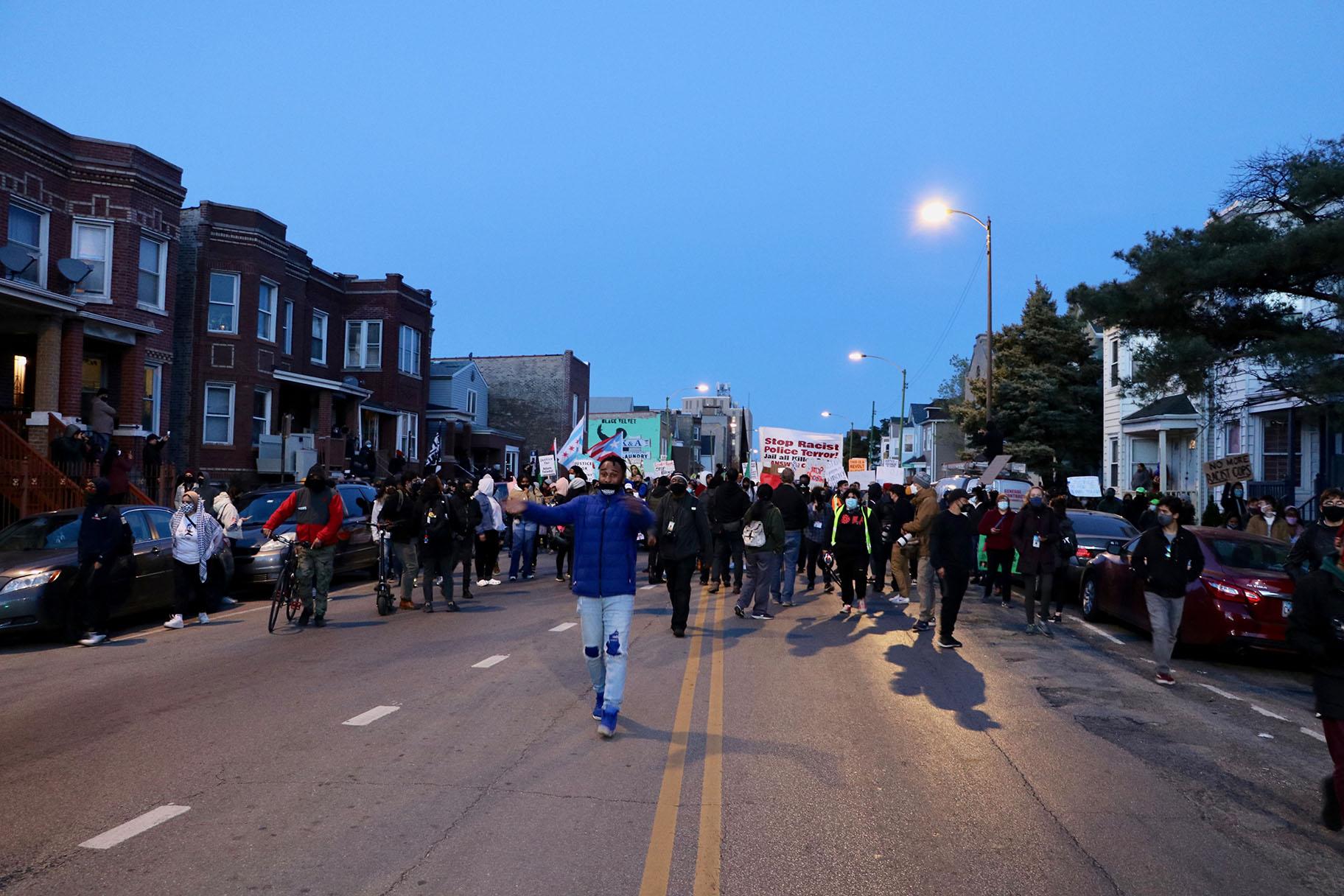 Demonstrators march through the Logan Square neighborhood April 16, 2021, to protest the fatal police shooting of 13-year-old Adam Toledo. (Evan Garcia / WTTW News)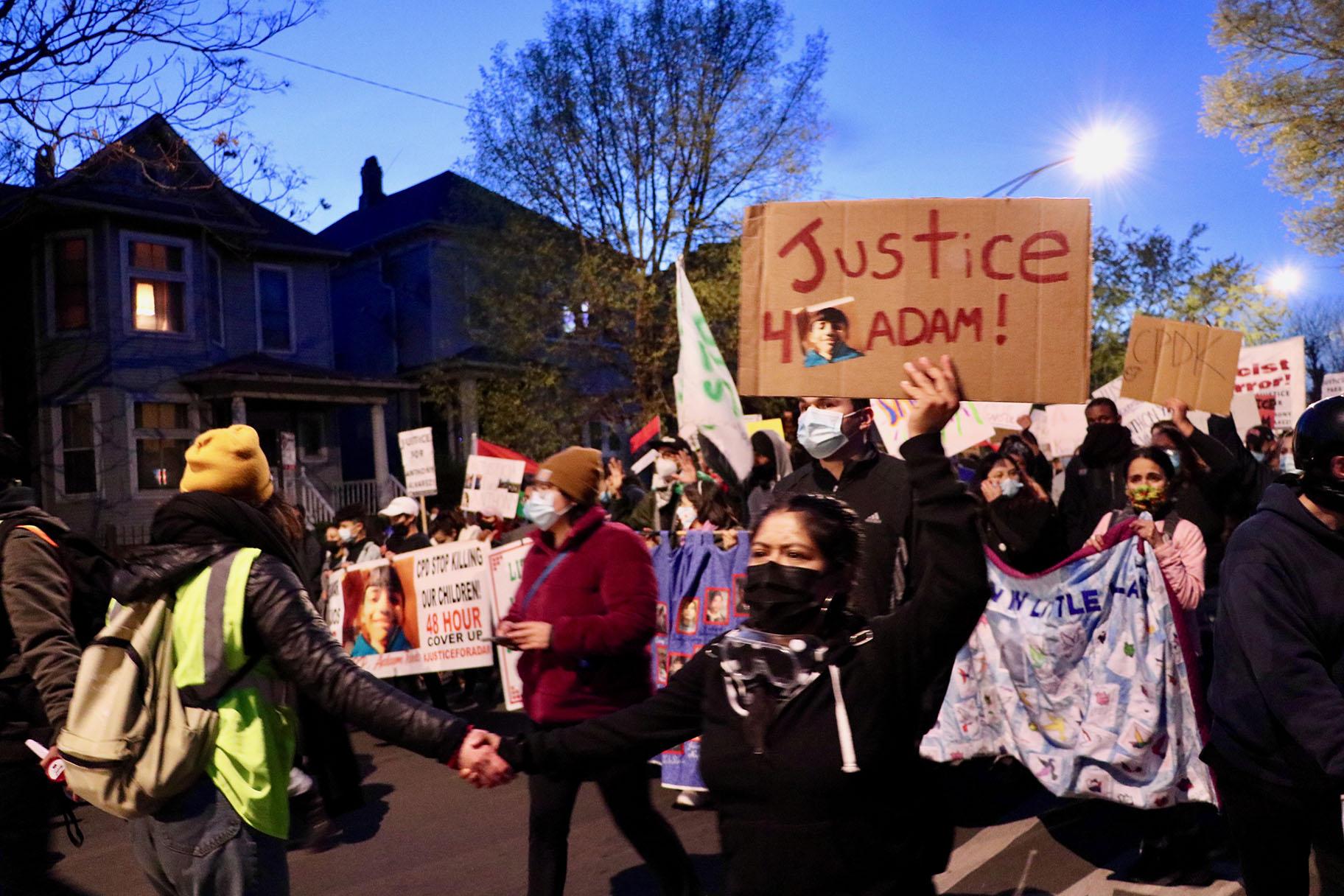 During an April 16, 2021, protest march, organizer Ana Solano holds a sign reading "Justice 4 Adam!" with a photograph of Adam Toledo, a 13-year-old boy fatally shot by a Chicago police officer in the Little Village neighborhood March 29, 2021. "I'm from Little Village and our communities are constantly being defunded," Solano said. "That money goes to the police and the police are killing our youth." (Evan Garcia / WTTW News)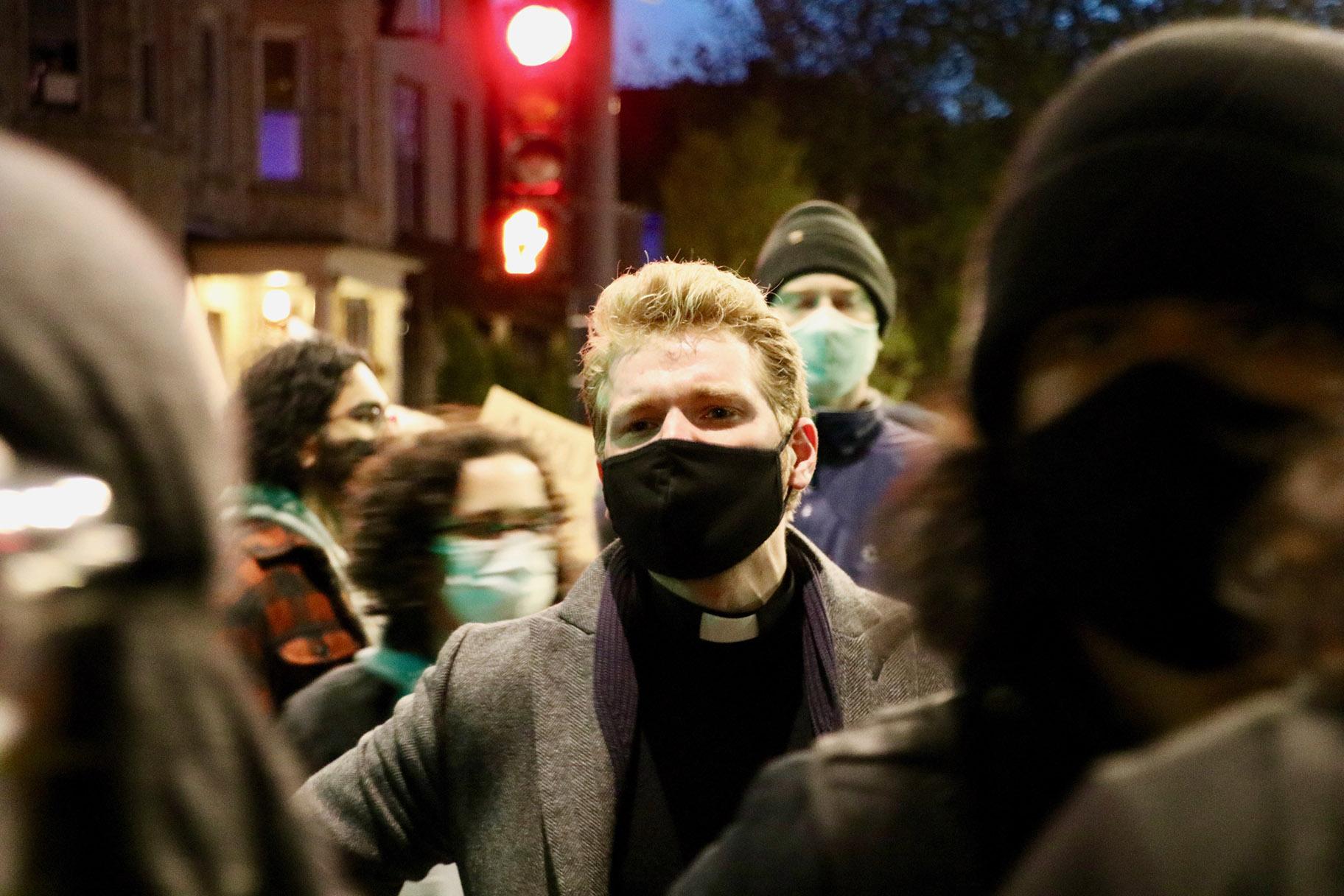 Pastor David Black of the First Presbyterian Church of Chicago yells at a line of police officers during a April 16, 2021, Logan Square protest over the fatal police shooting of 13-year-old Adam Toledo. When asked what brought him to the protest, Black simply said, "Rage." (Evan Garcia / WTTW News)
An organizer leads protesters along Fullerton Avenue April 16, 2021, during a protest over the fatal police shooting of 13-year-old Adam Toledo. (Evan Garcia / WTTW News)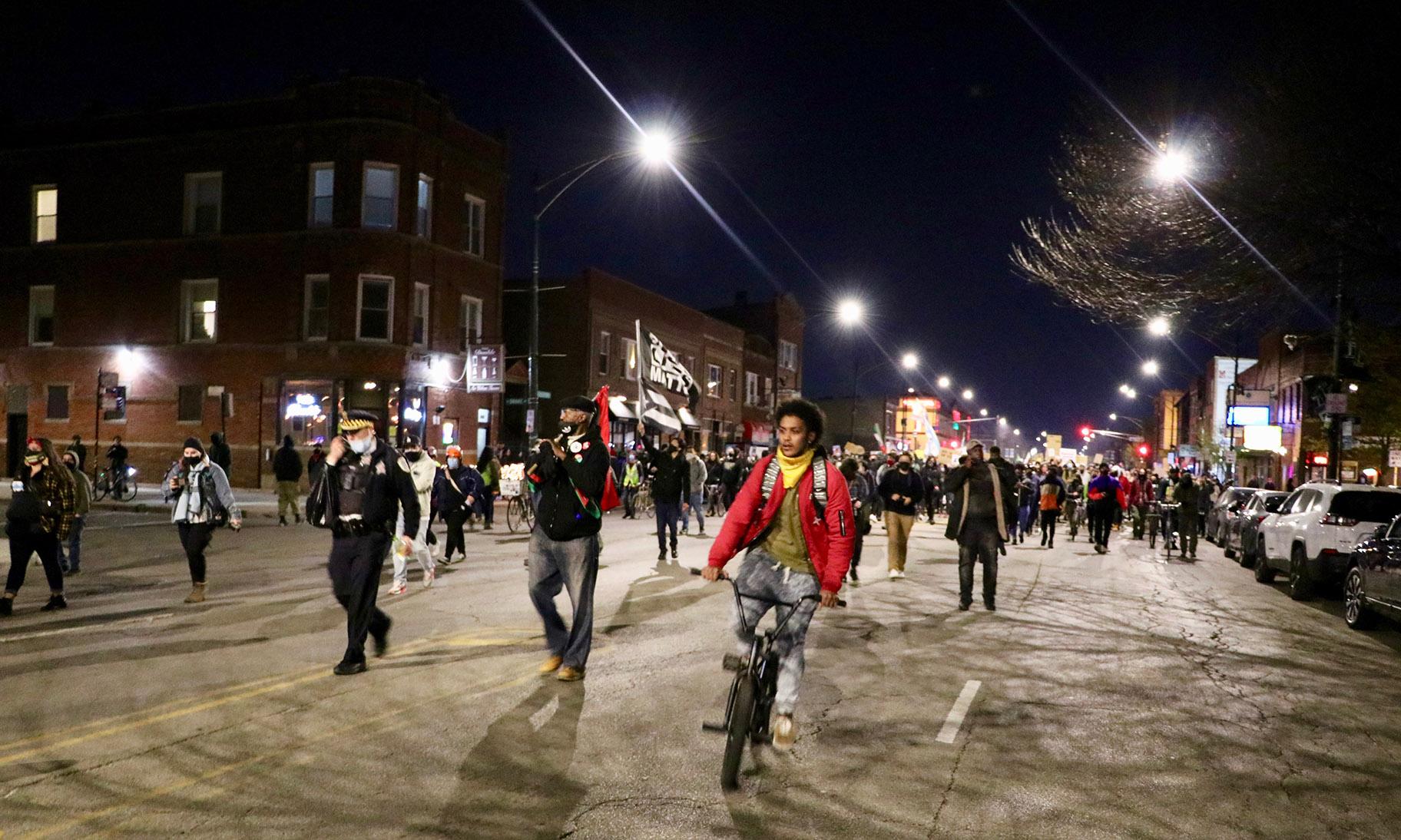 A man rides a bike on Fullerton Avenue along protesters and police April 16, 2021. (Evan Garcia / WTTW News)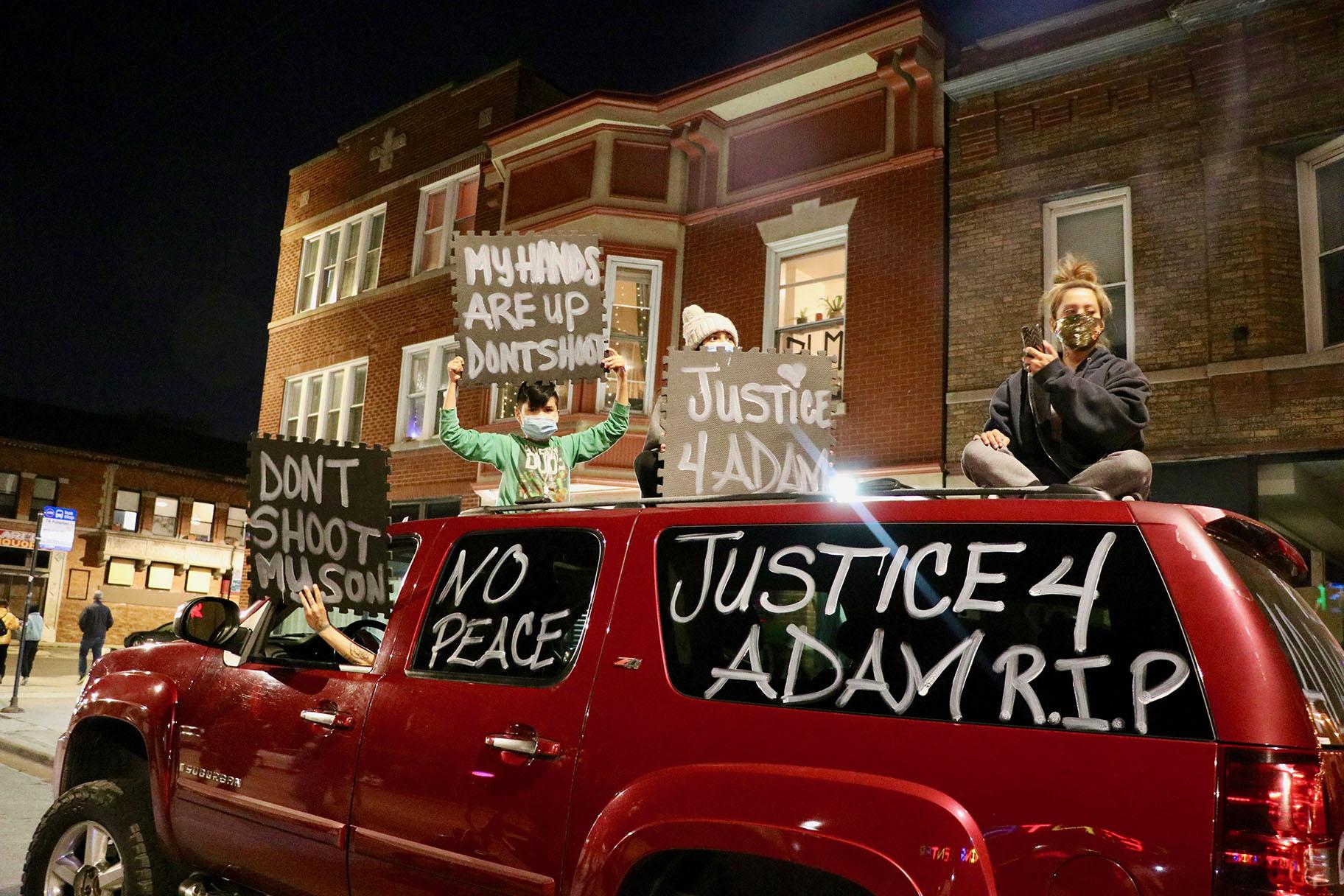 During an April 16, 2021, demonstration along Fullerton Avenue, people display signs protesting the fatal police shooting of 13-year-old Adam Toledo. (Evan Garcia / WTTW News)
Follow Evan Garcia on Twitter: @EvanRGarcia
---