Lizette Garza's family has lived in Pilsen for three generations. She's a community organizer in the neighborhood, and she's one of 46 residents featured in a new mural. 
"There's a lot of important significance," Garza said. "It's putting down roots, what it means for cultural heritage."
Artists Pablo Serrano and Mateo Zapata created the 4,000-square-foot painting called "Somos Pilsen," which means "We Are Pilsen."
"The mural is just a quick snapshot of a community in motion. Part of that motion is an affirmation of the things that bring us together," Serrano said.
The mural is on the western side of Carnitas Don Pedro on Pilsen's 18th Street, a community staple. The late Don Pedro opened the restaurant in 1981. The Duarte family, which owns the building and restaurant, commissioned the mural, which is also in honor of Pedro.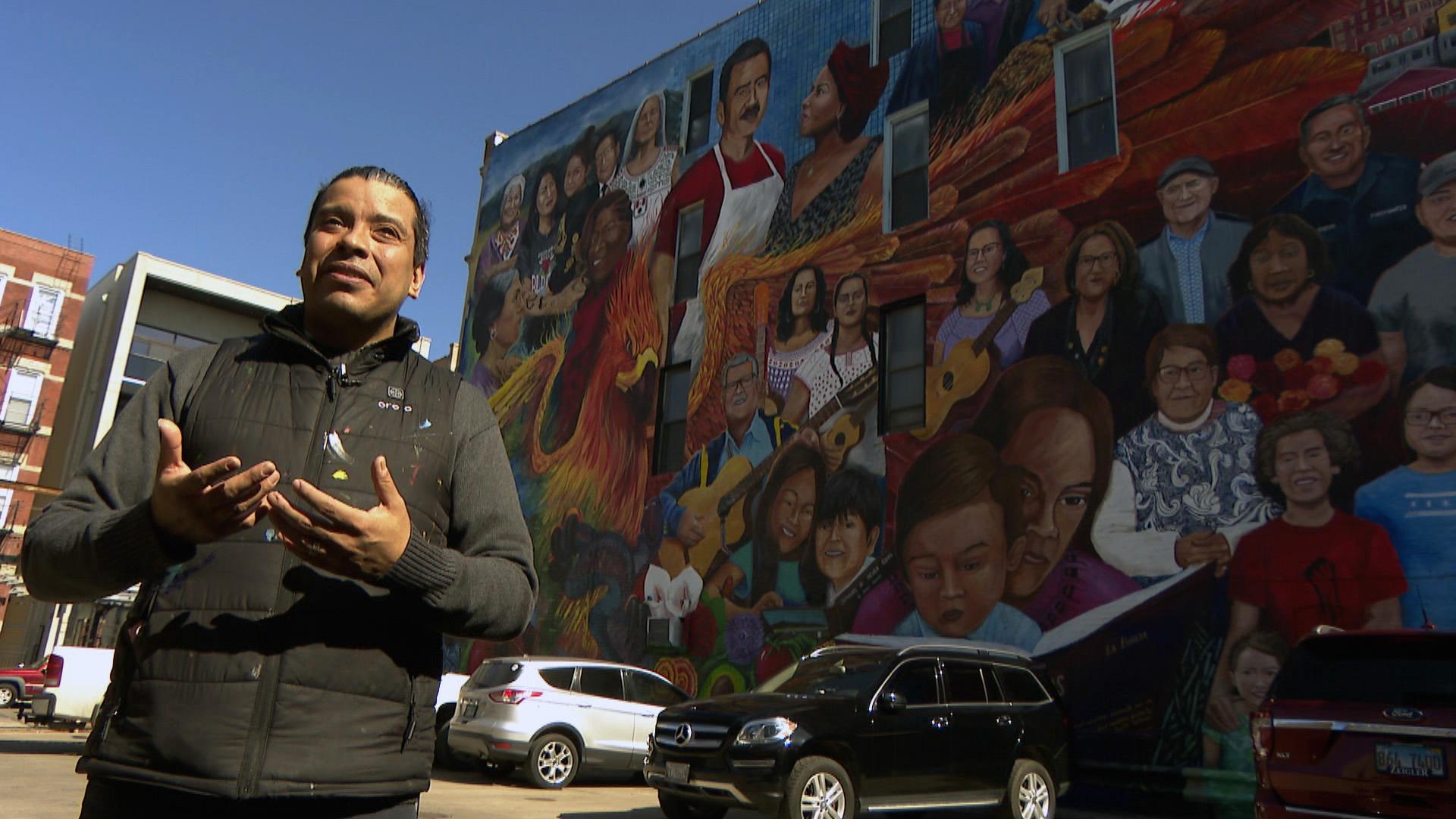 Artist Pablo Serrano (WTTW News)
The artists say the mural is a reflection of the community. Serrano and Zapata say the residents featured are just a small portion of the many community members who have built Pilsen, and continue to put in work to move the neighborhood forward. 
"Being someone who grew up here for 30-plus years, I recognize everyone on there and I understand the roles they play," said Marcus Elston, whose mother was among the first Black families to move to Pilsen. 
In the face of gentrification and displacement, Zapata said the mural is a way to solidify the community's history. 
"The mural is an attempt to make sure that the history from all the work that older generations have put in the neighborhood and younger generations (who) are starting to step up to put in the neighborhood isn't erased, but remembered," Zapata said. 
"Somos Pilsen" features change-makers like Teresa Fraga, educators like Angela Perez Miller, and business owners, like the late Don Pedro. It includes essential workers, musicians and youth.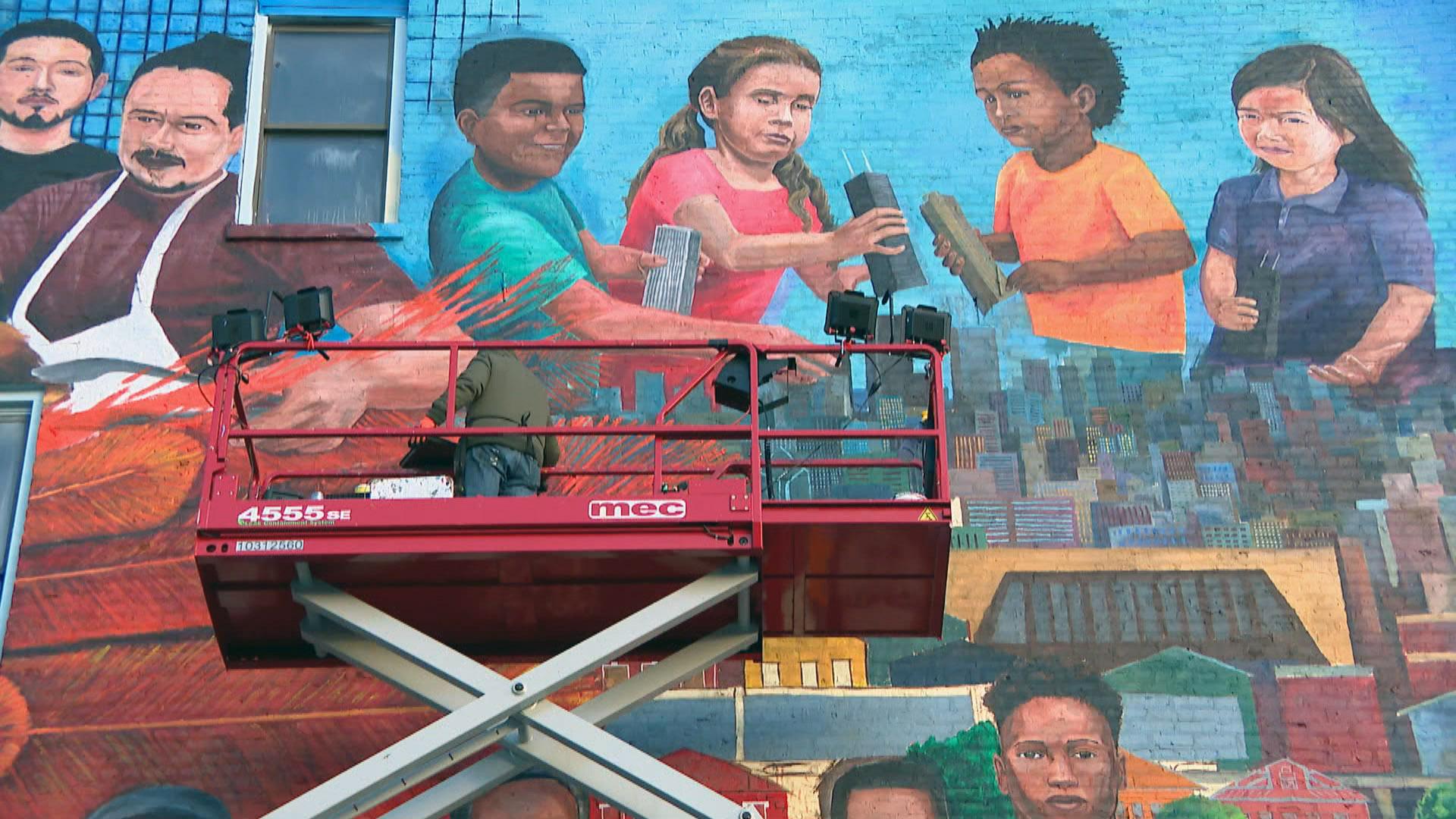 The making of "Somos Pilsen." (WTTW News)
One community leader featured in the mural is Concepcion Rodriguez, known to many as "Concha." She's lived on the same street since 1967. Rodriguez's block is named after her brother, Ruben, who died of leukemia in 1991. 
Before he passed, Ruben worked to discourage Pilsen youth from joining gangs. After he died, Rodriguez continued his work. 
"I have letters of kids writing to me telling me they thank me because they were able to get out of a gang because of my brother and myself," said Rodriguez, who was a director at a local funeral home. 
"She speaks to the price communities like Pilsen have paid historically," Serrano said. "She's literally buried over 400 youth that have been lost to gang violence, gun violence. She's seen the suffering. She's had to deal with the direct pain in a way that very few people have."
Rodriguez is known to some Pilsen residents as the death lady. She visits schools to talk about the dangers of joining gangs, bringing articles about young people who have died of gang violence and a coffin with a mirror inside. 
"For that individual to look in and see reflection … That if you're in a gang, this is where you're gonna end up. If you're thinking about joining a gang, don't do it," Rodriguez said.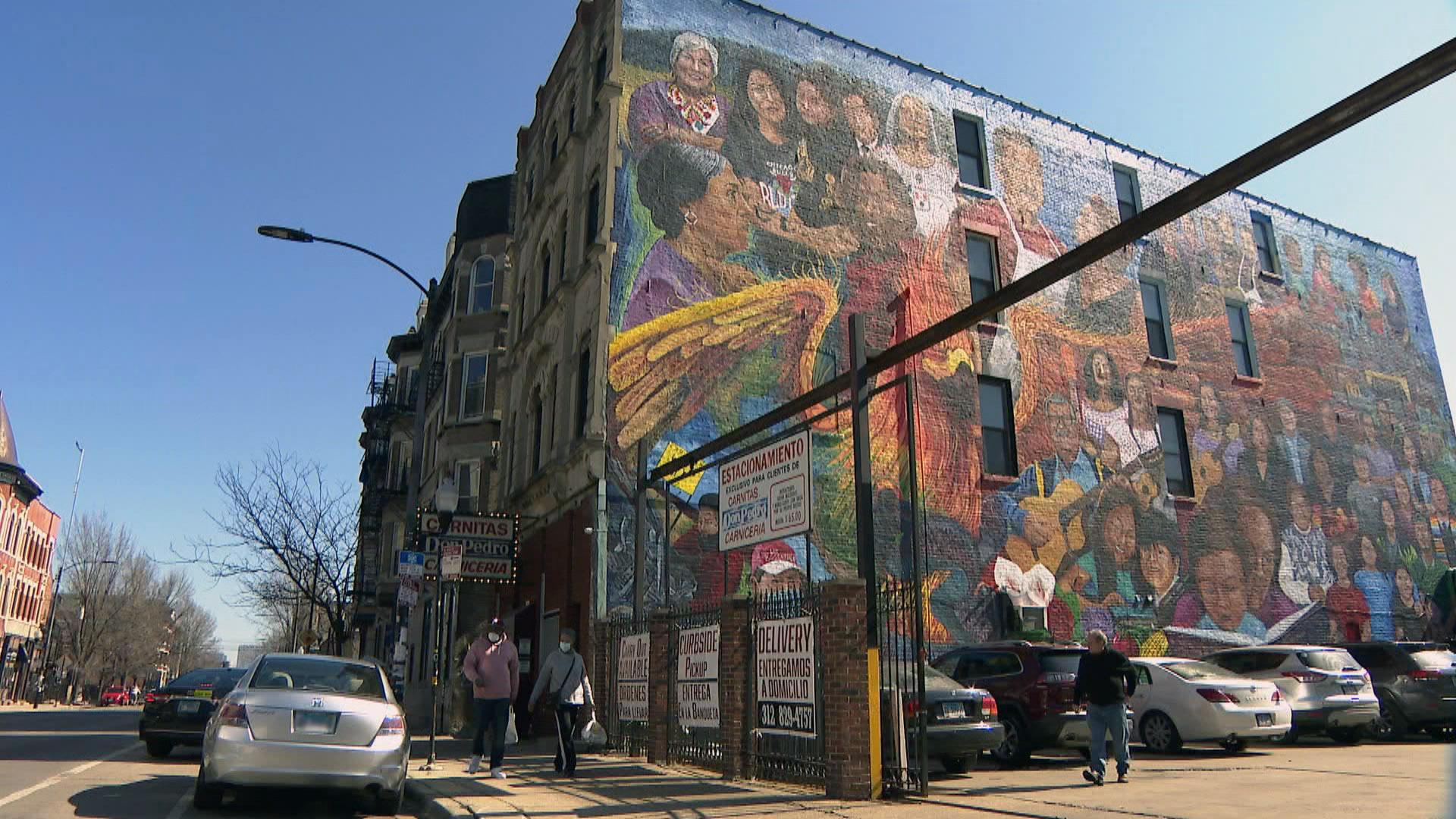 (WTTW News)
"Somos Pilsen" is also an opportunity to show young people a positive representation of their community.
"There's a certain level of power in controlling your own narrative," Zapata said. "It's been too often that immigrants are represented as criminals, whether it be in the media or whether it be in conservative politics. It's up to us to change that."
Rodriguez recognizes many of the residents on the mural, from Fraga to Perez Piller, who was her mentor in high school. 
"Looking at it, I'm proud of it because these are the Latinos that have made a difference — not just in the community, but in society," Rodriguez said.
---