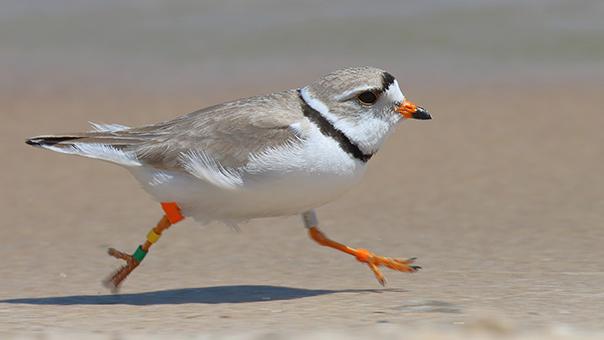 Great Lakes piping plovers, like the one pictured, need more protected habitat along Chicago's lakefront, advocates say. (Vince Cavalieri / U.S. Fish and Wildlife Service)
With the clock ticking, a proposal to expand the protected habitat of Chicago's beloved Great Lakes piping plovers, Monty and Rose, just found a new champion in the form of Ald. James Cappleman.
Cappleman's 46th Ward encompasses the stretch of lakefront where Monty and Rose have nested the past two years, and where they are expected to return within the next several weeks. 
In a letter to Chicago Park District officials, sent Monday and shared with WTTW News, the alderman stated:
"I'm writing today to share my support of the requested 1.5-acre habitat addition as part of the Montrose Beach Dunes Natural Area…. The area encompasses the habitat used during the most critical phases of breeding, brooding, and rearing of the Piping Plover chicks….
"When Piping Plovers are not nesting and raising their young, the new habitat addition would be open to the public, just as the entire habitat is always open to the public outside of this period. Active recreational activities such as volleyball can be undertaken in many parts of the Montrose recreational area. Piping Plovers seeking to breed do not have that luxury…. 
"People from the 46th Ward and across Chicago have connected with these birds, particularly during the pandemic. They are true survivors in a time when we are simply trying to survive COVID-19. It's my hope you will grant this request so that Monty and Rose will be welcomed back this spring with open arms."
Leslie Borns, steward of the Montrose Beach Dunes, welcomed the alderman's backing of the proposal she put to the Park District months ago, and has been anxiously awaiting a decision on it as the plovers' likely return grows closer. 
"We expect the plovers to return at the end of April or beginning of May," Borns said. "Last year both Monty and Rose showed up within 24 hours of each other, on May 1."
The synchronicity of their arrival is particularly remarkable, given that Rose winters in Florida, while Monty has been spotted in Texas, she noted.
When they do land at Montrose — plovers being highly loyal to locations where they've successfully nested — it matters where, precisely, they decide to build their home. There's Montrose Beach and there's the adjacent Montrose Beach Dunes Natural Area. The latter is protected, the former is not, and for two years running, Monty and Rose have opted to rear their chicks on the beach. Everything from wayward volleyballs to off-leash dogs pose a threat to the fledglings, which weigh slightly more than a quarter.
In years past, a brigade of volunteers has rushed out to temporarily rope off the area, a haphazard approach to wildlife management that could be vastly improved if the land were given formal protection, Borns said.
Should her proposal receive approval, Borns said it wouldn't take long to secure the addition with sturdier fencing, and she's also hoping to incorporate interpretive signage.
In response to a request for comment, a Park District spokeswoman said there is no new information regarding the district's position on the addition. In a previous statement, the district said: "We are reviewing the request to formalize the expansion of the Montrose Beach Dunes Natural Area. We are fully committed to protecting the plovers, and we have been working closely with the U.S. Fish and Wildlife Service, Illinois Department of Natural Resources and volunteers to prepare for their return in 2021."
All eyes are on Chicago. Here's why.
When the plovers first turned up at Montrose Beach in 2019, their appearance created a sensation not just among local birders but conservationists everywhere.
The Great Lakes piping plover population has been listed as endangered since the 1980s, the number of breeding pairs having dwindled from an estimated 300-400 down to fewer than 20.
An arbitrary line separates protected habitat from non-protected beach at Montrose. (Patty Wetli / WTTW News)
To have a pair of plovers nest anywhere would be cause for celebration, but their choice of Chicago captured global attention.
"Montrose Beach and that pair has been such a boost for population recovery," plover expert Francie Cuthbert, a professor at the University of Minnesota, said during a panel at February's Wild Things conference.
"The outpouring of interest that's come out of Chicago is so powerful," Cuthbert said. "We've been doing this for decades. The new media attention, that's really thanks to Chicago. Chicago is the superstar."
In recent years, the number of breeding plover pairs has increased to as many as 71, but that rebound is tenuous, dipping to 64 nesting pairs in 2020, according to Cuthbert.
"That lower number is cause for worry," she said. "We did not have a good year."
High water and storms along the Great Lakes were a major issue, Cuthbert said, taking out 11 nests in 2020. 
"Our biggest concern is we've had nests wash out or flood," she said. "A storm surge can come way up on a beach."
To keep the plover population on a positive trajectory, it's crucial to give pairs like Monty and Rose the optimal chance for success.
"If it can be done in Chicago, it can be done anywhere," said Cuthbert. 
Contact Patty Wetli: @pattywetli | (773) 509-5623 |  [email protected]
---