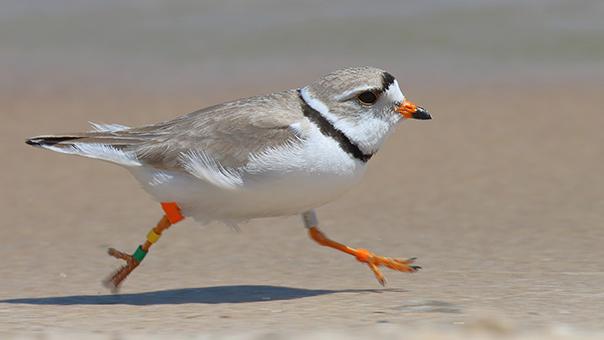 Great Lakes piping plovers, like the one pictured, don't tend to spend the winters with their mate. (Vince Cavalieri / U.S. Fish and Wildlife Service)
Chicago's famous piping plover pair, Monty and Rose, are as inextricably linked as peanut butter and jelly, Batman and Robin, Illinois and corruption.
But when the lovebirds migrated south for the winter, they went their separate ways.
Back in December, Rose was spotted at Anclote Key, a barrier island off Florida's Gulf Coast, northwest of Tampa. Her offspring Nish is with her, both plovers identified by their bands. Two more chicks, Hazel and Esperanza, turned up on islands off the Georgia coast.
Monty's whereabouts were a mystery, but now Chicago's birding community has received confirmation of his presence at the Bolivar Flats Shorebird Sanctuary in Texas, near the mouth of Galveston Bay. The news was shared by Tamima Itani and Leslie Borns, who've been strong advocates for the plovers in Chicago.
Is the split a sign of trouble in plover paradise? Say it isn't so. 
Fear not, it's typical plover behavior, according to the Great Lakes piping plover conservation team. 
Plovers, they say, are actually more tied to a territory than a partner. Pairs don't stay together year-round, but will return to the same breeding site and meet up (or should we say, mate up) year after year.
It's remarkable, Itani said in an email, that Monty and Rose arrived at Montrose Beach in spring 2020 within a day of each other, given their far-flung starting points. 
In choosing Texas for his winter home, Monty is something of a rebel among Great Lakes piping plovers. Research shows that the vast majority of Great Lakes plovers (distinct from Atlantic Coast and Great Plains plover populations) winter in South Carolina, Georgia and Florida. Only a very small number opt for Texas.
There's still a good deal about plovers' migratory habits that scientists still don't understand. 
Case in point: One of the more unusual plover tales in recent years was that of Dodger, a non-breeding plover that landed at Montrose Beach before Monty and Rose caused such a stir. For whatever reason, Dodger failed to head south and spent a frigid winter in Chicago, eluding multiple rescue attempts.
Dodger's incredible survival is the subject of a micro-documentary by Bob Dolgan, who also produced and directed "Monty and Rose."
For those in need of a plover fix, or an uplifting story in general, "Dodger" can be viewed online.
Contact Patty Wetli: @pattywetli | (773) 509-5623 |  [email protected]
---