Anais Bueno with Brooke Linford and Christine Roca (Courtesy of the Joffrey Ballet)
Two thrillingly dramatic works — one by way of dance and the Joffrey Ballet's new take on Maurice Ravel's ever sensational, subtly orgasmic, 17-minute score penned in 1928, and another by way of radio theater, and a nightmarish tale of a somnambulist (sleepwalker) courtesy of The Cabinet of Curiosity theater — now serve as vivid evocations marking the one-year "anniversary" of the pandemic, and all the physical and psychological dislocations it has engendered. And while this is not how either of these works is being "advertised," the disruptive impact of this moment in time, especially for performing artists, cannot be denied. Nor can the winningly different ways in which this upheaval is evoked in these two very different pieces.
First, the world premiere Joffrey production of "Bolero," which also marks the choreographic debut of Yoshihisa Arai, a leading dancer in the company whose onstage presence has always hinted at his theatrical gifts. Here, his choreography ideally echoes the repetition and continually expanding orchestral force of the music (a piece that has inspired choreographers as diverse as Bronislava Nijinska, Maurice Bejart, Chicago's Libby Komaiko and many more), with just enough variation and controlled intensity to build to a memorable climax.
At the center of the piece is a powerful marathon performance by Anais Bueno, a dancer of innate sensuality and dramatic force who possesses a great flair for modern movement (she wears soft slippers rather than pointe shoes here), as well as classical ballet technique. Outfitted in a flesh-colored mask, and a loose, white "boyfriend shirt" (the costumes, including fluid, side-slit black skirts for the ensemble of 15 male and female dancers who swirl around her like phantoms, are designed by another leading Joffrey dancer, Temur Suluashvili), she captures the sense of isolation, agitation, entrapment and yearning so emblematic of the past year. The sometimes angry, desperate, subtly sexually charged movement repeats and builds in a way that is in ideal synch with the score (played by the London Symphony Orchestra).
Staged in the Gerald Arpino Black Box studio at the Joffrey Tower, "Bolero" is superbly lit by Jack Mehler (with a delicate constellation of lights against pitch darkness), and expertly filmed by Tim Whelan and Michael Kettenbiel. And its final moment, which captures Bueno gasping for breath, is the perfect metaphor for our time of ventilators and suffocating masks.
My hope is that this "Bolero" will become part of the Joffrey's mixed bill programming once the company is back on stage and "live" in their new home the Lyric Opera House. Meanwhile, the ballet will stream free of charge through March 2. (Wish it could have a longer run.) To access go to: joffrey.org/bolero!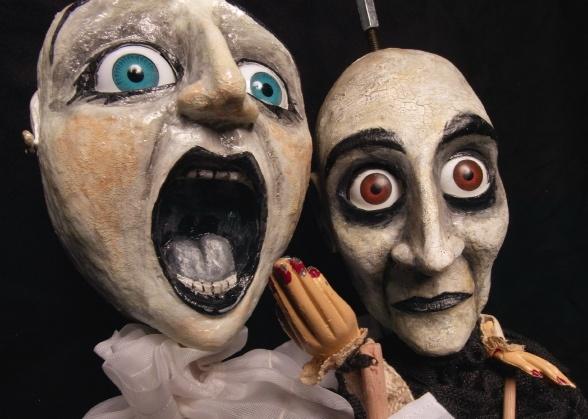 (Courtesy of The Cabinet of Curiosity)
"The Cabinet" began life in 2005 as an elaborately staged live puppet theater production by Redmoon Theatre, that late, great Chicago company whose endlessly imaginative co-founder and master craftsman, Frank Maugeri, has since created a new entity, The Cabinet of Curiosity.
While Maugeri has continued to find ways to present outdoor spectacles during the pandemic, he also has devised a new entity, Phonophobia, an audio theater. And for its first production — in collaboration with writer Mickle Maher (using an alternately sardonic and achingly confessional tone), and the brilliant sound designer/composer Mark Messing — he has conceived and directed "The Cabinet," a haunting, boldly demonic, eerily Freudian radio adaptation of the Redmoon original.
(Courtesy of The Cabinet of Curiosity)
The central character in the story, who narrates his hellish journey into darkness, is Alan (a superb turn by David Stobbe), a young man who suffers from the violent nightmares of a chronic sleepwalker (an ideal tale for the current moment, when insomnia is pervasive). Is he the victim of a horrifying nightmare, or is he suffering a terrifying psychotic break that plays on his profound loneliness and need for love? That is the question. But along the way he tells of being committed to a mental asylum and subjected to the demonic treatment of Dr. Caligari (H B Ward), and his associate, Cesare (Colm O'Reilly), who drive him to commit the most brutal acts of violence against the innocent Jane (Lindsay Noel Whiting) and others.
The actors use their voices to exceptional effect, backed by the often harrowing sounds of wind, slammed doors, screeches, heavy breathing, mad laughter, a black bird and more. And the meticulous description of places and sensations carry you on a profoundly haunting and haunted journey every perilous step of the way.
"The Cabinet," which runs about 46 minutes, will stream through March 20. A one-month pass is $15. For tickets visit: cocechicago.com.
Follow Hedy Weiss on Twitter: @HedyWeissCritic
---