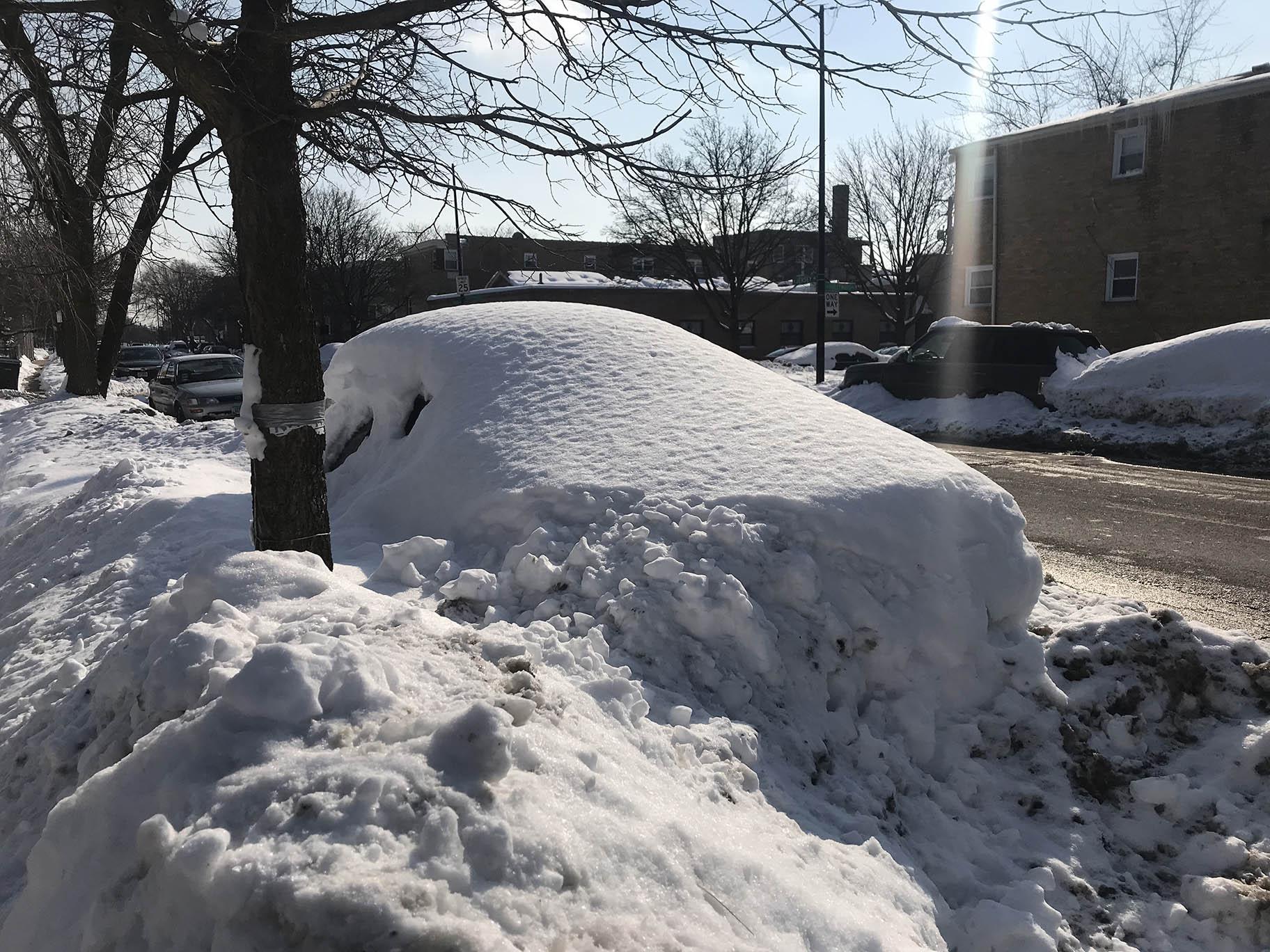 A car parked on a street in Chicago is buried by snow from recent storms. Sunshine and warmer temperatures on Saturday, Feb. 20, 2021 melted some snow, but there is still plenty to shovel. (WTTW News)
After numerous winter storms this month left much of the Chicago area blanketed in an entire season's worth of snowfall and ushered in dangerously cold wind chills and even a new record for the coldest Feb. 14 in Chicago history, warmer temperatures are expected in the coming days—and hopefully a melting spell with it to clear up some persistent piles of the white stuff—but first: more snow.
Surprised? Yeah, us neither.
On Twitter, the NWS called it the last snow event "in this active cold stretch"—meaning, there could be some more snow this season. (Side note: Spring is less than four weeks away, though last year snow fell on Chicago in mid-April.)
But if you are surprised by how long the snow has stuck around, you're onto something. According to the National Weather Service, it's rare for more than a foot of snow to persist for so long. If current totals in Chicago hold until Monday, it will mark the longest stretch of deep snow (that's 12-plus inches) since the winter of 1978-79, the NWS reports.
Fortunately, Sunday totals are not expected to rival the fallout from recent storms. The NWS is forecasting 2-3 inches for the Chicago area, starting Sunday afternoon and tapering off by about midnight. Brief periods of heavy snowfall could occur from 3-8 p.m. and conditions could get slippery, the NWS warns. 
The temperature in Chicago on Sunday is expected to reach a high of 35 degrees. By Wednesday, the thermometer could reach 41 degrees.
Here is an updated forecast snowfall start time graphic. The snowfall intensity will be at its peak at its onset late this afternoon through mid-evening. A change to rain is probable S of I-80. Due to cold pavement, any rain may cause slick spots on untreated roads. #ILwx #INwx pic.twitter.com/OlE1veLHzq

— NWS Chicago (@NWSChicago) February 21, 2021
Snow will develop this afternoon and continue into this evening. The snow may mix with rain for areas south of I-80. Warmer temperatures are expected through midweek. #ILWX #INWX pic.twitter.com/TYPsbdVsL7

— NWS Chicago (@NWSChicago) February 21, 2021
The last ❄️ event in this active cold stretch (notice we didn't say for the winter!) will arrive on Sunday.

Snow develops Sunday P.M. tapering overnight. A period of moderate-heavy snow is probable during late afternoon into mid-evening, mainly north of I-80. #ILwx #INwx pic.twitter.com/gT2bNIKklS

— NWS Chicago (@NWSChicago) February 20, 2021
---