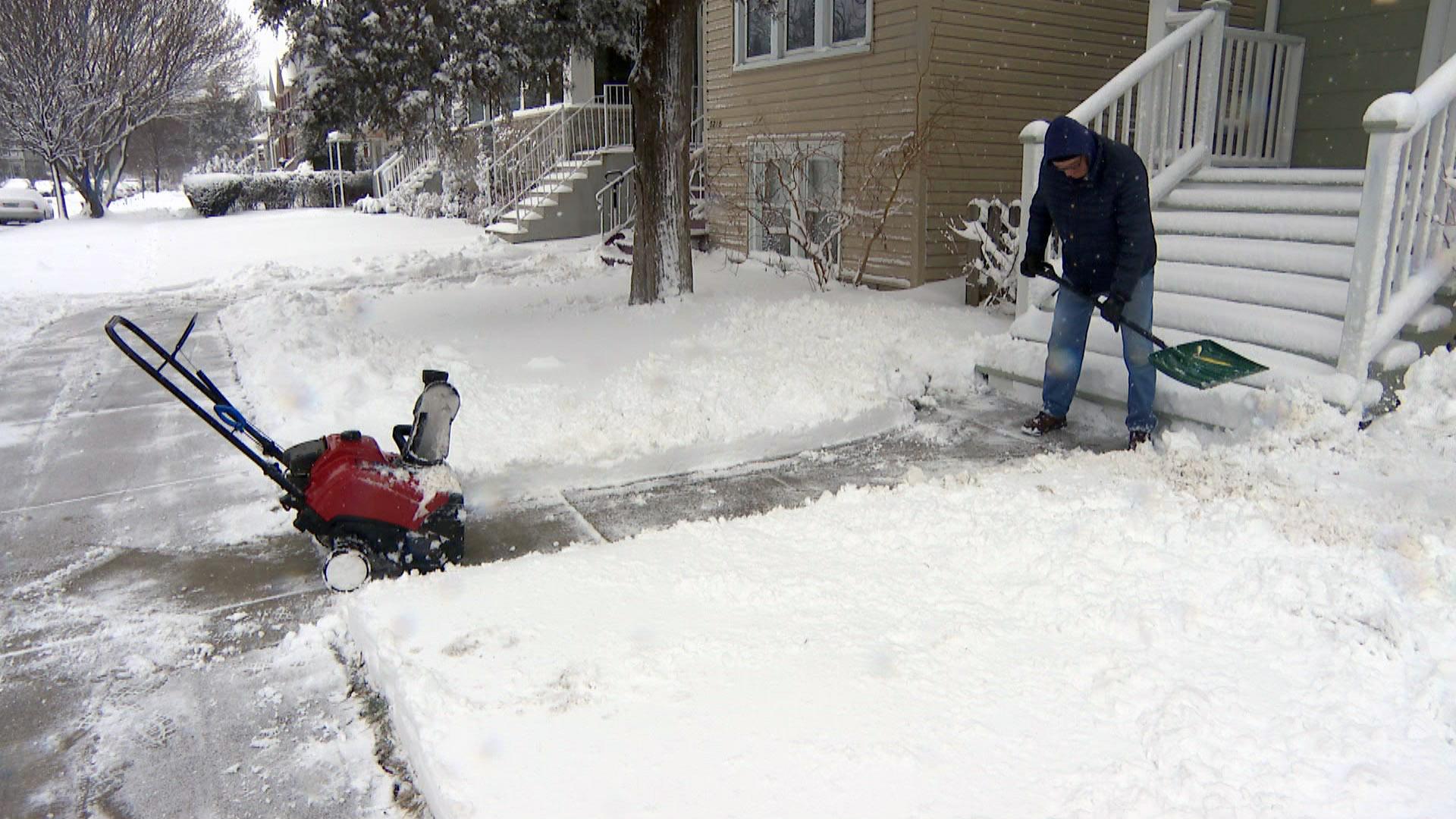 A man shovels snow after a storm in Chicago in February 2021. More snow is expected in the area on Valentine's Day, along with subzero wind chills, according to the National Weather Service. (WTTW News)
Dangerously cold wind chills are expected throughout the Chicago area Sunday into midday Monday, according to the National Weather Service, which has issued a wind chill advisory for all of northern Illinois.
The coldest wind chills of 20 to 35 below zero are expected Sunday morning, the agency said, with overnight chills of 15 to 25 below zero.
Under current conditions, frostbite is possible in fewer than 10 minutes, the agency said. If you must go outside, be sure to bundle up.
A winter storm watch is also in effect for Cook and Lake counties starting Sunday night through Tuesday morning, with snow starting as early as Sunday afternoon, the NWS said.
Heavy lake effect snow could dump another 6-plus inches on the city through Tuesday morning, according to the NWS. Expect low visibility and slick roads on Monday morning and afternoon.
The city of Chicago operates warming centers throughout the city, including some sites that will be open overnight. To locate a warming center in Chicago, call 311 or visit 311.chicago.gov. 
Dangerously cold wind chills 25 to 35 below across N central IL through this morning, with chills of 15 to 25 below across NE IL pic.twitter.com/1t0cTs58Wn

— NWS Chicago (@NWSChicago) February 14, 2021
---
Lake effect snow starts Sun afternoon starting in NW IN, while wide-spread light snow starts Sun evening for other locations, with heaviest snow SE of I-55. Lake effect snow slowly shifts further east Sun night into Mon, including near the city of Chicago. #ilwx #inwx pic.twitter.com/jisByeFoTh

— NWS Chicago (@NWSChicago) February 14, 2021
---