Video: Alds. Maria Hadden (49th Ward) and George Cardenas (12th Ward) discuss the CPS reopening plan on "Chicago Tonight." (Produced by Quinn Myers)
---
Dozens of aldermen peppered school and health officials with questions Monday about the effort underway to reopen Chicago Public Schools for in-person learning after a 300-day closure prompted by the coronavirus pandemic.
Hours before aldermen began the hearing of the Committee on Education and Child Development, Mayor Lori Lightfoot fiercely defended the plan to welcome back 6,000 pre-kindergarten and special education cluster program students starting Monday as necessary to fulfill "our values of equity and inclusion and leaving no student behind regardless of her circumstances, her zip code, her background."
Students in kindergarten through eighth grade are set to return on Feb. 1.
READ: CPS Brings Back First Students for In-Person Learning Despite Pushback From Teachers Union
Chicago health officials have said it would be safe for students to return to school as long as cases double no more than every 18 days. Cases are now doubling approximately every 85 days, according to city data.
But a majority of aldermen were unconvinced, with many warning that the plan will put thousands of Chicagoans at risk of being sickened by the virus, while providing little to no benefit for students. The hearing lasted 7 1/2 hours.
Because Lightfoot controls the Chicago Public Schools under state law, the City Council has no authority to stop her from reopening the schools.
Several aldermen said they were disappointed that representatives of the Chicago Teachers Union or the union that represents school principals were not invited to the hearing. Union leaders have not ruled out a strike.
Other aldermen criticized Chicago Public Schools for not listening to local school councils that have urged that their schools not be reopened, or working with district-formed community advisory councils.
"These conversations should have taken place long before schools opened today," said Ald. Pat Dowell (3rd Ward).
Ald. Susan Sadlowski Garza (10th Ward), a member of the Chicago Teachers Union and a former counselor at Jane Addams Elementary School, said she would not return to work in-person if she was still an educator.
"The fear is real," Sadlowski Garza said. "They are scared to death. People are going to get sick, there is no doubt in my mind."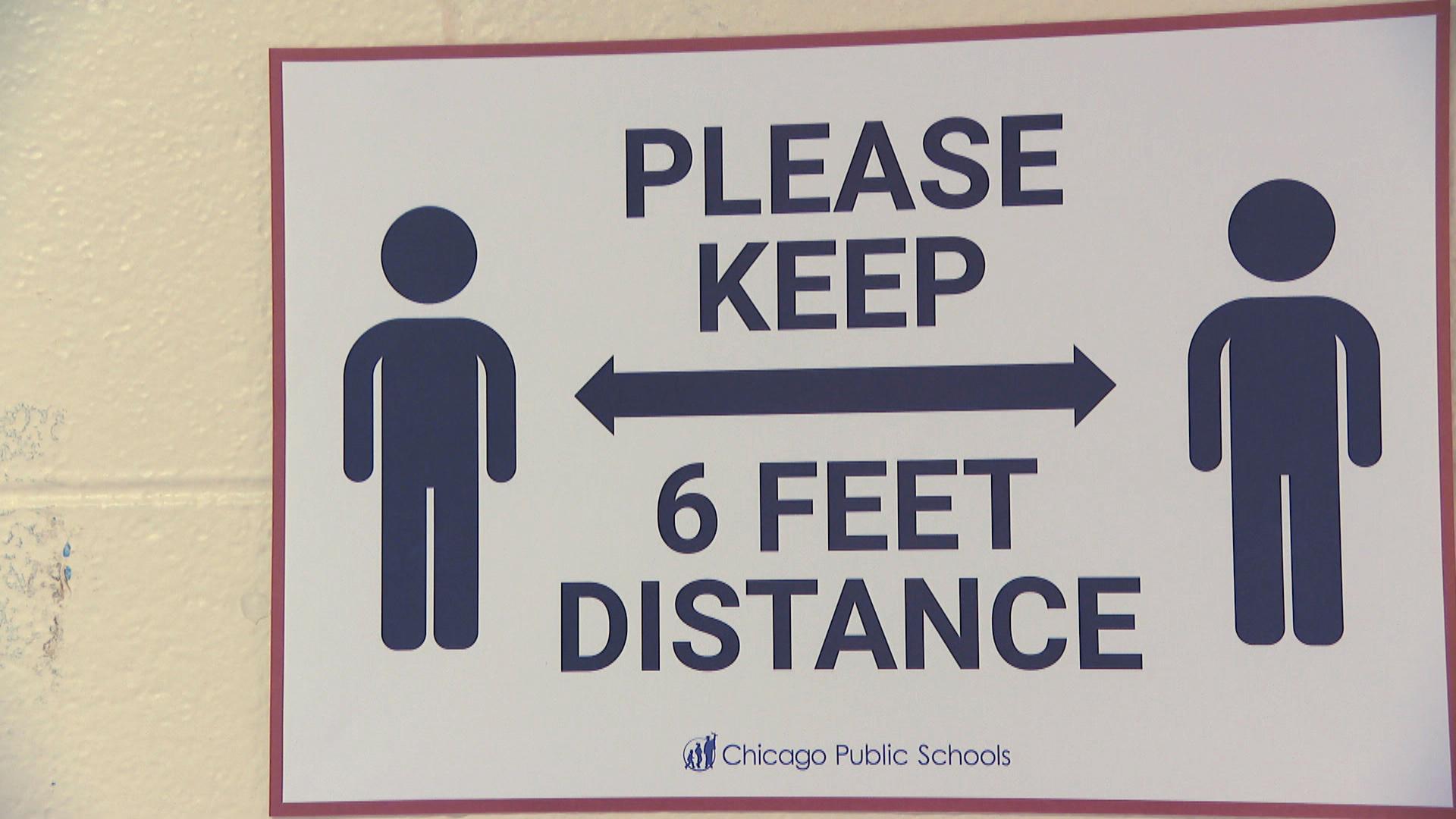 A sign promoting social distancing is shown inside a Chicago Public Schools building. (WTTW News)
Dr. Kenneth Fox, the chief health officer for CPS, acknowledged those fears but passionately defended the decision to bring students back into classrooms, saying he feared the learning loss suffered by students would be profound and not reversible.
"There are a billion school children back in school now, that were out in March, but people learned and they did things they were afraid of, they took that chance because they understood the damage that is caused to children by not being in school," Fox said.
Ald. Byron Sigcho-Lopez (25th Ward) criticized the mayor for moving forward with the reopening even after extending the stay-at-home advisory until Jan. 22.
"It is dangerous," Sigcho-Lopez said.
Ald. Sophia King (4th Ward) questioned school officials about how teachers would teach students both in person and remotely.
That "will be like trying to ride two horses with one ass," King said.
Sherly Chavarria, the chief of teaching and learning for CPS, said teachers began to be trained on how to do that on Monday.
King said the district was not prepared to reopen.
"And I also believe there will never be an ideal time, but there will certainly be a better time, when we are more optimally prepared," King said.
Dr. Marielle Fricchione, the medical director at the Chicago Department of Public Health, repeatedly told aldermen there was no evidence that private and parochial schools and day care centers are causing COVID-19 to spread through the community.
The city's COVID-19 test positivity rate is 10.3%, according to the CDPH. Seven days ago, it was 10.5%.
There is now an average of 1,036 confirmed cases of COVID-19 per day, based on a seven-day rolling average. That's up 9% in a week, according to city data.
Thirteen people, on average, die every day in Chicago after being diagnosed with COVID-19, according to city data.
Ald. Jeanette Taylor (20th Ward) was not convinced that it was safe to reopen schools.
"Y'all made the data support reopening," Taylor said. "Why would we even consider this?"
Contact Heather Cherone: @HeatherCherone | (773) 569-1863 | [email protected]
---