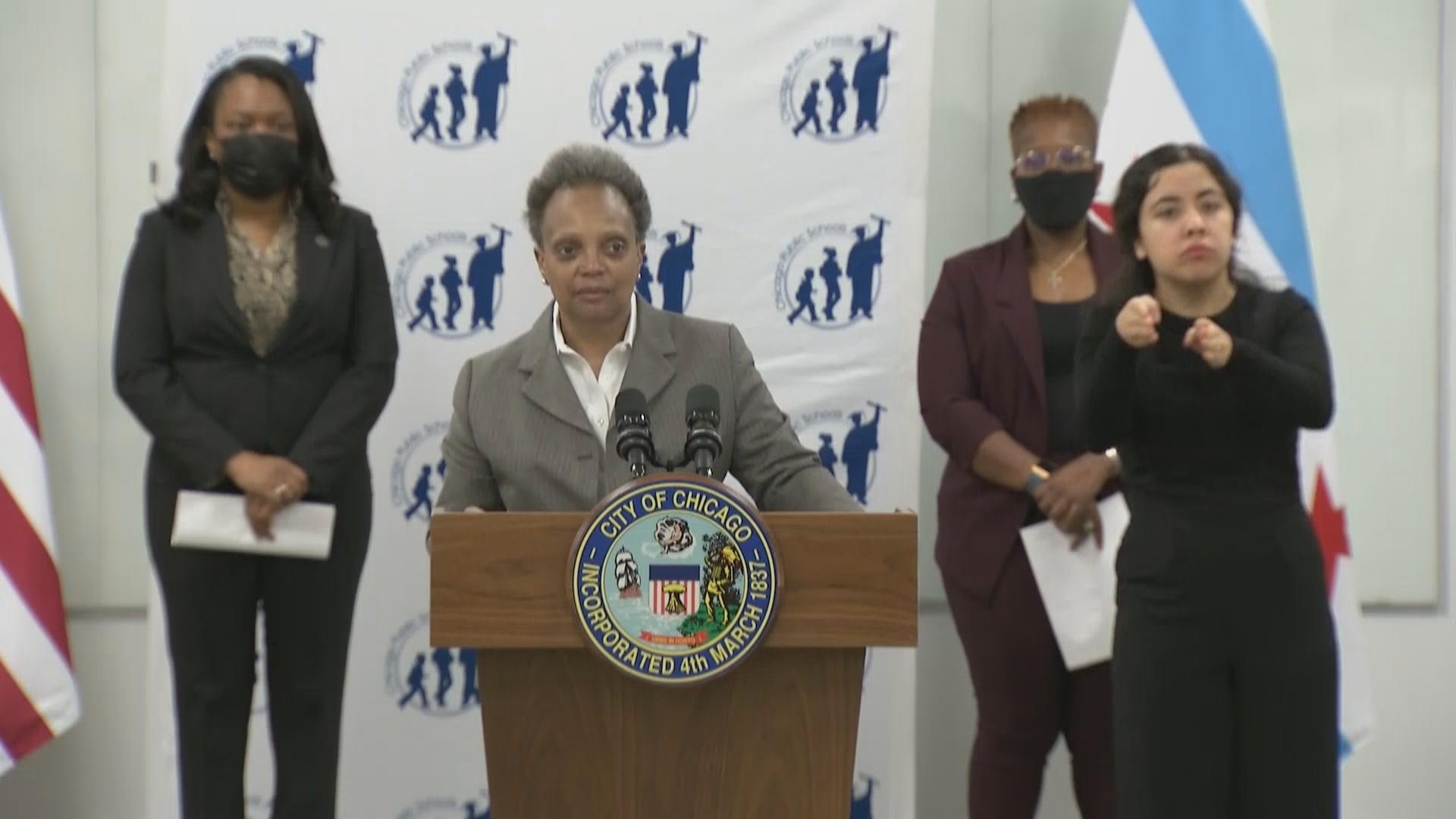 At a press conference Friday, Jan. 8, 2021, Mayor Lori Lightfoot, CPS CEO Janice Jackson and others discuss the plan to reopen schools to some students Monday, Jan. 11, 2021. (WTTW News)
Mayor Lori Lightfoot on Sunday extended through Jan. 22 the advisory that urges Chicagoans to stay home in an effort to stop the spread of COVID-19.
That means a stay-at-home advisory will be in effect for 12 days after the first Chicago Public Schools students go back to in-person class.
Lightfoot announced a 30-day stay-at-home advisory on Nov. 12, saying that Chicago was facing a sustained and dire second wave of the coronavirus pandemic. The advisory took effect on Nov. 16.
To combat the second wave, Gov. J.B. Pritzker imposed statewide restrictions on Nov. 20 that closed museums, casinos and theaters while limiting the capacity of most stores to 25%, while grocery stores can operate at a maximum capacity of 50%. Indoor dining and drinking have been suspended in Chicago since Oct. 30.
Indoor gatherings within private residences are limited to six non-household members but are strongly discouraged, according to the advisory.
Pritzker said Wednesday that the toughest restrictions in place to stop the spread of the coronavirus could lift in regions across the state as soon as Friday. By then it will be clear whether Illinois will see a surge in coronavirus cases after the holidays, Pritzker said.
While Lightfoot can order tighter restrictions than the governor for Chicago, she cannot ease his rules, making the stay-at-home advisory, which she extended for 21 days on Sunday, redundant.
Chicagoans should only leave home to go to work or school, to seek medical care or to shop for groceries or take-out meals, according to the advisory.
Alongside Dr. Allison Arwady, the commissioner of the Chicago Department of Public of Health, Lightfoot warned Nov. 12 that if Chicagoans did not quickly change their behavior and cancel plans to gather in person for Thanksgiving, another 1,000 Chicagoans would die from COVID-19 before the end of 2020.
Between Nov. 12 and Dec. 31, 978 Chicagoans died from the virus, according to data compiled by the Chicago Department of Public Health.
The city's COVID-19 test positivity rate is 10.3%, according to the CDPH. Seven days ago, it was 10.2%.
There is now an average of 1,049 confirmed cases of COVID-19 per day, based on a seven-day rolling average. That's up 20% in a week, according to city data.
Thirteen people, on average, die every day in Chicago after being diagnosed with COVID-19, according to city data.
Despite opposition from the Chicago Teachers Union, Chicago Public Schools plans to welcome back the first preschool and special education students for in-person learning on Monday. Chicago schools have been closed since March, when the pandemic swept the country.
Students in kindergarten through eighth grade are set to return on Feb. 1.
Arwady has said it would be safe for students to return to school as long as cases double no more than every 18 days. Cases are now doubling approximately every 82 days, according to city data.
Contact Heather Cherone: @HeatherCherone | (773) 569-1863 | [email protected]
---