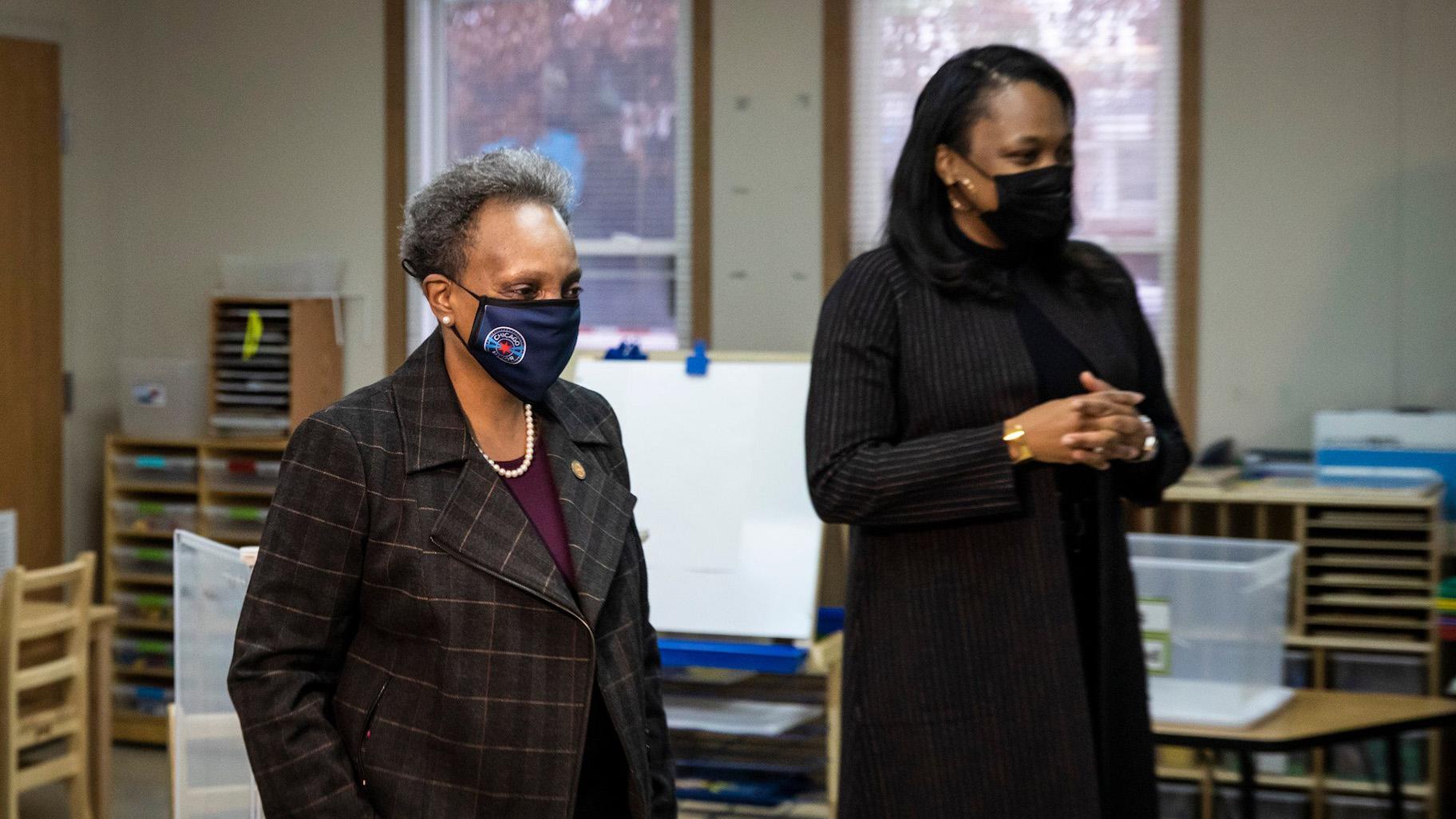 Mayor Lori Lightfoot, left, and Chicago Public Schools CEO Janice Jackson visit a preschool classroom at Dawes Elementary School at 3810 W. 81st Pl. on the Southwest Side, Monday morning, Jan. 11, 2021. (Ashlee Rezin Garcia / Chicago Sun-Times / Pool)
Some Chicago Public Schools students returned Monday to their classrooms for the first time in 10 months as the school district resumed in-person learning despite fervent pushback from many educators.
"We need to give the option of the enhanced benefits that in-person learning brings, no question," Mayor Lori Lightfoot said Monday during a press conference at Dawes Elementary School. "So providing that option is entirely consistent with our values of equity and inclusion and leaving no student behind regardless of her circumstances, her zip code, her background. We need to build this path forward, and we've started with that today."
Nearly 6,000 pre-kindergarten and special education cluster program students were expected back inside schools Monday for the first time since the COVID-19 pandemic forced buildings to close last March. CPS could not immediately say how many students actually did go back Monday, but district CEO Janice Jackson said that as of last Friday, 71% of school-based staffers had returned to their buildings.
That's up from about 60% last Monday, the first day some staffers were due back at their schools. Jackson has said those educators and staff who do not show up this week will be deemed absent without leave and will not be paid until they return.
Members of the Chicago Teachers Union gathered outside Nathan Davis Elementary early Monday morning to renew their calls on CPS to delay in-person learning until it is more safe to reopen schools.
Kate O'Rourke, a pre-K special education teacher at Davis, said staff are being forced back into their building even though the school is bringing back no students for in-person learning.
"We had between 10 and 20 students signed up for in-person learning across five classes, but every single one of those families pulled out last week," she said. "Some of them because the virus is much more widespread now than it was in March. More people are dying now than ever."
O'Rourke said many of her school's employees felt like they had no choice but to return, "risking their health and maybe even their lives for their jobs."
The city's COVID-19 positivity rate remained just over 10% on Monday, according to data from the Chicago Department of Public Health.
READ: Aldermen Push Back on School Reopening Plan That's Already Underway
Students in kindergarten through eighth grade who've opted in to in-person learning are scheduled to return to schools on Feb. 1. While there's currently no timetable for high schoolers to come back, Jackson on Monday said she expects everyone to resume in-person learning within the next few months.
CPS and CTU leadership continued bargaining over the weekend on an agreement to reopen schools, though the district has repeatedly said such a deal is not necessary in order to go ahead with in-person learning.
Lightfoot said she has heard the concerns from teachers and parents who oppose reopening, but stressed that CPS is doing all it can to keep people safe by following the latest public health guidance.
"The only issue on the table has to be what's in the best interest of our young people, our students," she said. "Because if we have that front and center, if we focus on that, all the rest will follow because building that safe and nurturing environment for them means creating a safe and nurturing environment for the entire school community."
CPS says it has invested more than $100 million to ensure school buildings are safe for the impending reopening. That includes $42 million spent on additional emergency supplies like HEPA air filters installed in classrooms, multiple face coverings for students and staff, and additional stockpiles of soap and hand sanitizer.
The union, however, has said its members have already been met with sanitation issues at schools over the past week.
On Monday, Jackson said CPS has also launched a voluntary COVID-19 surveillance testing program for school-based staff, which she said will help the district track the prevalence of the coronavirus among asymptomatic employees.
Those who participate will be given rapid tests monthly at their schools, Jackson said. Anyone with a presumptive positive result would then be given a polymerase chain reaction (PCR) test the same day to confirm.
"While over 20% of school-based employees chose not to participate in our surveillance testing program last week, we want to continue to encourage them to do so," Jackson said. "This is just one more step in our plan to ensure our staff and students remain healthy and safe in our schools."
Contact Matt Masterson: @ByMattMasterson | [email protected] | (773) 509-5431
---