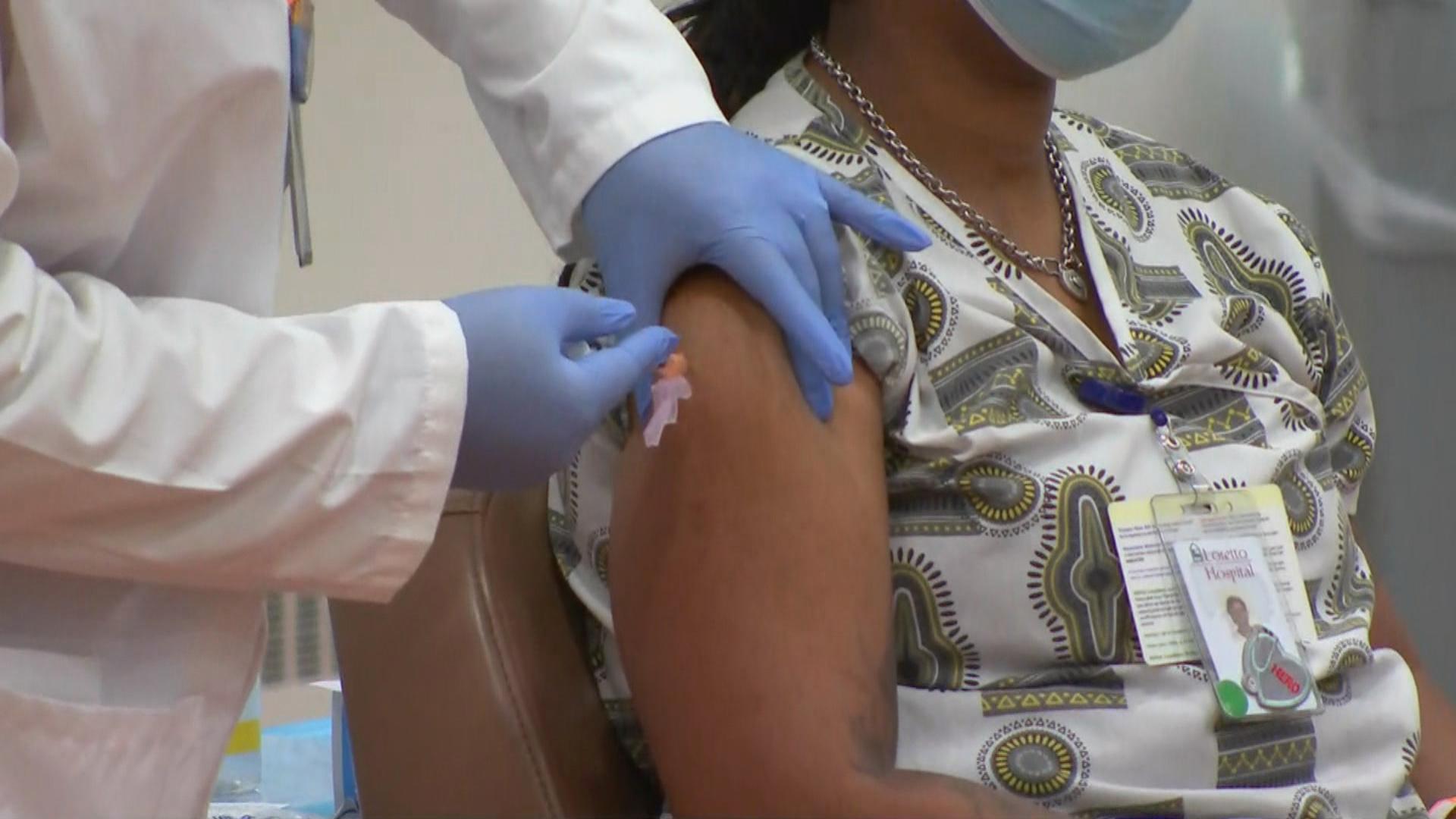 The first doses of the Pfizer vaccine in Chicago were administered at the Loretto Hospital on Tuesday, Dec. 15, 2020. (WTTW News)
On the final day of 2020, Illinois health officials reported another 133 deaths as a result of COVID-19, marking the fifth consecutive day the statewide death toll has been in the triple digits.
The Illinois Department of Public Health on Thursday announced an additional 8,009 confirmed and probable coronavirus cases, the highest single-day total in two weeks. That brings the state's total case count this year to 963,389, though data for Dec. 31 won't be available until Friday.
Illinois has also recorded 16,490 deaths from COVID-19, according to IDPH data.
While daily case counts have not exceeded 8,000 since Dec. 17, the number of COVID-19 deaths has surpassed 100 more than 10 times during that time frame.
As of Wednesday night, there were 4,093 Illinoisans hospitalized with COVID-19, including 837 patients in the ICU and 496 patients on ventilators.
The preliminary seven-day statewide positivity rate for cases is 7.7%, according to IDPH data. Test positivity across the state — the number of positive tests as a percentage of total tests — is 9%, IDPH data shows. That rate is similar in both Chicago (8.7%) and suburban Cook County (9.1%), according to IDPH regional data, but it has fallen multiple percentage points statewide since the start of December.
The rollout of COVID-19 vaccines in Illinois began earlier this month, and as of Thursday night, 143,924 shots had been administered throughout the state, according to state officials. 
IDPH officials on Thursday also announced the department is now tracking a new COVID-19 variant that's been identified in the United Kingdom. No cases caused by this new variant have been confirmed in Illinois, and IDPH Director Dr. Ngozi Ezike said mutations and variants of viruses are not uncommon.
"At this time, we have no evidence that infections by this variant cause more severe disease or death," she said in a statement. "However, early study shows the variant may spread more easily and quickly. We will continue to work with academic partners, laboratory researchers, physicians, and the Centers for Disease Control and Prevention to monitor for cases."
State health officials are working to track the variant through genomic sequence testing conducted on an increased number of testing specimens that have been collected.
The pandemic has touched every avenue of life in 2020. As the year draws to a close, we take a look back on some of the most significant moments and milestones:
— Jan. 24: A Chicago woman is the first person to be diagnosed with COVID-19 in Illinois.
— Jan. 30: The first case of person-to-person spread of the coronavirus in the U.S. is reported after a Chicago man in his 60s became infected via his spouse, who had recently traveled to Wuhan, China, before becoming ill.
— March 11: Chicago officials postpone all three of the city's St. Patrick's Day parades citing concerns over the coronavirus.
— March 17: On the same day schools in Illinois are closed due to the pandemic, the state announces its first coronavirus-related death when a Chicago woman in her 60s passed away days after testing positive.
— March 21: Gov. J.B. Pritzker's stay-at-home order takes effect, limiting business operations and gatherings in an effort to stem the spread of the virus.
— March 22: Illinois surpasses 1,000 total COVID-19 cases.
— March 26: The city of Chicago shuts down the lakefront trail and adjacent parks, along with the Chicago Riverwalk and 606 Trail.
— May 5: Pritzker outlines a five-phase, regional plan for reopening the state, which he dubs "Restore Illinois." In order to fully reopen, a vaccine, highly effective treatment or herd immunity is required, according to the plan.
— May 29: The governor's stay-at-home order officially expires after more than two months.
— June 3: Chicago Mayor Lori Lightfoot begins a "cautious" reopening of the city, allowing restaurants and coffee shops to resume outdoor dining service. Stores, barbershops and salons, child care centers and golf courses can also open with strict limits on the number of people allowed indoors.
— June 22: Chicago's lakefront trail and adjacent parks, along with the Chicago Riverwalk and 606 Trail, reopen for exercise and commuting.
— Nov. 5: Illinois tops 10,000 COVID-19 deaths.
— Nov. 13: Illinois sets a single-day record with 15,415 new confirmed cases of COVID-19.
— Nov. 21: IDPH reports 120,284 tests conducted in the previous 24 hours, the highest single-day total during the pandemic.
— Dec. 2: Illinois reports 238 COVID-19 deaths, a single-day record. State health officials say this high total may be due to reporting delays from the Thanksgiving holiday weekend.
— Dec. 14: Illinois receives its first shipments of the Pfizer COVID-19 vaccine.
— Dec. 15: Five nurses and doctors in Chicago become the first Illinoisans to receive a COVID-19 vaccine.
Kristen Thometz contributed to this report.
Contact Matt Masterson: @ByMattMasterson | [email protected] | (773) 509-5431
---