Video: Dr. Allison Arwady, Chicago Department of Public Health commissioner, joins us with the latest on COVID-19.
---
All three of Chicago's St. Patrick's Day parades scheduled for this weekend have been postponed due concerns over the novel coronavirus. 
The decision to delay the downtown Chicago St. Patrick's Day parade, dyeing of the Chicago River, South Side Irish Parade and Northwest Side Irish parade was made out of an abundance of caution, Mayor Lori Lightfoot said Wednesday morning. No details were provided about when the events would be rescheduled.
"As you might imagine, this was not an easy decision and we do not take it lightly," Lightfoot said. "We were mindful of the impact the event has on the city and communities, (but) nonetheless, like cities across the nation, we've concluded the parade at this time posed an unnecessary (risk)," she said.
The festive events have been held in Chicago for decades and draw thousands of people from all parts of the city, region and across the country.
"We all know what St. Patrick's Day celebrations mean to all of us in Chicago, but we as elected leaders can't take any chances with the public health of our residents," Gov. J.B. Pritzker said Wednesday morning. "Because of what we've seen nationally and across the world with the increased risk of large gatherings, this is the right call."
In Illinois, 25 people have tested positive for COVID-19, including at least one person who did not travel to an affected area or have contact with a known COVID-19 case. The majority of cases are in Cook County and one each has been reported in Kane, McHenry and Lake counties, according to officials.
"Now that we've reached new cases of coronavirus community spread, we have to make every effort to minimize further spread as best we can," Pritzker said.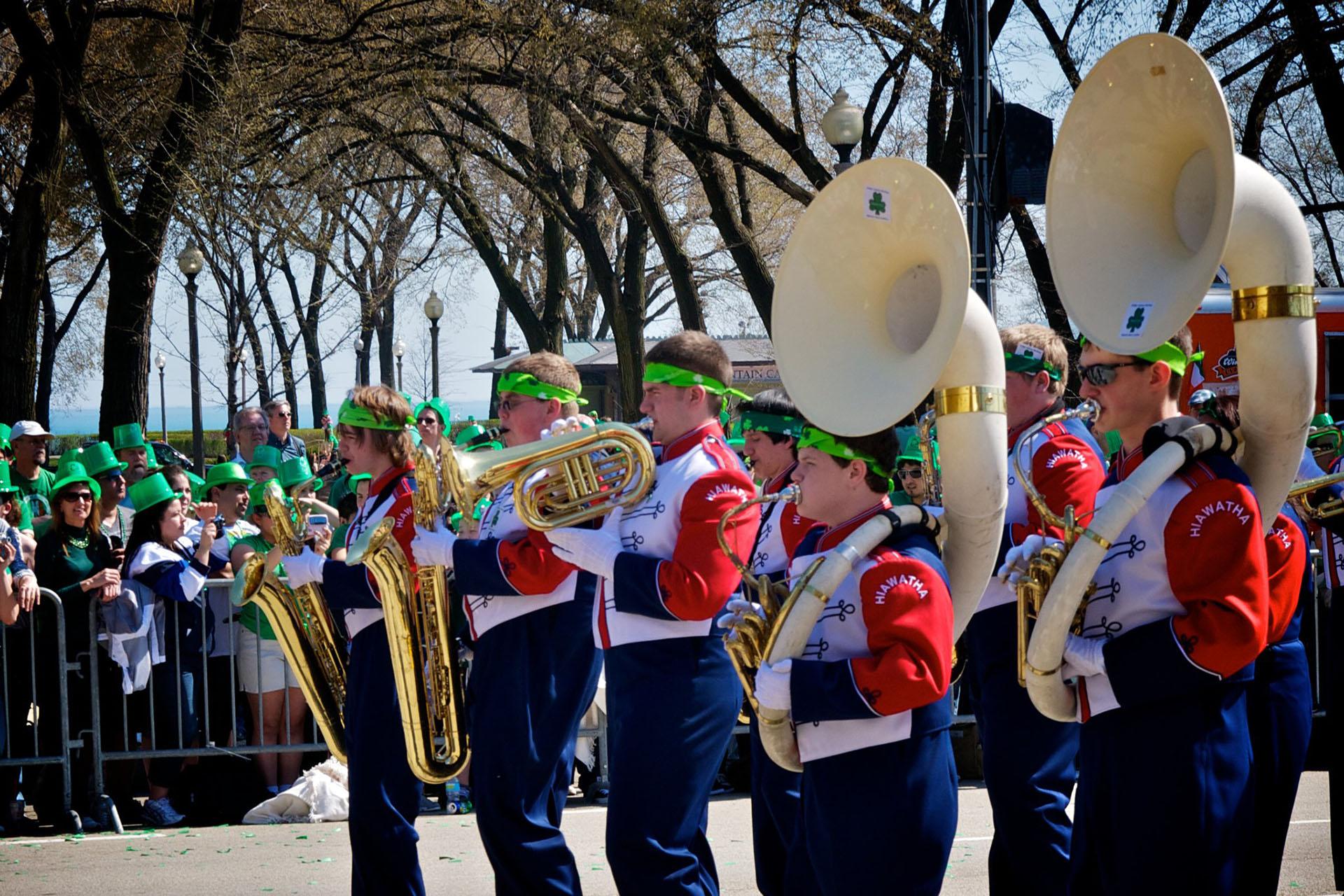 (Max Talbot-Minkin / Flickr)
But the virus is not spreading widely in Chicago or Illinois, says Chicago Department of Public Health Commissioner Dr. Allison Arwady, who agreed with the decision to postpone the events. "It's not a decision that was taken lightly, but it is in line with what we know about this virus," she said.
Large gatherings like parades lead to people being in close contact with one another. That's the ideal setting for COVID-19 to spread, Arwady says.
"When people travel, they do bring their germs with them, and events like this also bring a lot of people into close contact with each other, and close contact is being within 6 feet (of someone) for more than 10 minutes," she said. "We don't want to accelerate the risk of the virus spreading unnecessarily."
Officials haven't made any decisions about canceling or postponing other large upcoming events, including next weekend's Shamrock Shuffle race, the Chicago Fire's first home match at Soldier Field and opening day for both the Chicago White Sox and Cubs. Officials say they are having regular conversations with event organizers and will make decisions based on the local situation as it relates to the coronavirus.
Coronaviruses are respiratory viruses that range from the common cold to more serious illnesses, like SARS and MERS, and are generally spread via droplets in the air when people cough or sneeze, as happens with the common cold. There is no treatment or vaccine for the virus.
Health officials encourage people to take daily preventive measures to slow the spread of the virus, such as frequent handwashing, routine cleaning of frequently touched surfaces and objects, and covering coughs and sneezes.
Most importantly, officials say, stay home if you're sick.
"We're telling people they should stay home if they feel sick for obvious reasons. We want to avoid spread. We recognize in saying that it'll be hard for some people," Lightfoot said, adding she hopes employers will understand the uniqueness of this situation.
Officials on Wednesday also strongly urged the elderly and those who have underlying conditions to refrain from attending large gatherings – even those held at private homes – because of the risk of infection from COVID-19 and other illnesses, such as the flu.
Contact Kristen Thometz: @kristenthometz | (773) 509-5452 |  [email protected]
---