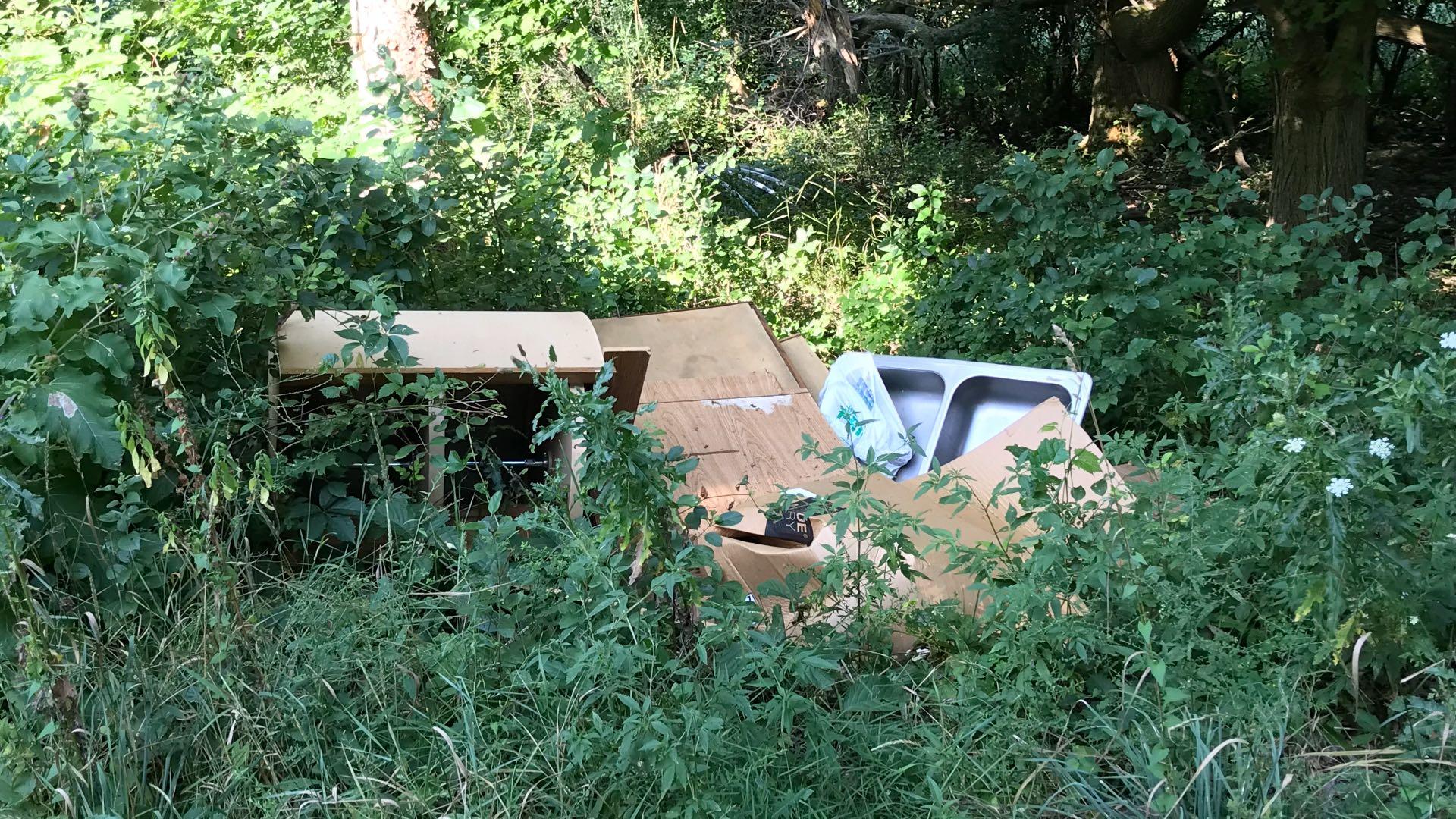 People dump everything, including the kitchen sink, in Cook County's forest preserves. (Courtesy of the Forest Preserve District of Cook County)
The Forest Preserve District of Cook County has seen record use of its nearly 70,000 acres during the coronavirus pandemic.
Along with a welcome increase in the number of people flocking to the district's natural areas and trails for respite and recreation, there's been an uptick in less well-intentioned guests: the sort who treat the preserves like an ad hoc landfill.
Fly dumping, or the illegal dumping of waste, was already a problem at the preserves, but it's gotten worse in 2020, according to officials.
In 2017, the district recorded 596 instances of fly dumping countywide. In 2019, that figure jumped to 793, a number the district is poised to top in 2020, with 742 instances already tallied through October and the usual year-end spike is still to come, said Carl Vogel, spokesman for the district. 
What are people dumping? More like what aren't they. 
"We see drywall, bricks, yard waste, lots of tires, sinks, old TVs, monitors, cans of paint, appliances," Vogel said.
He suspects that homeowners and contractors turn to fly dumping in order to avoid the cost of obtaining a permitted dumpster for a home improvement or construction project.
"What do you do with that old refrigerator? They see the forest preserves as an open space to dump," Vogel said.
The weirdest things are abandoned cars, he said, mostly because of the transportation conundrum.
"Do you walk home? Get in a buddy's car? I don't know," Vogel said.
The majority of fly dumping occurs under the cover of darkness, in remote areas of preserves, typically accessed either via maintenance roads or folks driving off road through brush, according to Vogel.
Occasionally though, "people pull up during the day and they've got bags of garbage they dump in our trash bins," he said.
Construction site waste, dumped near a forest preserve trail. (Courtesy of the Forest Preserve District of Cook County)
More than just an annoyance or eyesore, fly dumping comes at a price, both financially and environmentally.
Forest preserve staff gets pulled away from other responsibilities in order to deal with the garbage, which is a poor use of resources. And the district (i.e. taxpayers) gets stuck with the bill for having the trash hauled away to a landfill or recycler.
Items like batteries, cathode ray TVs, tires and computer monitors — anything considered "hazardous" — are separated and stored at the district's Maywood facility until special disposal can be arranged. That can add up to $60,000 to $70,000 a year, according to Vogel.
But the most disturbing aspect of fly dumping is the damage it causes to the environment. "It goes against our mission," he said.
Large dumps will smother vegetation and create dead zones, said Dan Spencer, a resource ecologist with the forest preserves. 
"It creates an instant problem. Any vegetation they've covered, they've basically killed," Spencer said. "We have had waste dumped near rare populations of plants. It does worry you."
The trash that actually poses the greatest threat to the preserves — landscape waste — is counterintuitive, he said. People might think that shrubbery, piles of sod and other organic material are harmless because they'll decompose, but that's actually what makes them so dangerous. 
"It's kind of a difficult idea to get across. But probably the most pervasive and significant problem is the introduction of invasive species," he said. "There are some invaders we're trying to contend with now that could be from prior fly dumpings."
As part of a garden or landscape, plants that are considered invasive can be easily managed. But tossed into a preserve, their seeds can spread or their roots take hold and they can eventually out-compete native plants.
One such example is the Callery pear, a popular tree in landscapes that spreads aggressively and, per the Morton Arboretum, may be added to official invasive species lists such as the one compiled by the Illinois Department of Natural Resources.
A few years ago, Spencer noticed the Callery popping up on the site of a large prairie restoration project in Orland Park. Conservation work had been underway on the land for more than a decade, and it took a large amount of resources to curb the pear, Spencer said.
Chinese silvergrass is another ornamental plant that's fine in a garden, but if set free in the wild will wreak havoc on natural areas, he said.
"We found it starting to establish itself in our preserves. We've been able to get ahead of it, but it's hard when you have 70,000 acres to monitor," Spencer said.
To curb fly dumping, the forest preserve district is exploring a mix of solutions.
In the event someone is caught in the act, they could be issued a $500 citation and found liable for the cost to repair the property. The district is also sharing information via social media about the proper ways and places to dispose of items that amount to fly dumping's greatest hits.
The district is also relying on visitors to report suspicious behavior via a non-emergency number: 708-771-1000.
"If you see a truck going into a forest preserve full of construction debris, call," Vogel said. "If you're in doubt, report it anyway."
Contact Patty Wetli: @pattywetli | (773) 509-5623 |  [email protected]