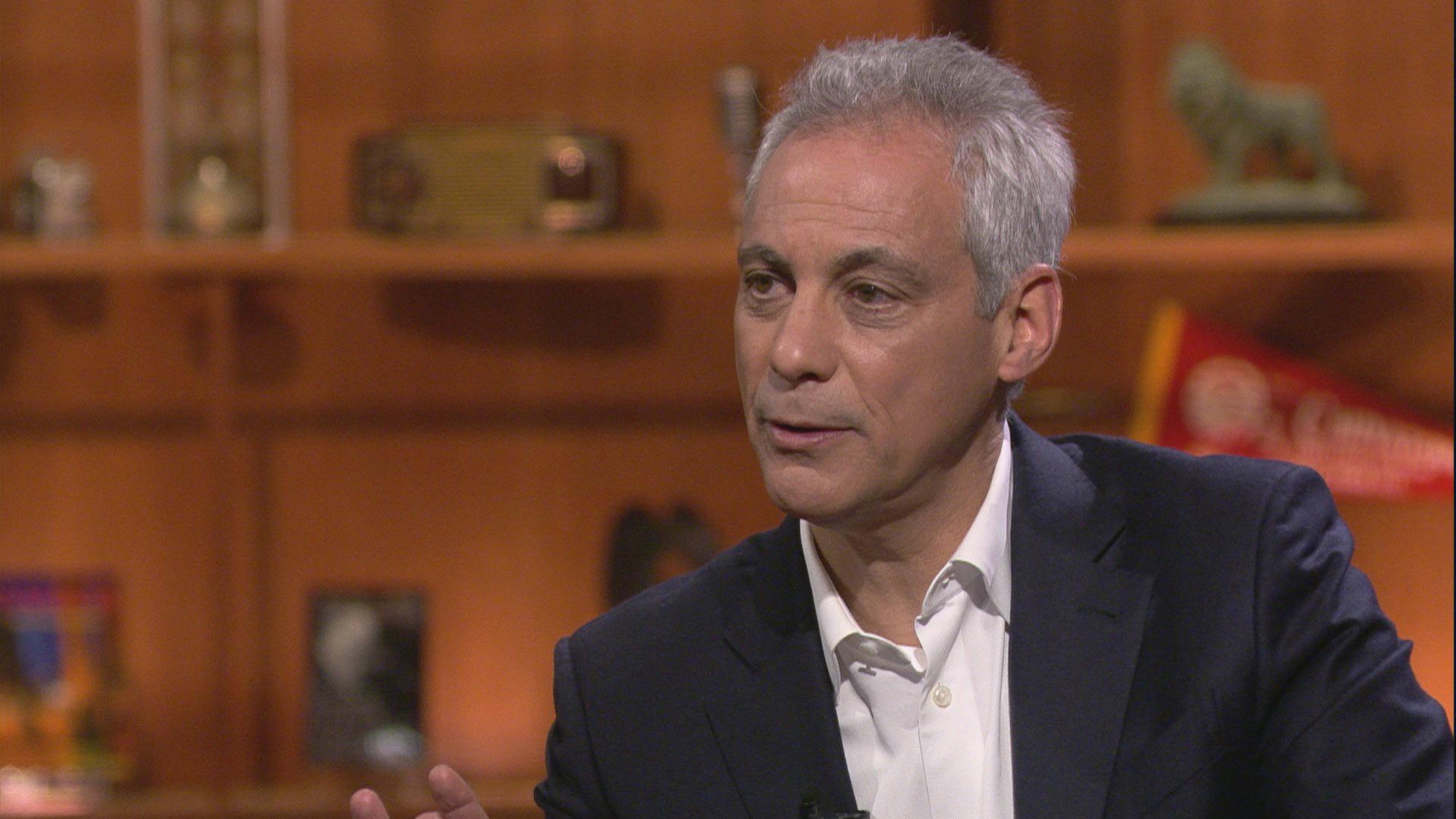 Mayor Rahm Emanuel appears on "Chicago Tonight" on Monday, May 13, 2019.
During his eight years as Chicago mayor, Rahm Emanuel loved alliteration.
Emanuel rarely missed an opportunity to tout what he called the five T's — talent, training, transportation, technology and transparency — that set Chicago apart from other cities.
More than a year after leaving City Hall, Emanuel is hoping that his well-documented passion for that third T — transportation — and his legacy in Chicago is enough to secure him a spot in President-elect Joe Biden's Cabinet as the secretary of the U.S. Department of Transportation.
While transportation experts and Chicago political observers told WTTW News there is no doubt Emanuel rebuilt crumbling CTA train lines and stations and ensured that O'Hare International Airport will remain a global hub, he failed to truly make Chicago's public transportation system sustainable and equitable. 
If he does get the nod from Biden, Emanuel's nomination is sure to be greeted with roars of protests from those who believe his handling of the murder of Laquan McDonald, a Black Chicago teen, by a White Chicago police officer is disqualifying — no matter his legacy on transportation issues as Chicago's 55th mayor. 
Emanuel announced he would not seek a third term just weeks before a jury convicted former Chicago police Officer Jason Van Dyke of second-degree murder for shooting Laquan 16 times in rapid succession, even as the teen moved away from officers.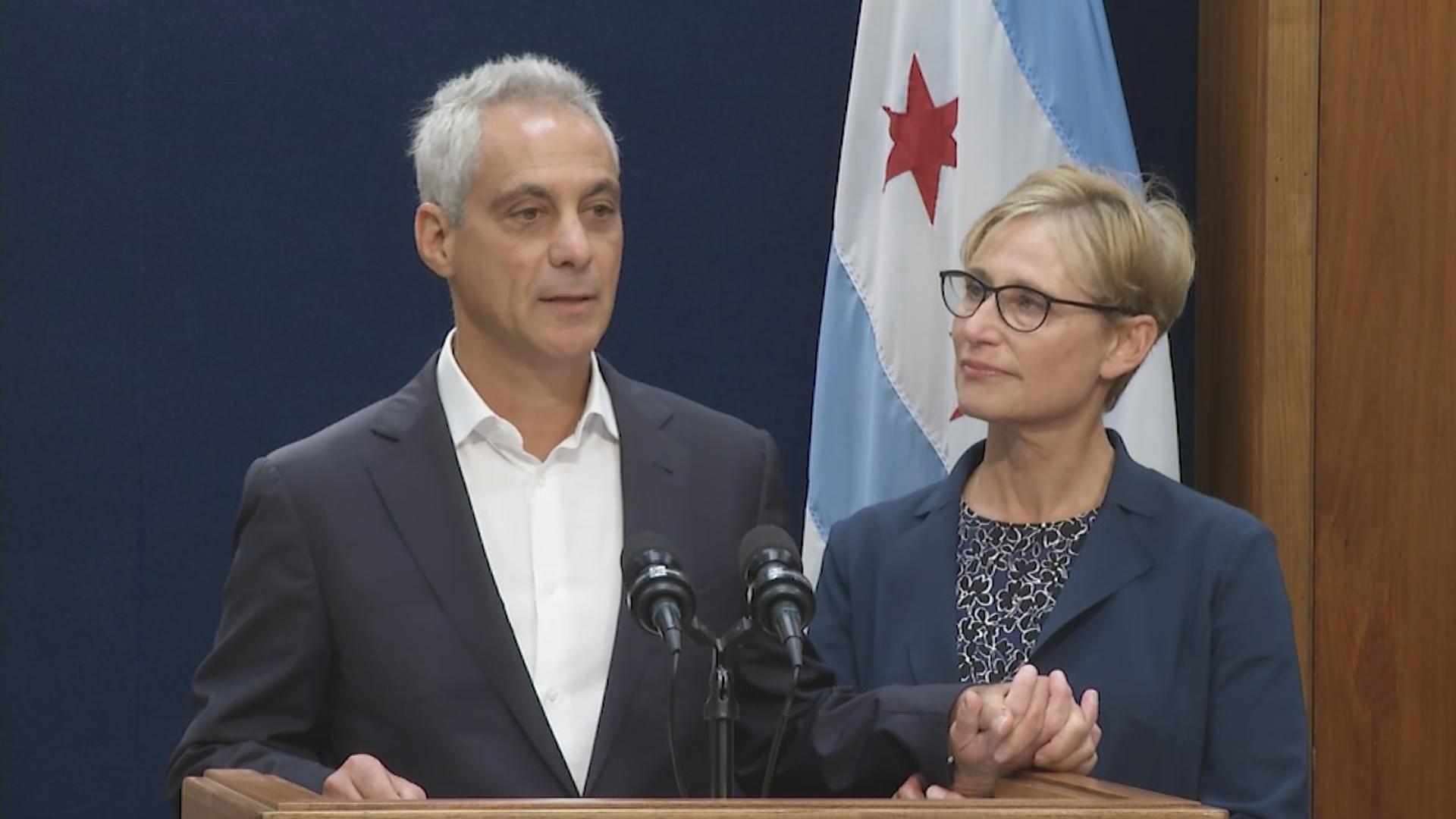 "Now with our three children in college, Amy and I have decided it is time to write another chapter together," Mayor Rahm Emanuel said Sept. 4, 2018 with his wife Amy Rule by his side as he announced he would not seek reelection. (WTTW News)
In addition, the NAACP opposes Emanuel's selection — along with unions representing transportation workers and flight attendants — meaning the former mayor's bid to return to public office faces significant headwinds.
But supporters of Emanuel contend his resume as mayor of Chicago, White House chief of staff and member of the U.S. House of Representatives makes him the right pick for Biden, and one that could boost Chicago's efforts to complete massive infrastructure projects that languished under President Donald Trump, who ignored cities' needs while blasting them as crime-ridden and irredeemable.
Illinois Sen. Dick Durbin, a Democrat, and former U.S. Rep. Ray LaHood, a Republican, have made the case in the media for Emanuel, telling reporters that the former mayor "transformed" transportation in Chicago and merits the job as transportation secretary.
LaHood served as transportation secretary in former President Barack Obama's first-term Cabinet. Emanuel was elected mayor of Chicago in 2011 after serving as Obama's White House chief of staff.
Durbin explicitly told WGN Radio that if Emanuel was named transportation secretary, he'd be able to send federal grants to Chicago because he knows how the system works — and knows what Chicago needs.
Those endorsements are at the heart of the former mayor's plan to land the transportation secretary job by highlighting some of his greatest hits as mayor, including the resurfacing of 2,165 miles of streets and alleys and the launch of the Divvy bicycle-sharing service as well as the creation of 200 miles of bicycle lanes and the Loop Link, which speeds buses through the central business district.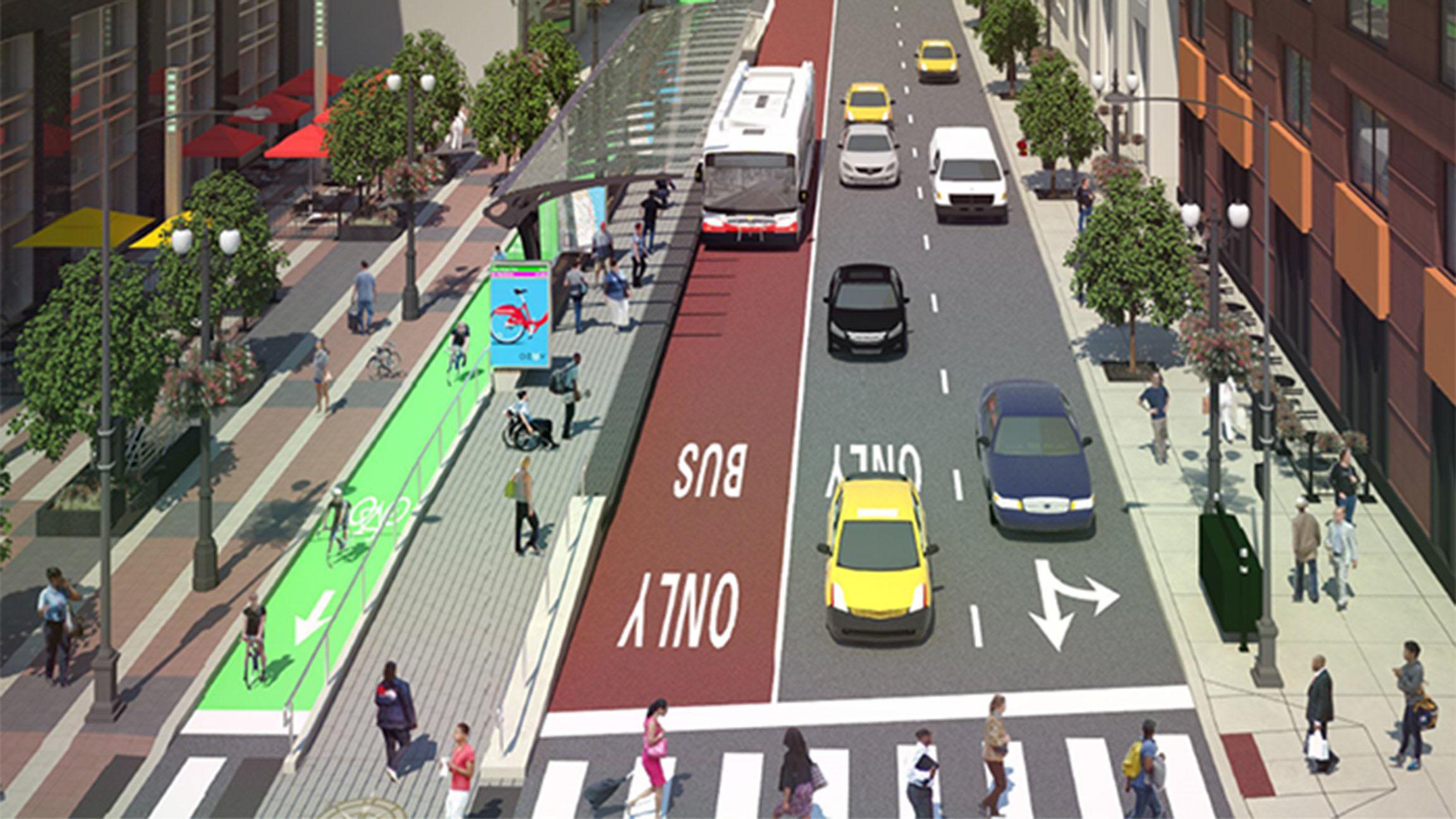 A rendering of the Loop Link, which debuted in December 2015. (Courtesy Chicago Department of Transportation)
But Emanuel's efforts were concentrated downtown and on the North Side, where demand for mass transit was loudest — and gave the mayor the biggest bang for the buck.
"Different neighborhoods have different needs," said DePaul University professor Joseph Schwieterman, who is the director of the Chaddick Institute for Metropolitan Development and a transportation expert. "Emanuel did not turn a blind eye to the reality of where the demand was."
While he was in office, Emanuel was not shy about tooting his own horn about his accomplishments on transportation. The then-mayor created a firestorm with a column published by the New York Times in July 2017 that patted himself on the back for the CTA's on-time record and high approval ratings in the wake of subway derailment and rampant delays in New York.
That theme — which pitted Emanuel against hostile state and federal governments in a bid to secure Chicago's place in a 21st century economy — also ran through Emanuel's book "The Nation City: Why Mayors Are Now Running the World" published on Feb. 25, 2020, weeks before the coronavirus pandemic swept the nation.
Emanuel was determined to improve transportation in Chicago — by plane, by car, by bicycle, by train, by bus — in order to mold Chicago into his vision of what a "first class, cosmopolitan" city should be, Schwieterman said.
Focus on O'Hare
In Emanuel's book, he writes that he was consumed with transportation issues, including the future of O'Hare International Airport. 
Modernizing O'Hare — which Emanuel calls the "linchpin" of Chicago's status of a world-class city — was among his most important priorities, he writes. Emanuel claims credit for pushing through an $8.5 billion expansion, funded entirely by an increase in passenger fees, designed to modernize the airport to allow a 40% increase in flights once complete in 2028.
But the pandemic, which has decimated air travel, could scuttle those plans — tarnishing an effort that Emanuel said took two years to negotiate and came together in March 2018. 
Former Chicago Planning Commissioner David Reifman, appointed by Emanuel in 2015, said Emanuel is justifiably most proud of securing O'Hare's future as an economic engine that will power Chicago for decades.
"He has the ability to see where resources are available and then leverage those resources," Refiman told WTTW News.
Reifman agreed with Durbin that Chicago would benefit if Emanuel is tapped as transportation secretary — along with other big cities that were left to fend for themselves during the Trump administration.
"Chicago would do very well," Reifman said. "He clearly understands Chicago's needs."
But critics of Emanuel — none of whom would speak on the record for fear of being targeted for retribution if the former mayor is selected by Biden — contend his focus on O'Hare is emblematic of his focus on attracting wealthy people and corporations to Chicago.
That focus on wealthy Chicagoans also led to the biggest transportation debacle during Emanuel's eight years in office — the aborted plan to allow Tesla billionaire Elon Musk to build an express tunnel to O'Hare Airport alongside the CTA Blue Line using unproven hyperloop technology. The widely mocked plan was scuttled by Mayor Lori Lightfoot.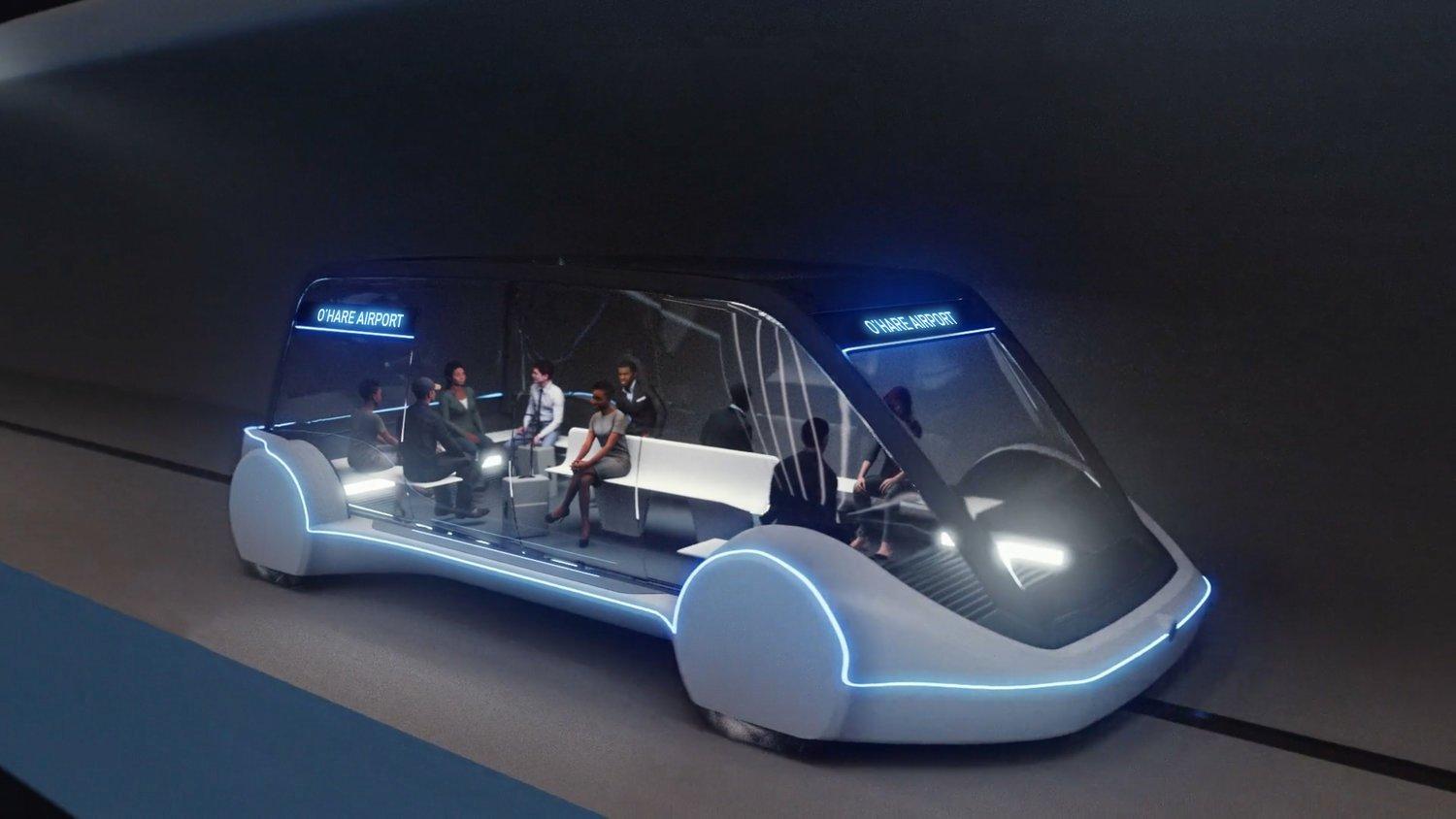 Elon Musk's proposal called for an underground system that would transport travelers on pods of 8-16 people at speeds of 125-150 mph. (Credit: The Boring Company)
While Emanuel argues in his book that a booming O'Hare Airport benefits all Chicagoans, his critics note that the effort did little to nothing for Black and Latino Chicagoans living on the South and the West sides struggling to stay above the poverty line in neighborhoods policed by officers whom the Department of Justice found routinely violated their constitutional rights.
That disparity, which Lightfoot spotlighted in her winning campaign to succeed Emanuel, remains undiminished today and is responsible for the disproportionately high number of deaths from COVID-19 in neighborhoods home to Latino and Black Chicagoans, observers said.
Focus on CTA
Emanuel also saw a safe, reliable public transportation system as key to preserving and boosting Chicago's economy by creating jobs, protecting the environment and connecting neighborhoods.
But when Emanuel took office in 2011, the CTA was still suffering from the Great Recession. Revenue plunged even as ridership surged — forcing officials to dip into capital funds to cover operating shortfalls and cut service.
Terry Peterson, who served as chair of the CTA board for all eight years Emanuel was in office, said Emanuel was an incredible champion for mass transit — and the future of the CTA was always at the top of his agenda.
"The key was keeping up — he doesn't have a lot of patience," Peterson said. "He was always thinking outside of the box."
In all, Emanuel invested more than $8 billion in the CTA during his eight years in office, records show.
Critics and supporters alike credit him with rebuilding the southern stretch of the CTA's Red Line between Cermak and 95th Street in 2013, speeding access to jobs and businesses for tens of thousands of Black and Latino Chicagoans.
That $425 million project rebuilt the tracks on the Red Line south branch in order to shave up to 10 minutes each way between 95th Street and downtown. Another $280 million was used to expand the 95th Street train station and bus terminal.
The CTA's South Terminal at 95th/Dan Ryan on the Red Line opened in April 2018. A plan to extend the Red Line would connect the terminal to 130th Street. (Chicago Transit Authority / Flickr)
Emanuel won his high-profile bet that a five-month shutdown of the train line, with shuttle buses serving to carry South Siders back and forth, was preferable to a construction effort lasting four years concentrated on the weekends that would allow trains to continue to operate.
In all, the CTA rebuilt more than 40 stations and added three new stations — including one at Morgan Street along the Green Line that helped fuel the transformation of Fulton Market from a meatpacking district to the new home of tech firms like Google and high-end restaurants like Alinea.
Emanuel spent another $492 million project to renovate 13 CTA Blue Line stations between O'Hare International Airport and downtown while replacing tracks and signals in an effort to shave 10 minutes off the trip.
Emanuel 's supporters contend the mayor used those projects as economic development efforts, and made sure contractors paid a living wage and participated in a program to hire Chicagoans returning to the city from jail or prison so they could learn a trade through the CTA's Second Chance program.
Emanuel also delighted in the fact that he pushed the CTA to add 4G wireless service throughout the entire rail system — warning commuters that they would not be able to blame a lack of cell service for failing to respond to an early morning call or email from their boss. 
The mayor said he used that capability on his twice-weekly CTA Brown Line rides from his Ravenswood home to City Hall — another signal to the city that he prioritized the CTA and a warning to his staff and appointees that he was watching the system's operations very closely.
In 2016, the election of Trump threatened Emanuel's next major transportation initiative — a $2.1 billion modernization of the north branch of the Red and Purple CTA train lines that relied on approximately $1 billion in federal funds from the Transportation Infrastructure Finance and Innovation Act.
"He was relentless in getting federal funding," Peterson said.
So Emanuel did what he did best. He used his not inconsiderable clout to call a special meeting of the City Council less than a week after Trump's election, making it possible for Obama, his former boss, to greenlight the federal funds.
But Emanuel left office before he could complete planning and get funding for long-delayed plans to extend the CTA Red Line to 130th Street. That would reduce travel times — and car trips — for residents of the Far South Side and south suburbs, proponents said.
Critics of the former mayor contend it is an example of the structural racism that has plagued Chicago for decades that a train line through white, wealthy neighborhoods has been built and rebuilt before the first tracks have been laid through Black communities on the South Side.
That brings efforts by progressive politicians like Alexandria Ocasio-Cortez and groups like the NAACP to block Emanuel's appointment because he failed to deliver for all Chicagoans, regardless of their race, into sharp relief and could doom Emanuel's comeback bid, Schwieterman said.
Nevertheless, Schwieterman said he would endorse Emanuel's bid for transportation secretary "without much hesitation" even though Emanuel is more of a generalist rather than a transportation expert.
"He would bring a sense of urgency to policymaking," Schwieterman said. "He would not be satisfied with the status quo."
Contact Heather Cherone: @HeatherCherone | (773) 569-1863 | [email protected]
---