This Sunday, the city of Chicago begins operations on one of its most ambitious public transit initiatives in decades. It's the city's first bus rapid transit (BRT) line, called Loop Link. 
The project has transformed two major streets in the Loop, where city officials say bus service will vastly improve.
But as Eddie Arruza reports, some transportation observers are not ready to give the inaugural BRT line a thumbs up.
TRANSCRIPT
Eddie Arruza: With only a few days to go before Loop Link starts moving passengers, many of the newly created commuter platforms were still under construction this week. But city officials say Chicago's first bus rapid transit, or BRT line, is ready to launch and that it will have a major impact on Loop dwellers.
Rebekah Scheinfeld, Chicago Department of Transportation Commissioner: Whether you're on foot, on bike, in a bus or in a car or other motor vehicle, you're going to see improvements that will lead to a more reliable, efficient and safe movement across the loop.
EA: Compared to other BRT systems around the world, Loop Link is relatively small with only four stations along eastbound Washington Street from Wacker Drive to Michigan Avenue and four more on that same stretch on westbound Madison Street. The line begins and ends at the commuter rail terminals in the West Loop and seven major bus routes feed into it. The CTA says Loop Link's main objective is to speed up travel along that corridor.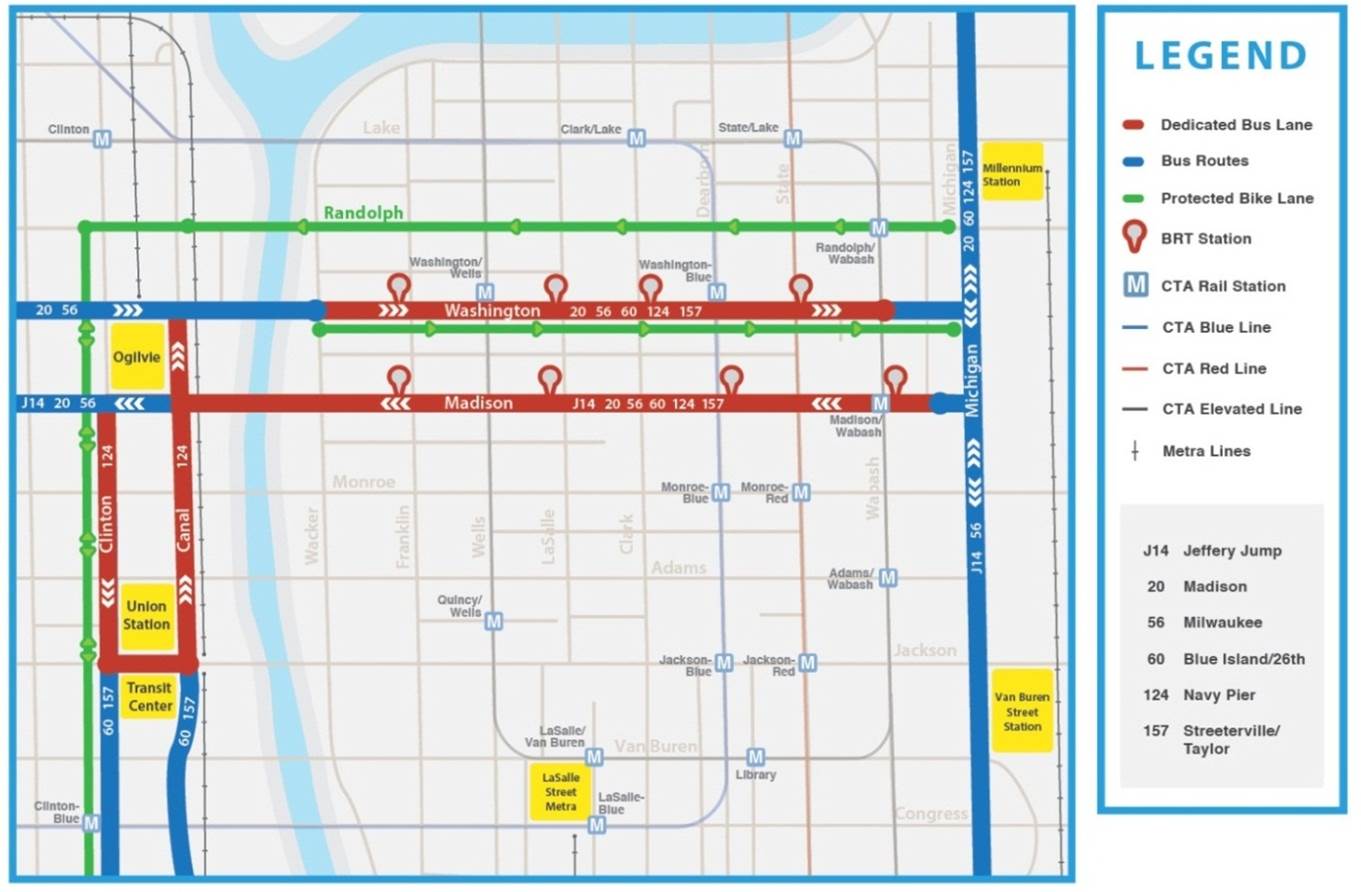 Loop Link map (Courtesy Chicago Department of Transportation)
Tammy Chase, Chicago Transit Authority spokesperson: So it has aspects of bus rapid transit, but this had to really be customized for the Loop.
EA: Bus Rapid Transit lines try to re-create the efficiencies of commuter rail lines with dedicated lanes, prepaid fares and platforms level with the door entrances allowing commuters on foot or wheel chairs to enter and exit quickly. The new bus platforms in Chicago will be unlike anything Chicagoans have experienced at regular bus stops: They're 90 feet long, with ample seating and plenty of lighting. 
But as Loop Link has come to life over the past year, its design and planning have hit a few speed bumps. For one, Loop Link platforms won't align with the varying designs of CTA buses. Chicago Tribune transportation writer Jon Hilkevitch has followed Loop Link throughout its creation and says the planners and designers made some avoidable errors along the way.
Jon Hilkevitch, Chicago Tribune Transportation writer: CTA basically has a 40-foot bus and a 60-foot bus, and going into this they knew what the floor height was and what the needed height of the station floors would be. And they did modeling, they did computer simulations—same thing with having to tear up portions of the street at some of these stations because it turned out when they put actual buses on the street in test runs when the buses pulled out, the rear end of the bus would scrape against the station. Again, unforgiveable. You need to model this. It shouldn't come down to testing on the street and say, "Whoops. We're going to have to start tearing things up and do it over."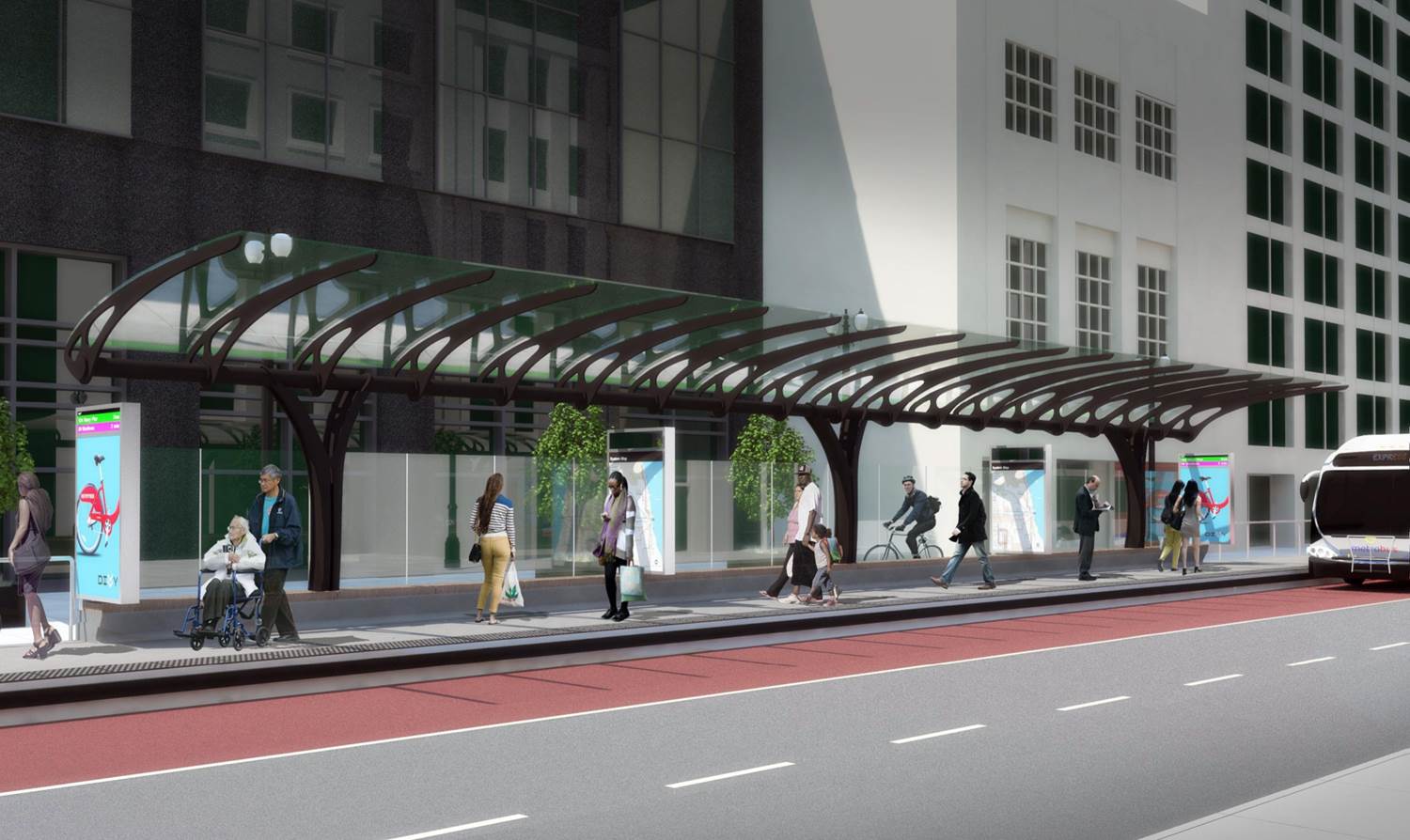 Loop Link rendering (Courtesy Chicago Department of Transportation)
EA: But the City's Department of Transportation, which has overseen the planning and construction of Loop Link, says the commuter platforms were designed to meet the unique needs of Chicago's Loop.
RS: It's not a flaw. It's taking into consideration what was necessary to make a design for this project and this corridor.
EA: Another feature integral to BRT systems is prepaid boarding to prevent delays getting on the bus.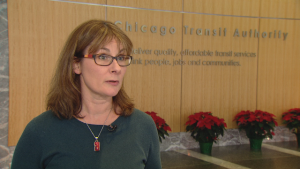 Tammy Chase TC: Our thinking here was to get the basic features of Loop Link launched rather than wait longer to get the prepaid boarding up. We are developing our schedule. We absolutely plan to offer prepaid boarding to customers. We're developing the schedule on when that will be implemented, but we plan to start piloting it next year.
EA: Washington and Madison streets will maintain two lanes of vehicular traffic. Cars and trucks are strictly prohibited from entering the dedicated bus lanes painted a vivid red. But for now the city's only enforcement plan is to catch violators in the act.
And while most of Loop Link has the dedicated bus lanes, cars and buses still have to merge in some right turn lanes, preventing Loop Link from completely avoiding traffic congestion. BRT also utilizes traffic signal priority to keep buses moving ahead of traffic. Loop Link has a slightly different system.
JH: They are going with a lesser technology that would give the buses a queue jump at some intersections. It's going to be actually a white light, not a green light, and the buses would get a head start on other traffic and the traffic supposedly would go behind the buses.
EA: But even if Loop Link falls short of what's called the gold standard of BRT design, public transit advocates say it's a major step in improving Chicago's transportation system.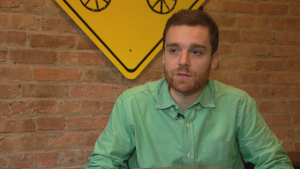 Kyle Whitehead Kyle Whitehead, Active Transportation Alliance campaign director: I think the city right now is moving forward with a project they say—they would say—is appropriate for the location where they're implementing it. And we hope moving forward they will continue to look at ways to improve it.
EA: For the foreseeable future Loop Link might be the only BRT system in Chicago. A major bus rapid transit line was being considered for Ashland Avenue but it's not happening anytime soon.
JH: Right now, Ashland BRT is fully on hold. I mean, I talked to the mayor this week and it's just not something they're moving forward with at this time. They never had the money for it anyway.
EA: The city says continuing to develop Loop Link is its main priority right with improvements to the route in the West Loop and a new transit station scheduled to happen next year. But in the absence of any other BRT lines coming to Chicago anytime soon, the city says aspects of Loop Link could be incorporated into current bus routes.
RS: We've known for some time in studying systems throughout the world and different types of bus services—all the different things that are on the drawing board—we're excited to bring those to Chicagoans, so they can start to see for themselves what's a possibility here in Chicago and to learn from that.  
EA: Commuters will ultimately decide if Loop Link is the success the city predicts it will be and, if it is, Chicagoans may want more of it beyond the Loop.
For Chicago Tonight, I'm Eddie Arruza.
---
Related stories: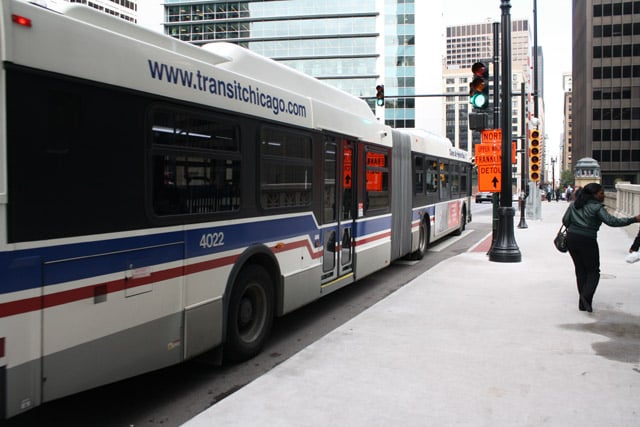 Mayor Emanuel Announces Plan to Improve 2 CTA Bus Routes
A three-part plan made public in August calls for improved speed and overall performance of Chicago Transit Authority buses along Western Avenue (No. 49) and Ashland Avenue (No. 9). 
---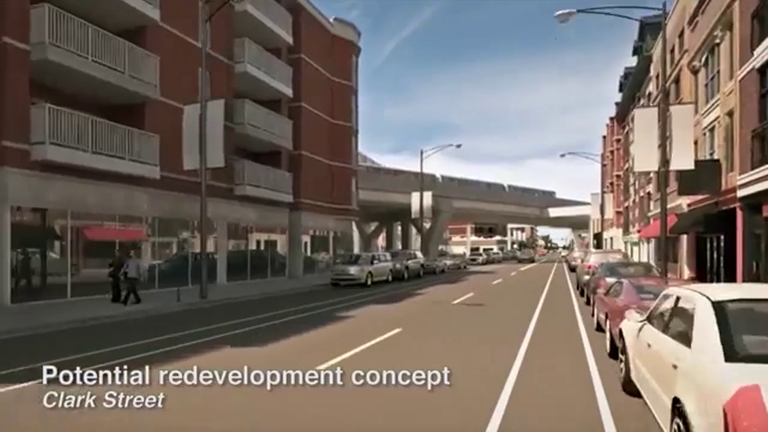 Belmont Flyover Project Increases In Size and Cost
In a time of tight budgets, why is the CTA pushing a $570 million 'flyover' project? Paris Schutz reports. 
---
Dec. 2013: We talk with Ald. George Cardenas (12th Ward) and Metropolitan Planning Council Vice President Peter Skosey about the advantages and challenges facing the long-term bus rapid transit project.