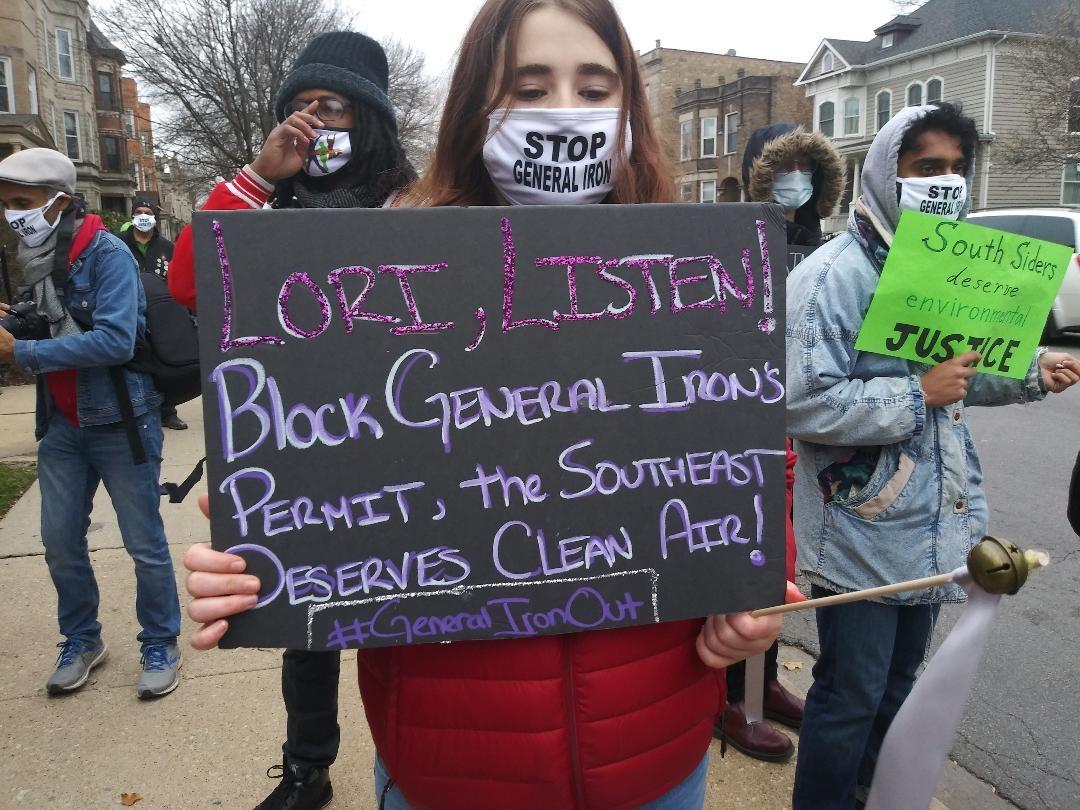 Protesters gather near the Logan Square home of Mayor Lori Lightfoot to voice their opposition to General Iron's plans to move to the Southeast Side on Saturday, Nov. 14, 2020. (Annemarie Mannion / WTTW News)
People will have until Dec. 30 to send the city written feedback on a permit application from RMG — the parent company of General Iron — to operate a metal shredding/recycling operation on Chicago's Southeast Side.
The deadline for written comments is part of a public engagement process outlined Monday by the Chicago Department of Public Health, which is reviewing the permit application.
A virtual public meeting regarding the permit has also been scheduled for 6 p.m., Dec. 10. Specific details about the format of the meeting are still to come.
"We look forward to hearing from all stakeholders as we begin the public engagement process, and we invite constructive feedback on the application and welcome proposals for special permit conditions that strengthen protections for our residents," CDPH Commissioner Dr. Allison Arwady said in a statement.
General Iron is set to cease operations in Lincoln Park at the end of 2020. RMG has purchased General Iron's assets and is in the process of starting up its own metal shredding operation on a sprawling 178-acre site on the Southeast Side.
Two permits are required by RMG: one for air pollution control, which RMG has already obtained, and one to operate as a recycling facility. A permit application for the latter was filed Nov. 13.
While operating in Lincoln Park, General Iron racked up numerous violations and tens of thousands of dollars in fines. RMG's plan to conduct similar shredding and metal recycling on the Southeast Side has met with fierce opposition from those who say communities such as South Deering and Hegewisch are already overburdened with heavy industry and pollution, both in the air and the soil.
In response to sharp criticism from environmentalists, the city implemented stronger standards for large recycling facilities. RMG's application is the first to be evaluated under the new rules, which include the public engagement steps referenced above.
That engagement needs to be more than perfunctory, activists say.
"The city needs to prove that these comments aren't falling on deaf ears like they have in the past and demonstrate actual steps they are taking to make things different this time around," said Gina Ramirez, a member of the Southeast Side Coalition to Ban Petcoke and Midwest outreach manager for the Natural Resources Defense Council.
"I think the city needs to show that they are actually listening to what the people that live near the facility are saying, as well as the students, teachers and staff from George Washington High School that will be particularly impacted," Ramirez said. 
Review of the permit is moving forward even after officials in the Midwest Office of Fair Housing and Equal Opportunity (FHEO), which falls under the U.S. Department of Housing and Urban Development, requested that the city refrain from issuing RMG's final permit, pending FHEO's investigation of a Fair Housing Act complaint filed by Southeast Side residents. 
The city's Law Department, in a letter to HUD dated Nov. 20, said it was in the process of preparing a full response to the complaint, and that no permit would be issued for at least 60 days.
The city, per the Law Department letter, will demonstrate that the Fair Housing complaint, which it said contained a "blizzard of hyperbolic allegations," has no merit. 
For its part, RMG stated that it anticipates a "fair and rigorous review" of its permit application.
The company has long maintained that its Southeast Side facility will bear no resemblance to General Iron's Lincoln Park operation.
In a statement to WTTW News, the company said: "From the ground up, we are building a new, modern facility that we expect will meet or exceed all permit requirements. We plan to continue the environmentally responsible recycling we have conducted at our Southeast Side home for decades."
RMG's pending permit application can be viewed online. Comments related to the application should be emailed to [email protected] by Dec. 30.
Contact Patty Wetli: @pattywetli | (773) 509-5623 |  [email protected]
---