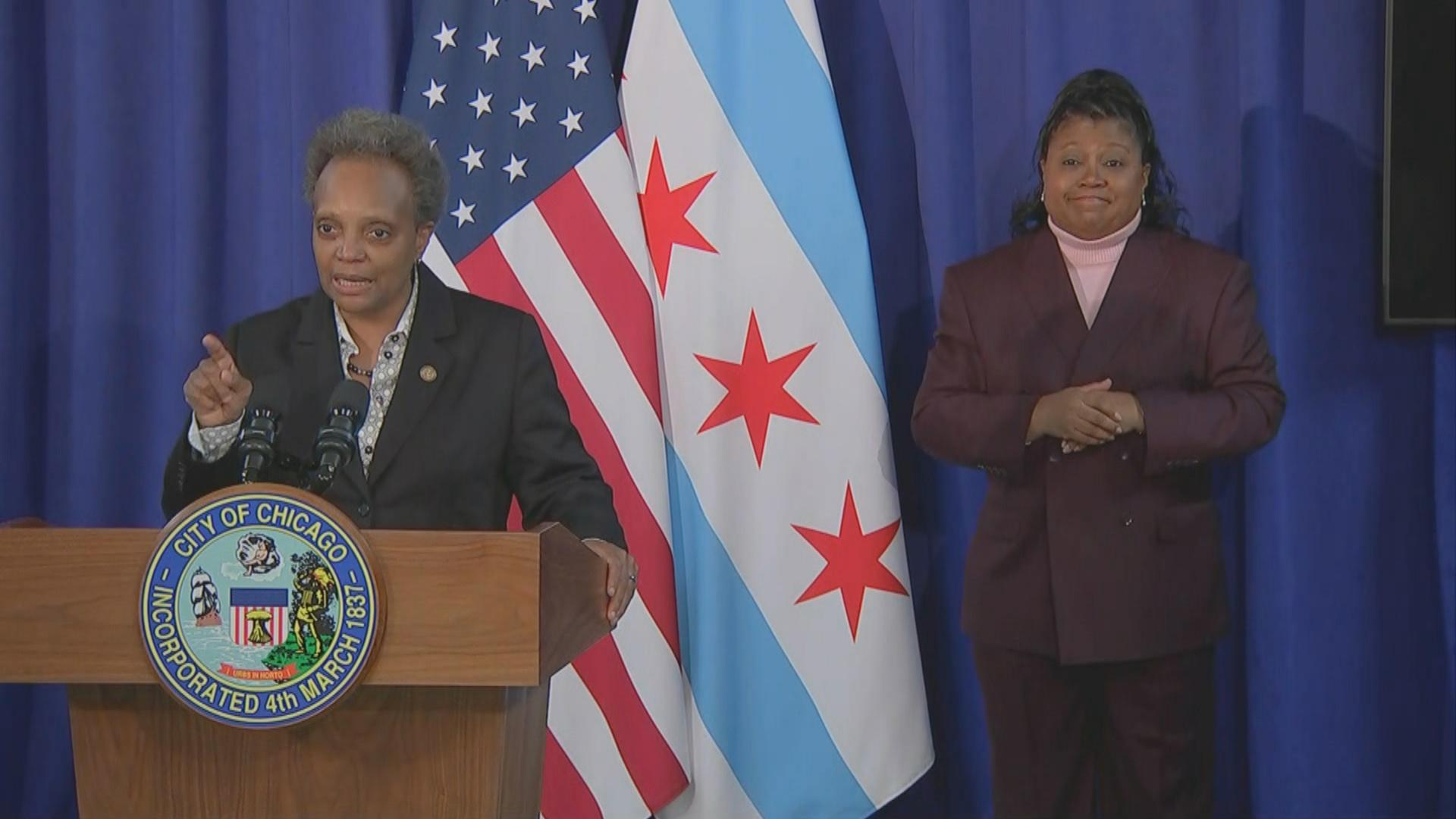 Mayor Lori Lightfoot speaks to the media following a City Council meeting to vote on her budget, which passed, on Tuesday, Nov. 24, 2020. (WTTW News)
The Chicago City Council approved Mayor Lori Lightfoot's $12.8 billion budget on Tuesday, despite opposition from two main groups of aldermen: those who represent wards where a property tax hike of $93.9 million will hit hardest and aldermen who favored deep cuts to the police budget.
The final vote on the tax levy was 28-22, an unprecedented show of defiance from aldermen who rejected the mayor's plan to close a $1.2 billion deficit caused in part by the coronavirus pandemic. The budget itself passed 29-21.
The budget, which takes effect Jan. 1, 2021, will hike sales and property taxes by $76.4 million, eliminate 1,921 vacant city jobs and dip into the city's rainy-day fund to close the deficit. 
The plan also closes a $799 million shortfall in the city's 2020 budget caused by the economic collapse triggered by the pandemic.
Chicago's 5-cent-per-gallon gasoline tax will rise to 8 cents per gallon. That will likely add 36 cents to the bill for 12 gallons of gas, according to city officials.
The total proposed increase, equal to 1.3% of a property's value, will add $56 per year to the tax bill for the owner of a home worth $250,000. The plan also calls for annual increases to the property tax of no more than 5%, based on the annual rise in the cost of living.
The aldermen who voted no on the property tax hike are: Alds. Daniel La Spata (1st Ward), Brian Hopkins (2nd Ward), Anthony Beale (9th Ward), Patrick Daley Thompson (11th Ward), Marty Quinn (13th Ward), Ed Burke (14th Ward), Raymond Lopez (15th Ward), Stephanie Coleman (16th Ward), Matt O'Shea (19th Ward), Jeanette Taylor (20th Ward), Silvana Tabares (23rd Ward), Byron Sigcho-Lopez (15th Ward), Roberto Maldonado (26th Ward), Rossana Rodriguez Sanchez (33rd Ward), Carlos Ramirez-Rosa (35th Ward), Anthony Napolitano (41st Ward), Brendan Reilly (42nd Ward), Tom Tunney (44th Ward), Jim Gardiner (45th Ward), Matt Martin (47th Ward), Harry Osterman (48th Ward) and Debra  Silverstein (50th Ward).
Coleman was the lone alderman to vote for the overall budget after voting against the tax levy, which included the property tax hike. She said too many Englewood residents are struggling to make ends meet for her to support the tax hike.
After the three-hour debate, Lightfoot said she was not unnerved by the close tally, which left her with two votes to spare.
"I govern to 26," Lightfoot told reporters a few minutes after saying she planned to celebrate her narrow victory with a cigar, a Scotch and a steak.
The city will also borrow an additional $1.7 billion to refinance existing city debt to save $450 million in 2020 and $501 million in 2021. The refinancing plan will return the city to the era of scoop and toss, a budget-stretching tactic reviled by fiscal watchdogs as a costly gimmick.
As part of a series of budget votes, the City Council voted 41-8 to approve that refinancing — and to borrow an additional $1.4 billion to fund the first two years of a five-year capital plan.
That is an indication the City Council is less divided than the votes on the property tax hike and the budget appear, Lightfoot said.
Despite the close vote that followed weeks of rancorous debate, Lightfoot vowed to work with aldermen who disagree with her — as well as those who voted against her.
"We have to move forward together," Lightfoot said, vowing to find "common ground" with them.
During negotiations over the 2021 budget with the Black Caucus, Lightfoot warned aldermen not to come to her if they vote against the budget — raising concerns that she would seek retribution from those who dissent.
Eleven aldermen voted against Lightfoot's 2020 budget — and her political organization created a website that urged residents to contact them and express their displeasure.
Not all of the revenue from the proposed property tax hike would be used to fill the gap caused by the coronavirus. The city's budget is also being pinched by the rising bill for the city's pensions, officials said. In all, the city will pay its four pension funds $1.8 billion, approximately $91 million more than in 2020 from its general operating fund.
In part because the pandemic's toll on the city's economy has been so profound, Chicago finance officials project that 10% of property owners won't pay their tax bills, up from 3% in a typical year. Lightfoot's plan earmarks $42.5 million from the property tax hike for pension payments, officials said.
Ald. Harry Osterman (48th Ward) said the city should have exhausted all other options before hiking property taxes.
"I could not support a property tax increase while many of our neighbors, small business owners, working families, and residents here and around Chicago are dealing with the harsh economic impacts of the COVID-19 pandemic," Osterman said in a message to residents.
The gas tax hike as well as a plan to increase the lease tax on computers and servers to 9% would generate $25 million in new revenue, officials said.
To smooth the budget's rocky path through the City Council's committees, Lightfoot wheeled and dealed: to win the support of the Chicago Federation of Labor, she axed plans to lay off 350 workers in March. In addition, only nonunion employees who earn more than $100,000 will have to take a five-day furlough — rather than those earning more than $50,000. 
Ald. Carlos Ramirez-Rosa (35th Ward) said many of his colleagues who voted yes acted under duress, after the mayor "twisted arms."
But Lightfoot disputed a suggestion that she ensured her budget would pass by buying votes. 
"There was a lot of back and forth," Lightfoot said, hailing the process as "messy" but emblematic of the a healthy democratic process. 
After striking an agreement with Lightfoot to drop plans for the layoffs, Chicago Federation of Labor President Bob Reiter lobbied aldermen to support the plan. Lightfoot and all 50 aldermen will be up for re-election in 2023, and unions contribute millions of dollars to candidates they support.
"Unfortunately, some City Council members decided to vote against protecting workers and protecting services," Reiter said in a statement. "We look forward to engaging these aldermen to help them better understand the issues important to the working class of this city."
Ald. Susan Sadlowski-Garza (10th Ward) — usually a close ally of the mayor who leads the City Council's Workforce Development Committee — said she would have voted against the spending plan had the layoffs not been removed.
The budget process was "frustrating and messy" — but produced a good plan, Sadlowski-Garza said.
For months, Lightfoot withstood criticism from aldermen and groups that wanted to see the Chicago police budget cut significantly. 
However, in response to a campaign led by Ald. Rossana Rodriguez Sanchez (33rd Ward), Lightfoot agreed to earmark $500,000 to test a program that will respond to mental health calls without law enforcement agents.
That made the difference for Ald. Maria Hadden (49th Ward), who said she hoped it would be the start of a new era for police response — despite her grave concerns about the budget.
But $1.3 million is earmarked to test a program in two police districts that will dispatch a team of social workers, police officers and paramedics in response to calls for help involving someone experiencing a mental health crisis. 
"This budget is not a reflection of what Chicagoans need and deserve," Hadden said. "This is not a people's budget."
But Rodriguez Sanchez said she could not support the spending plan, saying it "throws money" at the Chicago Police Department, which she said had consistently refused to reform itself.
In addition, Rodriguez Sanchez was one of a number of aldermen to demand changes to the way the City Council operates to ensure it operates as an independent branch of government — and not just to approve proposals from the mayor. 
Several proposals backed by progressive aldermen were blocked from advancing to a full hearing or debate.
In response to a demand from aldermen and residents for a new approach to crime reduction, Lightfoot agreed to add $10 million for violence prevention programs, bringing the total budget for programs including street outreach efforts to $36 million.
Ald. Mike Rodriguez (22nd Ward) said those changes were made possible by a unified push by the City Council's Latino, Black and Progressive caucuses — and make it possible for him to vote yes even though parts of the budget "are tough to stomach."
Ald. Jeanette Taylor (20th Ward) minced no words in announcing her no vote. Taylor is one of six aldermen who are also members of the Chicago chapter of the Democratic Socialists of America. 
"Don't give me crumbs and tell me it's cake," Taylor said. "Why can't we tax the rich?"
Ald. Byron Sigcho Lopez (25th Ward) said he would vote against the spending plan because it was rooted in "regressive tax hikes" that will hurt Black and Latino Chicagoans.
"I don't cast my vote against this budget to spite you, mayor," Sigcho-Lopez said. "I cast my vote against this budget in spite of your threats and in support of the people we were elected to serve."
The only member of DSA to vote for the budget was Ald. Andre Vasquez (40th Ward), who said the city's precarious financial position left him no choice but to "reluctantly" support the spending plan.
Immediately after the meeting, DSA leaders announced they had censured Vasquez for "for his refusal to vote in alignment with the movement that brought him to power."
But Black Caucus Chair Ald. Jason Ervin (28th Ward) said the budget is the best path forward for Chicago.
"We have a choice," Ervin said. "We can either look out for ourselves or look out for our city in its entirety."
Contact Heather Cherone: @HeatherCherone | (773) 569-1863 | [email protected]
---