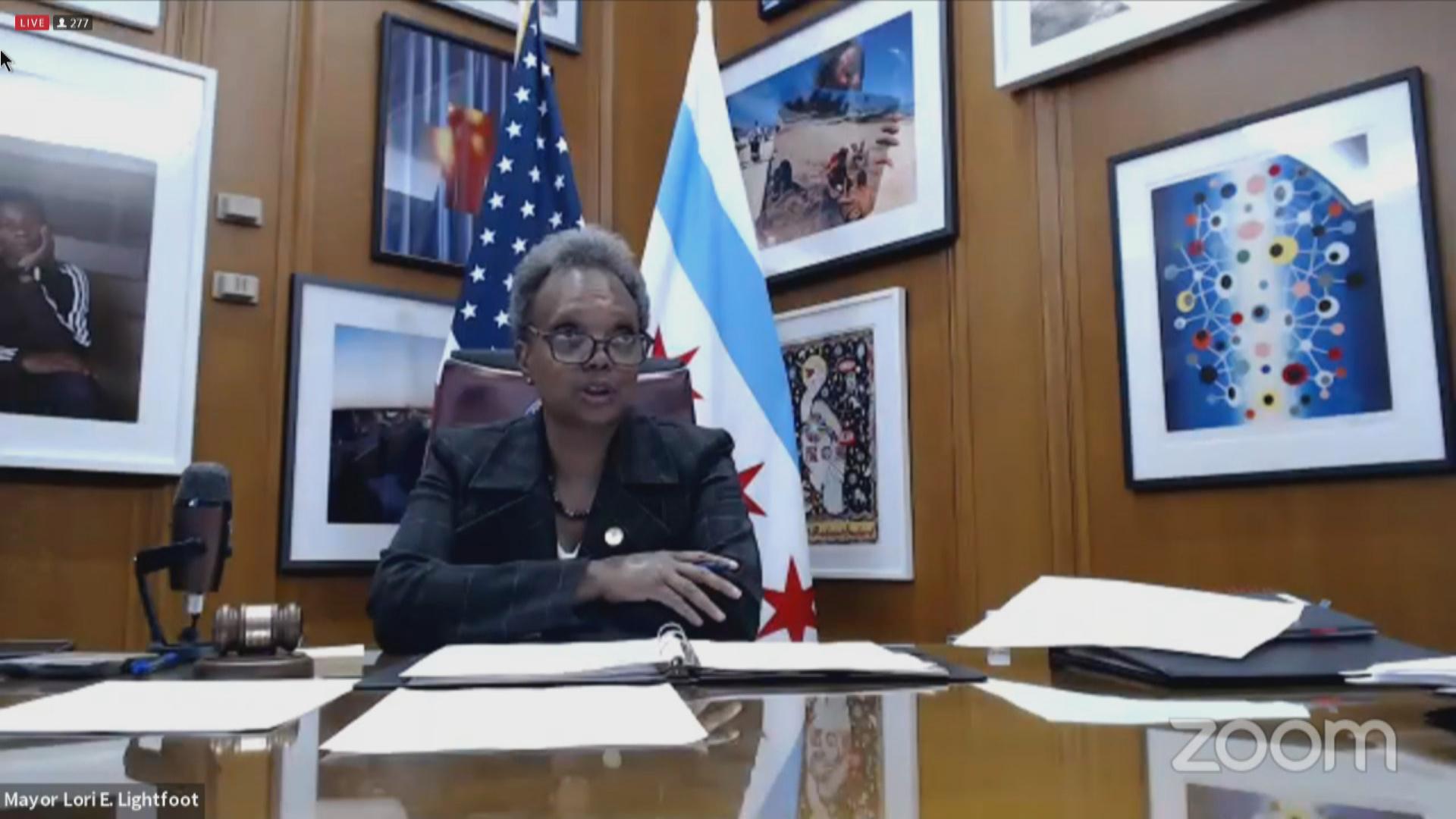 Mayor Lori Lightfoot speaks during a virtual Chicago City Council meeting on Monday, Nov. 16, 2020. (WTTW News via City of Chicago)
A trio of budget ordinances backed by progressive aldermen failed to advance Monday, as a fiscal watchdog warned that Mayor Lori Lightfoot's plan to borrow $15 million to avoid layoffs and refinance an additional $1.7 billion was potentially perilous.
Lightfoot's allies used a parliamentary procedure to send a measure to levy a $16 per month, per employee tax on logistics firms, including Amazon, Walmart and Target, to legislative purgatory. Supporters said it would add at least $5.76 million to the city's bottom line, and help close the city's $1.2 billion budget deficit in 2021.
In addition, mayoral allies blocked a measure authored by Ald. Rossana Rodriguez Sanchez (33rd Ward) that would take funds from the police budget to send mental health professionals to calls for help, rather than police. 
The mayor's budget proposal includes $1.3 million to test a program in two police districts that would dispatch a team of social workers, police officers and paramedics in response to calls for help involving someone experiencing a mental health crisis.
"Police should not and cannot be the first and only responders on every call for help," Lightfoot said, but cautioned that creating a new system would "take time" and require community input. "This is an important step forward."
However, Rodriguez Sanchez said armed officers should have no role in responding to calls for help from those in distress because of a mental health crisis.
Also stymied was a measure that sought to force the Chicago Police Department to close its Homan Square facility. Reports surfaced in 2015 that detainees were being abused regularly at the West Side facility.
All three measures, backed by the United Working Families political organization, are now mired in the City Council's Rules Committee, where it would take 26 votes to send them to a committee for a substantive hearing and vote. That is unlikely to happen by Nov. 24, when the City Council is scheduled to approve the 2021 spending plan.
After the City Council meeting, Lightfoot announced she would reallocate $10 million of the 2021 budget to violence prevention programs, bringing the total budget for those programs to $36 million.
A spokesperson for the mayor did not immediately respond to questions about where those funds were coming from and how they would be spent.
Lightfoot has resisted calls to reduce the Chicago Police Department's budget and fund social service programs designed to prevent crime and address its root causes. Those calls gained momentum after the death of George Floyd in Minneapolis police custody on May 25 caused a nationwide reckoning on police violence and systematic racism.
Lightfoot's announcement that she would increase spending on violence prevention programs came 48 hours after she dropped plans to lay off 350 employees to help balance the city's 2021 budget with $15 million in savings. Instead, the city will borrow against the projected increase in tax revenue from cannabis sales.
Lightfoot's moves are another acknowledgement that her spending plan is far short of the 26 votes it needs to pass the City Council, and comes after the mayor acknowledged Thursday she planned to link the upcoming budget vote with protections for immigrants and a tougher ban on situations in which Chicago police officers can cooperate with federal agents.
Lawrence Msall, the president of the Civic Federation, a nonpartisan fiscal watchdog, called the proposal to borrow against projected cannabis revenues shortsighted during Monday's public hearing on Chicago's 2021 budget.
The additional funds from cannabis sales would be better spent resolving the city's structural budget imbalance caused by increasing expenses and dropping revenues, Msall said.
In addition, an analysis by the Civic Federation questioned Lightfoot's plan to borrow an additional $1.7 billion to refinance existing city debt to save $450 million in 2020 and $501 million in 2021. That will return the city to the era of scoop and toss, a budget-stretching tactic reviled by fiscal watchdogs as a costly gimmick.
The plan means that it will take the city an additional eight years to pay off the debt — increasing interest costs and adding to the city's already large debt burden, Chicago officials said.
That plan "has the potential to cost taxpayers more in the long-term, and the city has not made public enough information to independently verify" that it will help the city weather the economic storm caused by the coronavirus pandemic, according to the federation's analysis.
Lightfoot acknowledged Monday that the refinancing plan carried "risk" — but said the city had few other options.
The city's projections rely on the expectation that the city will be able to refinance some of its existing debt at a significantly lower interest rate than the city is currently paying, according to Civic Federation analysis.
"There are zero easy choices here. None," Lightfoot said. "It's not ideal. But, it's the best choice we have under the circumstances."
Contact Heather Cherone: @HeatherCherone | (773) 569-1863 | hch[email protected]
---