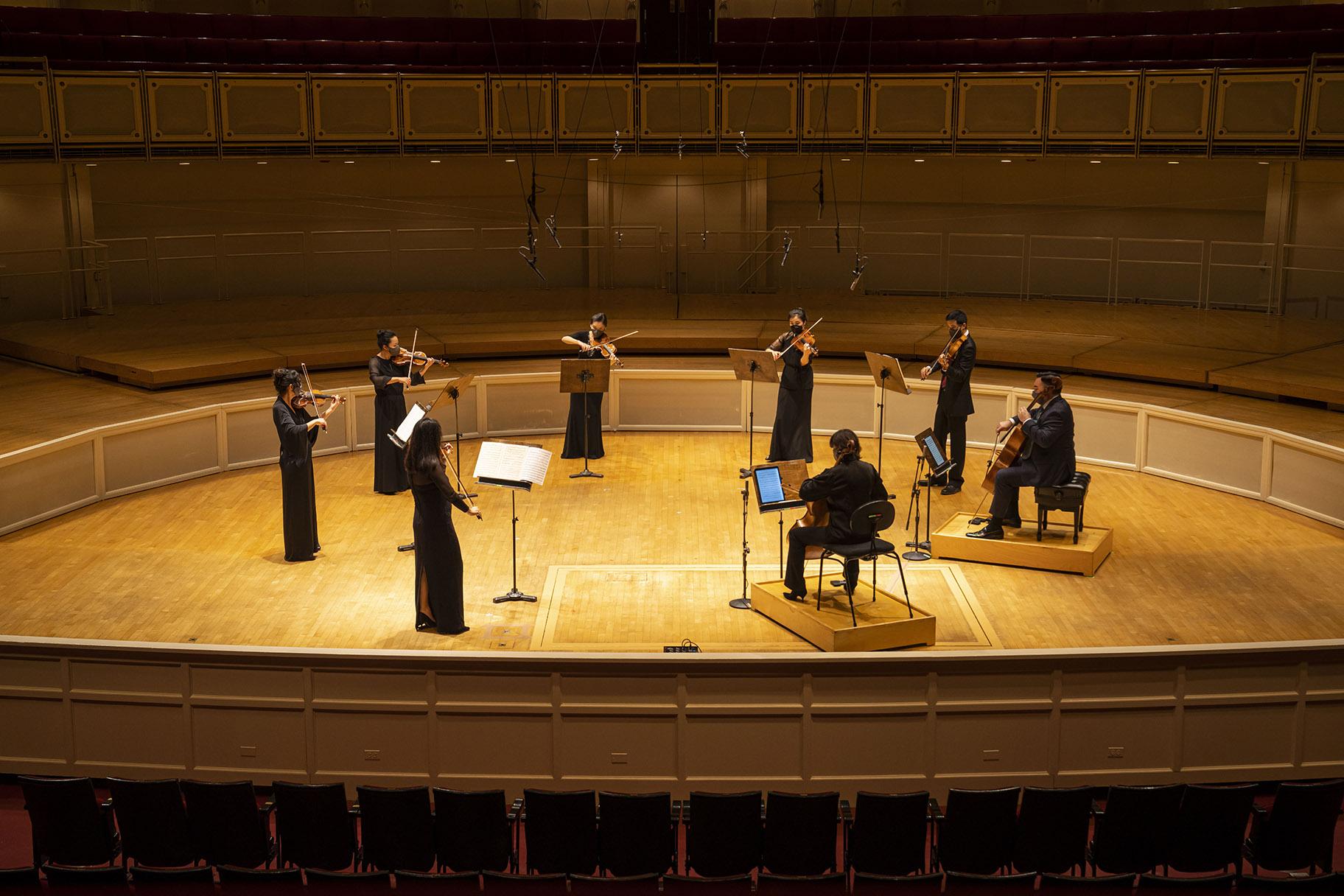 Pictured, clockwise: Assistant Concertmaster Yuan-Qing Yu; Gina DiBello, violin; Ni Mei, violin; So Young Bae, violin; Sunghee Choi, violin; Danny Lai, viola; Assistant Principal Cello Kenneth Olsen; Katinka Kleijn, cello. (Credit: Todd Rosenberg Photography)
The doors of Chicago's Symphony Center may be closed to its audiences until the pandemic has been conquered. But its stage is still very much alive — awash in beautiful sound thanks to the various chamber ensembles comprised of musicians of the Chicago Symphony Orchestra who are featured in the CSOtv Sessions project.
The digital series, which began in October, already is scheduled to run into January, and will no doubt become a continuing feature well into 2021. The programming for the series' on-demand, handsomely filmed, hi-def video recordings is ingenious, with deftly mixed and matched programs of both classics and less frequently heard contemporary works that showcase the virtuosity of the musicians and composers alike.
The most recent additions to the series — Episodes #6 and #7 — are exemplary. Here is a closer look at both:
#6 | Streaming now through Dec. 11
To begin, a question: What were you doing at the age of 16? Well, if you were Felix Mendelssohn, born into a prominent German-Jewish family in 1808 (with an older sister, Fanny, whose exceptional musical talents were quashed as a result of the social norms for women at the time), you would have published a piano concerto by the age of 13, and by 16 you would have composed the irresistibly exuberant and virtuosic "Octet in E Flat Major for Strings" that has all the force of a symphony.
The work, in four movements, opens with feverish energy as it thrillingly deploys the various voices of the strings. It then moves on to a sweetly lyrical calm marked by intriguing rhythmic shifts, proceeds to race into a ravishing, and at moments playful high-speed melodic section, and concludes with a stunning layering of the strings. It is is being performed here with such full-out bravura style — by Yuan-Qing Yu, Gina DiBello, Ni Mei and So Young Bae (violins), Sunghee Choi and Danny Lai (violas), and Kenneth Olsen and Katinka Kleijn (cellos) — that it feels as if a full orchestra is on stage.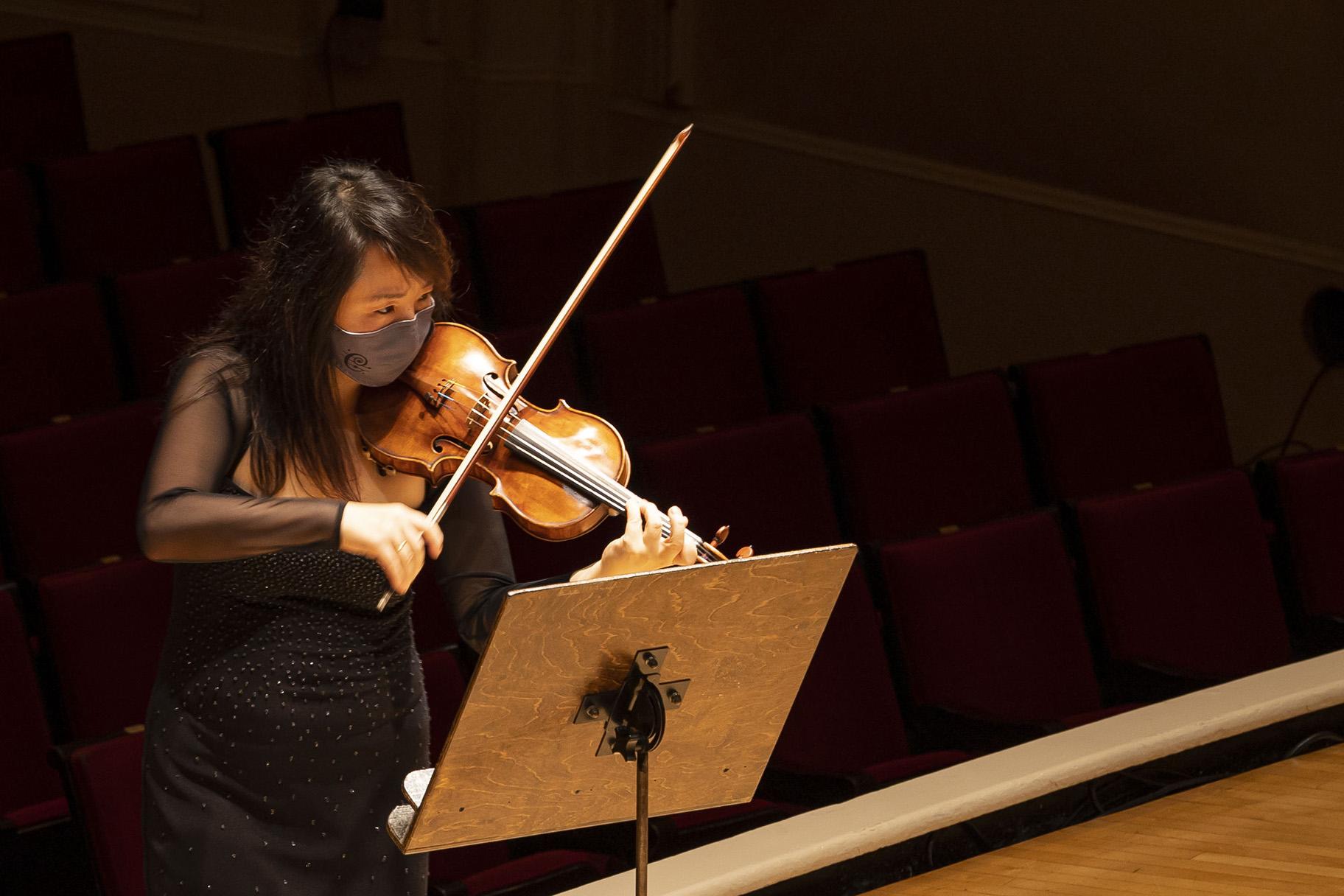 Assistant Concertmaster Yuan-Qing Yu (Credit: Todd Rosenberg Photography)
The two opening works on the program are intriguing in their own, quite different ways. First is Paola Prestini's "G-Force, for Mickey" for string quartet (Mei, DiBello, Lai and Olsen), with the always remarkable Cynthia Yeh wielding four mallets on vibraphone. Prestini, Italian-born and Brooklyn-based, conjures shifting moods and intensities of energy, from elegiac melancholy and anguish, to an astral aura, to surprising bursts of lyricism. The piece, composed as a tribute to the close friend named in the title, is a real mood-spinner and makes full use of each instrument's voice.
It is followed by Coleridge-Taylor Perkinson's String Quartet No. 1 ("Calvary"). The versatile African American composer, who served as music director of the Alvin Ailey American Dance Theater in New York, spent his final 14 years in Chicago, where he died in 2004. This quartet, scored for two violins (Bae and DiBello), viola (Lai) and cello (Kleijn), feels at once classic and modern, with the subtlest hints of the spiritual referred to in its title. And it shifts from a beautiful intensity, to a rhapsodic sweetness, to a passage of lyrical syncopation, with a lush layering of the strings that never fails to create a warm, singing quality.
#7 | Streaming now through Dec. 18
This program is devoted entirely to "The Soldier's Tale," composer Igor Stravinsky's ever-popular 1918 theatrical work originally designed "to be read, played and danced" by three actors and one (or several) dancers accompanied by a septet of musicians. The hourlong piece (with a libretto by the Swiss writer C.F. Ramuz), demonstrates once again that Stravinsky, whose earlier ballets included "The Firebird" (1910), and the groundbreaking "The Rite of Spring" (1913), not only possessed musical genius, but was a true man of the theater.
The work unfolds in two parts as it spins the story of the Faustian bargain into which Joseph, a penniless soldier headed home to see his mother and girlfriend, is seduced by a cleverly disguised Devil who tricks him into selling his fiddle in exchange for the promise of immense wealth. When he finally arrives home he discovers he is unrecognizable to all those he loves most, and in a state of despair heads out on the lonely road, realizing that material wealth is worthless. Along the way he learns that a king's daughter is dying, and whoever can save the princess will be allowed to marry her. Joseph must again outsmart the Devil, but despite bringing the princess back to life as she dances to the sound of his fiddle, things do not end as he had hoped. The moral of the story? "No one can have it all."
As Erina Yashima (assistant conductor of the Philadelphia Orchestra and former Sir Georg Solti Conducting Apprentice with the CSO) explains in her introduction to the performance, Stravinsky wrote "The Soldier's Tale" during the period of the Spanish flu epidemic and at a time of financial problems, so it feels uncannily timely now. And while it features the full complement of six superb musicians — Robert Chen (violin), Alexander Hanna (viola), John Bruce Yeh (clarinet), Keith Buncke (bassoon), John Hagstrom (trumpet), Michael Mulcahy (trombone) and Cynthia Yeh (percussion) — there are no dancers. And most notable of all there is only a single actor — James Earl Jones II — who plays all the roles, including Joseph, the Devil (in his many guises), and the Narrator.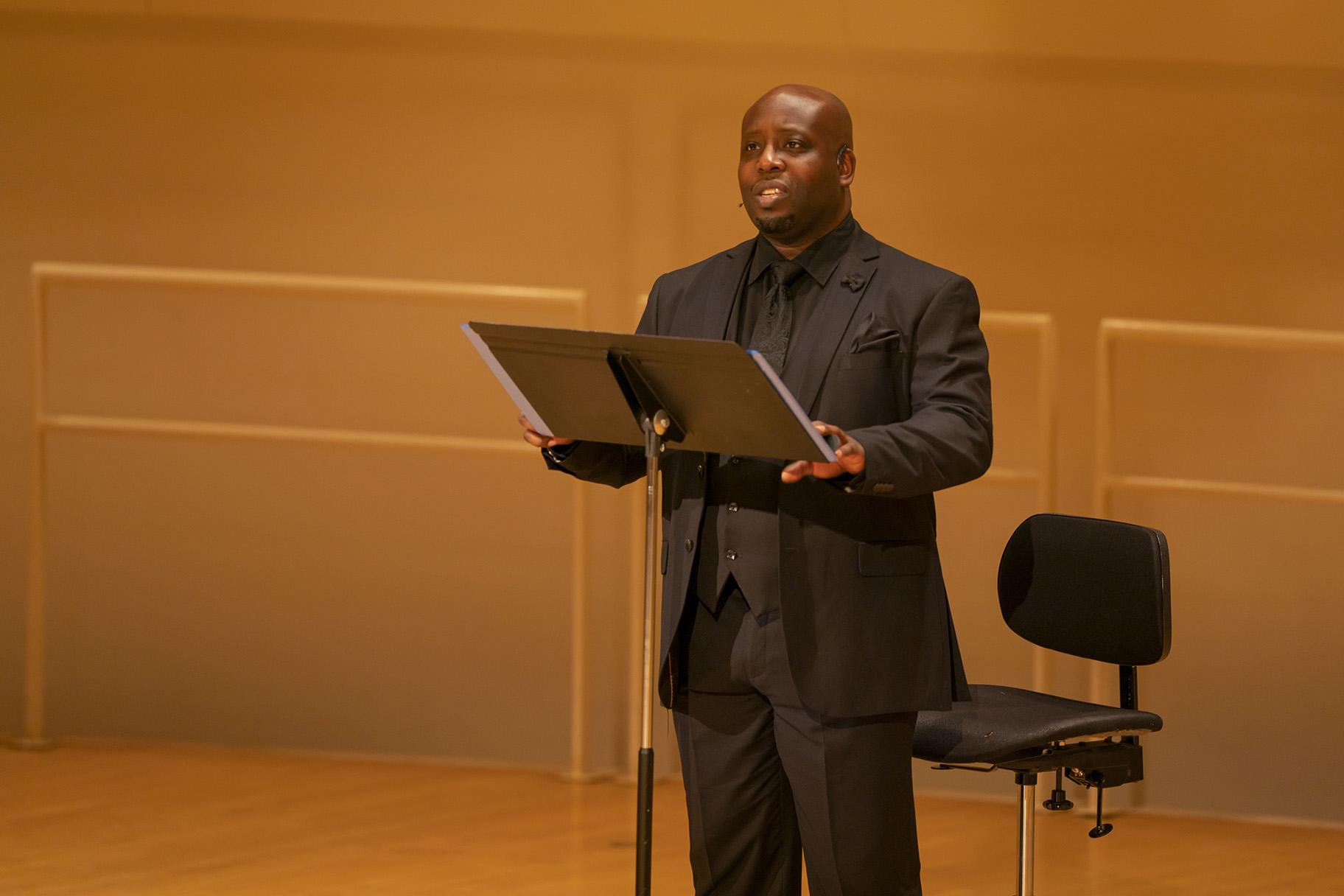 James Earl Jones II. (Credit: Todd Rosenberg Photography)
Jones (a distant relative of the actor with whom he shares his name) has performed in countless Chicago theaters, in opera ("Porgy and Bess"), and was part of the national touring company of the musical "Come From Away." But this is a wholly new challenge, and he does a sensational job, using his wonderfully flexible and mellifluous speaking voice, several different accents, and impeccable musical phrasing and diction to make each character spring vividly to life. Jones' speech is at one with the score — from the catchy theme of the Soldier's March, to the mournful Pastorale when all is lost, to the Devil's many personae. And a dancer is not even needed here simply because along with the music, he suggests the absolutely seductive moves of the princess by the use of his voice, and in the process almost renders her visible.
---
Here is the newly announced roster of programs in the CSOtv Sessions series that will premiere throughout December:
Episode #8 | Streaming Dec. 3, 2020 — Jan. 1, 2021
This multifaceted lineup will include works by two Pulitzer Prize-winning composers — Joan Tower's 1987 "Fanfare for the Uncommon Woman, No. 1," that riffs on the Aaron Copland classic, "Fanfare for the Common Man," is similarly scored for brass and percussion, and is dedicated to conductor Marin Alsop, and George Walker's "Lyric for Strings," that was performed by the CSO in 2018, with Maestro Riccardo Muti conducting. Also on the bill will be "The Chimney of King Rene," a wind quintet by Darius Milhaud that pays homage to that mid-20th century French composer's homeland in the south of France, as well as "Serenade for Strings," Tchaikovsky's rapturous 1880 work for a large string ensemble.
Episode #9 | Streaming Dec. 10, 2020 — Jan. 8, 2021
With an overall title of "A Little Night Music," this entry in the series will include performances of Dvorak's "Serenade in D Minor," a work in four movements for winds, cello and bass; "Death Valley Junction," a work by the CSO's Mead Composer-in-Residence Missy Mazzoli inspired by the fascinating true story of the survival of an opera house located in something of a ghost town on the California/Nevada border; and Mozart's ever popular work for strings, "Eine Kleine Nachtmusik."
Episode #10: | Streaming Dec. 17, 2020 — Jan. 15, 2021
Titled "Home for the Holidays," this concert will feature sounds of the season including Corelli's "Christmas Concerto" and J.S. Bach's "Brandenburg Concerto No. 2," along with Baroque music and other festive selections arranged for brass quintet and performed by members of the CSO's brass section.
For tickets visit cso.org/tv.
One final note: The Chicago Symphony Orchestra Association (CSOA), which oversees both the CSO and all the additional programming at Symphony Center, held its annual meeting (in virtual form, of course) on Nov. 10. And despite the devastating fallout from the pandemic, and the fact that since March 11 all activity with a "live" audience had to be canceled, the overall tone was surprisingly upbeat. There also was praise for the many virtual efforts that have been initiated in the interim.
Among the notable statistics for the truncated season's fiscal year that ran from July 1, 2019 to June 30, 2020 was the fact that there was record-breaking ticket revenue for Symphony Center presentations up until the shutdown of the theater on March 11. In addition, there were gifts from 13,000 individuals, along with philanthropic support from foundations, government agencies and corporate partners for a total of $25.7 million, with revenue from ticket sales, operations and contributions totaling $62.9 million.
Not surprisingly, wages for all CSOA employees, including musicians and staff, did have to be modified in the final months of the fiscal year as part of overall efforts to mitigate the significant losses resulting from the pandemic. The initial 20% in reduction of wages for the musicians was further adjusted to a 40% wage reduction as of September. But all employee benefits have been retained without interruption.
Follow Hedy Weiss on Twitter: @HedyWeissCritic
---