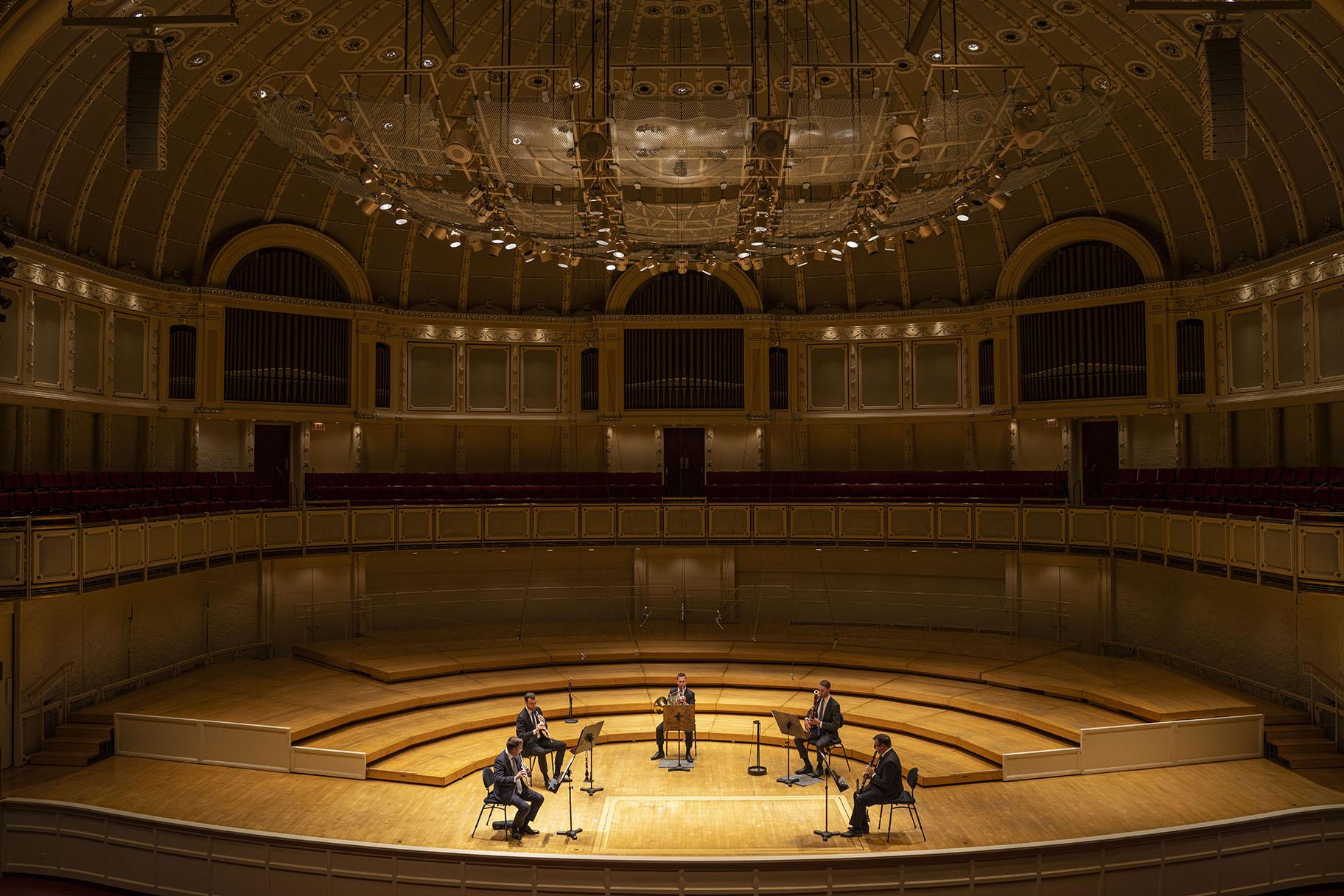 From left: CSO Principal Flute Stefán Ragnar Höskuldsson, CSO Principal Oboe William Welter, CSO Principal Horn David Cooper, CSO Principal Bassoon Keith Buncke, CSO Principal Clarinet Stephen Williamson. (Credit: Todd Rosenberg Photography)
The Chicago Symphony Orchestra's season has been officially canceled through at least March 31, and no one can yet guess when it might return to "normal," with full-scale performances in front of an actual audience in Orchestra Hall.
But, as the saying goes, "adversity is the mother of invention." And the CSO's newly devised CSO Sessions programming provides ample proof of the veracity of that maxim with its initial series of five on-demand, beautifully filmed, high definition video recordings of chamber music concerts — each featuring musicians from the CSO playing in socially distanced configurations on the Orchestra Hall stage — a sheer delight. So, too, are the brief but engaging introductions to the pieces given by one or more of the players. And while there is no applause to be heard for these performances, the impulse to stand and cheer from home is irresistible.
The series' eclectic programs (of which I've watched the first three), serve as a reminder of how every one of the musicians in the CSO is a virtuoso in his or her own right even if in "normal times" they willingly devote that virtuosity to the communal brilliance of a grand-scale orchestral sound. The project also suggests how hungry these musicians are to flex their muscles on a real stage (rather than recording it via Zoom from their living rooms), even if a live audience is not in place.
The repertory for the Sessions, which includes everything from a duet to an octet, was curated by Cristina Rocca, the CSO's VP for Artistic Planning, in collaboration with Maestro Riccardo Muti (still unable to leave Italy), and in consultation with the musicians. The result is a fine cross-section of classics both familiar and rarely heard, as well as several contemporary pieces.
And there is this: These virtual concerts allow you to see the musicians up close when ordinarily they are partly hidden in the mass assembly of the full orchestra. The string players wear masks throughout, which no doubt is quite a challenge given that their playing is an intensely physical as well as technical and emotional process. The wind and brass musicians must be unmasked of course, with breath the very essence of their music-making. All in all, these concerts are a vivid reminder of the fact that a symphony orchestra is one of the most extraordinary examples of interactive human endeavor, and one that is the very antithesis of social distancing.
Until life returns to normal I hope this Sessions series will continue to grow, and perhaps might even become a permanent post-pandemic feature of the CSO's annual seasons.
But now, to the music.
Episode 1 (running through Oct. 30), begins with a rip-roaring woodwind quintet performing "Three Preludes" by George Gershwin, arranged by William Hoyt. From a rapid-fire opening segment, to the ever seductive jazzy echoes of "Rhapsody in Blue," to a fleet finale, the musicians (Stephen Williamson on clarinet, along with Stefan Ragnar Hoskuldsson on flute, William Welter on oboe, Keith Buncke on bassoon and David Cooper on French horn), are in top form. Speed is of the essence in the next work, too — tango master Astor Piazzola's "Fuga Misterio" (from "Maria de Buenos Aires"), a fast and furious and very difficult piece to play.
Next on the bill are two duets — "Bachianas Brasileiras, No. 6," by Villa-Lobos, with a birdlike, sometimes agitated line for flute (Jennifer Gunn) complemented by the more mellow and sonorous bassoon (William Buchman). Gunn and Buchman pair again for the final movement of French composer Pierre Gabaye's urbane, playful "Sonatine." And closing the program is Danish composer Carl Nielsen's 1922 "Wind Quintet," with its wonderful evocation of nature (including a power play between a bullfrog and insect), and its winning exploration of the expressive nature of each instrument.
Episode 2 (running through Nov. 6), begins with an exhilarating performance of Mozart's "Serenade for Winds in E-flat Major," an octet featuring Stephen Williamson and Bruce John Yeh (clarinets), William Welter and Lora Schaefer (oboes), Keith Buncke and Dennis Michel (bassoons), and David Cooper and James Smelser (horns). The piece opens with a lyrical pronouncement of subtle beauty, and then moves on to an easily elegant minuet, an adagio section of both tranquility and joy, another lovely minuet variation, and finally a rapid-fire, almost impish dancelike celebration.
From left: CSO Concertmaster Robert Chen, CSO Associate Concertmaster Stephanie Jeong, CSO Principal Cello John Sharp, CSO Assistant Principal Cello Kenneth Olsen, CSO Viola Lawrence Neuman and CSO Viola Wei-Ting Kuo. (Credit: Todd Rosenberg Photography)
The other half of the program features a thrilling performance of Tchaikovsky's richly melodic "Souvenir de Florence in D Major," a work that brings to mind the phenomenon known as "the Stendhal syndrome" — a sort of ecstatic response to the beauty of the Italian city of the title. But along with all the richly romantic heat and stormy passion generated by the composer's visit to Florence there also is the sound of the composer's roots by way of his use of Russian folk dance themes. The superb ensemble here features Concertmaster Robert Chen and Associate Concertmaster Stephanie Jeong on violin, John Sharp and Kenneth Olsen on cello and Lawrence Neuman and Wei-Ting Kuo on viola.
Episode 3 (running through Nov. 13), opens with Stravinsky's neoclassical "Octet" (an unusual mix of winds and brass dating from 1922, whose neoclassical style marks quite a shift from his explosive 1914 score, "The Rite of Spring"). Next it's on to a stirring work for two violins, "Sonata No. 3 in A Major," by Joseph Bologne, Chevalier de Saint-Georges (the first known classical composer of African ancestry, who was born in the French colony of Guadalupe, the son of a Senegalese slave mother and a plantation owner, and who became a star in Paris around the time of the French Revolution). The concert culminates with Dvorak's sweepingly melodic "String Sextet in A Major."
As master clarinetist John Bruce Yeh explains, Stravinsky drew on a dream about snakes for the "Octet," with the slithery, stealthy movements of the serpents subtly suggested throughout this work that deftly plays with the theatrical "voices" of the instruments and ends on quite an effervescent note. Joining Yeh are Hoskuldsson (flute), William Buchman and Miles Maner (bassoons), Mark Ridenour and John Hagstrom (trumpets), Jay Friedman (trumpet) and Charles Vernon (bass trombone).
The Saint-Georges "Sonata" is a terrific showcase for violinists Matous and Simon Michal, the Czech-born brothers whose virtuosity, golden tone and synchronicity are fully on display in this work that is notable for its rich melody, lyrical riffs and furious energy.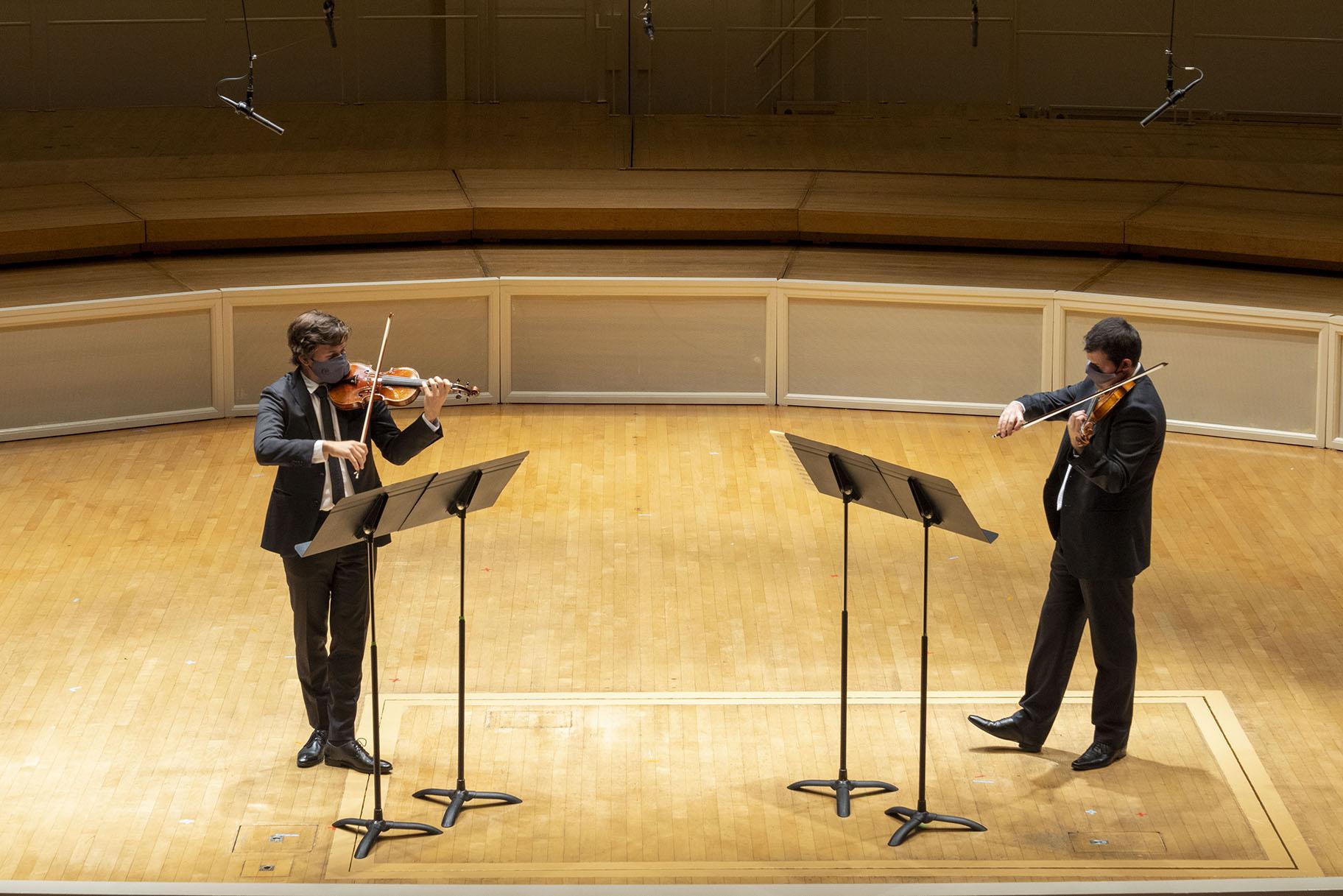 Matous Michal, left, and Simon Michal performing the Joseph Bologne duo featured in Episode 3. (Credit: Todd Rosenberg Photography)
The Dvorak "Sextet" brings the Michal brothers back to the stage along with violists Wejing Wang and Catherine Brubaker and cellists Richard Hirschl and Karen Basrak. And, as always, the Czech composer's sense of sweeping motion, richly romantic melody, and easily shifting moods is evident throughout — alternately elegiac and exuberant, and with a whirlwind finale.
The two final CSO Sessions concerts in this inaugural series will be:
Episode 4 (Oct. 22 - Nov. 20), includes Mozart's "String Quintet in C Minor" and Pulitzer Prize-winning contemporary composer Caroline Shaw's "Boris Kerner" (the piece takes its name from the Moscow-born, German-based traffic theorist, and features the always adventurous percussionist Cynthia Yeh on flower pots and Kenneth Olsen on cello). Brahms' "String Quintet" No. 2 in G Major is the icing on the cake.
Episode 5 (Oct. 29 - Nov. 27), will feature Rossini's "Sonata No. 6 in D Major for String Orchestra," along with "Music for Brass Instruments," a work by the 20th century German-born American composer Ingolf Dahl, and Prokofiev's "Suite from 'Romeo and Juliet,'" arranged for a wind ensemble.
Tickets are $15 per concert with 20% discounts if you sign up for three or more episodes. For details about all this and additional programming visit www.cso.org.
One final note: Mark your calendar for the evening of Oct. 24. That's when the CSO will host "An Evening at Home With the CSO," a digital musical celebration and fundraising event featuring a free concert (although donations are welcome). For details visit http://cso.org/soundsofcelebration.
Follow Hedy Weiss on Twitter: @HedyWeissCritic
---