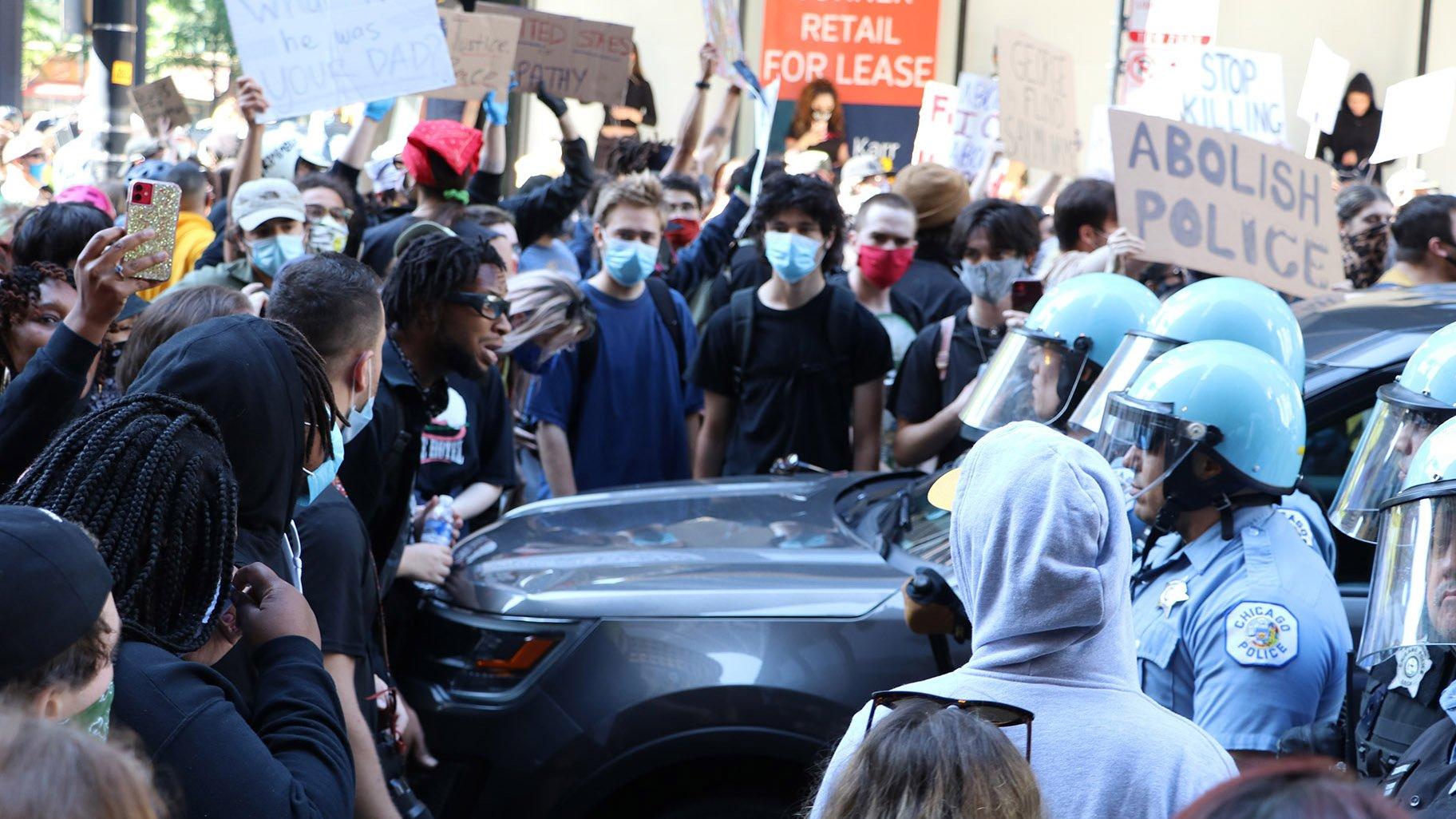 Protesters and police officers wearing riot gear have a standoff near Daley Plaza on Saturday, May 30, 2020. (Evan Garcia / WTTW News)
Scores of protesters who say they were verbally and physically assaulted by Chicago police during waves of summer protests and unrest following the killing of George Floyd have filed a federal lawsuit against the city, alleging its response was "violent and unconstitutional."
The suit, which names the city, Police Superintendent David Brown and several officers as defendants, was filed Thursday on behalf of 60 protesters who claimed police used "unconstitutional tactics that are clearly intended to injure, silence, and intimidate."
"CPD officers' animus against Plaintiffs and other protesters is unmistakable — they regularly called protesters vile and vulgar names, often using misogynistic and homophobic words," the complaint states. "Officers were also aggressive, rude, disrespectful, and often affirmatively escalated encounters through taunts, shoves, pushes, and other inappropriate behavior at these protests."
One of the plaintiffs is Miracle Boyd, an 18-year-old activist who made headlines in July when she allegedly had a tooth knocked out after being punched in the mouth by a police officer during a protest near the Christopher Columbus statue in Grant Park.
Several other plaintiffs recounted similar incidents in the lawsuit.
Luis Aldair Rafael-Nietes, 25, claimed in the complaint he was at that same protest when he approached an officer he saw punching a protester who was pinned to the ground under a bicycle. When he bent over the protester, an unknown officer allegedly used a "white colored pipe" to strike Rafael-Nietes, causing blood to pour down his face.
Malcolm London, 27, alleged that during a May 31 protest in Hyde Park, officers struck him in his head and body with their batons without provocation following a tense standoff between police and protesters at 53rd Street near South Lake Park Avenue.
Kathy Fieweger, a spokeswoman for the city's Law Department, said Thursday her office had not yet been served with a copy of the lawsuit. But, she added, "it is important to remember that these are allegations at this stage and not proof. We will review the complaint thoroughly, and each allegation it contains, once we have been served and respond through the courts as appropriate."
Another plaintiff is 30-year-old Elizia Artis, a Black woman who attended a May 30 protest in downtown Chicago, where she claimed she was beaten by an officer after she threw her body over another woman to protect her on the ground as police used shields and batons to push protesters back.
Artis was one of the dozens of protesters who recounted their experiences during August listening sessions organized by consent decree independent monitor Maggie Hickey and federal Judge Robert Dow.
"This was the first time I heard myself make a sound I can only describe as a combination of shock, fear and gurgling pain," Artis said during one of those sessions as she described what she felt during the beating.
The plaintiffs argued these "systemic and ongoing violations continue to occur" despite the fact the consent decree — which brought federal oversight to the CPD — has been in place for well over a year.
"CPD's documented failure to comply with the Consent Decree deadlines coupled with its consistently illegal and violent response to the summer 2020 protests demonstrate that the Consent Decree has entirely failed to create any meaningful change in the CPD," the complaint states.
Contact Matt Masterson: @ByMattMasterson | [email protected] | (773) 509-5431
---