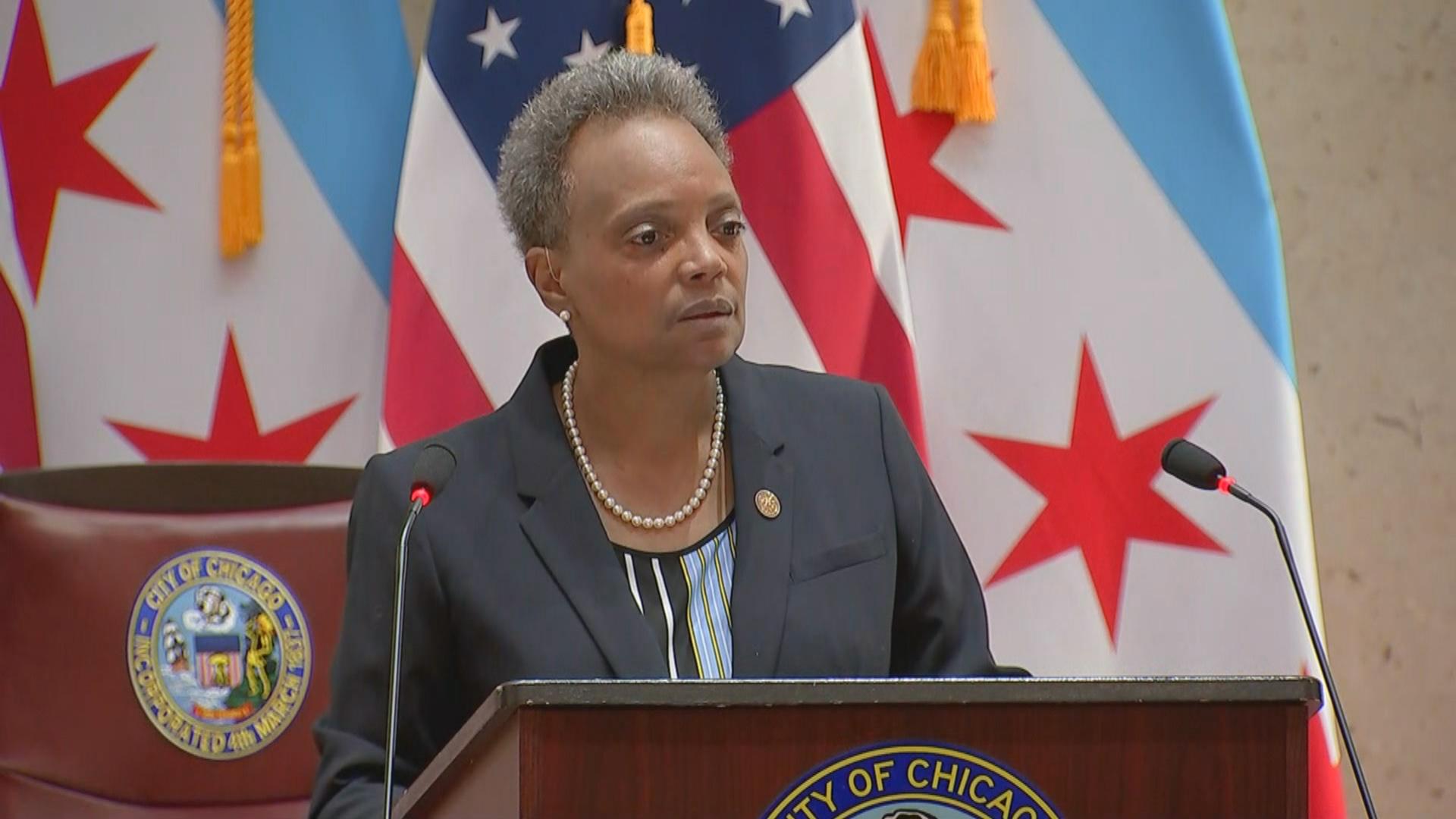 Mayor Lori Lightfoot delivers her budget address on Wednesday, Oct. 21, 2020. (WTTW News)
Mayor Lori Lightfoot announced Saturday she would drop her plan to lay off 350 employees to help balance the city's 2021 budget after her proposal smacked into a brick wall of opposition from many aldermen, including some of her own allies.
Lightfoot announced the change 10 days before the Chicago City Council is scheduled to vote on her plan to close a projected $1.2 billion budget gap in 2021, which also calls for a $93.9 million property tax hike and borrows an additional $1.7 billion to refinance existing city debt.
The mayor announced the change in a joint statement with Chicago Federation of Labor President Bob Reiter.
"This will ensure Chicago's public workers, the backbone of our neighborhoods, maintain their jobs and health insurance while also protecting the critical services Chicagoans rely on during these unprecedented times," according to the statement.
Lightfoot's move is another acknowledgement that her spending plan is far short of the 26 votes it needs to pass the City Council, and comes after the mayor acknowledged Thursday she planned to link the upcoming budget vote with protections for immigrants and a tougher ban on situations in which Chicago police officers can cooperate with federal agents.
Lightfoot's original budget plan called for the city to save $15 million by laying off 350 employees in March and ordering all non-union employees to take a five-day unpaid furlough. Lightfoot said those layoffs and furloughs could be averted if the federal government approves a relief package for states and cities.
Non-union employees earning more than $100,000 will still be forced to take a five-day furlough, officials said. Originally, the plan called for non-union employees who earn more than $50,000 to be furloughed, officials said.
During the budget hearings, Ald. Susan Sadlowski Garza (10th Ward) said she could not vote for a budget that laid people off during a raging pandemic. An ally of the mayor's, Sadlowski Garza is the chair of the Workforce Development Committee.
Members of the city's Progressive, Latino and Black Caucus also objected to the layoffs.
Instead of laying off workers, the city will borrow $15 million, to be paid back with tax revenue the city expects to get from soaring sales of cannabis, said Chief Financial Officer Jennie Huang Bennett.
Statewide, sales of cannabis hit $100 million in October, topping $800 million in the first 10 months after state officials legalized the sale of the drug.
The city is likely to pay 3.25% interest on that borrowing, Huang Bennett said.
The additional borrowing will add to Chicago's debt burden, already among the highest in the nation. In 2021, the city will spend $561.8 million to cover the interest on its general obligation debt, according to Lightfoot's budget proposal.
Although Lightfoot pledged on Saturday to keep negotiating with the Chicago Federation of Labor, her team dismissed a proposal from the group released Tuesday that union officials said would save up to $272 million.
Throughout more than two weeks of budget hearings, aldermen pleaded for other options — but found their requests stymied by the fact that the city has few options during what Lightfoot has called the "most challenging budget in Chicago's history."
Lightfoot's proposed budget — which is set for a public hearing on Monday — would also raise the gas tax by 3 cents and increase the lease tax on computers and servers to 9% to generate $25 million in new revenue.
Contact Heather Cherone: @HeatherCherone | (773) 569-1863 | [email protected]
---