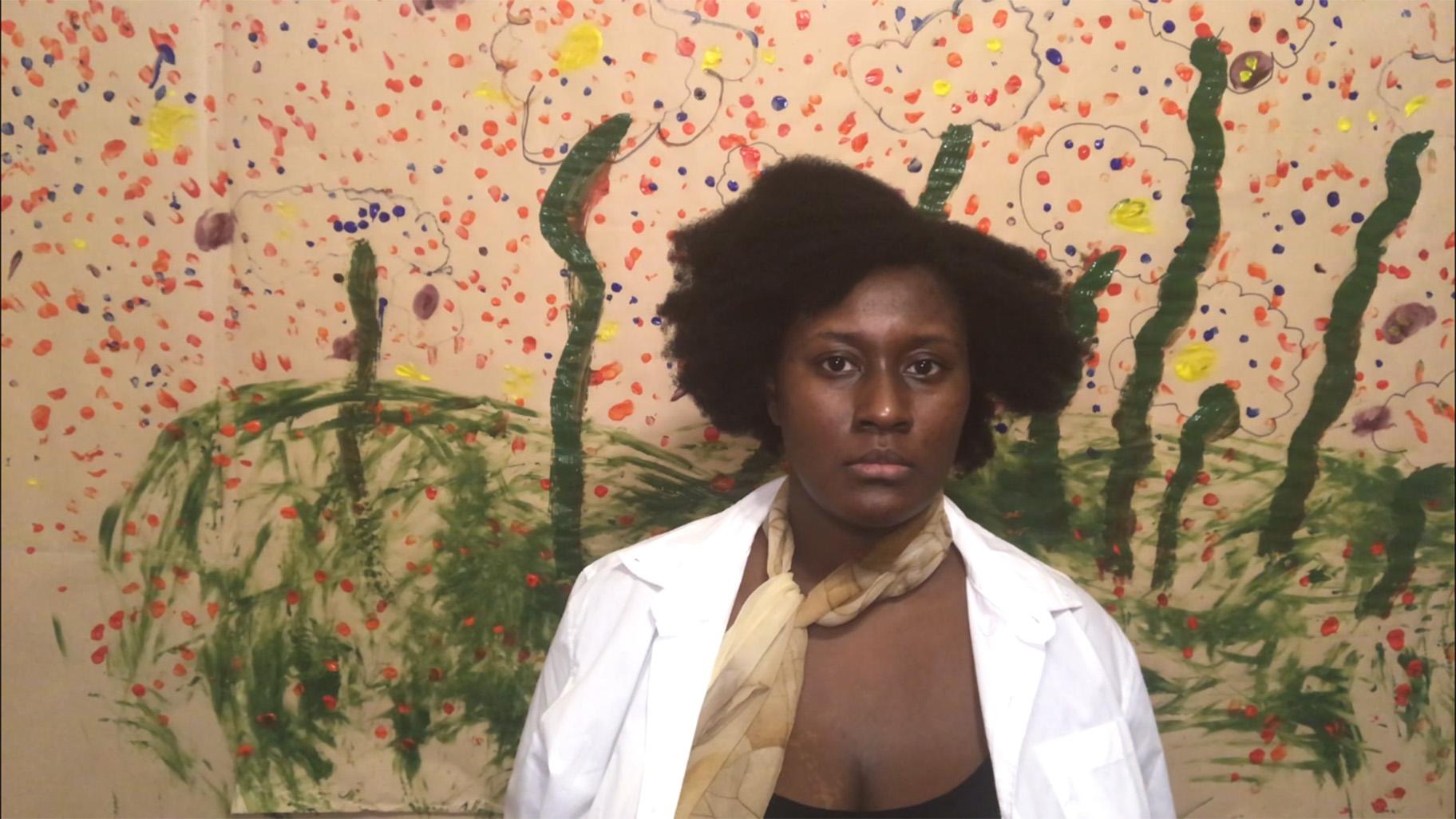 Hilary Asare in a play about Lady Bird Johnson, in the world premiere of "45 Plays for America's First Ladies." (Courtesy of The Neo-Futurists)
They did not suffer some of the more extreme fates of the six wives of England's King Henry VIII as portrayed so winningly in the recent musical, "Six" ("divorced, beheaded, died, divorced, beheaded, survived" as that show's sequential list explains).
But the women who have stood alongside the presidents of the United States (including wives, mistresses, stand-in family members and others) were variously enslaved and enslaving, driven to depression and madness, ignored and betrayed, left alone to mourn the deaths of their children, and, more often than not, wholly undervalued for their talent, intelligence or sheer fortitude.
This is the undeniable takeaway from "45 Plays for America's First Ladies," a 100-minute world premiere collage and virtual chronicle created by the Neo-Futurists, the company of writer-directors that was established in Chicago in 1988, and now has branches in New York and San Francisco. The Neos, who began practicing the art of edgy theatrical concision almost two decades before the launch of Twitter, continue to bring that aesthetic to this production — a work that serves as a companion piece to "43 Plays for 43 Presidents" which was first produced in 2004 in the company's loft space on Ashland and Foster, and which in many ways remains the company's most memorable show.
Of course, in taking the necessary "virtual route," things change. But writers Andy Bayiates, Bilal Dardai, Genevra Gallo-Bayiates, Sharon Greene and Chloe Johnston (all Neo alums), along with director Denise Yvette Serne and a cast of six actors whip their way through 45 wildly uneven playlets ranging in length from about 40 seconds to four minutes. And in the process they suggest the often deeply unhappy, dysfunctional, sometimes subtly rebellious and more often frequently thwarted parade of America's first ladies — women who had to stand by their man in the face of an imperfect union whether personal and/or political, in the White House or in the wider world.
The show gets off to an overly high-pitched, punkish start, but then settles down, yet overall it could use some more sharply defined historical and political context.
Yes, we are told that Martha Washington "loved slavery"; that Abigail Adams was a class act often left alone as her husband dealt with big issues; that Thomas Jefferson kept his mistress, Sally Hemings, enslaved, and impregnated her when she was 15; that Dolley Madison was a beauty and quite the hostess, and had the White House rebuilt by slaves after it was burnt down by the British in the War of 1812.
And we hear about Andrew Jackson's wife, Rachel, who died at the moment of his election and was replaced by two relatives who served as his hostesses; about Angelica Van Buren who "acted like she was royalty"; and about the strong, self-reliant Anna Harrison who had just 30 days as a first lady because her husband died a month after assuming the job. And the list goes on until we get to the Civil War and Mary Todd Lincoln, who lived through the deaths of her mother, brothers and children, and the assassination of her husband, and who, along the way, spent time in a mental institution. We also are reminded of the fact that up until this moment 10 of the 16 first ladies had "owned another human being."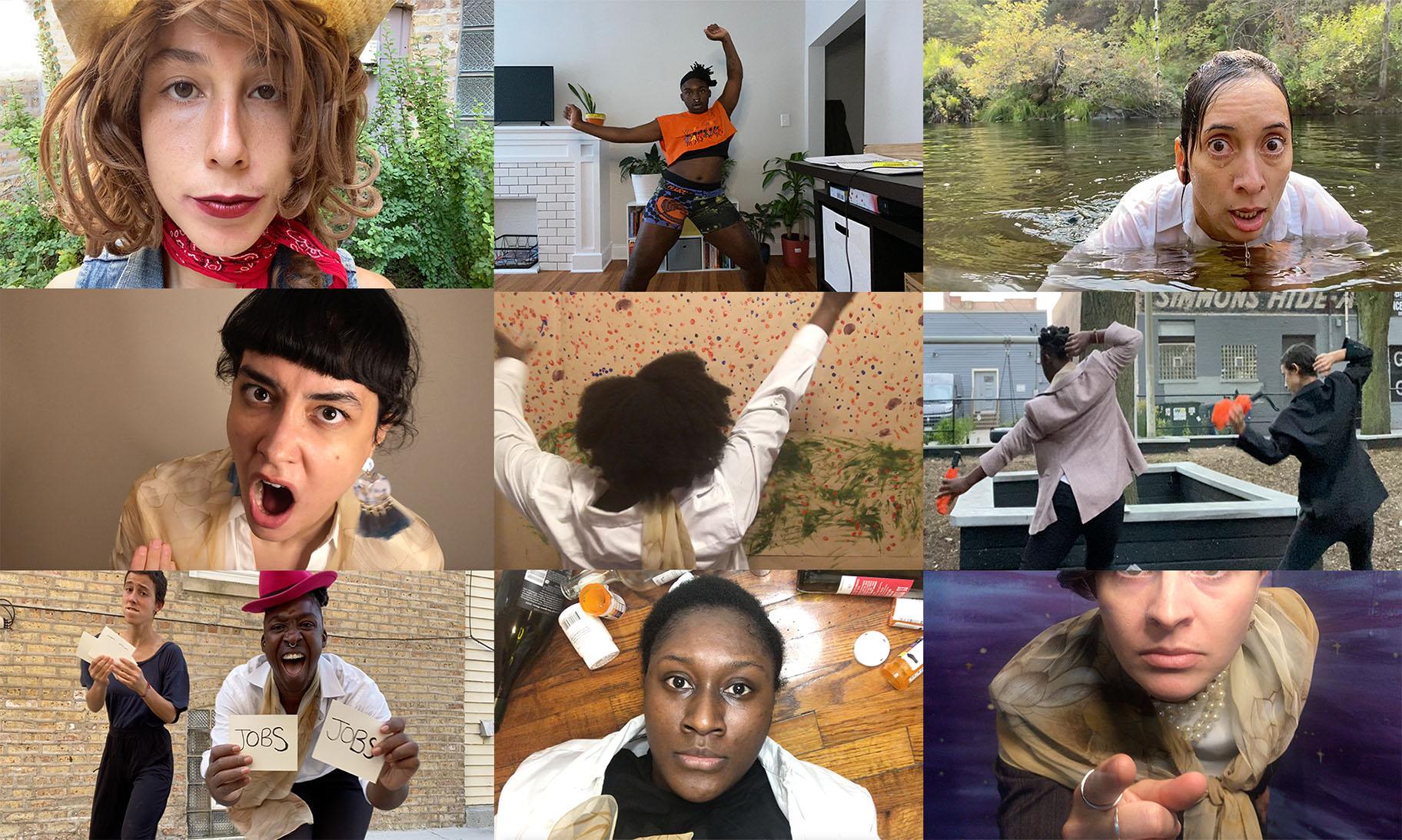 A collage of scenes from the world premiere of "45 Plays for America's First Ladies." (Courtesy of The Neo-Futurists)
Gradually we begin to hear faint echoes of the wives who supported the suffragist movement (or didn't). There was Edith Roosevelt (wife of Theodore) who hired her own staff, and Nelly Taft, who loved gardening, and Edith Wilson, Woodrow's second wife, who carefully (and controversially) concealed the fact that her husband was unfit for office after he suffered a stroke and who essentially ran the executive branch of the government for the final 18 months of his presidency.
We are told that Herbert Hoover's wife, Julia, an academic, athlete, philanthropist and nurse, was underestimated and called "aloof," and that she said "men fail and we get forgotten." Her husband's term culminated with the Great Depression.
Then came Eleanor Roosevelt, unquestionably the most formidable, influential and longest serving of all first ladies, and a fearless force for change. Her marriage to FDR may have been unsteady, to say the least, but she became a fervent voice for human rights and a great deal more. Sadly, she is given terribly short shrift in this show.
Eleanor was followed by the decidedly unimpressive Bess Truman, and by Mamie Eisenhower, described as "an advocate for conformity."
A more modern model of the first lady arrived in the form of the glamorous and cultured Jackie Kennedy, whose tenure was cut short by JFK's assassination, an event that is barely noted. Then came Lady Bird Johnson, whose success as a businesswoman is overlooked, and who is recalled here only for her Highway Beautification Project and the fact that the Vietnam War became the major marker of her husband's tenure.
Pat Nixon's turn as first lady marked a return to an earlier time. Betty Ford boldly opened up about her problems with alcohol and breast cancer. Roslyn Carter was the Southern lady of substance and restraint. She was followed by Nancy Reagan, who vigorously protected her husband and famously championed the "Just say no" anti-drug campaign; and Barbara Bush, the "rich New Englander" who preferred to stay out of politics.
And then there was Hillary Clinton who was demonized from every direction and described as "holding decades of dreams inside." Of course she also was the woman who would go on get "this close" to becoming the first woman to become president of the U.S.
Hillary was followed by first lady Laura Bush, a teacher and librarian who didn't try to guide her husband's policies and, apart from him, earned her own strong approval ratings.
About Michelle Obama, alternately called "authentic and down to earth" and "uppity," she had a doubly complicated task as the first Black first lady. She is described as having "found a prince" and is credited mostly for working to fight childhood obesity. As for her successor, Melania Trump, she is described as "complicit" and otherwise left pretty much as a blank.
The conclusion to be reached from all this is hardly surprising. It is simply that being first lady is one of the more thankless of "jobs." And you are left to only imagine how the "first man" might handle the gig if that day ever arrives.
"45 Plays for America's First Ladies" will fittingly stream through election eve (Nov. 2). For tickets (which start at $15), and other details, visit www.neofuturists.org.
Follow Hedy Weiss on Twitter: @HedyWeissCritic
---