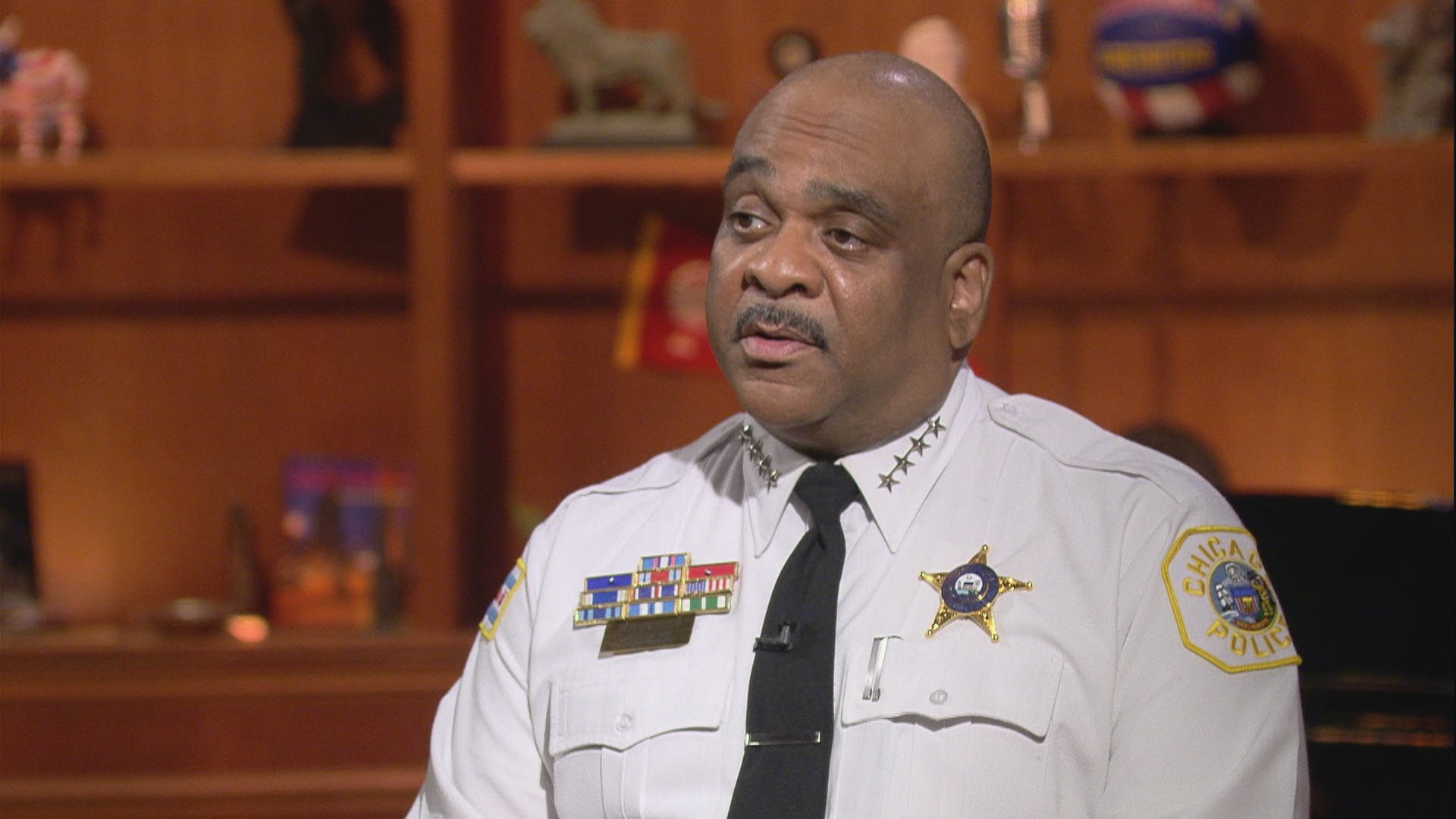 Chicago Police Superintendent Eddie Johnson appears on "Chicago Tonight" on Aug. 9, 2018.
A female police officer is accusing former Chicago police Superintendent Eddie Johnson of sexual assault, claiming he engaged in "shockingly violent, abusive, and harassing conduct" toward her in a new lawsuit.
Cynthia Donald, who filed the lawsuit Wednesday in Cook County Court, claimed that for more than three years, she was subjected to "unwanted and uninvited sexual advances" from Johnson inside his office at CPD headquarters where Donald was also assigned.
According to the complaint, Johnson forcibly kissed and touched Donald, forced her into engaging in sex acts and would text her nude phtos of himself.
"After the first time he sexually assaulted me in his office at CPD headquarters, he told me that 'I belong to him,'" Donald said during a press conference Thursday. "He referred to me as 'his girl.' At times when I was able to avoid his sexual advances, he would tell me 'you got away this time.' Eddie Johnson repeatedly abused and harassed me and made it clear that I had to follow his orders, which included engaging in unwanted sexual activities with him, in order to keep my job."
The lawsuit includes charges of sexual discrimination and harassment against Johnson and also names the city of Chicago as a defendant.
Donald is the officer who was seen drinking with Johnson for hours inside a downtown bar on Oct. 16, 2019, hours before the then-top cop was found by police slumped over inside his vehicle.
The incident eventually led to Johnson's termination by Mayor Lori Lightfoot, who accused Johnson of lying both to her and the public about what happened that night.
According to the complaint, after Johnson first noticed Donald in the summer of 2015, he "masterminded a plan" to have her assigned to his unit so he could "keep her under his control." She was assigned to the superintendent's detail in May 2016 and became his personal driver six months later.
The sexual harassment began shortly after, according to the complaint, when in June or July 2016, Johnson called Donald into his office, pulled down her pants and "performed unwanted oral sex on her."
The complaint alleged similar assaults played out "on multiple occasions" between 2016 and 2019, not only in Johnson's office, but also on work trips.
"On multiple occasions, after Superintendent Johnson forced (Donald) to perform a sexual act on him, Superintendent Johnson made sexually suggestive and harassing remarks to Plaintiff such as, 'The City owes you another check for making my workday easier' and 'you get me through this job,'" the complaint states.
Following the incident last October, the complaint alleged Lightfoot ordered Johnson to "dump" Donald by demoting her from his assignment and sending her back to the First Police District.
After the mayor did so, Johnson allegedly told Donald "that bitch (referring to Lightfoot) is trying to steal 'my music,'" with "music" being a reference to Donald. Instead of transferring her away from CPD headquarters, Johnson kept Donald working in the records department nearby "where he could continue to sexually harass her," the complaint states.
"At no time was it consensual," Donald's attorney Robert McLaughlin said Thursday. "It was always unwanted, always under duress, always under intimidation, always under fear that if she didn't comply that she could be terminated or demoted."
Johnson's attorney Thomas Needham said Thursday his client is "adamantly denying" what is alleged in the lawsuit. 
"He did not assault or sexually abuse or harass Cynthia Donald," Neeham said in an email. "None of the things she is claiming happened ever happened."
The lawsuit also claims Johnson told Donald he damaged or destroyed evidence on his phone related to the October 2019 incident, and the complaint insinuates he may have also damaged the SIM card on Donald's phone.
The Chicago Police Department on Thursday said it does not comment on pending litigation.
A spokesperson for the city's Law Department said their office is aware of the lawsuit, but declined to comment on the specific allegations other than to say that if true, they would be "inexcusable."
"Mayor Lightfoot emphatically denies, and common sense dictates, that Eddie Johnson ever told the Mayor about allegations of abuse or harassment of Cynthia Donald by Eddie Johnson," the spokesperson said. "Ms. Donald's lawyers never claimed otherwise."
McLaughlin said it's not his office's role to threaten any criminal charges against Johnson, adding that he has not spoken to the Cook County State's Attorney or U.S. Attorney's offices.
"But certainly if they want to investigate further and press charges," he said, "that's their prerogative."
Contact Matt Masterson: @ByMattMasterson | [email protected] | (773) 509-5431
---