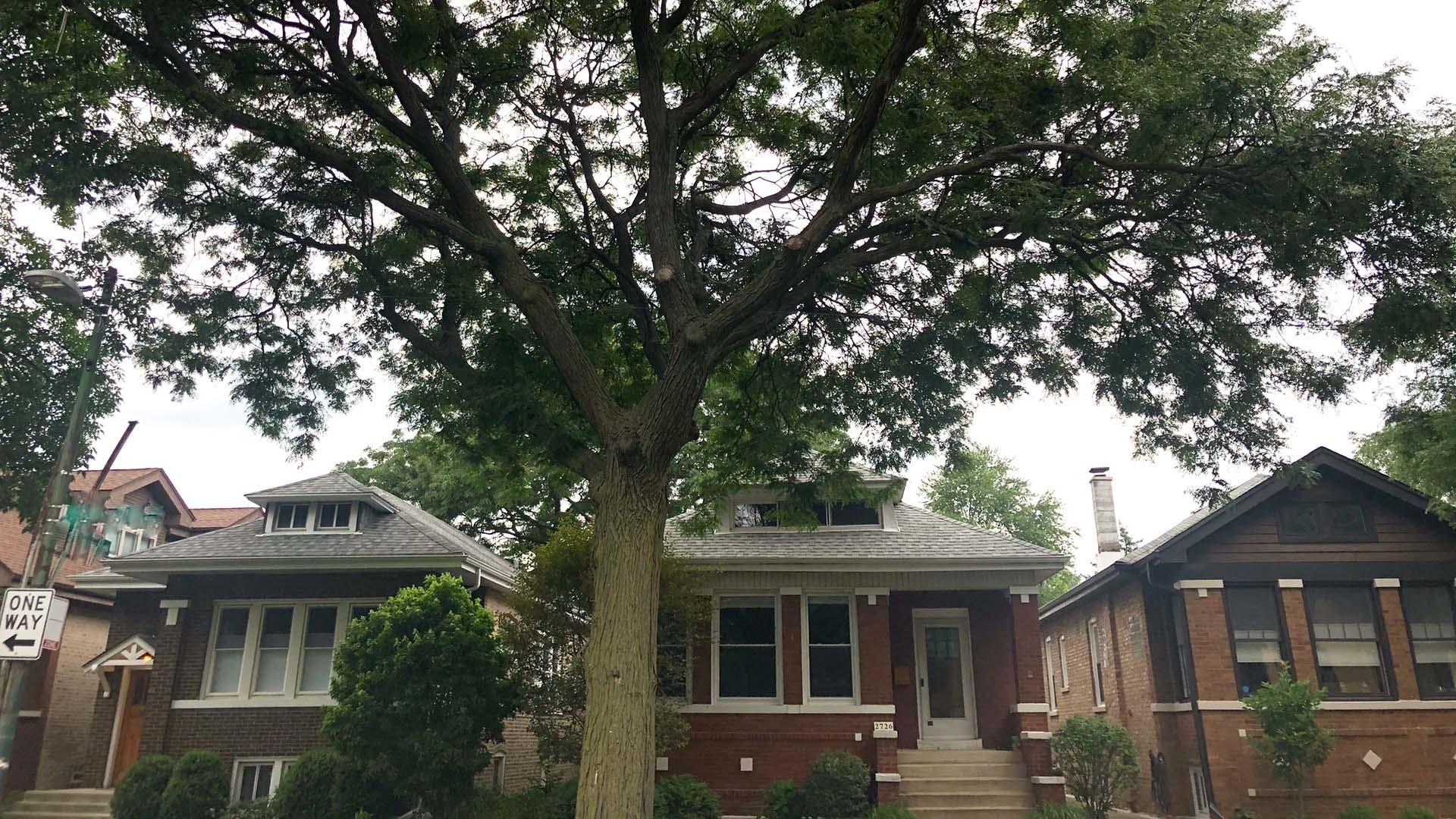 A proposed Urban Forestry Advisory Board would take a more strategic look at one of the city's unsung resources — its trees. (Patty Wetli / WTTW News)
Chicago's urban tree canopy is as vital a piece of infrastructure as the city's roads and sewers, which is why a trio of aldermen is proposing the creation of an Urban Forestry Advisory Board to develop a cohesive management strategy for this valuable resource.
Alds. Scott Waguespack (32nd Ward), George Cardenas (12th Ward) and Samantha Nugent (39th Ward) are introducing an ordinance at Wednesday's meeting of the Chicago City Council, which would amend the Municipal Code to allow for the establishment of the advisory board.
The city's motto is "Urbs in Horto" (City in a Garden), and "we don't really reach to that height," said Waguespack.
Pests (particularly the emerald ash borer), disease and neglect have cost the city an untold number of trees in recent years, diminishing Chicago's canopy at a time when climate change would call for the opposite — the increased shade, stormwater absorption and carbon storage that a robust canopy would provide. Trees are also a tool that can be used to improve air quality, which has become of paramount concern during a respiratory pandemic. 
Yet developing a comprehensive policy and setting priorities regarding tree planting and care has been complicated by the fact that a number of different city departments touch on trees, with separate budgets, agendas and procedures, said Waguespack. 
An advisory board would bring together representatives from each of these silos, along with members of environmental and community organizations, academic arborists and professionals from the tree service industry in the spirit of cooperation, collaboration and knowledge sharing.
Conservation organizations have thrown their support behind the ordinance, calling it long overdue, particularly after a 2019 report from the city's inspector general revealed that the Bureau of Forestry spent 75% of its time addressing 311 requests, and 40% of parkway trees had not been trimmed in 10 or more years. The report recommended "strategic, rather than reactive" tree care.
"Only the people who make the loudest noise get the best response," Daniella Pereira, vice president of community conservation with Openlands, said of the current approach. "In terms of managing an urban forest, it cannot be so ad hoc. A lot of times, the only time a tree will see somebody from the city is one, if it's inspected after it's planted and then, number two, if somebody calls to get that tree trimmed or removed. That is it. That's not a way to manage critical infrastructure."
An Urban Forestry Advisory Board, as outlined in the proposed ordinance, would develop and update a management plan, look for efficiencies and address inequities in the distribution of resources — namely the trees themselves.
"Not all parts of the city are created equal. There are portions of the city devoid of trees," said Waguespack. "This would be one small step toward the broader work we need to do."
It's important to think about the urban forest holistically, as a living organism, Pereira said, because the forest itself doesn't recognize borders like neighborhood or ward boundaries. The more gaps in a green space, the less healthy it is, she said. So it follows that improving the canopy in underserved areas of the city benefits the entire forest, and by extension, all of Chicago.
"These are resources for all people," said Pereira.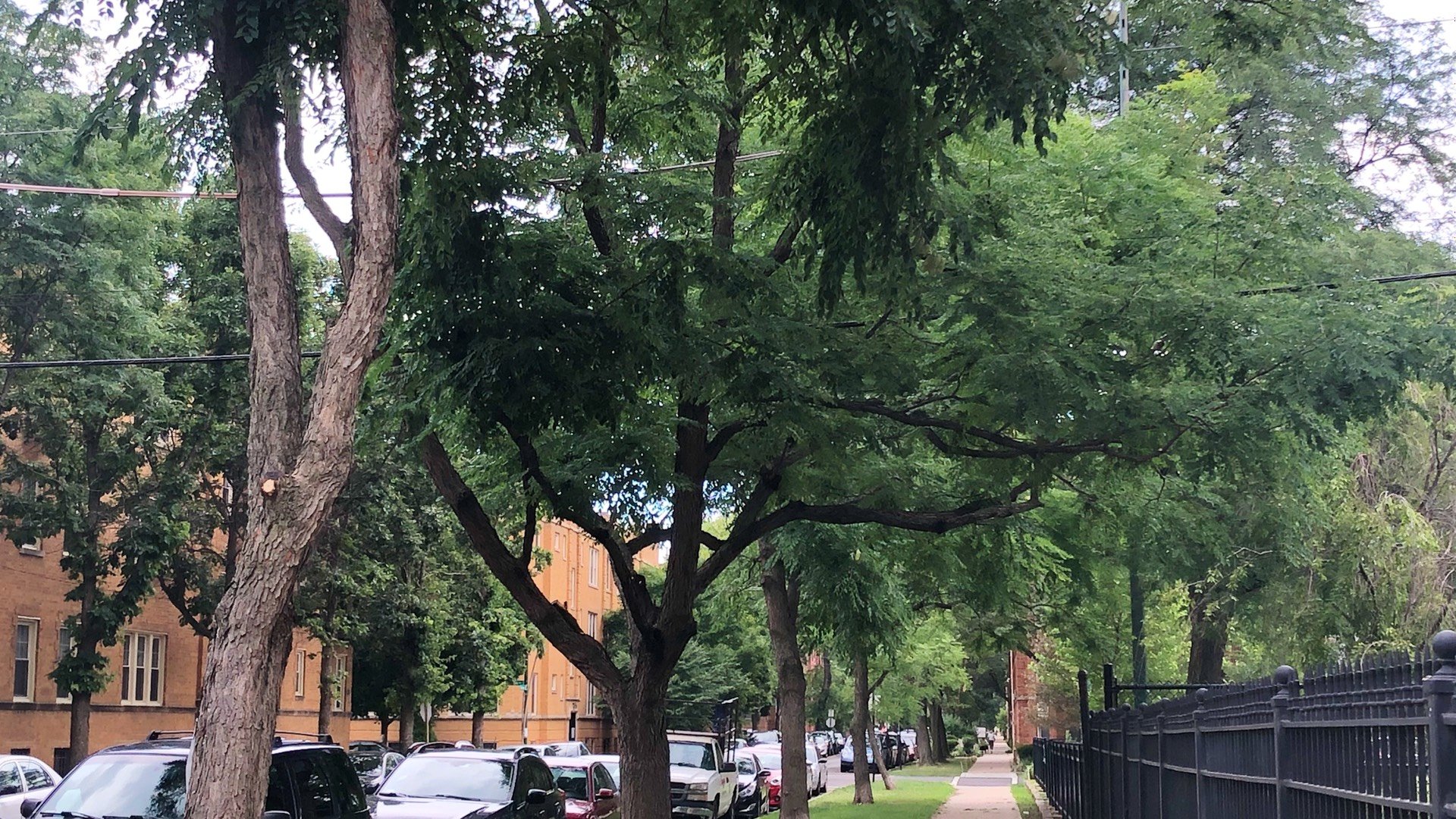 There's an art and a science to tree trimming, and it should be done routinely, not ad hoc, by arborists, conservationists say. (Patty Wetli / WTTW News)
The ordinance would also establish a "heritage tree" program, heritage referring to "a tree of special significance to the City because of its age, size, type, historical association, or horticultural value."
Older trees are like a "power house," Pereira said. "They do more and more work."
Adding years to the life span of the city's existing trees is one of the quickest ways to increase overall canopy cover, said Lydia Scott, director of the Chicago Region Trees Initiative.
"We need the trees we have to grow bigger and healthier," said Scott, and that's where a more systematic approach to tree care comes into play.
While it may seem costlier in the short term to provide routine check-ups, preventative maintenance — as simple as watering — saves money in the long run, she said.
For example, consider all the trees and limbs that fall during major storms, and how much damage they cause, along with disruption to services like electricity. Studies show, Scott said, that when trees are cared for regularly and are healthier, they create less storm damage.
She acknowledged there aren't remotely enough forestry employees to keep an eye on every tree in Chicago. That's where the advisory board could be effective, Scott said, in mobilizing citizens and volunteers to help care for their urban forest.
Imagine adopt-a-tree programs or a conservation corps, all of which the advisory board could help spearhead.
But that's getting ahead of things. The Urban Forestry Advisory Board ordinance still has to clear several legislative hurdles before being written into law. 
Waguespack said the next step will be to hold a committee hearing and to garner support among council members before bringing the measure up for a vote, possibly in September. 
It's time, he said, to live up to the city's motto. "We're supposed to be Urbs in Horto. Yeah, we should be."
Contact Patty Wetli: @pattywetli | (773) 509-5623 |  [email protected]
---